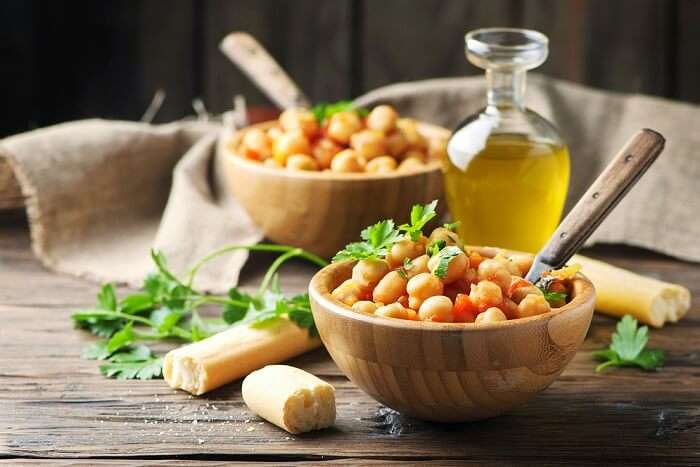 The sunny coastal city of Naples is Italy's second most popular city for tourists. Its UNESCO Heritage old town center, Castles, Islands, and of course the nearby Mount Vesuvius are major attractions. Being a coastal city its main staple is fresh seafood, and its Italian specialties include the Neapolitan Pizza which originated in the city. However, if you are looking for a change of cuisine, or are particular about eating vegetarian and vegan food, then you won't be disappointed! There are many Indian restaurants in Naples serving authentic Indian food that is a delight for vegetarians and vegans.
Top Indian Restaurants In Naples
Here is a list of our top vegan and Indian restaurants near Naples and in the city that will satisfy your cravings while in you're traveling in the city.
1. Ghirice

Ghirice is one of the best Indian restaurants in Naples, Italy, situated in the Piazza Municipio; it is perfectly located to stop for a quick bite while sightseeing in Naples. The budget restaurant is styled after South Indian restaurants in India and offers clean and hygienic food. The restaurant specializes in South Indian food from the southern states of India like Andhra Pradesh, Tamil Nadu, Kerala, and Karnataka. The best dishes on the menu are the varieties of stew curries, which have the authentic taste of Kerala food. A meal here won't set you back on your budget and is a good change of taste from the Italian cuisine found easily across Naples.
Location: Via Umberto Giordano, 10, 80133 Napoli NA, Italy
Cost for two: INR 2,000/-
TripAdvisor rating: 4.5/5
TripAdvisor Reviews
Must Read: Italy In December: Top 6 Places That Take You Through The Best Of This Winter Paradise!
2. Taj Mahal

Craving for spicy food? Then head to the Taj Mahal, one of the famous Indian restaurants in Naples, favorite for its North Indian cuisine. A budget restaurant, it has kitschy decor and quick service, so you don't have to wait too long for digging into those puffy naans and tasty curries. The restaurant is not only frequented by Indian travelers but also locals who crave for different cuisine. The chef specializes in appetizers like Chicken Tikka, Beef Seekh Kabab, Lamb Tikka and Fish Tikka. But, there is also variety for vegetarians as well! The Baingan Bharta (Eggplant Curry) is to die for!
Location: Via S. Giacomo, 25, 80133 Napoli NA, Italy
Cost for two: INR 2,000/-
TripAdvisor rating: 4/5
TripAdvisor Reviews
3. Jam Jam Ristorante

The Jam Jam Ristorante is a hole in the wall cafe tucked away in a cobblestone street in Naples. It is one of the Indian restaurants in Naples Italy that serves quick fast food. It's like a street food stall, and you just have to pick up your order; unfortunately, there is no seating at the restaurant so you will have to take the food along with you to your hotel. The menu includes Chicken Biryani, Chicken kababs, and snack items like Singara, Samosa, Vegetable Roll, and Kima Puri. The restaurant has flavors that are reminiscent of Bengali food.
Location: Via Cesare Carmignano, 80142 Napoli NA, Italy
Cost for two: INR 1,000/-
Suggested Read: Shopping In Italy: 6 Best Places For The Shopaholics To Indulge In An Extravaganza
4. Shah Jahan Ristorante Pizzeria Cucina Indiana

The Shah Jahan restaurant is one of the famous Indian restaurants in Naples, and has the weirdest combination of the menu! Yet somehow it works, as they dish out delicious Indian curries and naan alongside yummy pizzas. The restaurant itself is located on a busy street and close to public transport, so you can stop for a meal and head out back on your tour of Naples. The decor is minimalistic, and you don't have the frills of a high-end restaurant, but the food is right out of any Michelin star restaurant! Their North Indian curries are decadent and will leave you licking your fingers.
Location: Corso Giuseppe Garibaldi, 372, 80142 Napoli NA, Italy
Cost for two: INR 1,000/-
TripAdvisor rating: 4/5
TripAdvisor Reviews
5. Sharm El Sheik Kebab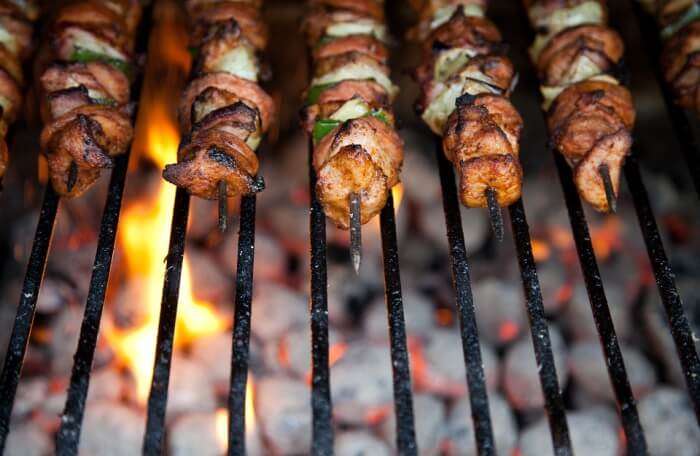 The Sharm El Kebab is among the best Indian restaurants in Naples to grab food on the go! Located near the busy market of Piazza Giuseppe, this restaurant is a small street corner stall. It serves delicious kebabs wrapped in naans and shawarmas with spicy flavors that are intrinsically Indian. You can also get Biryani and Chole with naan, and take it as you grab souvenirs and other shopping items in the Piazza. The restaurant offers clean and safe food at cheap rates. It gets excellent reviews across all restaurant forums in Naples!
Location: Piazza Giuseppe Garibaldi, 73, 80142 Napoli NA, Italy
Cost for two: INR 800/-
Suggested Read: 16 Enchanting Beaches In Italy For An Unforgettable Vacation By The Ocean
Top Vegetarian Restaurants In Naples
If it's vegetarian food that you are looking for and don't mind exploring other international cuisines then you can take a look at these vegetarian and vegan restaurants in Naples –
6. Un Sorriso Integrale Amico Bio

The Integrale restaurant is one of the first vegan restaurants in Naples. The owners wanted to create a vegan restaurant that would use organic and ethically sourced ingredients. The main cuisine of the restaurant is the Mediterranean, and many of the flavors and ingredients like tomato, beans, potatoes, chillis are similar to Indian foods. You can order tofu skewers and grilled seitan which tastes like paneer! The food is healthy and will be a welcome change after eating cheese-laden pizzas and pasta! Definitely try their vegan desserts, they have a new menu every day, but the specialties include apricot jam tart and black cherry cake.
Location: Vico, Via S. Pietro a Maiella, 6, 80138 Napoli NA, Italy
Cost for two: INR 2,500/-
TripAdvisor rating: 4/5
TripAdvisor Reviews
7. Cavoli Nostri

The Cavoli Nostri is the latest addition to the Vegan food culture of the city and is one of the most popular vegetarian restaurants in Naples. The restaurant is a mid-budget chic place frequented by travelers from across the globe. The beautifully plated dishes at Cavoli Nostri hint towards the fine dining specialty of the restaurant, but it is the ingredients that create true magic. Their tapas or small plates are a big hit; you should order their Grilled Mushrooms with fresh herbs, the meaty texture of the mushroom with the herbs is a flavor bomb in your mouth!
Location: Via Palepoli, 32, 80132 Napoli NA, Italy
Cost for two: INR 4,000/-
TripAdvisor rating: 4/5
TripAdvisor Reviews
Suggested Read: 10 Best Hostels In Italy That Are Perfect For An Affordable Sojourn
8. Vitto Pitagorico

Located right opposite the Archaeological Museum, the Vitto Pitagorico is an excellent place to stop for lunch and take a break from all the Italy sightseeing. It is amongst the highly rated vegan restaurants in Naples and serves excellent vegetarian fare in Mediterranean and European cuisines. Every dish is a colorful delight and will even make for a good-looking Instagram post! The chef twists traditional dishes like risotto, pasta, and soups and infuses them with vegan ingredients like pumpkin, mushrooms, green vegetables and creates a dish that is irresistible to taste. The restaurant has both indoor and alfresco seating, but its best to enjoy a glass of wine and enjoy the busy piazza.
Location: Piazza Museo, 15, 80135 Napoli NA, Italy
Cost for two: INR 3,500/-
TripAdvisor rating: 4.5/5
TripAdvisor Reviews
9. Sbuccia and Bevi Vegan House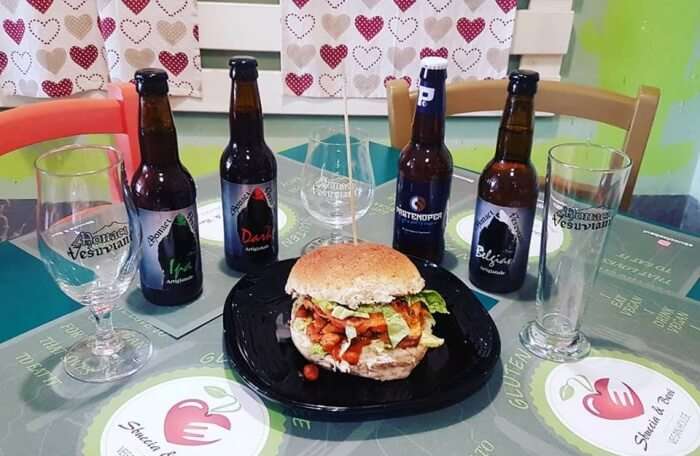 The Sbuccia and Bevi Vegan House has a calm and relaxed cafe vibe and offers delicious comfort food with vegetarian options. The restaurant has become popular in Naples and is frequented by both locals and tourists. Their soups and one-dish meals are full of vegetables and herbs making it a wholesome and cheap meal, which is great especially if you are traveling on a budget. The chef can make the dishes spicier to accommodate for Indian taste buds and the best dish to order is a Tex Mex combo that comes with Mexican beans, tomato, and corn curry, and fries!
Location: Via Duomo, 238, 80138 Napoli NA, Italy
Cost for two: INR 2,000/-
TripAdvisor rating: 4.5/5
TripAdvisor Reviews
Suggested Read: Only For 2 Weeks In Italy, These Charming Places Should Be On Your Itinerary!
10. O'Grin

O'Grin is one of the restaurants in Naples that proves Vegan food need not be expensive! The restaurant is a small joint that serves delicious vegan and vegetarian foods in a mix of cuisines. Mediterranean, Italian, European, all cuisines find their place on the menu of O'Grin. Just one thing you can be assured of, everything on the menu is vegan! Even just a few years back vegetarians had to scramble around ensuring their orders were taken correctly, and they get vegan food! The best place about this restaurant is that the staff knows English and will help translate the menu for you and even give suggestions.
Location: Via Mezzocannone, 83, 80122 Napoli NA, Italy
Cost for two: INR 1,800/-
TripAdvisor rating: 4.5/5
TripAdvisor Reviews
Further Read: 31 Festivals In Europe That Will Up The Fun Factor Of Your Euro Tour
Whether you're a vegetarian, vegan, or a hard-core non-vegetarian, be assured that Naples won't leave you hungry? You can stop at these Indian and vegetarian restaurants in Naples for a wholesome and delish meal. Make sure you add them to your list before you book your holiday to Italy with TravelTriangle!
---