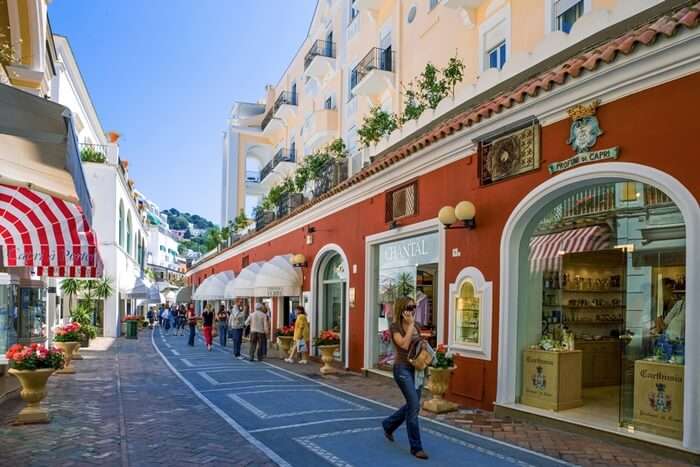 There can a hundred different reasons why one should visit Italy at least once in a lifetime. But, in order to be able to create forever memories, one has to experience the best of shopping in Italy across some of the leading cities. Italy has a lot to offer when it comes to museums, ancient ruins, soaring mountains, scenic vistas, and great beaches. And adding the much needed charm to it, is an experience of shopping as this beautiful country is also home to some of the best places to shop in the world.
What To Buy While Shopping In Italy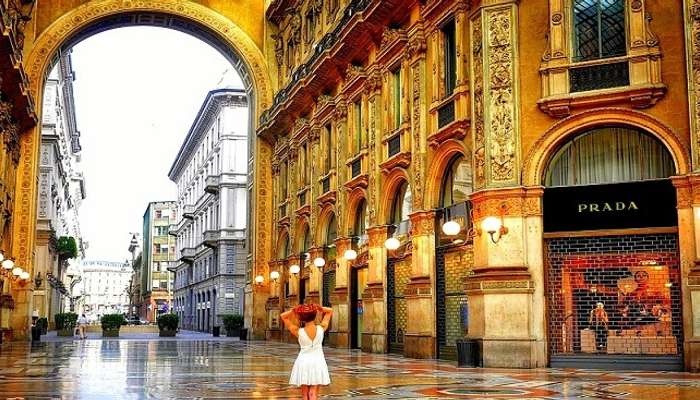 There is no dearth of things to buy in Italy, especially if you love collecting souvenirs. Venetian glass and masks, Florentine leather goods, fashion forward ensembles, fine leather boots, hand painted ceramics, and a bottle of locally made limoncello are just a few of the many things you can shop for in Italy.
If you love traveling, you will agree that it would be hard to travel to a place like Italy and not bring home anything. However, it can be a daunting task to find the right souvenirs with so many mass-produced items and replicas flooding the market these days.
One of the most-handy shopping in Italy tips, is to buy directly from the maker, whenever possible. This way you can be rest assured that you are taking home a unique handicraft!
Must Read: Top 12 National Parks In Italy To See The Country's Surreal Beauty In 2021
6 Places To Enjoy Shopping In Italy
Here's a list of the top 6 places that all the shopaholics must visit while shopping in Italy.
1. Via Del Corso, Rome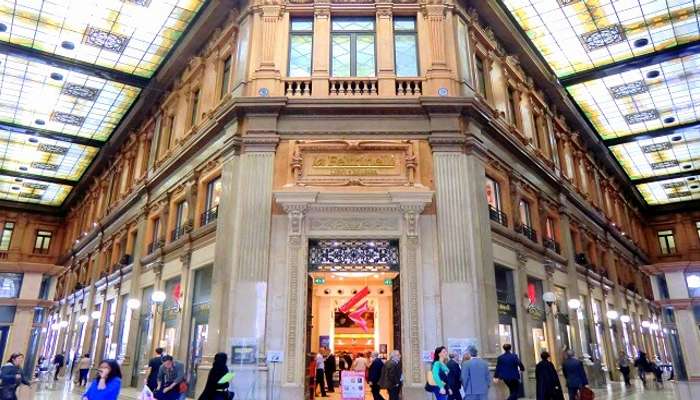 If you have saved a great deal of money by backpacking and staying in cheaper hostels. It is time to splurge, shopping to your heart's fill at Rome's best street market – Via Del Corso. The meandering streets and narrow alleys have a wide selection of shopping choices. This market has an interesting mix of local boutiques and international brand names. Locals suggest that the origin of this historic street dotted with shops and eateries, dates back to 220 BC. The street can get busy on Sunday mornings, but is nonetheless a great place to shop for souvenirs, clothes, and even groceries.
Location: Via del Corso, Rome, Italy
Suggested Read: 10 Enchanting Beaches In Italy For An Unforgettable Vacation By The Ocean
2. Via Monte Napoleone, Milan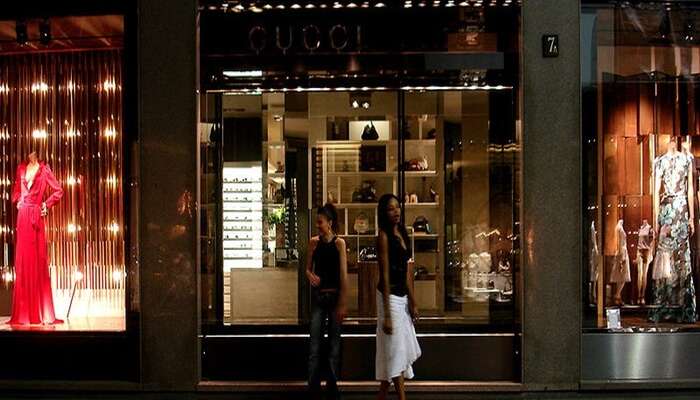 Milan is known for some of the best luxury hotels, restaurants, and boutiques. When in Milan, indulge yourself in shopping for the latest in fashion. Head out to Via Montenapoleone to pick up ensembles that will make you look no less than a fashion diva yourself. This upmarket shopping street is home to some of the most fashion front designer boutiques and exquisite Italian shoemakers. Be sure to make a customary stop at this sophisticated shopping area and carry home the finest picks from Gucci, Dolce $ Gabbana, Prada, and Giorgio Armani. Brands such as Gucci allow you to customize certain key products on their portfolio to create a perfect souvenir from Italy.
Location: 20121 Milano, MI, Italy
Suggested Read: Shopping In Rome: 10 Must-Visit Places That Will Delight The Shopaholic In You
3. Via Giovan Battista Zannoni, Florence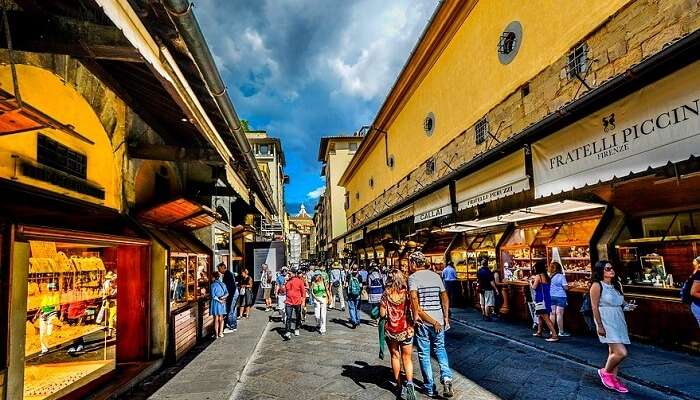 Looking for fashionable accessories? Via Giovan Battista Zannoni is the perfect place to shop.
This shopping street houses literally dozens of leather shops including the popular Michelangelo's Florentine Leather shop where you can find the most classy and chic bags, jackets, and quality accessories. Shop for souvenirs and gifts at Michelangelo if you are willing to spend your hard-earned money for some classic leather accessories that will stand the test of time and win you dozens of compliments! There are a number of stalls around the indoor market that are frequented by tour groups and busses that are worth paying a visit too!
Location: 50123 Firenze FI, Italy
Suggested Read: 16 Essential Italy Travel Tips That Will Save You Money, Time & More
4. Mercerie, Venice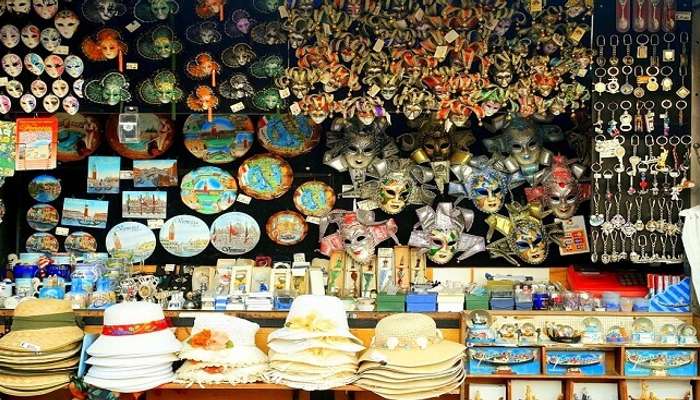 Aside from historic buildings, gondola rides, and mesmerizing architecture, Venice is also a great place to shop. The most famous shopping streets are in the Le Mercerie area of the San Marco district. The many boulevards and streets that stretch all the way from Rialto Bridge to St. Mark's square are packed with dozens of stalls selling just about everything you can think of. Some of the best picks are jewelry, souvenirs, and latest fashion. The shopping street also houses, luxury shops and boutiques such as Calle Larga XXII Marzo. You can spend hours shopping in this area! Leave no rack or shelf unturned as you hunt down for that something special to take home with you! You will be surprised at the many quirky and kitschy souvenirs that you will stumble upon in the many boutiques that dot this century old street that is a true shopping haven.
Location: Between Rialto and San Marco, Venice, Italy
Suggested Read: What Makes Italy In November 2021 To Have A Great Time Along The Mediterranean Coast
5. Via Toledo, Naples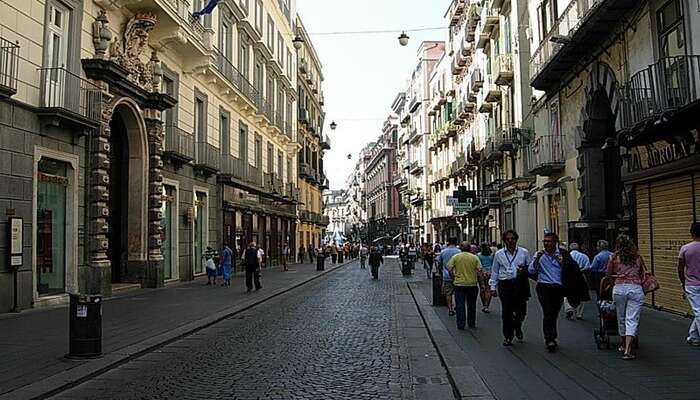 Naples is one of the most romantic cities in Italy. This vibrant city is a melting pot of colors, culture, and history. Shopping in Naples is as much a delight as is sightseeing. If you love shopping, you are bound to love Via Toledo – one of the longest shopping streets in Naples. A number of big chain stores, and boutiques dominate this street. This is the perfect place to go clothes shopping in Italy, strolling, or even for a round of selfie clicking! This busy street never sleeps and is brimming with locals and tourists alike. Via Toledo also houses a few plazas, churches, and monuments to view making it an ideal sightseeing and shopping retreat.
Location: Napoli, NA, Italy
Suggested Read: 6 Best Resorts In Italy That Will Leave You Spoilt For Choice
6. Via Mazzini, Verona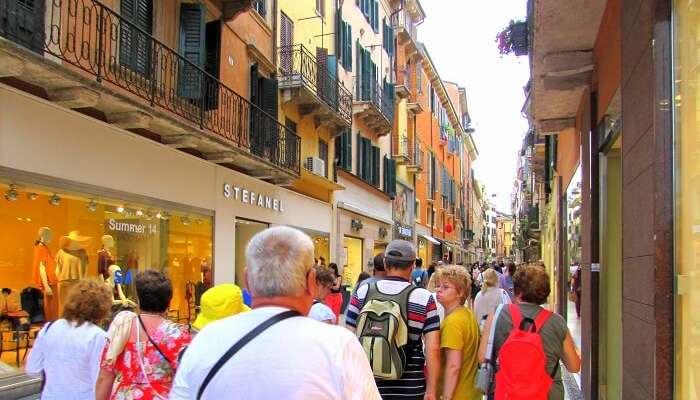 Enjoy shopping in Italy, at one of the most popular markets in the beautiful city of Verona. This market is one of the largest pedestrian zones in the city, and has several dozen stores offering fashion accessories, clothes, and shoes. If you are in town during Saldi, you will be able to indulge in some cheap shopping in Italy. This is a great time to save more and shop more thanks to the many discounts and deals offered during the sale.
Location: Verona, Italy
Further Read: These Best Things To Do In Italy That Are Truly Exclusive
Shopping in Italy outlet stores, is an experience in itself. Each market has dozens of stores that sell vintage goods and stylish souvenirs that can make the experience worth every penny that you spend. So, what are you waiting for? Check out these amazing markets on your next trip to Italy, and gear up to shop till drop, literally in this romantic paradise!
Frequently Asked Questions About Shopping In Italy
Q. What is famous in Italy for shopping?
A. Italy is famous for shopping Ceramics, Wine, Gourmet food, Italian fashion, Artisan chocolate, shoes, accessories. These are some of the must buy things when you're shopping in Italy.
Q. Are clothes cheaper in Italy?
A. One can get a good deal on things like good leather Italian shoes, bags or nice Italian clothes at a cost of less than 50 euros. But the clothes from famous brands are quite expensive.
Q. What brands to buy in Italy?
A. Bottega Veneta, Valentino, Versace, Moschino, Gucci, Giorgio Armani, Prada are some of the famous brand to find out in Italy.
Q. What to buy in Florence, Italy?
A. Florence is famous for things like pottery, leather gloves, jewels and gold, decorative plates, florentine chocolate, GABS leather variable shape bags and Bemer's shoes which one can buy.
Q. Is Gucci cheaper in Italy or Paris?
A. The price of Gucci is the same in entire Europe.
Q. What to wear in Italy?
A. If you're visiting Italy, make sure to carry items like shorts, tops, dresses, pants, jacket, underwear and Swimsuit.
Q. Is Fendy cheaper in Italy?
A. The price of Fendi is the same in the entire Europe, but the VAT differs. Someone buying Fendi in Italy can get it cheaper along with a 12% VAT.
Q. Is it cheaper to buy Louis Vuitton in Paris?
A. Yes. The Louis Vuitton bags are quite cheaper in Paris with a 12% VAT return.
---
Looking To Book An International Holiday?
Book memorable holidays on TravelTriangle with 650+ verified travel agents for 65+ domestic and international destinations.
---
People Also Read:
Shopping In Czech Republic Shopping In Rome Shopping In Manchester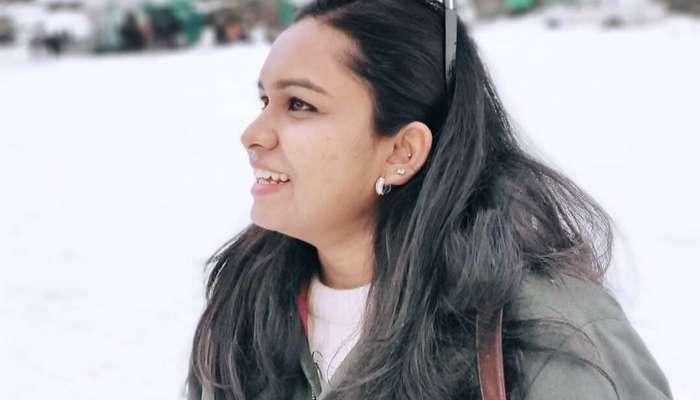 Comments
comments