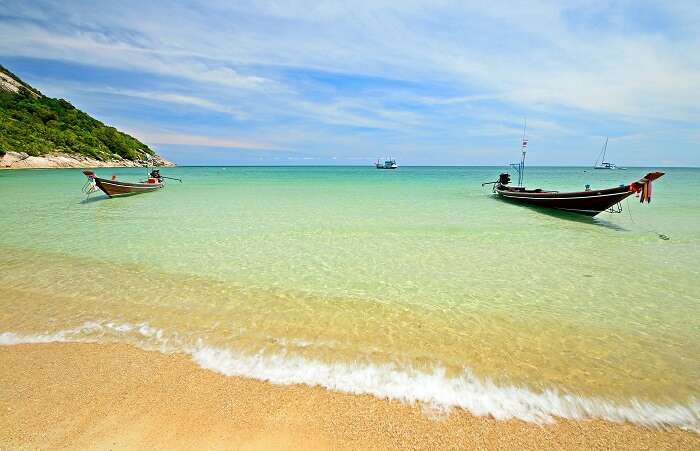 Koh Phangan Island, a pristine paradise on earth is renowned for its Full Moon Parties held every month. This boisterous and fun-filled night long affair which is tied to the lunar calendar attracts tourists from all parts of the world.
Most of the celebrations center on Sunrise Beach, where several hundred backpackers get together to shake their legs and have some fun. These parties are hip and happening with pumping music, attractive strobe light, and plenty of booze. However, there is more to Koh Phangan Islands than just the infamous full moon beach parties and hedonistic multi-day parties. The beaches of Koh Phangan are ideal for sunbathing, swimming and even snorkeling. There is so much to do and see on this beautiful island, that you will never spend a dull moment.
Here is a comprehensive Koh Phangan Island guide that is sure to help you make the best of your vacation. Read on for more!
Best Time To Visit Koh Phangan Island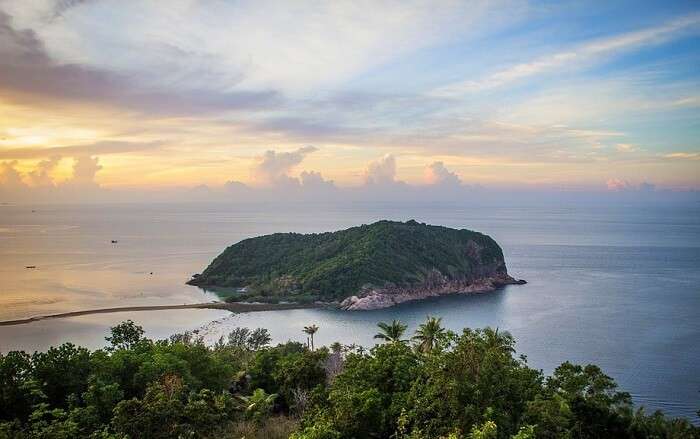 Suggested Read: Koh Lanta Island: A Lesser Known Paradise In Thailand
Thailand has three seasons – The Cool Season, The Hot Season, and The Rainy Season. It is suggested you plan a trip to the island in summer. The season is in full swing between March and June, and there is little to no rain to dampen your vacation. تحميل تطبيق الماتش You may also plan a visit between December and March when the weather is hot, bright, and yet not too humid – making it ideal for lounging on the fantastic beaches of Koh Phangan Island.
Places To Visit In Koh Phangan Island
Here are the places you should visit on your trip to Koh Phangan Island:
1. Shimmering Bays and Secluded Beaches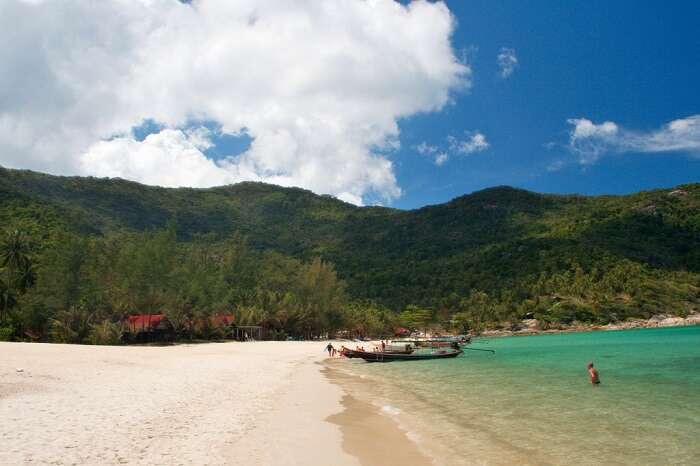 These beautiful beaches host a number of full moon parties too. Cushions on the beach, beautiful sunsets, fire dancing shows, and clear blue waters, is what makes this beach one of the best places to visit in Koh Phangan Island. This beautiful island is also designated as a National Park and teems with rare flora and fauna.
2. Ban Tai Beach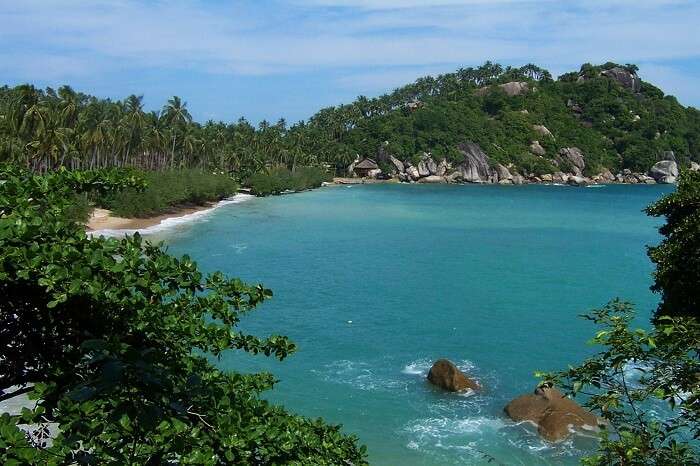 Suggested Read: Scuba Diving In Thailand 2022: 7 Places That'll Let You Explore The Underwater Life
Ban Tai is a hub for rave and party lovers. When at the beach, you can also indulge in flying kites and some paddling too. Much of this beautiful beach is calm and peaceful with a backdrop of palm trees. كيفية لعب الدومينو There are a number of eateries and bars where you can relish a wide variety of food.
3. Thong Sala Night Market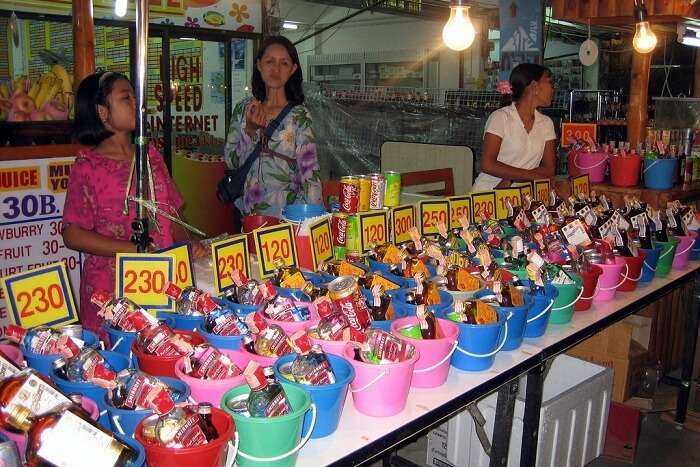 By now Koh Phangan may sound like a bit of a 'farang' haven. But, wait until you have ventured into the night market at Thong Sala. Friendly locals await you, proudly by the side of their freshly made Thai dishes. Do not let the small shops fool you, as the food is more delicious and cheaper than what you will find in most restaurants. Be sure to try their Pad Thai and Sushi. The options are plentiful and you will be lost for choice.
Things To Do In Koh Phangan
Koh Phangan island has acres of undisturbed tropical rain forest and also boasts of a wild jungle interior. If you love adventure, you will love Koh Phangan island. From mountain treks and Koh Phangan island hopping for the adventurous lot to fishing trips for families to coastline walks for those looking for something mellow, there is something for everyone. Listed below are a few of the many things you can do on a Koh Phangan vacation.
1. Full Moon Party in Thailand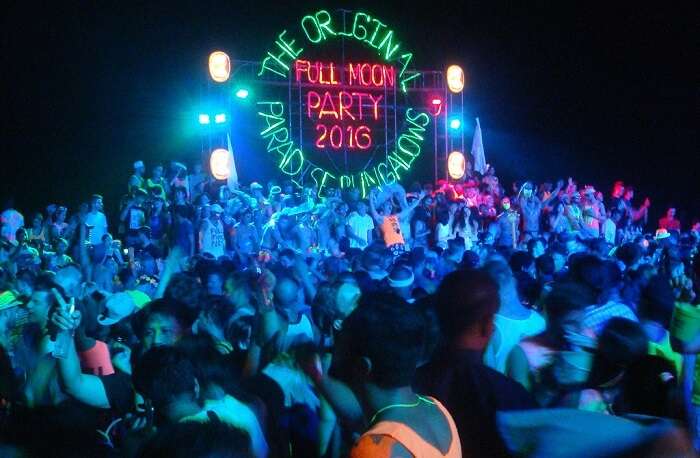 Suggested Read: 12 Tips For Backpacking In Thailand: A List Of Do's & Don'ts
Spend the day enjoying a Koh Phangan island tour and unleash your wild side at night. This is what Koh Phangan Island is famous for. If you are on the island during a full moon, be sure to don your best clothes and head out to the wild full moon party in Koh Phangan, on the crescent-shaped beach of Haad Rin beach. This is a one of its kind party where you will find people from all over the world having a blast.
Best Time: The Koh Phangan party takes place on full moon days. Approximated set dates are announced to help travelers, book in advance. نادي مانشستر سيتي
2. Laze on the beaches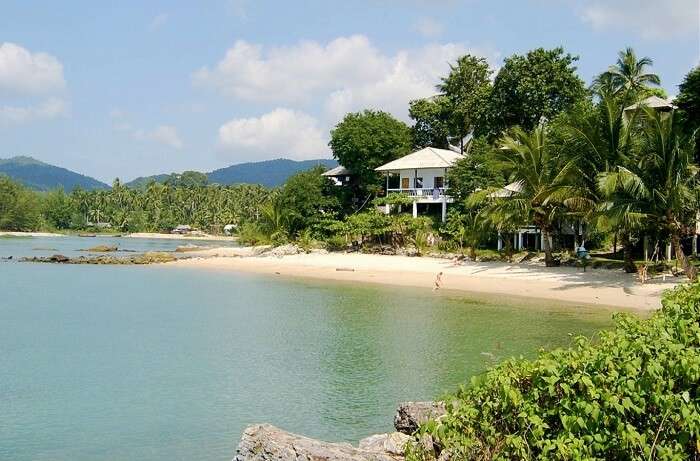 Contrary to common belief, the beaches on this party island aren't just for booze and music. The island isn't short on gorgeous beaches. Whilst some of these beaches are harder to reach, they are well worth the effort. Make your way to quiet and secluded beaches such as Wai Nam Beach. This beach is perfect for swimming and some occasional paddling.
Bottle beach is yet another quaint island near Koh Phangan that you will fall in love with. Its powdery soft beach and crystal-clear waters are quite a sight to behold after a treacherous water scooter journey to get to.
3. Go diving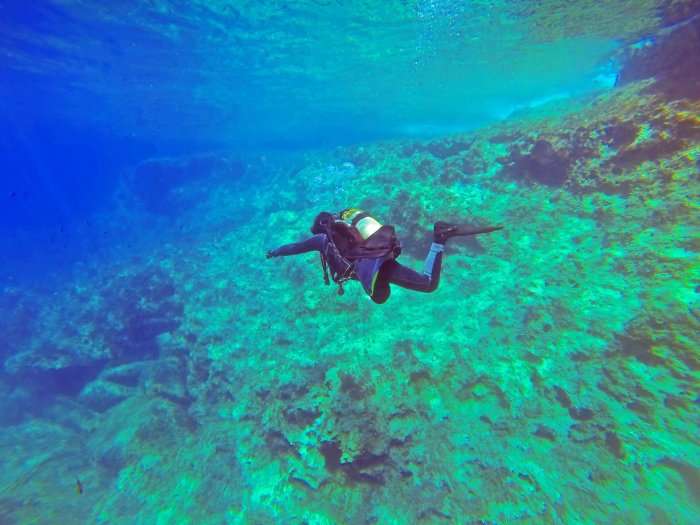 Suggested Read: 10 Places To Visit In Thailand In August 2022 To Escape The Thai Monsoon
Though most travelers set out to nearby islands for a day of diving, Koh Phangan isn't too shabby to have some fun. The beauty of Koh Phangan extends well below the waves where the marine life is rich. The waters of Koh Phangan are clear making it ideal for both novices as well as seasoned divers to explore. And, the cheap prices are sure to bring a smile to your face.
4. Sunset Bar Crawl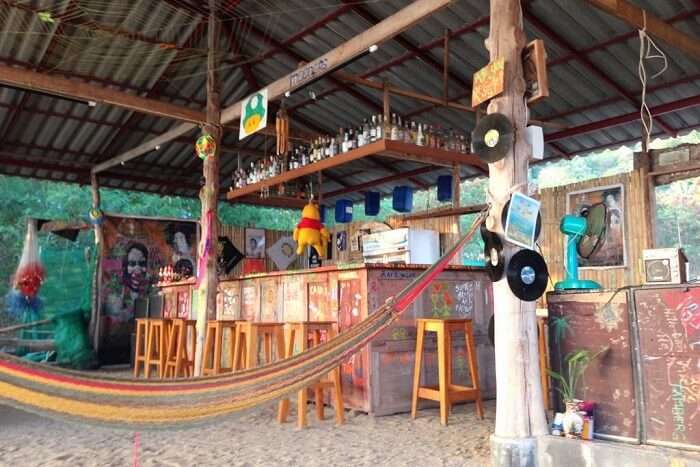 A couple of thatched-roof bungalows just off the beach makes way for some great fun. Golden Rock is an isolated haven, where you can sip a few cocktails as you watch the sun dip into the oceans in this prime sunset spot. And, if you haven't had your fill, clamber up the steps on the side of the mountain and get to Amsterdam Bar for a few hours of extended fun and frolic. Round off your bar crawl, with a skinny dip in Blue Rama's stunning infinity pool.
Places To Stay On Koh Phangan Island
1. Santhiya Koh Phangan Resort & Spa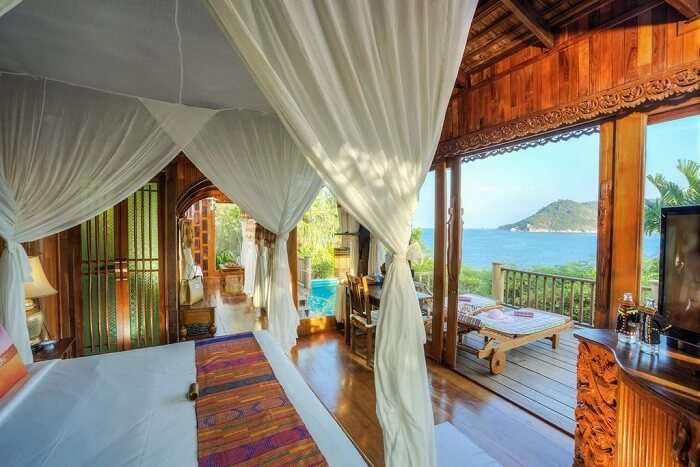 If you do not have a budget constraint, close your eyes and book your stay at the 5 star rated Santhiya Koh Phangan Resort & Spa. This all-inclusive traditional Thai retreat offers plush suites and rooms, upscale dining, a spa, and an outdoor pool for unlimited fun and recreation. It is at walkable distance from most popular haunts and is a great place to stay and enjoy a Koh Phangan party.
Address: 22/7, Moo 5, Ban Tai District, Koh Phangan, Surat Thani 84280, Thailand
Rate: INR 7,000 onwards
2. The Coast Resort, Koh Phangan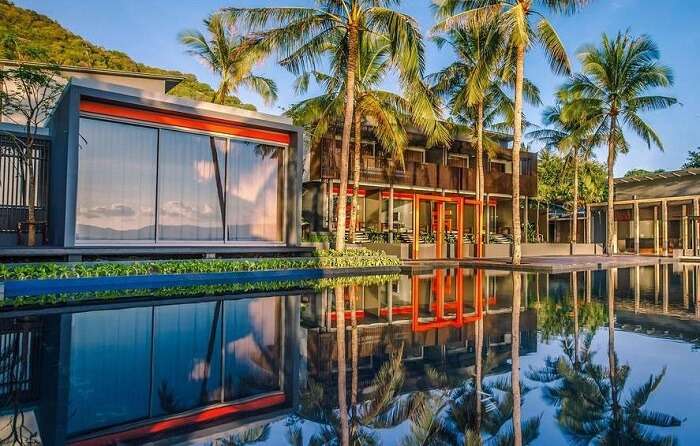 For those on the lookout for a resort that is not way too expensive and offers good amenities, The Coast Resort, Koh Phangan is an ideal place to stay. The sleek beachfront 4-star resort also has an airy restaurant, a gym, and an outdoor pool with a chic swim up bar.
Address: 117/21 Moo 6, Bantai, Koh Phangan, Surat Thani 84280, Thailand
Rate: INR 4,560 onwards
Koh Phangan Island Map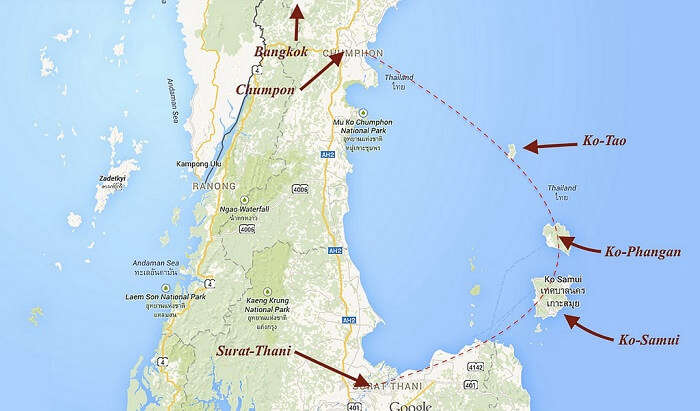 Suggested Read: 9 Magnificent Thailand Caves That Every Adventure Junkie Should Witness Once In A Lifetime
How To Get To Koh Phangan Island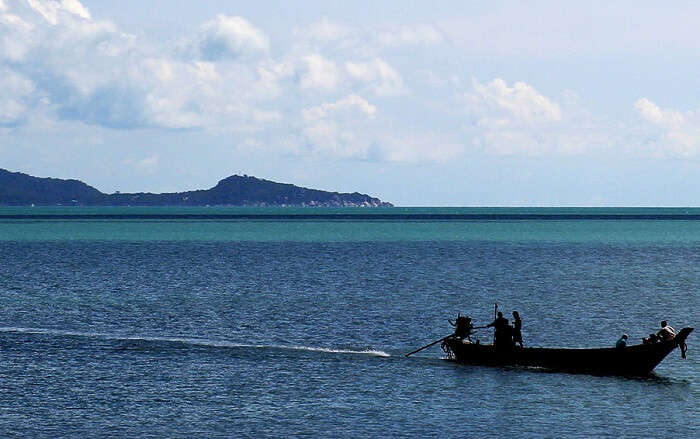 Since Koh Phangan airport is still under construction, travelers will need to fly into Bangkok international airport and thereafter catch a train or bus to Surat Thani.
A 2.5-hour boat ride from Surat Thani or a 45-minute boat ride from Koh Samui will take you to Koh Phangan. The Samui ferry will drop you off at the main dock of Haad Rin. During the full moon parties, there are ferries by the hour that will take you to Haad Rin. A number of tour operators also run overnight buses starting from Bangkok all the way to Koh Phangan for about 600 Baht. This also includes the ferry charges.
All good things are hard to get, and so is getting to Koh Phangan Islands. It takes a bit of determination to get to this secluded island. Yet it is all worth it. If Koh Phangan seems too far away for you, plan a trip to Thailand famous counterparts to enjoy a tropical island vacation.
Suggested Read: Mauritius Vs Bali: Where Would You Like To Go On Your Next Vacay In 2022?
Comments
comments