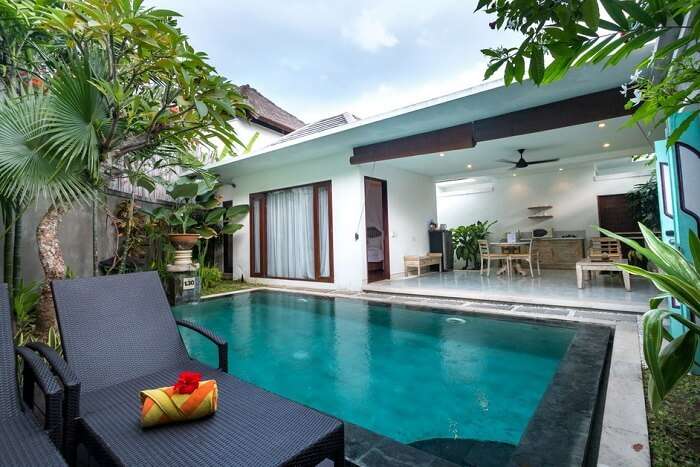 Overview
New Pondok Sara Villas Seminyak, one of the popular 4-star properties situated in the heart of Seminyak, Bali, never fails to impress its guests. With lush green surroundings and closeness to the Seminyak beach, the hotel offers a comfortable and ideal shelter to couples and leisure travelers who are looking for an amazing break in Bali, Indonesia. It features an outdoor pool, private terrace, and tropical landscaped garden to help its guests relax their senses. New Pondok Sara Villas Seminyak also boasts of its attractive design and modern-day amenities. The architecture of the hotel offers glimpses of Indonesian art, culture, and tradition. Further, its warm hospitality and friendly staff help create memories for the lifetime. Its proximity to the nearby tourist attractions, like Seminyak Beach, Legian Beach and Seminyak shopping areas, makes it the right choice to explore the island of Bali. Notably, New Pondok Sara Villas Seminyak is about 8 km from Ngurah Rai International Airport.
Amenities
New Pondok Sara Villas Seminyak proudly boasts of an outdoor pool, pool bar, plunge pool, private terrace, private pools, and a tropical landscaped garden. It also features a bar on the hotel premises for the convenience of the guests. Besides, the hotel maintains a parking area, and 24×7 front and travel desks. For foodies, the villas also offer barbeque facilities. All the hotel rooms are equipped with modern amenities, including minibars and safe. Further, the hotel rooms feature attached bathrooms. The hotel also offers an airport shuttle, car hire, concierge, laundry, housekeeping, babysitting/childcare, and doctor-on-call services, as well as Wi-Fi connectivity across the property.
Dining
Furthermore, the villas feature a small and cozy snack bar, as well as a bar. As there is no restaurant in the hotel of its own, the staff here can also assist with ordering food from nearby restaurants. Seminyak district is known for its local boutique dining options. Also, there are many other dining options that are just a 5-minute walk from New Pondok Sara Villas Seminyak. One can gorge on mouth-watering and authentic Indonesian and international cuisines served in nearby eateries. The property has a pool bar for guests to enjoy their favorite drinks.
Being situated in the lap of nature, New Pondok Sara Villas Seminyak is one of the perfect locations for honeymooners and couples who want to spend some time away from their busy life amidst nature. With a peaceful and serene ambiance, the accommodation options in the hotel are also one of the factors that attract guests to the property. Stay here to experience never-had-before moments with family and friends. In addition, the hotel is known for striking the right balance between lavishness and contemporary richness.
Villa Accommodation
One Bedroom Pool Villa
One Bedroom Suite Villa
Two Bedroom Pool Villa
Deluxe Bedroom Villa
The 4-star hotel with friendly staff has elegant, organized and beautifully decorated rooms. It offers rooms under various categories, including one bedroom pool villa, one bedroom suite villa, two bedroom pool villa, and deluxe bedroom. One bedroom pool villas are equipped with a private pool, plunge pool, living room, and bedroom. Guests at one bedroom suite villa can enjoy in Jacuzzi and the private pool attached to the villa. It is also equipped with living and dining areas and a well-equipped kitchen. Also, there are two bedroom pool villa set up that includes a kitchen, private pool, and an open living room. Ideal for families, deluxe bedroom villas include three beds, a living room, a dining area, and a private pool. Some of the rooms at the property offer views of the green surroundings and others face the hotel garden. All the rooms are equipped with LED TV sets, wardrobes, lockers and minibars, as well as free Wi-Fi.
Villa Highlights
Enjoy authentic Indonesian starters at the in-house snack bar
Grab some drinks at the pool bar in the hotel
Enjoy in Jacuzzi fitted in one bedroom suite villas
Indulge in various water activities like swimming and diving at the Seminyak beach
Sit in the lap of nature at the colorful tropical garden at the hotel premises
Indian Restaurants Near The Villa
Chai'ba Street Kitchen & Bar
Tiffin Bali
Spice Mantraa
FAQs
Q1. What is the distance between the International Airport and the hotel?
A. New Pondok Sara Villas Seminyak is located at a distance of 8 km from Ngurah Rai International Airport, which is a 35-minute drive.
Q2. Can guests avail of the airport shuttle service?
A. Yes, guests at New Pondok Sara Villas Seminyak can have delightful culinary experiences at its snack bar and pool bar. Also, there are other dining options near the hotel.
Q3. What can guests do to keep themselves engaged?
A. New Pondok Sara Villas Seminyak maintains a parking area and it is free of cost for its guests.
Q4. Does the hotel offer complimentary breakfast to the guests?
A. Yes, breakfast is inclusive in the room tariff at New Pondok Sara Villas Seminyak. The facility of having breakfast in the room is also available at the hotel.
Q5. What are the special deals offered by the hotel to the guests?
A. Yes, other than Seminyak beach, there are places like Petitenget Temple, Kuta Art Market, Dewa Ruci Roundabout, Bali Mall Galleria and Waterbom Bali that are located within 4 km of New Pondok Sara Villas Seminyak.
New Pondok Sara Villas Seminyak is an ideal place for nature lovers. The 4-star property, which is located just 5 minutes away from the popular Seminyak beach, offers some of the astounding views of the neighborhood. With an architecture that exhibits a blend of modernity and simplicity, the villas at the hotel are worth staying in during a visit to Bali. Overlooking the majestic Indian Ocean, New Pondok Sara Villas Seminyak is also in close proximity to Legian shopping area. Various entertainment and dining options are available inside and nearby the hotel. The in-house gardens and surrounding lush greenery make the hotel an ideal tropical retreat.