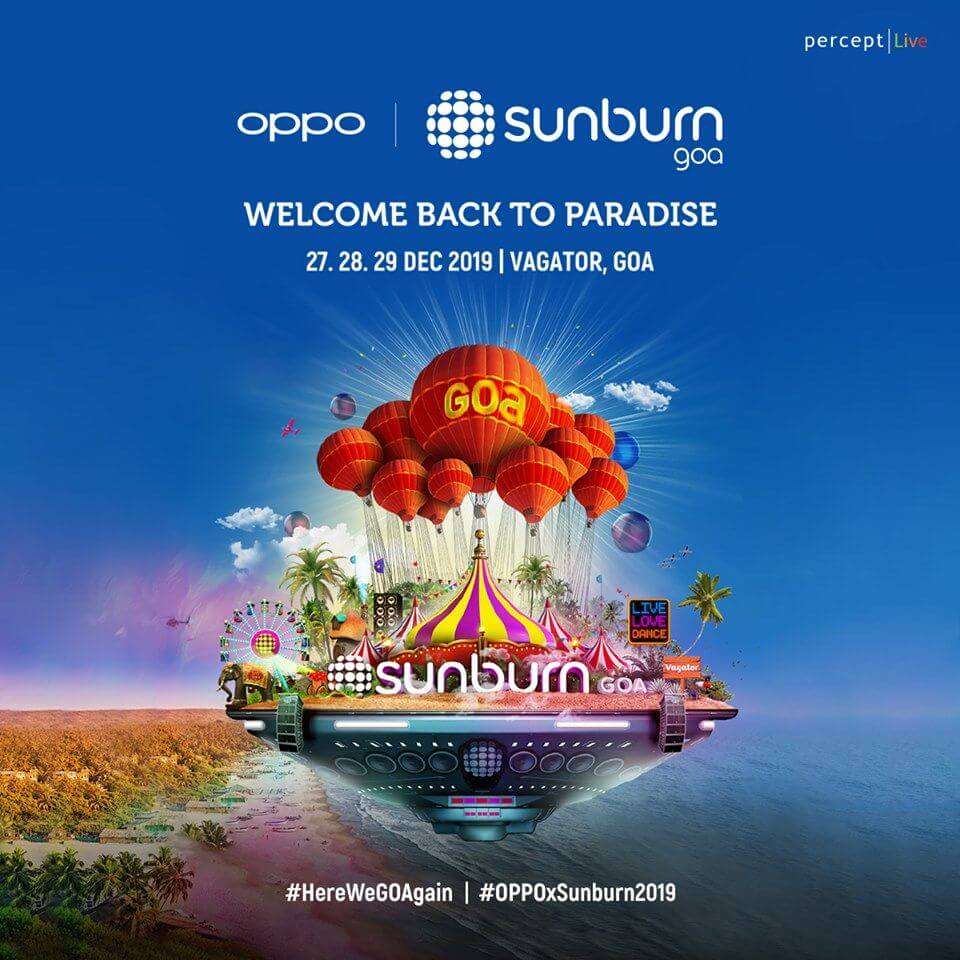 December is the time to indulge yourself in the festive spirit and enthralling live music. And this December you can energize yourself to groove and sing for the one-of-the-kind electronic dance-music festival, OPPO Sunburn Goa 2020.
Yes, Sunburn is returning to Goa after 3 long years and this time it's going to be massive and grandeur. What's the reason, you may ask! OPPO, a leading name in smartphone technology, has joined hands with Sunburn to put together an edition like never before.
This year will witness the 12th edition of the festival. To make the event a success, famous artists like DJ Snake, Chainsmokers and Martin Garrix will set the stage on fire. And with OPPO being the ally of Sunburn, a new combination of passion and technology will emerge.

Sunburn, the grand EDM (Electronic Dance Music) festival held annually, is a door to your craziest music adventures. Attracting people from over 40 countries, Sunburn has come to be one of the major reasons for visiting Goa this December.
With OPPO joining hands with Sunburn it is expected to be a landmark in the history of this event. Different stages, a variety of artists, numerous performances, multiple activities…wondering how to enjoy all of this without missing out on anything? Get an OPPO Reno2, which gives you the power to experience OPPO Sunburn Goa 2020 in the best possible way. With its cutting-edge features like Ultra Dark Mode 2.0, 20x Digital Zoom, and the world's first sharkfin pop-up camera with Bokeh Effect in Video, get ready to capture every beat, every strum, and every moment of this incredible musical jamboree in the best way. The amazing technology of this new device by OPPO has everything you need to make your experience just perfect. Witness the magnificence of the 20Q0-edition of this music fest with the latest features of OPPO Reno2:
● The World's First Sharkfin Pop-Up Camera With Video Bokeh Effect: Now that we are talking about enhancing your video-recording experience at OPPO Sunburn Goa 2020, let's get to this very unique feature of OPPO Reno2. The device comes with the world's first Sharkfin pop-up camera with Bokeh Effect in Video. This feature will come to your rescue when you are standing amidst the crowd at the event. Blurring the background, it puts the subject in the limelight and eliminates all the visual noise in the video. So pick-up your OPPO Reno2, turn around and make a stunning selfie video. The Bokeh Effect in Video will smudge the lights on the stage to create a dreamy-dazzling scene behind you.
● Ultra Dark Mode 2.0: Beat the darkness with the powerful Ultra Dark Mode 2.0 that lets you see what your naked eyes can't. Visually appealing stage-lighting is crucial to Sunburn. But a regular phone-camera may not do justice in capturing the special moments of a live performance in all its glory. Get the best shots of the distant mind-blowing fireworks amidst the performances of the artists with the one and only OPPO Reno2's Ultra Dark Mode 2.0 feature. This will empower you in clicking those clear candid shots of the cheering crowd too. Also, you would not have to stick to only the well-illuminated spots in the venue-premises to get some bright pictures of yourself at night. If you have OPPO Reno2, the light will follow you!
● 20x Digital Zoom: Another top-notch feature of OPPO Reno2 is its 20x Digital Zoom. An EDM festival of this scale will be seeing a massive footfall. Don't settle with being a tiny dot in the crowd. Far or near to the stage, don't let your proximity hinder the experience at OPPO Sunburn Goa 2020. The dynamic zooming ability of this device enables you to capture pristine pictures and videos from a far distance. This intelligent feature that focuses on the sound coming from the subject in front of the camera, is perfect for an outdoor music-festival setting like Sunburn. It cancels out the wind noise and other sound distractions in the surroundings. Just zoom-in to amplify the sound and voila, you are a "videography-expert" now!
OPPO Sunburn Goa 2020 Details

● Sunburn 2020 Dates: 27 Dec – 29 Dec
● Venue: Vagator, Goa
● Tickets: INR 2,000 onwards
Highlights Of OPPO Sunburn Goa 2020

● OPPO and Sunburn partnership
● Festival returning to Goa, the place where it originated, after being held in Pune for past 3 years
● 3-days purely dedicated to music and fun
● Discover a variety of EDM including Techno, Trance, House, Dubstep, Drum & Bass, Trap, Garage, Juke, Breakbeat and more
● Lavish artist line-up
● Specially curated F&B services by W Goa
● Dedicated parking at sunburn goa
Artists Line-up
Headliners
● DJ Snake
● Chainsmoker
● Martin Garrix
● Flume
Supporting
● Fedde Legrand
● Jonas Blue
● Julian Jordan
● Lost Frequencies
● Aazaar
● Brooks
● Candice Redding
● Ellie Prohan
● Jetfire
● Kryoman Live
● Loopers
● Progressive Brothers
● Ritviz
● Sartek
● Shaan
● Siana Catherine
So now, the stage's set, lights' checked, line-up ready by the crew,
Hey music lover, where are you?
Gear up to be a part of Asia's grooviest EDM festival, the OPPO Sunburn Goa 2020, in style with OPPO Reno2. The top-of-the-line features of the phone will take this festival-experience to another level this year. This highly power-packed festival boosts the carnival spirit of Goa just like OPPO Reno2 enhances the way you witness it.
Hurry Book your tickets now!