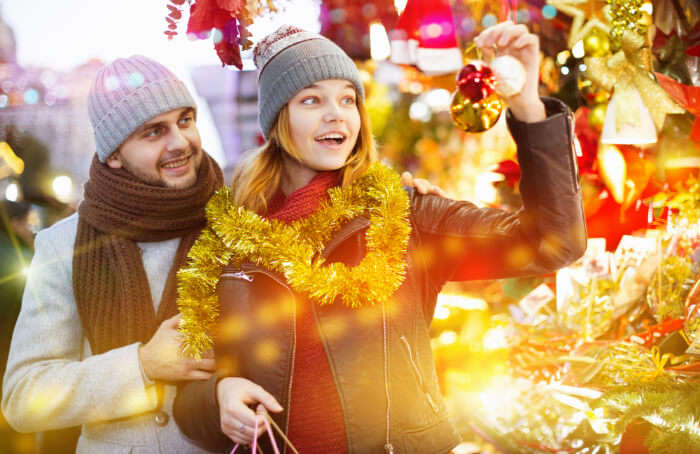 Barcelona is a beautiful city in Spain that is well known for its beach parties, festivals, and nightlife. But all of this usually takes place during the summers. If you plan to spend Christmas in Barcelona, then you might be wondering, what exactly is in the offing for tourists during the winters? Well to make it easy for you, there are plenty of things that you can do during that time to really get you in the Christmas mood. There are plenty of things to do from parades to shopping to seeing the beautiful lights, and much more.
Celebrate Christmas In Barcelona
If you are visiting Barcelona over Christmas, here are the top 10 things that you should definitely do to experience Barcelona during this time of the year:
1. Attend Christmas at Placa De Catalunya
This is a great way to spend Christmas in Barcelona 2021 because the plaza has plenty of different activities to indulge in and a huge variety of things to buy here. People usually come here for the Christmas fair. You can enjoy music, food, and games and also find some great handmade items. There is also a Santa Claus Christmas parade that takes place here and you can watch the parade or stroll down the plaza and enjoy the Christmas trees and lights all around.
Must Read: Your Stays Made Easy With These Hostels In Spain
2. Observe the El Pessebre de Nadal at Placa Sant Jaume
In most places, people tend to choose Christmas trees and go all out to get their own cribs. It is even much rarer for people to build their own cribs. However, in Barcelona, almost everyone enjoys making their own cribs from scratch. You can observe one that is there for public viewing in the Sant Jaume Plaza. It has a lot of different elements that are inspired by Roman times. This is a great way to be a part of the Christmas traditions in Barcelona.
3. Spend the day at the PortAventura Theme Park
Since the weather on Christmas in Barcelona is usually pleasant during the day, this would be an ideal place to spend the day. After mid-November, PortAventura becomes a Christmas wonderland. Aside from popular resorts here, there are plenty of traditional decorations and there is even a Christmas program that takes place here along with different activities. There is an ice show where you can enjoy different ice sculptures and a Christmas festival and parade. You can also enjoy some delicious Christmas food while watching a show or concert.
Suggested Read: 10 Sensational Wedding Venues In Spain That Will Give You Major #WeddingGoals
4. Amuse yourself with the Tio de Nadal
The Tio de Nadal is called the pooping Christmas log and it is actually a very popular tradition in Barcelona! Although it is a strange one as compared to gifts under the Christmas tree, it is very common because every household keeps this log at home, feeds it presents and keeps it warm and eventually beats it with a stick for presents. If you want to be a part of this, visit Placa Nova near Santa Lucia market and you will get to see a giant Tio de Nadal. People from different places come all the way here just to sing to the log, beat it, and poke it until it defecates presents.
5. Go shopping or just look around at Fira de Santa Llucia
Fira de Santa Llucia is the biggest and the oldest marketplace that you can find in Barcelona. There tend to be craft fairs at this time of the year. They sell a lot of different decorations and small figures that can be used in cribs. Aside from this, there is also a Christmas fair that takes place where there are winter dances followed by a parade where they throw sweets as they make their way to Placa Nova. There is a puppet performance and Christmas carols that are sung and thereafter the parade goes to see the giant Tio at Pla de la Cathedral.
Suggested Read: Winter In Spain: A Guide That'll Help You Curl Up Amid The Country's Eternal Charm
6. Go for midnight mass on Christmas Eve
You can attend mass at practically any church, but the best one to visit would be the Santa Maria del Mar which is a marvellous Catalan Gothic Basilica. If you stay till midnight you can hear the singing of El cant de la Sibila which is the sacred music or a chant of the medieval Catalunya( community in Spain). Once you are done with this, you should head outside and take a walk around Santa Maria Plaza and take a look at the food market and maybe even indulge in some of the delicacies. This is a great way to spend Christmas Eve in Barcelona.
7. Enjoy a meal at Flaherty's Irish Pub
Although there might be plenty of places where you can get some great food, if you are looking for a traditional turkey lunch in a cozy environment then you should definitely visit Flaherty's. This is a very popular place with tourists because, after a tiring day of exploring, they drop in here for a few beers and some delicious food. You can enjoy a four-course meal here that consists of the traditional turkey breast along with a few starters, a free drink, and Christmas pudding. Kick back and relax here with some live music or sing along with them. This is a great way to spend Christmas day in Barcelona.
Suggested Read: Trekking In Spain: 10 Best Places For Indulging In An Ultimate Adventure Like Never Before!
8. Check out the Christmas lights and trees
The Christmas lights are called Els Llums de Nadal. These lights in Barcelona are turned on the 24th of November and stay on until the 6th of January. There are so many different places that you can visit and many streets to stroll down. Be sure to visit the Montjuic Magic Fountain, it is a beautiful place to see all the Christmas lights. There is even a free water and music show that happens between 7:00 pm to 9:00 pm. You can find a massive Christmas tree on Portal de Angel street and Placa de Sant Jaume where the Christmas festival takes place.
9. Check out Circ Raluy
You can find this circus at Port Vell Marina. They bring a new show every year and only appear after mid-December. It is a historic traveling circus as well as a traveling museum that can be found in the caravans. There is also a hotel in one of the caravans where you can experience a life that holds all the elements from 1939.
Suggested Read: 10 National Parks Of Spain That Will Take Travellers To Another World
10. Go ice skating at the Ice Rink
You can find the largest outdoor ice skating rink at Placa de Catalunya. If you are spending Christmas in Barcelona, Spain and you want to have some fun, just check out the plaza, hire a pair of skates, and go skating!
Further Read: 8 Best Spanish Cuisines That Will Make You Fall In Love With Spain All Over Again!
If this has got you interested in spending your Christmas in Barcelona, let us help you book your trip so that you get a chance to experience all that Barcelona has to offer during Christmas.
---
Looking To Book An International Honeymoon?
Book memorable honeymoon on TravelTriangle with 650+ verified travel agents for 65+ domestic and international destinations.
---