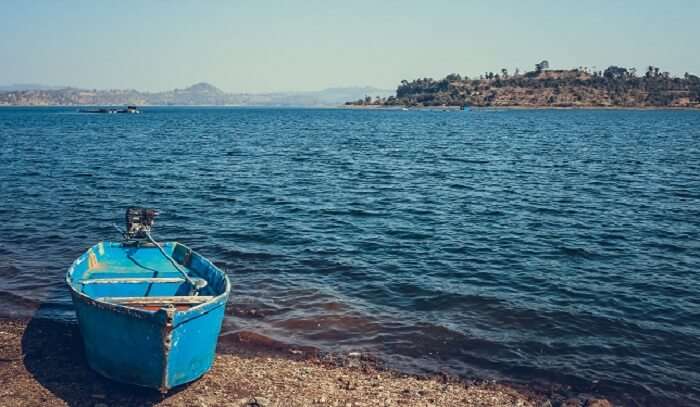 Silvassa is a perfect paradisaical haven for you if your idea of a vacation is to get away from the usual hustles and bustles, into the lap of several shades of refreshing greens. This is perhaps the most invigorating destination that you can visit to gain back the energy to fight the upcoming weeks.
Silvassa is a quaint little city nestled in the heart of the union territory Dadar and Nagar Haveli. This destination got its fame by virtue of the tribal heritage that you can find in this city. There are a plethora of places to visit in Silvassa that ensures that you get to enjoy the best of this destination. Mentioned below are a few of those that you should cover on your holiday!
Top 7 Places To Visit In Silvassa
Here is a comprehensive list of famous places in Silvassa that you should visit during your first trip to the city. These places range from a pristine lakes to lush green gardens. Silvassa, one of the best places to visit in Gujrat is, indeed, the land of nature lovers.
1. Dudhni Lake

If you are a tourist who loves just the right blend of nature and adventure, you should consider visiting Dudhni Lake. This is often tagged as one of the best places to visit in Silvassa, thanks to water sports opportunities. The location might be a couple of kilometers from the main city, but it is usually covered as a part of the city tour.
From kayaking to jet skiing, there is plenty that you can do at this tourist spot. You will also find beautiful shikaras that you can take a ride on, as the sun sets in the lake and spreads hues of pink, blue, and yellow in the sky.
Location: Madhuban Dam
Timings: 5:30 a.m. to 6:30 p.m.
17 Historical Places In Gujarat That Uncover A Legendary Past
2. Damanganga River Front

Image Credits: Daman Ganga Riverfront at Silvassa, D & NH for Facebook
If you plan to just sit by the corner and see the world go by, Silvassa is your real deal. Damanganga River Front is perhaps amongst the popular Silvassa tourist attractions. This River Front shouts of recreation and de-stressing activities.
This public place has been beautifully structured and designed to offer magnificent views of the riverfront, as the world takes part in several events revolving around culture, music, and dance. There are many fitness programs that take place at this spot to encourage healthy life among locals here.
Location: Daman Ganga River, Silvassa – Bhilad Rd, Silvassa, Dadra and Nagar Haveli 396230
Timings: Open 24 hours
3. Vanganga Lake

Image Credits: Ashish Gupta for Wikimedia Commons
Vanganga Lake is another one of the pristine lakes in Silvassa. This is among those places to visit in Silvassa that offer you an awe-inspiring experience. The lake is not only famous for its calming waters but also for the several shades of green that can be observed here.
This tourist spot is spread across 7 hectares of land and is a popular spot for locals. You can find several early morning walkers and light joggers swarming in and out of this beautiful location. You can find the tracks surrounded by the soothing beds of flowers on both sides as you run past it. It makes you feel like you're walking along a trekking trail!
Location: Silvassa Road, near Dadra Resort, Dadra, 396230
Timings: 11 a.m. to 8:30 p.m.
17 Famous Festivals In Gujarat To Celebrate In 2022 With Joyous Fervor
4. Tribal Museum

Image Credits: Pinakpani for Wikimedia Commons
Silvassa is one destination that has managed to retain its culture and traditions even after going through a deep historic revolution back in the days. Tribal Museum is one of the places to see in Silvassa that gives you a chance to experience the tribes throughout the centuries.
Several ornaments, fishing and hunting tools, household articles, agricultural equipment, and many other artifacts can be seen placed in this building. You can also observe various life-sized models that depict the lifestyles of the tribes, their wedding dresses, a few photographs, and more.
Location: Silvassa – Vapi Rd, Silvassa, Dadra and Nagar Haveli 396230
Timings: 9 am to 6 pm
5. Lion Safari Wildlife Park

Image Credits: Alkemade for Pixabay
Like we said before, Silvassa is a destination for everyone. Apart from offering places for nature enthusiasts, this destination is also a great place for animal lovers. Lion Safari Wildlife Park is a top attraction in Silvassa.
Sitting around 10 kilometers from the center of the city, Lion Safari Wildlife Park is a significant part of the Dadra and Nagar Haveli Wildlife Sanctuary. The aim of this Park is to protect and preserve Asiatic lions in the country. If you have a thing for the magnificence for the king of the jungle, why not pay a visit?
Location: Silvassa Vasona Lion Safari, Silvassa Vasona Lion IN, Silvassa – Bhilad Rd, Silvassa, Dadra and Nagar Haveli 396230
Timings: 9:00 a.m. to 5:00 p.m.
8 Places To Visit In Gujarat In June For An Amusing Summer Vacation In 2022!
6. Hirwa Van Garden

Nestled in the hills of Piparia is this bewitching man-made garden on the Silvassa Dadar road. Literally means Green Forest, Hirwa Van Garden features green lawns, alluring twin arches, stone wall structures and small artificial waterfalls that captivate vacationers from far and wide. While being a perfect picnic spot for kids as well as for adults, the garden maintains a separate water sports area where you can enjoy some relaxing moments. Besides this, the children's play area features a seesaw, slips, and swings for kids' entertainment. Interestingly, one can also enjoy star gazing and night camping experiences here.
Location: 7XQW+P5M, Silvassa – Vapi Rd, Near Pipariya Police Station, Opposite Sahkar Bhavan, Danudyog Industrial Estate, Silvassa, Dadra and Nagar Haveli 396230
Timings: 10:00 a.m. to 8:00 p.m.
7. Our Lady of Piety Church

Established in the late 18th century, Our Lady of Piety Church is a perfect place that showcases Portuguese architecture. Since it's perfectly preserved, it lures history lovers and architectural enthusiasts from far and wide. One of the oldest churches in the region, Our Lady of Piety Church is positioned right opposite the Tribal Museum. The structure features grey-coloured exteriors built with stone. While visiting here, you can witness a mural of the renowned artwork, namely the Last Supper. So, if you are a historical buff, make sure to visit this serene church.
Location: 72C3+8X2, Sayli Rd, Silvassa, Dadra and Nagar Haveli and Daman and Diu 396230
Timings: 6:00 a.m. to 4:00 p.m. (closed on Saturdays and Sundays)
7 Best Adventure Sports In Gujarat One Must Definitely Try Out In 2022!
With so many places to visit in Silvassa, this destination surely catches one by surprise. From the gardens to the waterfalls, the refreshing aura that Silvassa exudes is magnificent. If you are looking for an offbeat destination to spend your next off-days, this is it. So, start marking your calendars, plan a trip to Gujarat,, and have the time of your lives away from the city chaos!
For our editorial codes of conduct and copyright disclaimer please click here.
Frequently Asked Questions About Places To Visit In Silvassa
Is Silvassa a smart city?
It was in July 2014 that the Government of India formally announced that Silvassa is one of the cities to be a part of the Smart City Scheme.
What is the best time to visit Silvassa?
It is best to visit Silvassa when the winter season is going on in the city. The months of December and January are considered the best ones to enjoy pleasant weather when roaming around the city.
Why is Silvassa famous?
Silvassa is a small city in the union territory of India. This destination is known for plenty of things including its lush greens, exotic resorts, various industries, and tax-free alcohol.
How can I reach Silvassa?
It is best to take a train to reach Silvassa. The nearest railways station to Silvassa is in Vapi and is around 17 kilometers from the city center. This station is well -connected with all the major parts of the city.
What can I buy in Silvassa?
There are plenty of things that you can buy in Silvassa including bamboo crafts, palm-leaf mats, Warli paintings, carved wooden smoking pipes, and much more.
People Also Read:
Places To Visit In Kufri Places To Visit In West Bengal Places To Visit In Chandigarh