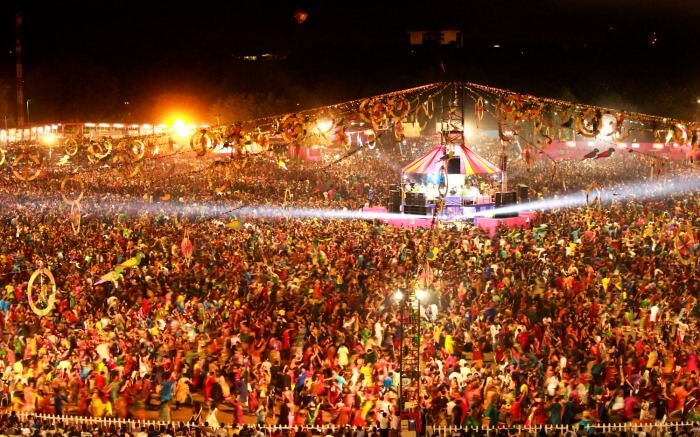 When mustached men take to the dhol, and ghagra-clad women dance to garba tunes like no one's watching, that's when you know it's the festive season in Gujarat. Celebration of most famous festivals in Gujarat will make you groove while flaunting the state's age-old traditions and vivid culture. From dahi handi breaking competitions to decorating the livestock, all festivals of Gujarat have something special about them.
Festival In Gujarat
If you're planning a holiday here, you must time it smartly. Because the way Gujaratis celebrate life leaves you pepped and panting at the same time!
1. Navratri – Tops the list of most awaited festivals in Gujarat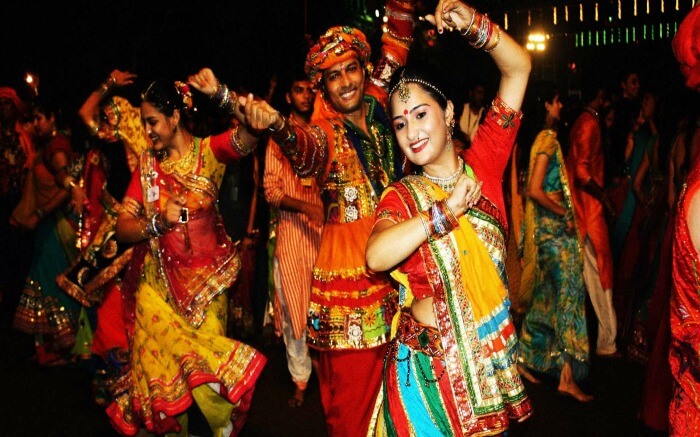 We can't deny we think of Dandiya, Garba and Falguni Pathak when we think of Gujarat Navratri festival! This is among the most vibrant festivals in Gujarat and other parts of India. During this 10-day celebration, locals perform a Durga pooja, and enjoy with music, Garba, and dandiya.
Where: Navratri is a traditional festival of Gujarat. You will come across the celebration in every nook and corner of the state.
What to expect: A lively celebration that exhibits the colorful culture of Gujarat through acoustic music and dance. This is your chance to dress in ethnic Gujarati costume. Ready to don that typical Ghagro na choli?
When is Navratri celebrated: This festival falls in the month of October every year
Navratri 2019 dates: 29th September – 7th October 2019
---
Gujarat Holiday Packages On TravelTriangle
Spot lions in their natural habitat at Gir national park, relax on the beautiful island of Diu, or go on a religious tour to Somnath and Dwarka. Book a memorable holiday to Gujarat inclusive of airport transfers, cab, resort, sightseeing, and meals on TravelTriangle.
---
2. Rann Utsav – As the white desert merges with the vibrant heritage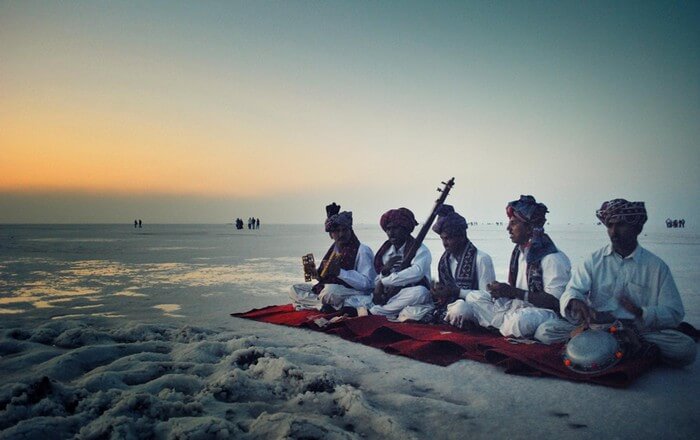 Rhythmic strums of ravanahatha, Gujarati men with legendary mustaches and pagris, and the sparkling white sand – the desert of Rann dons a festive avatar right when autumn is at its peak.
Gujarat's fascinating heritage takes the forefront at the Kutch festival of Gujarat. It is that much-awaited time of the year when people, regardless of where they live, come over for an extravagant experience of the most popular festival of Gujarat.
Where: The Rann of Kutch
What to expect: Cultural performances, best of Gujarati handicraft & handloom, a stay in the tent city, local sightseeing tours, safari in Kutch Wildlife Sanctuary and bird watching
When is Rann Utsav celebrated: The festival takes place between November and February annually
Rann Utsav 2019 dates: 1st November 2019 – 20th February 2020
Suggested Read: All You Need To Know About The Desert Fest
3. Shamlaji Melo – Meet the decked up animals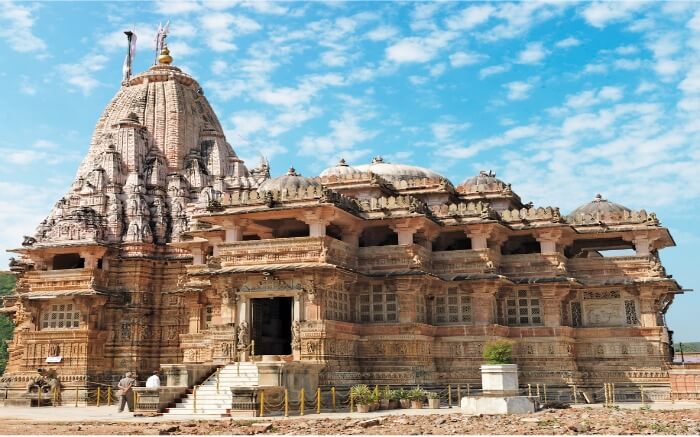 Shamlaji Melo, or Kartik Purnima Fair takes place in the premises of immaculately crafted Shamlaji Temple and lasts for three weeks. This is the time when large groups of devotees arrive on foot or camel carts, sing songs for the deity and bathe in Meshwo River beside the temple.
The fair, along with being a fun place, also happens to be a revered place for trading silverware, cloth and ornaments.
Where: Shamlaji Temple
What to expect: A gathering of devotees, a cultural and traditional experience, and a nice collection of ornaments in local stalls
When is Shamlaji Melo celebrated: The fair is organized around November, with Kartik Purnima being the most important day
Shamlaji Melo 2019 dates: 31st October – 4th November
Suggested Read: 10 Festivals In Mauritius To Experience Its Vibrant Culture And Heritage
4. Vautha Mela – Animal trade festival of Gujarat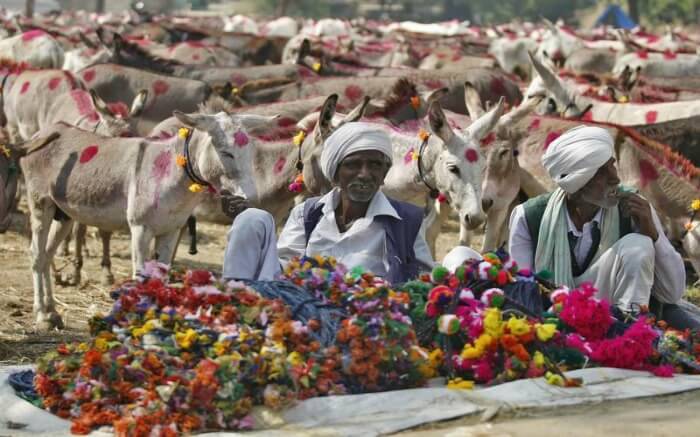 Vautha Mela is an exciting animal trade festival of Gujarat. Weird as it may sound, but this is where you'll watch many camels and donkeys decked up with ornaments and paints. This isn't merely a fair, people even consider this event more pious than Diwali, as the location happens to be where seven holy rivers converge.
Many families leave their house for few days to live in tents near the fair venue. Everyday a different sweet dish is made; khichu is particularly popular. The river is lit by floating diyas in the evening and one can enjoy shopping in local stalls all through the mela.
Where: Vautha, Gujarat
What to expect: Beautifully decorated animals, stalls selling everything from handicrafts to machineries, Hindu traditions being performed on river bank, tents and delicious local cuisines
When is Vautha Mela celebrated: This five-day festival falls on the full moon night of Kartik month of Hindu calendar (November)
Vautha Mela 2019 dates: 4th-5th November
Must Read: 10 Global Festivals You'd Never Want To Attend
5. International Kite Festival (Uttarayan) – Watch the sky turns into a canvas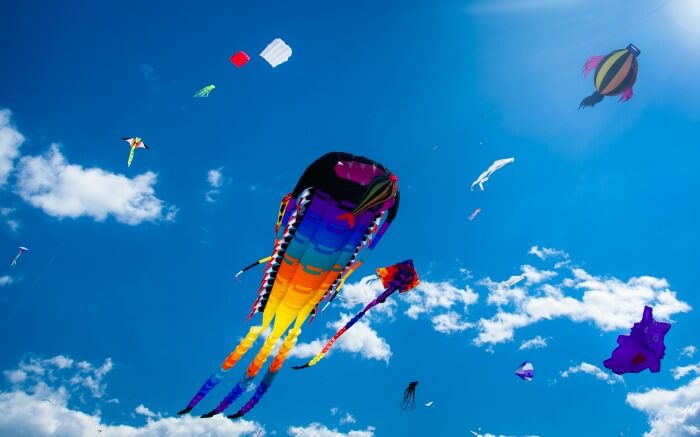 As colorful kites soar to the sky, festivities on ground are an all time high. The enthusiasm of the International Kite Festival in Gujarat envelops all nooks of the state – from cobbled and narrow streets to the sky.
The festival marks the beginning of harvest season and is celebrated with great enthusiasm and zeal. People stock up their houses with kites and charkharis days before the festival. And not just Gujaratis or Indians, people fly from far-off regions like Canada and USA to have their share of fun in one of the most colorful festivals in Gujarat.
Where: Though the main event is celebrated in Ahmedabad, but the festival is celebrated across Gujarat
What to expect: Kite flying competition between locals and even international participants, numerous colorful kites in different shapes and sizes (lighted kites, sports kites, hand-painted kites, 500 kites in a string), delicious Gujarati food items like Undhiyu
When is International Kite Festival Celebrated: The event takes place on 14th January every year (Makar Sankranti)
Kite Festival in Gujarat 2019 dates: 6th-13th January
Must Read: 13 Festivals In January In India That Put A Celebratory Start To New Year 2019
6. Modhera Dance Festival – Glance at the Indian classical heritage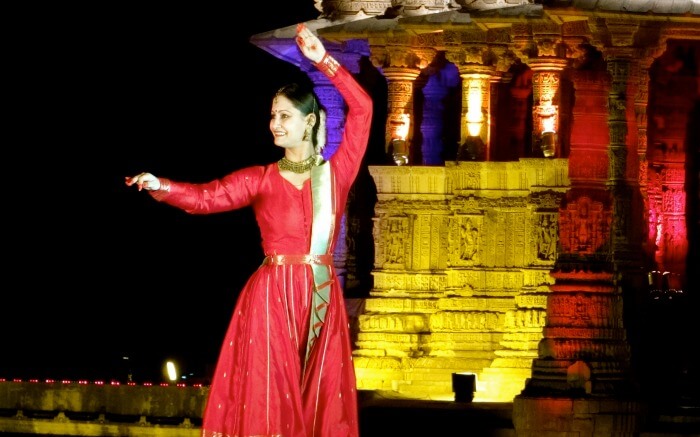 Also known as Uttarardh Mahotsavis, this three-day festival is a great excuse to experience the essence of classical Indian dance and music. With the exquisite backdrop of Sun Temple in Modhera transports you to the times of Solanki empire.
Modhera Dance Festival is organized by Tourism Corporation of Gujarat. The temple is an epitome of brilliant architecture and elevates the whole grandeur of the celebration.
Where: Modhera Sun Temple
What to expect: Classical dance and music performances by professionals, a peep into the history of the vicinity and a lovely setting with colorful lights
When is Modhera Dance Festival Celebrated: January third week every year
Modhera Dance Festival 2019 dates: 19th January to 21 January
7. Bhavnath Mahadev Fair – Be a part of a lively procession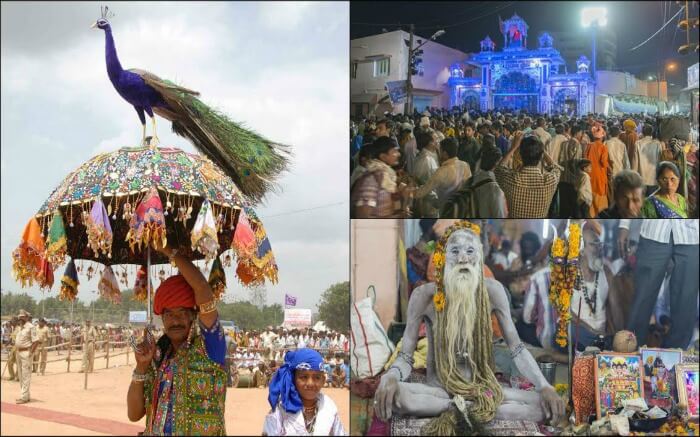 Bhavnath Mahadev Fair is a five-day affair dedicated to Lord Shiva, and it is believed he himself visit the place during this time. The sages riding on elephants blow shells and lead processions, marking the commencement of this fair. Dance, music, prayers and offerings are performed during this enlivening festival. People before coming to the shrine do parikrama around the Girnar Hill.
Where: Bhavnath temple, Junagadh
What to expect: Processions, prayers, dance, music, martial arts, stalls selling idols, sweets and rosaries
When is Bhavnath Mahadev Fair celebrated: The fair is organized in February or March, during Maha Shivratri
Bhavnath Mahadev Fair 2019 dates: coincides with Mahashivratri
Suggested Read: 10 Incomparable Places to Visit in Gujarat
8. Rath Yatra – An unmissable celebration and among the popular festivals celebrated in Gujarat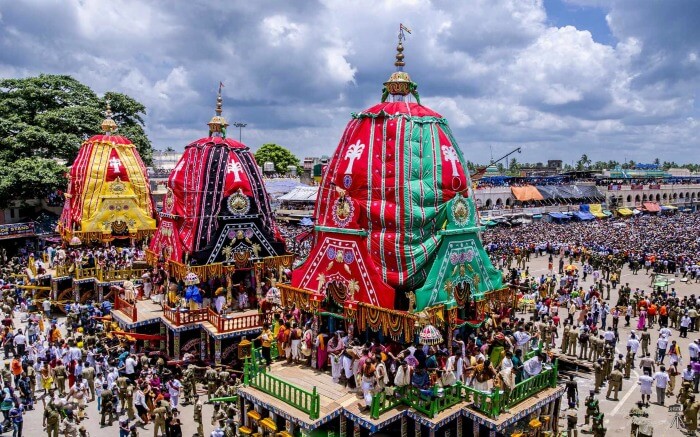 Rath Yatra is one of the most awaited festivals in Gujarat and other parts of India, and it takes place majorly in four places including Jagannath in Ahmedabad (Gujarat). This sacred annual celebration's main highlight is the procession that is led by an ornate chariot.
The procession begins prior the Pahind Vidhi (cleaning the route for chariot), performed by the CM of Gujarat. The chariot and procession then make their way through different corners of the city.
Where: Jagannath Temple, Ahmedabad
What to expect: A traditional and cultural extravaganza in which exciting parade and prayers take place
When is Rath Yatra Celebrated: The festival is celebrated in the month of June or July every year
Rath Yatra 2019 dates: 4 July 2019
9. Janmashtami – Celebrate the birth of Lord Krishna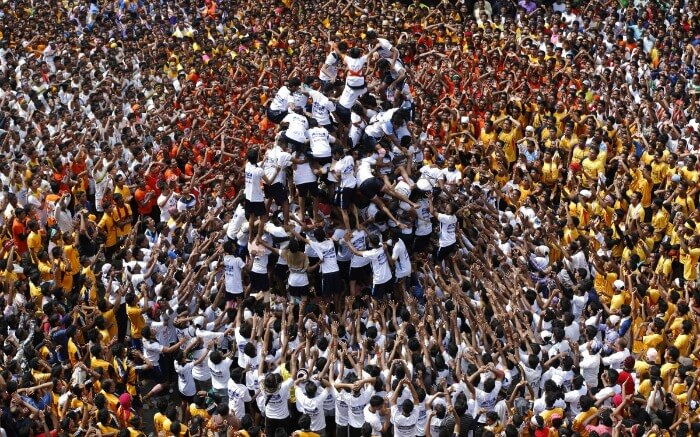 Another one of  most-awaited festivals celebrated in Gujarat, Lord Krishna's birthday is celebrated with unmatchable zeal and devotion in Dwarka, Gujarat. People celebrate the birth of Lord Krishna at midnight, placing an idol in the cradle and worshipping him. A thread tied with the cradle is gently pulled to make it swing.
Lord Krishna is offered his favorite makkhan (butter) and mishri (rock sugar). Dahi handi breaking is also an exciting activity that takes place as a part of the celebration.
Where: Dwarka, along with many places in the state
What to expect: Dahi handi breaking, Krishna birth at midnight, music and dance, Krishna mantra chanting and prayers
When is Janmashtami celebrated: Janmashtami is celebrated in the month of August
Janmashtami 2019 dates: 24 August 2019
10. Bhadra Purnima Fair – Dive into the Gujarat's ethnicity
Image Source
One of the biggest festivals of Gujarat, Bhadra Purnima Fair spans for three days and is dedicated to Goddess Ambaji, in Ambaji Temple. As there is no idol in this temple, thus the representation of the deity is done through a triangular object called Vishwa Yantra.
During the fair, people gather to worship the goddess and read Saptshati (seven hundred prayer verses) together. As the evening knocks the door everyone have a gala time by performing garba and Bhavai (folk dance).
Where: Ambaji Temple, Banaskantha (Gujarat)
What to expect: Offering, prayers, stalls selling knick and knacks, folk dance and music performances
When is Bhadra Purnima Fair celebrated: This festival is celebrated on the full moon day of August or September
Further Read: 15 Fascinating Tourist Places In Ahmedabad
Regardless of which Gujarat festival 2019 you choose to attend, you can soak in the Gujju vibes as this state has beautifully managed to cling on to its past while pacing up with the modern world. Hope this list of festivals in Gujarat came out to be helpful to you! Keep this list handy when planning your 2019 vacation in Gujarat.
---
Looking To Book A Holiday Package?
Book memorable holidays on TravelTriangle with 650+ verified travel agents for 65+ domestic and international destinations.
---
Comments
comments