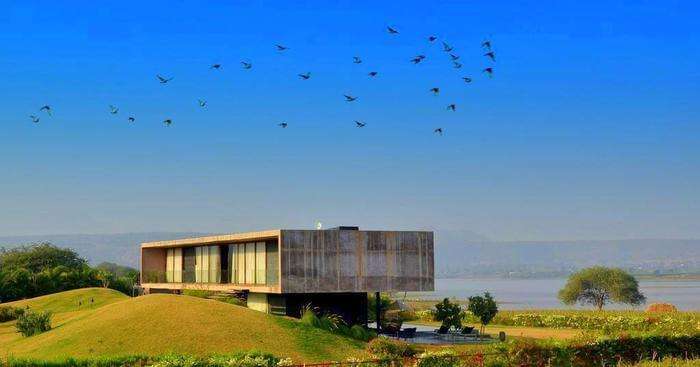 Lush green vineyards, a tranquil lake, backwaters, and picturesque hills await you at Nashik. This picture-perfect destination lets you re-invigorate your mind and soul amid nature. It is a paradise for nature lovers, adventure freaks, honeymoon couples and solo travellers. And the resorts in Nashik are equally gorgeous and apt for every type of traveller. If you want to spend your weekend or mini-vacation relaxing in a pool while tasting homegrown wine or walking through the thick vineyards, you must take a look at these resorts that fit any budget.
Best Luxury Resorts In Nashik Under 10K
Nashik's ultimate charm is its nature and vineyards, and for the best experience travelling around, your stay must reflect the values and ethos of the destination. From letting you relax in the lap of nature to let you soak in ultimate luxury, these 10 resorts will offer you a stay like none other. Take a look!
1. Beyond By Sula
If you wish to soothe your senses and treat your soul with refreshing views of vineyards and rolling hills of Gangapur, Beyond By Sula is the right place to spend that much-awaited vacation. This is one of the best Nashik luxury resorts, which exhibits elegance, style and luxury. The lake view rooms are decent and artistic but if you are with your better half, book the luxurious sky villa. The romantic aura of this property makes it one of the best resorts in Nashik for couples. The resort has a walking deck where one can enjoy a photogenic sunset with their beloved while enjoying fresh wine.
What's special: An infinity pool
Starting tariff: INR 7499/night
Suggested Read:20 Best Restaurants In Nashik To Relish The True Flavors Of India
2. Grape County Eco Resorts
Immerse yourself in ultimate serenity and luxury during your stay at Grape County. Sprawling over 120 acres and overlooking the picturesque valley, it is one of the poshest resorts in Nashik. The view of lush green vineyards and valleys from the eco-cottages and villas is a soothing visual treat, and the exclusive wine and dine experience at the in-house kitchen is a delight for all.
What's special: Angling, kayaking and horse riding facilities
Starting tariff: INR 7200/night
3. The Source at Sula
The Source at Sula is a plush Nashik vineyard resort known for its style, serenity and top-class amenities. It is blessed with an unmatched view of the opulent vineyards and Gangapur lake The property offers a tranquil environment away from the clutter and chaos of the urban city. This place is also surrounded by some of the most popular temples in Nashik. Located inside Sula vineyard, one can go on hikes, cycle through the estate, taste organic food and pamper themselves at Vinoy Spa.
What's special: Wine tasting and vineyard tours
Starting tariff: INR 6999/night
Suggested Read:Top 38 Weekend Getaways From Mumbai For The Love Of Traveling
4. V Resorts Soma Vine Village
Another one among all the finest Nashik luxury resorts, V Resorts Soma Vine Village is an ideal place to spend quality time with family and friends. Offering impeccable services and stunning vistas, V Resorts Soma Vine Village is also known as Green Valley Resort Nashik.This fine property leaves its guests enthralled with its specially arranged activities like cycling and photography tours and nature walks.
What's special: Wine tasting and grape stomping facilities, arranged by the resort
Starting tariff: INR 6100/night
5. Club Mahindra Hatgad
Overlooking the Satpura lake, Club Mahindra Hatgad is another name, we need to consider, when shortlisting stay options in Nashik. Tucked away in the outskirts, this expansive property has everything for a memorable holiday. Be it state of the art facilities or quick and friendly staff, wide range of activities or stunning views; the resort has it all. Club Mahindra Hatgad is among the best resorts in Nashik with swimming pool, separate kids pool, health club and more. You can also get tours of the best waterfalls in Nashik during your stay here.
What's special: The resort organises folk dance and music shows, every evening for its guests.
Average tariff: INR 5117-9780/night
Suggested Read:Wine Tourism In India: Top 5 Vineyards To Get Tipsy In
Budget-friendly resorts in Nashik under 5k
6. Watermelon Club and Resort
With accommodations like AC tent, AC cottages and camps, Watermelon Club and Resort has the perfect mixture of fun and adventure activities to make the holiday exciting and delightful. As one of the most popular resorts in Nashik for family, there are ample things to do such as water walking log, water slide, trampoline, flying fox, rappelling, rock climbing, mini golf course, sumo fight, and zorbing. One can play golf or try their hands in archery or fire shooting.
What's special: Try authentic Khandesh dishes in the restaurant of the resort
Starting tariff: INR 4500/night
Suggested Read:29 Best Things To Do In Nashik For A Delightful Vacation, Away From The Crowd
7. Savana Lake Resort
If all you want is a mesmerising view of Gangapur Lake along with some luxurious services, Savana Lake Resort is probably one of the best resorts in Nashik. It offers best-in-class accommodation in luxurious cottages and suites, arranges water sports and kayaking in Waldevi backwaters and has a plethora of outdoor and indoor games like volleyball, football, table tennis and carrom.
What's special: Try your hands at farming on the organic farm of the resort
Starting tariff: INR 4499/night
8. Anand Resorts
The resort that charms all its guests with unmatched services, hospitality and mesmerising views is none other than Anand resort Nashik. Located on Trimbak Road, it is an ideal holiday retreat with significant amenities and features like spacious rooms and suites, children play area, artistic décor, car parking facilities, and impressive hospitality. This is probably one of the few resorts in Nashik with swimming pool in this price category.
What's special: Swimming pool with an artificial waterfall
Starting tariff: INR 3000/night
Suggested Read:23 Best Hill Stations In Maharashtra That'll Leave You Speechless On Your Next Trip
9. Ihop Sanjivani Resort
Featuring 12 AC rooms, a restaurant, banquet facility and travel assistance, Ihop Sanjivani Resort is an idyllic stay option for tourists looking for a relaxing weekend retreat in budget. The rooms are neat and clean and staff are cooperative and friendly. In a nutshell, with all these features and services, Ihop Sanjivani Resort must get featured on our list of best resorts in Nashik in budget category.
What's special: Pet-friendly resort
Starting tariff: INR 3000-3500/night
10. Manas Resort With Petting Zoo
Situated on the Nashik-Igatpuri highway, Manas Resort is indeed one of the good Nashik resorts for a refreshing vacation. Spread over a sprawling manicured garden, this resort has the perfect environment to chill and relax with family and friends. With a multi-cuisine restaurant that encourages traditional cooking in clay pots, spa and huge swimming pool, there is nothing you can miss at Manas Resort.
What's special: Petting Zoo, with pet farms, special kennels, pet training sessions and off-leash parks
Starting tariff: INR 2000/night
Suggested Read:Top 22 Places To Visit In Maharashtra In Summer For A Cool Vacation
11. Aria Resort & Spa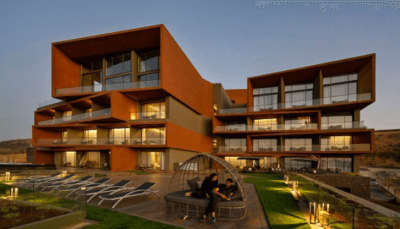 Located at a distance of 6 kilometres from the Sundarnarayan Temple, Aria Resort & Spa is an all-inclusive resort property that will help you relax and unwind on your trip to Nashik. This 5-star establishment features some of the best-designed rooms in the region with some of them having a featured balcony opening up to the lake view.
What's special: Lake view rooms
Starting tariff: INR 6,000/night
12. Casa Green Restaurant & Resort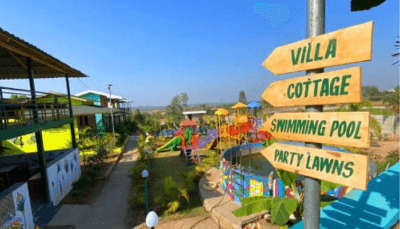 If you are looking for resort stays in Nashik near Dudagaon. Casa Green Restaurant and Resort is in close proximity to some of the popular landmarks in the city. If you planning to travel around, this accommodation provides you with a comfortable stay to unwind at the end of your day.
What's special: Camping tent
Starting tariff: INR 3,500/night
Suggested Read:7 Handpicked Resorts Near Sariska Which Are Perfect For A Relaxing Stay Away From Home
Whether you're visiting Nashik on a business trip, a weekend trip, or for the wine and food festival, these resorts in Nashik are perfect for a short vacation in the quaint Nashik.
For our editorial codes of conduct and copyright disclaimer, please click here.
Frequently Asked Questions About Resorts In Nashik
Can Sula Vineyards be visited during the evening?
Yes, it is safe to visit Sula Vineyards during the evening and it is one of the best places near Nashik that you can explore. So, if you are planning to explore this place during dusk then do not hesitate to do so.
Are there any travel restrictions in Nashik?
The Nashik district administration has removed all restrictions imposed during the pandemic and interstate travel doesn't require you to take any tests.
What can be the best way to reach Nashik?
Reaching Nashik in the best way can only be decided on the location you are travelling from. Nashik is well-connected via roads, air, and rails so all three options are valid for this place. There are frequent trains that connect Nashik with all other states of India.
Which is the local language of Nashik?
Marathi is the state language of this city. However, most people communicate in Marathi English and Hindi.
Which can be the best time to visit Nashik?
It is said that October to February is the best time when one can plan a trip to this city. The weather remains quite pleasant and people can enjoy the whole trip.
People Also Read:
Resorts Near Ahmedabad Resorts Near Bangalore Resorts Near Solan