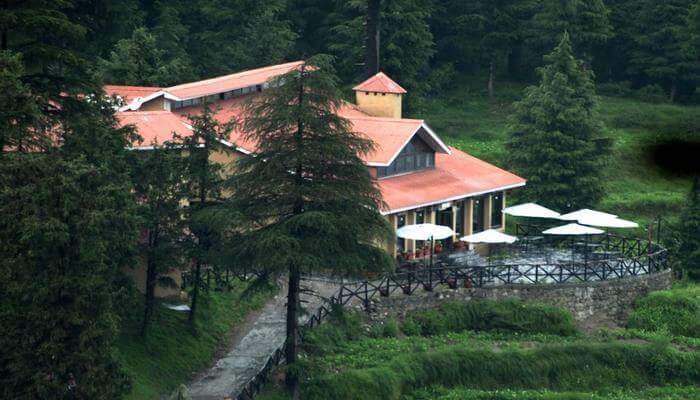 Sariska is a beautiful city that is particularly known for the Sariska National Park but alongside that,the city also has a natural hue to it. The city is in the lap of nature amidst Aravalli hills. It attracts millions of tourists here every year and is known for its great hospitality. The place is a world-class locale and quite developed. It hosts multiple resorts, which are not only lavish but have a total royal theme to them.
While these resorts hold their heritage, they are leashed with all kinds of modern amenities and the city is quite accessible from these resorts. Apart from going in for a luxurious stay, this resort also offers guidance on how and where you can spend your holidays. They could also arrange your trip to Sariska Tiger Reserve, which is quite an adventure while a stay at one of these resorts near Sariska will be memorable for life.
7 Best Resorts Near Sariska
Whether you are planning for a quick getaway or a leisure trip, Sariska ensures to provide some amazing stay options. ere are some of the best resorts near Sariska which one must definitely visit to enjoy a great time away from the chaos of the city.
1. The Hill Fort Kesroli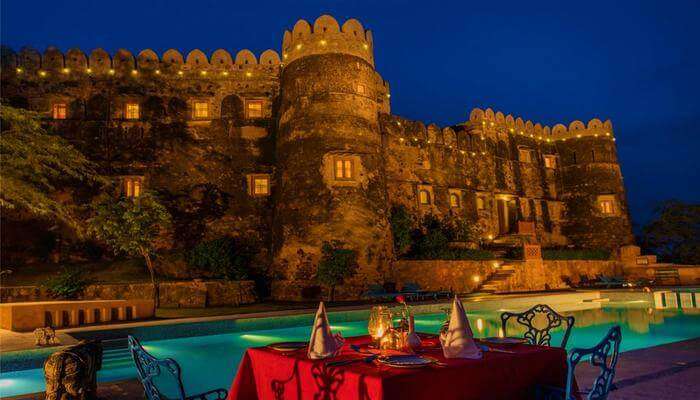 This is one of the most famous resorts in Sariska and is built upon a heritage which is more than 700 years old. The quiet place tends to remove all kinds of pain and stress that you were exposed to in city humdrum. You tend to detox yourself while you spend your days here admiring the beauty of this locale. You can view the splendid and never-ending horizons of Tiger Reserve, which gives a quick flick of Sariska Tiger Reserve and Aravalli ranges.
The resort is also significant as it is located at the heart of the Golden Triangle, which makes it quite accessible from all three major cities that are Delhi, Jaipur, and Agra. People often plan a two-day trip to Sariska Tiger Reserve and spend their time leisurely at this place. The rooms are spacious and elaborate on the saga of age-old history. They also have conference rooms, wedding halls and various other facilities to celebrate your happy occasions.
Exclusive Features
A Historic 700-year-old property
Splendid 360-degree view of the hills and fields
Terrace Pool with sundeck and a spa
Local and International delicacies to relish
Lush green gardens
Historic rooms with a graceful décor
Distance from Sariska: 39 km
Price: Starting from INR 7,000 to INR 10,000 per night
Website
Sariska National Park: The Lush Abode Of Royal Bengal Tigers
2. The Sariska Palace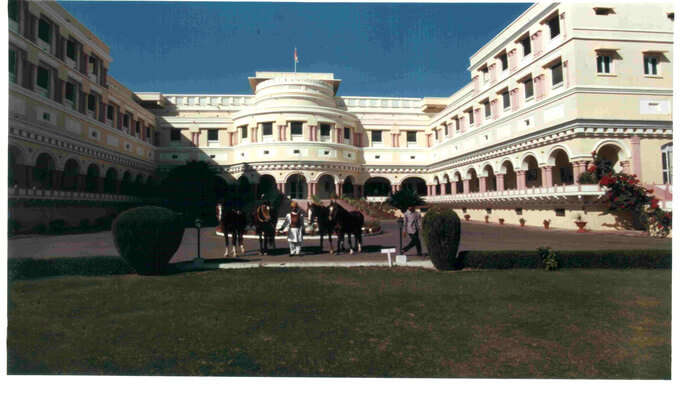 This is a palace on rent and adorns regal and French architecture. It's quite a famous place in Sariska and is located on the edge of Sariska National Park. This is one of the major resorts in that area and is quite prominent amongst other Sariska resorts. It has beautiful suites and standard rooms with all kinds of modern amenities. If you are planning an excursion to Sariska Wildlife Century, then this place is quite well located for you. You stay near the jungle while connected with the rest of the world. While you are here, you can also indulge in activities like tennis, swimming pool, fitness and spa centres. The lawns and courtyards of this palace are very well kept and are one of the most amazing features of this resort. It is one of the best resorts near Sariska.
Exclusive Features
Swimming Pool
Restaurant and Dining
Fitness and Spa
Lawns and Courtyards
Tennis Court
Lobby & Reception
Distance from Sariska: 3kms
Price: Starting from INR 10,000 to INR 20,000 per night
Website
3. The Alwar Bagh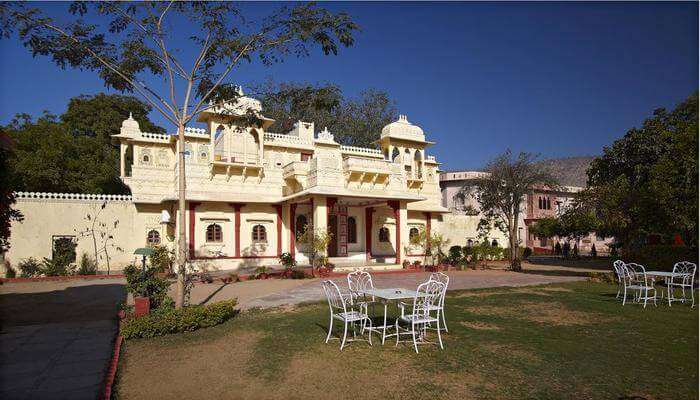 This is built as a heritage style architecture and is in the middle of the green and pollution-free environment. The place is surrounded by beautiful Aravalli Hills and quite well equipped with all kinds of modern amenities to make your stay comfortable and full of joy. This place is in the middle of Alwar and Sariska and has got various kinds of activities that you can partake in the resort and around it. All rooms have attached bathrooms and are quite spacious and full of facilities. The interiors of this place are chosen tastefully with an ethnic feel and a touch of a bygone era. You get the full experience of staying in a nature lapsed area when you choose to stay here.
Exclusive Features
Travel Assistance
Jeep Safari
Camel Cart
Village Safari
Trekking
Excursion
Bonfire
Special Tours to Sariska
Special arrangements for the wedding and other functions
Distance from Sariska: 24 km
Price: Starting from INR 4,000 per night
Website
Let These Fascinating Places To Visit In Alwar Make You Fall In Love With It In 2022!
---
Planning your holiday in Rajasthan but confused about what to do? These Rajasthan travel stories help you find your best trip ever!
---
4. Aamod Resorts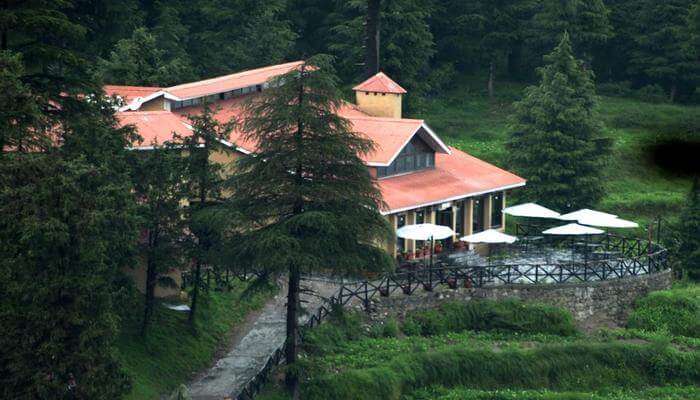 Alwar Bagh by Aamod is a resort located nearby Sariska Tiger Reserve and is set in the lap of nature. The resort is near to the jungle and hence you can still hear the roar of Tigers and Jackals in the night. Other than that, you also get to enjoy the beautiful Aravalli hills that surround this place. It is said to be one of the best places to live in Sariska. The resort is spread wide in around 7 acres of land and portrays Rajasthani heritage style, making it one of the best resorts near Sariska.
You can wake up every morning with the chirping of birds and have your breakfast laid in the lavish lawns near this resort. You could also conduct your corporate retreats and use your spacious conference rooms which can accommodate as many as 100 participants in a single time. This resort is ideal for planning a team-building activity. There is a large swimming pool in this resort with shallow and deep waters. The resort is quite spacious and is a good place to conduct weddings and events.
Exclusive Features
King-size bed with Spring Mattress
LCD TV with D2H Service
DVD player (on request)
Electronic Safe
Tea/ Coffee maker
Washroom with shower cubicle
Bathroom amenities and hairdryer (on request)
Thick Bath towels & Hand Towels
Cotton bed sheets, duvets, and pillowsIntercom Facility
Fridge and minibar
Hot and Coldwater
Air-conditioners and Heat Towers
Distance from Sariska: 24 km
Price: Starting from INR 6000 to INR 8000 per night
Website
5. Sariska Tiger Camp Resort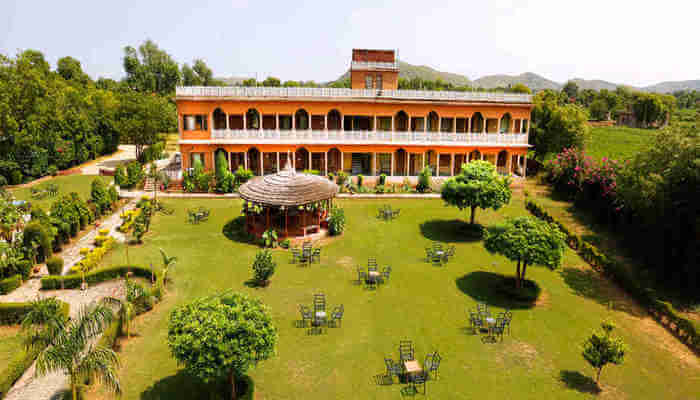 This resort is again a beautiful resort amidst the Aravalli hills which provides you a full landscape view of the place till the horizon lasts. This is also an important heritage site as at this place thousands of years ago, the Buddhists found solace in their monasteries. IN later years the Pratiharas dedicated themselves to their god in the temple that they built here for them. This place was famous amongst Mughals too as they set up their shikar camps which provided them with a perfect gateway to royal courts.
Also, the royals of Sariska chose Sariska forests as their hunting ground and they use to stay near to this place. This place is quite magical as it has a touch of Rajasthan in here. The heat in this place shimmers like phantom water giving you mirage effect. The objects often are not available where they are presumed to be standing and vanish in the veils of illusion towards the mirage created by the sun in this place. The place stans well as an ethnic village and is a perfect blend of rustic environment and have all kind of modern amenities. It will be a memorable experience to be here.
Exclusive Features
Buffet Breakfast
Non-Alcoholic Welcome Drink
Recreation Activities
Buffet Breakfast
Rajasthani Folk Dance
DJ Nights arranged from time and again
Distance from Sariska: 24 km
Price: Starting from INR 15,500 to INR 17,500 per night
Website
36 Magnificent Places To Visit Near Delhi In Winters 2021-22
6. Virat Resort

Located in Virat Nagar, around 34 km from the Sariska wildlife sanctuary, Virat resorts is a luxury property with a perfect blend of modern amenities and comfort. Surrounded by the Aravali mountain ranges, the resort provides picturesque views of the mountains along with exclusive accommodation options in luxury and deluxe cottages.
Exclusive Features: 

Table tennis room
Billiards room
Restaurant
Luggage Storage
Meeting/banquet facilities
Free Newspaper
Room-Service 24 Hours
Distance from Sariska: 34 Km
Price: INR 3000 to INR 5000 per night
Website
7. Alwar Bagh, Amod

Surrounded by lush greenery and scenic views, this luxury property is located at a distance of 59 km from Sariska. Known for its luxury and hospitality, this property by Amod resorts is an ideal stay option for anyone who likes spending time close to nature. Located perfectly at the most picturesque landscape, the property offers basic amenities with facilities such as a swimming pool, picnic area and BBQ facilities.
Exclusive Features:
Outdoor fireplace
Picnic area
Sun loungers or beach chairs
Meeting/banquet facilities
Kids' outdoor play equipment
Nightclub/DJ
Distance from Sariska: 59 km
Price: INR 4000 to INR 6000 per night
Website
46 Weekend Getaways From Delhi Under 5k To Take In 2022
The place is magical and though we have only mentioned all royal and expensive resorts in the place, you also have some budget options available. While you are in these resorts, you could also go on a long drive in the jungles of Aravalli. A cold winter morning is what people would get every day of the year in this place and you could never forget a blanket at night, even when the other part of the country is experiencing scorching heat. So to experience all this while you're on a vacation to Rajasthan , make sure to book your place before any waste of time.
For our editorial codes of conduct and copyright disclaimer, please click here
Frequently Asked Questions About Resorts Near Sariska  
What is the best time to be in Sariska?
Sariska is near Alwar which is a city in Rajasthan. You can be here all year round, however, the months from March to June are the best as temperature during the day is also modest while you will have cold nights.
Are these resorts available to be booked online?
We have provided you with all the links to these resorts where you can book and enquire about the resort. These resorts are also available to be booked on all famous travel engines.
Are there any budget hotels available in this area?
Yes, there are many budget options available as well. The hotels in this place are ranging from anywhere from INR 500 per night to INR 20,000 per night. You have got all kinds of options ranging from the kind of facilities and amenities these resorts have.
What kind of fees are required to be paid a fee for the gypsy, ranger, etc. to enter Sariska Tiger Reserve?
You must pay a one-time entry fee and book a jeep or a tanker for your visit. All these are available at the gate of the Sariska Tiger Reserve. This fee includes the vehicle and ranger both. However, these are limited and are available on a first-come, first-served basis.
Is it a good idea to go to Sariska during winter?
During winters you can go to admire the beauty of Sariska however the visit to Sariska Tiger Reserve won't be much fruitful as all the animals are hibernating during this season. You can go there to enjoy your holidays in one of these lavish resorts, which also offer a great number of other activities.
Is this place couple friendly?
Yes, many honeymooners are seen at this place all around the year.
---
Looking To Book A Holiday Package?
---
People Also Read:
Resorts Near Ahmedabad Resorts Near Bangalore Resorts Near Solan