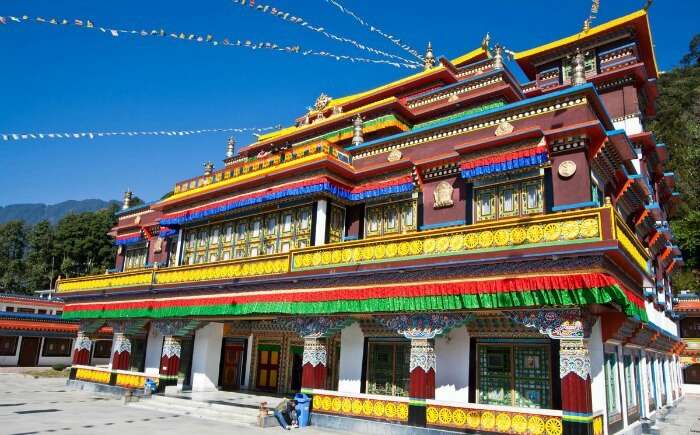 Marked as the most vibrant and grandest place in India, Rumtek Monastery also known as Dharmachakra Centre is a prime tourist's attraction. This monastery is a place where you can witness and explore the Buddhist religion in practice. Renowned for being Sikkim's largest monastery, this shrine is well known for its Golden Stupa comprising of relics of the 16th Karmapa. Moreover, it is the historical seat of third highest monk in Tibetan Buddhism named Karmapa Lama.
Best Time To Visit Rumik Monastery

May to June and September-November are the most perfect time to visit this monastery as it marks the beginning of Tibetan New Year which is celebrated with zest. You can visit the monastery anytime you are visiting Sikkim. Only in winter months, the weather would be chilly and the landscape covered in snow. It may get difficult for you to reach the monastery. Avoid monsoon season to plan a trip to Sikkim
Must Read: 6 Amazing Things To Do In Yuksom On A Culture Trip To Sikkim In 2022
Location Of Rumtek Monastery

Resplendent in the shimmering beauty of the sacred art, this monastery is placed 5,500 feet above sea level and is nestled into a hill facing the gorgeous city of Gangtok. Guardian King of the West, Virupaksha helps to protect the entrance of the main temple.
Timings of Rumtek Monastery: 7.00 am to 7.00 pm
Suggested Read: Top 7 Things To Do In Sikkim In 2022!
History Of Rumtek Monastery

Rumtek Monastery in Sikkim was established in the ninth century under the direction of Wangchuk Dorje. It was the main seat of the Karma Kagyu lineage for a while. استراتيجية الروليت في التعليم In 1959 after fleeing Tibet, Rangjung Rigpe Dorje arrived in Sikkim and discovered that this place was in ruins. He was given proposal of many other sites, but he decided to rebuild Rumtek as this site possessed many sacred qualities and historical importance. Also, he was very fascinated about the scenic natural beauty like gushing streams and snow capped mountains.
Legend reveals that when the first Karmapa finished his meditation in a cave, 1000 fairies greeted him and each one presented a strand of hair. All the hair is collected and is woven into a hat. Moreover, it is now in custody of this Monastery and is safely kept in a box.
Suggested Read: 18 Best Places To Visit In Sikkim In December 2022: Find Exciting Experiences
Architecture Of Rumtek Monastery

A perfect replica of Tsurphu, the architecture of Rumtek Monastery in Sikkim is a fabulous piece of art. Aesthetically crafted, this monastery incorporates a three storey magnificent building engraved by a golden sculpture and decked by Tibetan-style murals. The entrance of the monastery is bedecked with beautiful paintings of the four guardian deities and murals.
Also, scrolls with fabulous hand paintings called Thangkas and the 1001 miniature golden models of Buddha enhance the beauty of this temple. Further, this is the world's most famous center where Kagyu teachings are preached.
Fortified with monastery for the monks, the main part of this architectural wonder has been constructed in accordance to the traditional design of Tibetan monasteries. Adorned by silk paintings, murals and statues, an intricately decorated prayer hall is available on the ground floor of this main monastery building. The congregations of monks pray before the Karmapa's throne in this holy room. Moreover, the top floor consists of a terrace and a tiny stupa.
One can observe the images of Lord Ganesha and Dalai Lama at the entrance of this monastery. Furthermore, Buddhist school is placed inside the monastery, where the students are taught about the culture and religion of Buddhists.
Suggested Read: Top 7 Places To Visit In Yuksom In Sikkim For A Unique Trip Experience
The Golden Stupa

Rumtek Monastery is famous for the Golden stupa located in the new room of Karma Shri Nalanda Institute. The Golden Stupa is the prime highlight of Rumtek Monastery as it contains the holy remains and relics of his Holiness the Sixteenth Gyalwa Karmapa Rangjung Rigpe Dorje. Tsurphu Labrang ordered the construction of this stunning Stupa and it has a lot of importance. The Golden Stupa is thirteen-foot-high and is decorated with turquoise, coral, metalwork, and filigree. This spectacular stupa is the main pilgrimage site for all devotees and locals.
Suggested Read: Check Out These 14 Places To Visit In Namchi In 2022, The Culture Capital Of Sikkim!
Kora

Image Credit: Ggia for Wikimedia Commons
Kora is a Tibetan word that means circumambulation. One of the popular traditions followed by all Tibetans, Kora is an activity of taking a round or several rounds around a sacred place or an idol. In Tibetan regions, Kora is an eminent part of visiting a pilgrimage site. During the main festivals in Tibet, the locals visit monasteries or pilgrimage sites of great importance and perform Kora in order to pay their respects and seek blessings. In the Rumtek Monastery, you will find many Tibetans taking a round of the idols or of the sacred place in the monastery. If you want to make the most out of your visit then even you can perform Kora after getting to know more about it through the locals.
Suggested Read: Guide To 2022 Dzongri Trek In Sikkim – A Glimpse Into The Heaven
Festivals And Events

Rumtek Monastery hosts many annual events for the community. The two most prime and festive events are celebrated in summer and winter. Here are the main festivals observed in Rumtek Monastery:
Losar: Boasting the enthusiasm of cultural and festive, Tibetan New Year also known as Losar is celebrated for 38 days. Further, it involves many Tibetan opera dance performances. Moreover, these are marked as most important festive holiday for Rumtek.
Vajrakillaya Drupchen: Dedicated to Guru Padmasambhava, one of the prominent monks, Vajrakillaya Drupchen is celebrated on the fifth month of the lunar calendar of Tibet.
Mahakala Protector: At the end of the 12th month of the lunar year (between February and March), Rumtek organizes a 10-days practice of Mahakala Protector which is followed by traditional sacred lama dance of Mahakala. Monks dressed up in colorful attires wear masks and dance to the music of the traditional instruments (played by monks). They completely get into trance with the beat of the music. As this is a ritual dance, the dancers are well trained to perform it very precisely with the heavy masks.
Dungdrub Puja: Dedicated to world peace, Dunddrub Puja is celebrated in April- May and the monks chant lakhs of mantras at the Rumtek Monastery.
Birthday Of His Holiness: On 26th June, Ogyen Trinley Dorje was born and he is the Seventeenth Gyalwa Karmapa. His birthday is celebrated in a grand way and many dances, cultural programs, and ceremonies are performed at Rumtek Monastery.
Summer Retreat: In the sixth lunar month, which generally falls in July or August, the monks at Rumtek monastery take a 45 days retreat. Various rituals are performed and the Monks retreat ends on Gakye.
Gutor: Gutor is a dance performance that is organized before the Losar and is a Lama Dance in which the performers wear masks. You must witness this dance as it is beautifully performed.
Suggested Read: Gurudongmar Lake: Visit This Pristine Lake In Sikkim In 2022
How To Reach Rumtek Monastery

Nested amidst beautiful hills, one needs to take a long walk to reach this destination. The walk is completely rejuvenating and an excellent form of exercise as well. As far as reaching Gangtok is concerned, you can take a flight from Delhi to Bagdogra Airport. Take a taxi from the airport to rech your hotel in Gangtok.
Suggested Read: 48 Places To Visit In Sikkim In 2022: Extraordinary Realms In The North East!
Tips
There are many several do's and don't's that you have knowledge about. To know more about these tips read along!
Wear decent clothes while you visit the monastery
Try and hire a guide so that your visit turns out to be easy and hassle-free
If you are tired from the long journey then you must stop and eat something or relish a cup of tea at the stalls outside the monastery
Don't smoke or drink anywhere near or inside the monastery
Performing Kora is mandatory and you must do so to pay your respects
Don't touch the idols
Don't click pictures in the no camera zone
Further Read: 15 Vibrant Sikkim Festivals To Enjoy On A Vacation In 2022
For those who want to get a deep insight about the ethics of Buddhist Philosophy, this is a must place to visit. Rumtek Monastery with its lush green hilly terrain and a breathtaking topography is a sacred destinations explored by the world wide tourists. Your trip to Sikkim is incomplete without going to this architectural marvel to revitalize your mind and soul completely.
Disclaimer: TravelTriangle claims no credit for images featured on our blog site unless otherwise noted. All visual content is copyrighted to its respectful owners. We try to link back to original sources whenever possible. If you own the rights to any of the images, and do not wish them to appear on TravelTriangle, please contact us and they will be promptly removed. We believe in providing proper attribution to the original author, artist or photographer.
Please Note: Any information published by TravelTriangle in any form of content is not intended to be a substitute for any kind of medical advice, and one must not take any action before consulting a professional medical expert of their own choice.
Frequently asked questions about Rumtek Monastery
How far is Rumtek Monastery from Gangtok?
Rumtek Monastery is one of the most significant and major monasteries in Sikkim. Moreover, this Tibetan Buddhist Monastery is placed 24 km away from the capital city of Sikkim i.e., Gangtok.
How do you get to Rumtek Monastery?
The most effortless way to reach Rumtek Monastery is by private vehicle. The most economical option is boarding a shared vehicle or a taxi. It can be hired from Gangtok Taxi Jeep Service Stand which positioned in close proximity to Hotel Hungry Jack on NH31A.
Who built the Rumtek monastery?
Rumtek monastery is constructed by the 9th Karmapa Wangchuk Dorje during the 16th century. However, it was rebuilt by Rangjung Rigpe Dorje in the year 1959 when he arrived in Sikkim after fleeing Tibet. In spite of receiving proposals for other sites, he decided to construct this Rumtek due to its sacred qualities.
Which monastery is situated in Sikkim?
Positioned near the capital city of Gangtok, Rumtek Monastery is one of the important monasteries in Asia which is crafted as per Tibetan architecture.
How many monasteries are there in Sikkim?
Sikkim is home to 200 monasteries dedicated to Nyingmapa Sect or the Kagyupa Sect. However, Gelugpa, Sakyapa and Bon faiths are also available. These monasteries have a great impact on the cultural heritage and lifestyle of the people.
What is the significance of Rumtek Monastery?
Impressive with the beauty of the sacred art, this monastery is perched 5,500 feet above sea level and is located among beautiful hills facing the gorgeous city of Gangtok. Moreover, it is one of the places where you can explore the Buddhist culture in full fledge. ألعاب انترنت Also known as Dharma Chakra Centre, it consists of a shrine temple and a monastery dedicated to monks. The beautiful shrine temple and Golden Stupa are prime attractions of this Rumtek Monastery.
Can you stay in a Buddhist monastery in India?
Yes, the Buddhist monasteries provide you with all the facilities to stay. Also, they conduct various spiritual retreats at different times of the year wherein the tourists can also participate.
Why do Buddhist monks wear orange?
The monks wear orange (saffron) for centuries as it was easily available dye during that time. So this tradition continued and was adapted by the Theravada Buddhist followers in Southeast Asia. طاولة بوكر However, the Tibetan monks wear maroon color. The orange color represents wisdom, strength, and dignity which is the essence of Buddhism.
{
"@context": "https://schema.org",
"@type": "FAQPage",
"mainEntity": [
{
"@type": "Question",
"name": "How far is Rumtek Monastery from Gangtok?",
"acceptedAnswer": {
"@type": "Answer",
"text": "Rumtek Monastery is one of the most significant and major monasteries in Sikkim. Moreover, this Tibetan Buddhist Monastery is placed 24 km away from the capital city of Sikkim i.e., Gangtok. "
}
}
, {
"@type": "Question",
"name": "How do you get to Rumtek Monastery?",
"acceptedAnswer": {
"@type": "Answer",
"text": "The most effortless way to reach Rumtek Monastery is by private vehicle. The most economical option is boarding a shared vehicle or a taxi. It can be hired from Gangtok Taxi Jeep Service Stand which positioned in close proximity to Hotel Hungry Jack on NH31A. "
}
}
, {
"@type": "Question",
"name": "Who built the Rumtek monastery?",
"acceptedAnswer": {
"@type": "Answer",
"text": "Rumtek monastery is constructed by the 9th Karmapa Wangchuk Dorje during the 16th century. However, it was rebuilt by Rangjung Rigpe Dorje in the year 1959 when he arrived in Sikkim after fleeing Tibet. In spite of receiving proposals for other sites, he decided to construct this Rumtek due to its sacred qualities. "
}
}
, {
"@type": "Question",
"name": "Which monastery is situated in Sikkim?",
"acceptedAnswer": {
"@type": "Answer",
"text": "Positioned near the capital city of Gangtok, Rumtek Monastery is one of the important monasteries in Asia which is crafted as per Tibetan architecture. "
}
}
, {
"@type": "Question",
"name": "How many monasteries are there in Sikkim?",
"acceptedAnswer": {
"@type": "Answer",
"text": "Sikkim is home to 200 monasteries dedicated to Nyingmapa Sect or the Kagyupa Sect. However, Gelugpa, Sakyapa and Bon faiths are also available. These monasteries have a great impact on the cultural heritage and lifestyle of the people. "
}
}
, {
"@type": "Question",
"name": "What is the significance of Rumtek Monastery?",
"acceptedAnswer": {
"@type": "Answer",
"text": "Impressive with the beauty of the sacred art, this monastery is perched 5,500 feet above sea level and is located among beautiful hills facing the gorgeous city of Gangtok. Moreover, it is one of the places where you can explore the Buddhist culture in full fledge. Also known as Dharma Chakra Centre, it consists of a shrine temple and a monastery dedicated to monks. The beautiful shrine temple and Golden Stupa are prime attractions of this Rumtek Monastery. "
}
}
, {
"@type": "Question",
"name": "Can you stay in a Buddhist monastery in India?",
"acceptedAnswer": {
"@type": "Answer",
"text": "Yes, the Buddhist monasteries provide you with all the facilities to stay. Also, they conduct various spiritual retreats at different times of the year wherein the tourists can also participate. "
}
}
, {
"@type": "Question",
"name": "Why do Buddhist monks wear orange?",
"acceptedAnswer": {
"@type": "Answer",
"text": "The monks wear orange (saffron) for centuries as it was easily available dye during that time. So this tradition continued and was adapted by the Theravada Buddhist followers in Southeast Asia. However, the Tibetan monks wear maroon color. The orange color represents wisdom, strength, and dignity which is the essence of Buddhism. "
}
}
]
}
People Also Read: