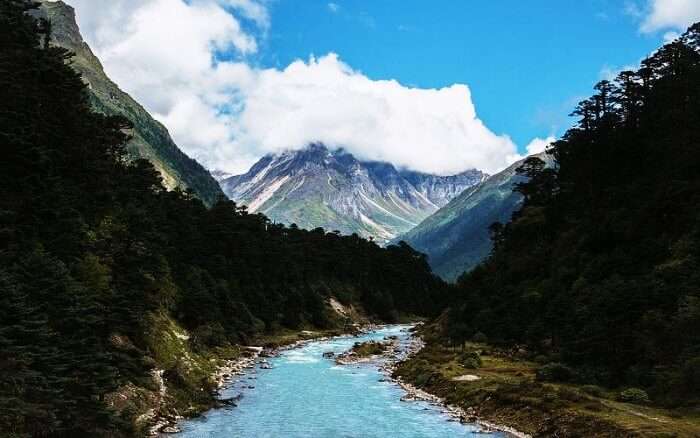 Sikkim is one of the beauties in north eastern part of India. It is nicely tucked away and beautifully landlocked with immense natural beauty, it has all the components which would sooth you from the tiredness of vigorous day-to-day activities.
Apart from stunning sights, one can also experience the bliss of snowfall in Sikkim when on their Sikkim holiday. To make it a wonderful exploration, here are a few places to visit in Sikkim that must make it to your plan.
25 Best Places To Visit In Sikkim
Here is the perfect list of the most famous places to visit in Sikkim on your trip. Keep scrolling down and read along to have a holiday experience like none other with your loved ones!
1. Tsomgo Lake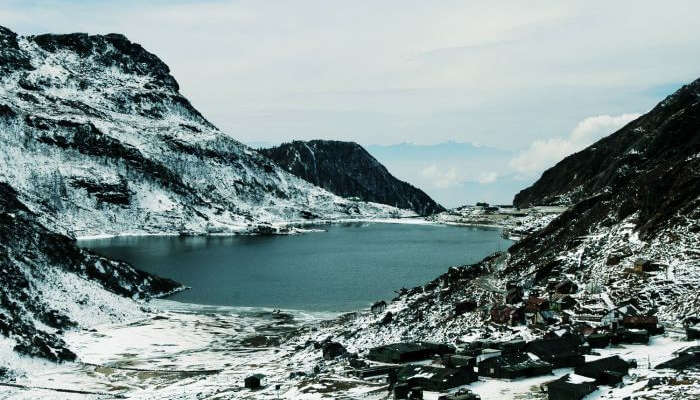 Tsomgo lake which is located just 38 km away from the capital city of Sikkim, Gangtok, is among the most popular tourist places in Sikkim. A snaky road through rocky mountain topography and strident mountains which takes you to the Tsomgo Lake is a lot of adventure in itself. If you are looking for best places to visit in East Sikkim then, you must explore this place on your trip.
Key Attractions:
Migratory ducks like the Brahmini
The beautiful flowers such as Primulas, Blue and Yellow Poppies, and Irish
Yaks and ponies ride
Precautions: Start early to avoid late night travel; and roads are not properly laid out
How to reach: A cab ride from Gangtok will take 2 hours for you to reach almost all Sikkim tourist places
Best time to visit: Jan to Mar for snow; April to May for Rhododendrons and Orchids; and Oct to Dec.
Must Read: Seven Sisters Of India – An Introductory Guide For A Memorable North-East Tour In 2018!
Sikkim-Gangtok-Darjeeling Holiday Packages On TravelTriangle
Visit Sikkim and explore Yumthang valley, Tsomgo Lake, Gangtok, Nathula Pass, and Pelling. Experience peace and tranquility while exploring Buddhist monasteries, snow-capped mountains, and wildlife sanctuaries. Book packages inclusive of airport transfers, cab, resort, sightseeing, and meals.
2. Yuksom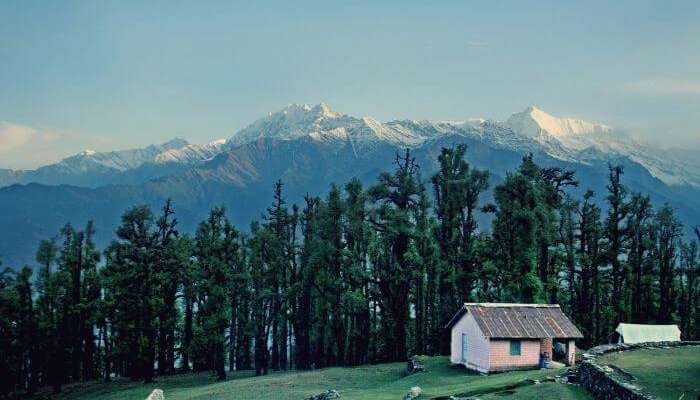 Yuksom is an old historic town, which is considered to be amongst the best places to visit in West Sikkim bestowed with natural beauty and uninterrupted trail for trekkers. If you are looking forward to spending some quiet moments in the shadow of nature away from the hustle bustle of the city, then this is it.
Key Attractions:
The historic Norbugang Park
Tashi tenka, which was a historic royal palace promises wonderful views
The oldest monastery the Dubdi Gompa
Kathok Wodsalin Gompa a newly constructed monastery, also famous for the statue of Guru Padmasambhava
Goechala Trek
Khangchendzonga National Park
Precaution: Poor lighting on the roads
How to reach: 6 to 7 hours by road via Jorethang from Jalpaiguri, the nearest railway stop. The nearest airport is Pakyong airport.
Best time to visit: March to June and September to November
3. Nathula Pass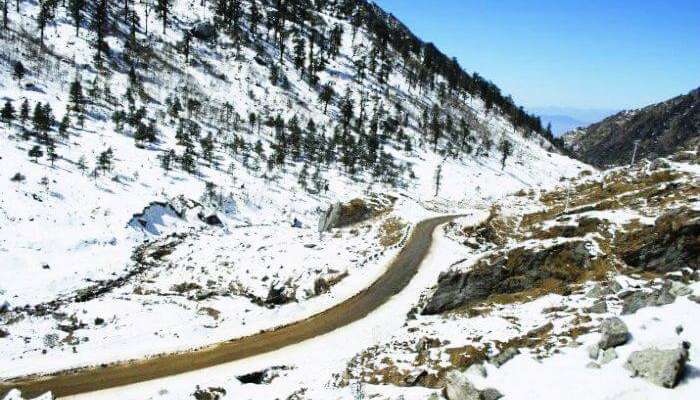 Nathula pass, located in the Himalayas, connects India with Tibet is considered to be amongst the best places to visit in Sikkim Gangtok. The pass, at 4,310 m above sea level forms a part of a side-shoot of the prehistoric Silk Road. Definitely one of the places to visit in Sikkim without fail.
Key Attractions:
Yak safari
Border Gates of India and China
A beautifully built war memorial
Exhibition Centre of the Indian Army
Mt Chomolhari
Precautions: Oxygen levels are low; and there could be traffic jams due to adverse weather conditions
How to reach:
Road 4 to 5 hours by bus from the east of Gangtok (54 km)
Train Nearest railhead is Siliguri, 165 km away, and takes 4.5 hours by taxi.
Flight Nearest airport is Pakyong airport.
When to visit Nathula: May and October; Opens for Indians only from Wednesday to Sunday
Suggested Read: 10 Indian Destinations Where Your Domestic Trip Might Turn International
4. Lachung, Lachen and Yumthang Valley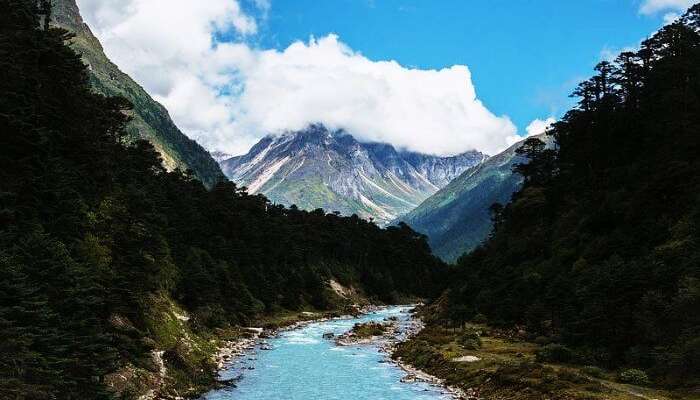 Lachen is a distant village in North Sikkim and the winter home for Tibetan nomadic tribes. Lachung is also a high altitude village of Tibetan and Bhutia people in North Sikkim. And Yumthang is a beautiful valley bounded by snowcapped mountains. All three are extremely beautiful tourist places in Sikkim. One must visit Lachung as it is the most famous among the list of places to visit in North Sikkim and for experiencing snowfall in Sikkim.
Key Attractions:
The picturesque journey from Lachen to Gurudongmar Lake
Gurudongmar Lake which is often frozen in winters
The colorful rhododendron bloom
Lachung Gompa where the largest Buddhist shrine is located
Lachung Monastery, Handicraft and Lachung Village
Mt Pandim, Mt Kabru, Mt Simvo, Mt Jopuno, Mt Khangchendzonga and Mt Siniolchu enroute Gangtok Rhododendron Sanctuary
Sub-zero temperature and 360 degree snowcapped highlands at Yumesamdong / Zero-point
Precaution: Low oxygen levels
How to reach: Take a taxi from the nearest railhead in New Jalpaiguri (Siliguri). The nearest airport is Pakyong airport.
When to visit: MarchJune is pleasant; and DecemberJanuary for snowfall
Suggested Read: Sikkim In December: Find Exciting Experiences In The Winter Wonderland Of North-East
5. Ravangla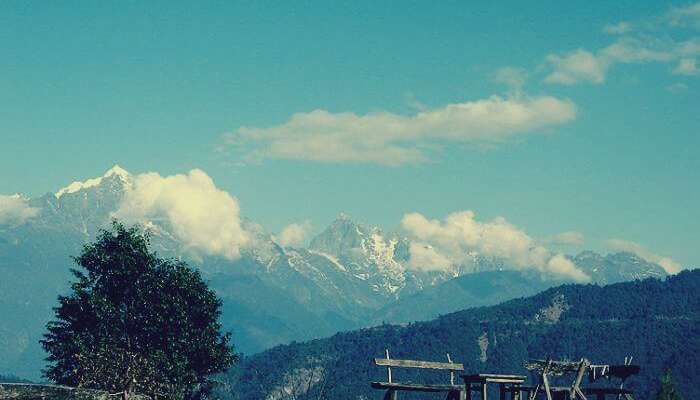 Furrowed by dense forests and outstandingly balanced on a ridge superintending an extensive swish of western Sikkim, Ravangla assures one of the most beautiful mountain views.It is a popular tourist place in Sikkim and draws many nature lovers every year.
Key Attractions:
Tathagata Tsal, a Buddhist park
Mane Choekhorling Gompa
Pang Lhabsol, which displays religious prayers and songs
Hikes and treks
Precaution: Forests are very dense, beware of wildlife.
How to reach: Take a cab ride after Jalpaiguri station, which is 94 km from Ravangla
Best time to visit: MarchJune
Suggested Read:Say Good-Bye To Your Virtual Society: 7 Places For An Internet Free Vacation
6. Namchi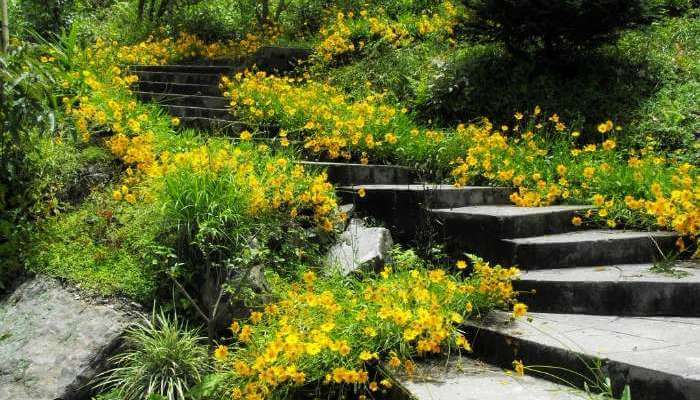 Namchi is blessed with fresh air which is fragmented with the aroma of lush flora. The beautiful sight of snowcapped mountains and the woodland mountain valleys adds to the scenery and makes it an important spot amongst the places to visit in South Sikkim.
Key Attractions:
Khangchendzonga range
Sherdup Choeling Monastery
The beautiful tea gardens
Rock Garden
Namchi Mahotsav in October
How to reach: Take a cab for 77 km from the Jalpaiguri metro station
Precaution: Roads are not properly laid out
Best time to Visit: MarchJune and OctoberNovember
Suggested Read: 12 Best Places To Visit In Sikkim In Summer To Witness Nature's Grandeur!
7. Zuluk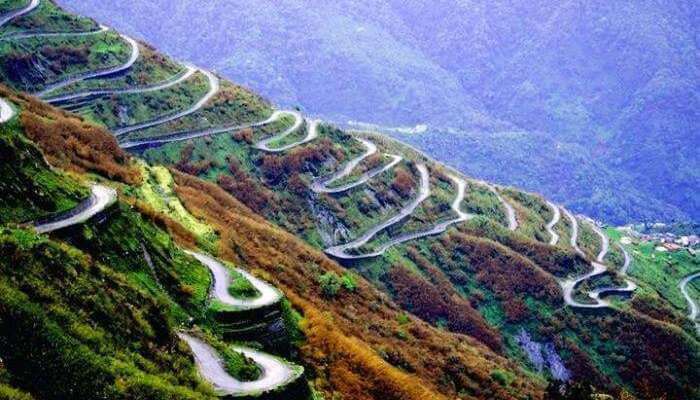 One of the offbeat Sikkim tourist places, Zuluk is a small village located at a high altitude and has a very empowering history due to its connection with the Silk Route. It promises great views of the snowcapped mountain ranges especially during winter and is a fabulous place to see for those looking for snowfall in Sikkim or looking for the best places to visit in Sikkim and Darjeeling.
Key Attractions:
Nag temple
Mt Kanchenjungha
Thambi View Point
Precautions: Be prepared for a foggy climate
How to reach: Take a cab ride for 91 km from Jalpaiguri railway station
Best Time to Visit: August and September
Suggested Read: 20 Road Trips Every Biker Ought To Take This Monsoon
8. Teesta River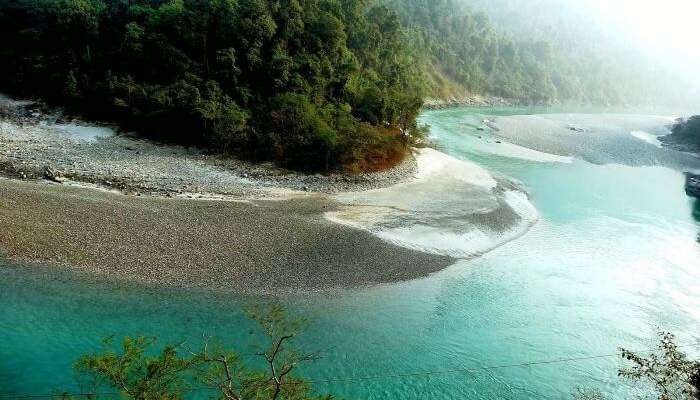 A different one among places to visit in Sikkim, Teesta River is stunning to look at when it is frozen in winters. During spring, however, the river is shimmering in the sun rays and displays a perfect habitat for blooming flowers.
Key Attractions:
River rafting and kayaking during the summers
Bird spotting
Lush green fauna and flower beds on the banks
Sangam of river teesta with it tributary the Rangeet River
Dikchu bridge on way to Lachung
Precautions: River can get a little rough and ice pieces are often found
How to reach: Take a cab for 33 km from Darjeeling railway station
Best time to visit: AprilMay; and November
Suggested Read: 15 Bewitching Places To Visit In Pelling And Its Vicinity In 2019
9. Gangtok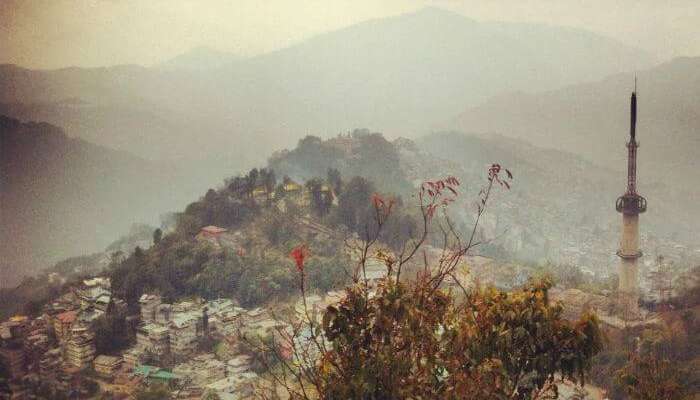 Gangtok is the capital city of Sikkim and has loads of gems in its kitty; you would be awestruck by the never ending walking trails, gorgeous silver-fir trees and most importantly the hospitality by the locals. Make sure it is on your list of places to visit in Sikkim.
Key Attractions:
Paragliding in the valley
Jhakri Falls and Kyongnosla Water Falls
Yak ride
Lively nightlife
Snowcapped ranges of Mt Kachendzonga
Bird eye view from the ropeway
Enchey Monastery
How to reach: Take a cab for 148 km from New Jalpaiguri railway station. The nearest airport is Pakyong airport.
Best time to Visit: October to June
Suggested Read: A-Z Guide To Make Your Honeymoon In Sikkim An Affair To Remember In 2019
10. Pelling
Second most-visited attraction after Gangtok, Pelling will sweep you away with its lush forests and varied wildlife. Since it is a small town, you can easily discover it on foot. It provides a plenty of sightseeing opportunities.
Key Attractions:
Sangachoeling Monastery
Sewaro Rock Garden
Singshore Bridge
Rimbi Waterfall
Kanchenjunga Fall
Kaluk
Precaution: Even though the road conditions are fine, it is best to take a sumo vehicle to reach here.
How to reach: Pakyong Airport is the nearest airport from Pelling and New Jalpaiguri Railway Station (152 km) is the nearest railway station.
Best time to visit: Mid February to June
Suggested Read: Pankaj's Family Trip To Sikkim & Darjeeling Was Definitely A Memorable Experience
11. Singalila National Park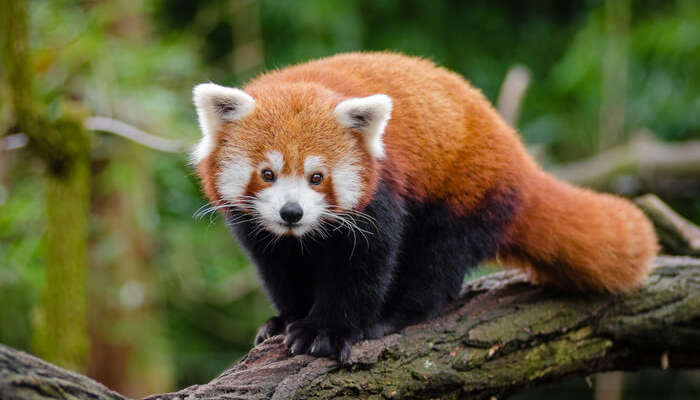 Unlike any other national parks in India, the Singalila is amongst those beautiful places to visit in Sikkim that even a non-wildlife enthusiast would love to explore. Offering breathtaking view of Kanchenjunga and Mount Everest peaks, it is a place you definitely can't miss.
Key Attractions:
Mount Everest and Kanchenjunga peaks
Sandakphu and Phalut
Birdwatching
Precautions: Since it'll be a long trip, be prepared with a sturdy pair of shoes and bottles of water.
How To Reach: You can take a cab from Ghoom Railway Station, which is 31 km away from Tonglu, the entry point to the park.
Best Time To Visit: March to April
Suggested Read: 22 Incredible Places To Visit In Gangtok With Your Family And Friends In 2019
12. Phodong Monastery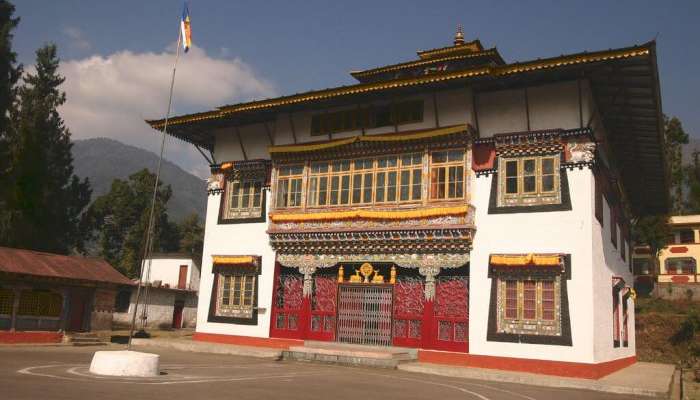 Situated in the Phodong village, some 28 km off Gangtok, this 18th-century monastery is amongst the premier ones in the state to visit. From ancient murals to beautiful paintings, this place offers an insight into Sikkim's spectacular past.
Key Attractions:
Murals and paintings
Picturesque view of the city
An insight into Sikkim's glorious past
How To Reach: You can take a cab or a regular bus from Mangan to reach this famous Buddhist monastery.
Best Time To Visit: Throughout the year
13. Gurudongmar Lake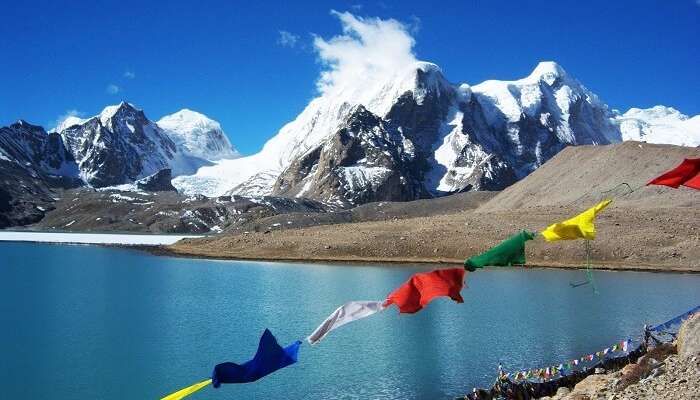 Located in a high plateau area of Sikkim is one of the highest lakes in the world, Gurudongmar Lake. This beauty is located at an altitude of 17,800 ft. The lake is to the north of Kang Chengyao range and is fed naturally by the glaciers. It is considered sacred not by one religion, but three, Hindus, Sikhs, and Buddhists. From the months of November to a major part of May, the lake is totally frozen.
Key Attractions:
The wildlife found around the lake – yaks and blue sheep
Snow covered mountain views
Precautions: Do not forget to take the permit before visiting the lake
How to reach: Bagdogra Airport is the closest domestic airport at a distance of 270 km from the lake while the nearest railhead is Darjeeling Railway Station at a distance of 171 km.
Best time to visit: November to June
Suggested Read:31 Reasons Why You Should Never Visit North East India
14. Goechala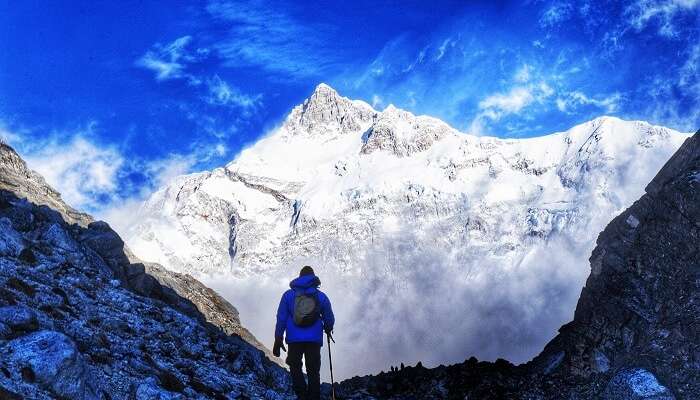 If an adventure trip to Sikkim is on your mind, then Goechala is what should top your list. Goechala is a mountain pass in Sikkim known for trekking and hiking. It is also the base camp for those looking to indulge in difficult yet breathtaking treks. If you like challenges in life, then this challenging trek is looking your way. And if trekking isnt something you want to indulge in, the pass is still amazing to visit and one can view the beautiful Mt. Kanchenjunga from here along with a lot of other magnificent peaks.
Key Attractions:
Base camp for a trek through the beautiful Kanchenjunga National Park
Magnificent views of Mt. Kanchenjunga
Watch the pristine sunrise over Mt. Kanchenjunga range
Precautions: Do not embark on the trek if you are a beginner at trekking
How to reach: The nearest domestic airport is Bagdogra at a distance of 103 km and the nearest railhead is New Jalpaiguri at a distance of 106 km.
Best time to visit: April to June
15. Khangchendzonga National Park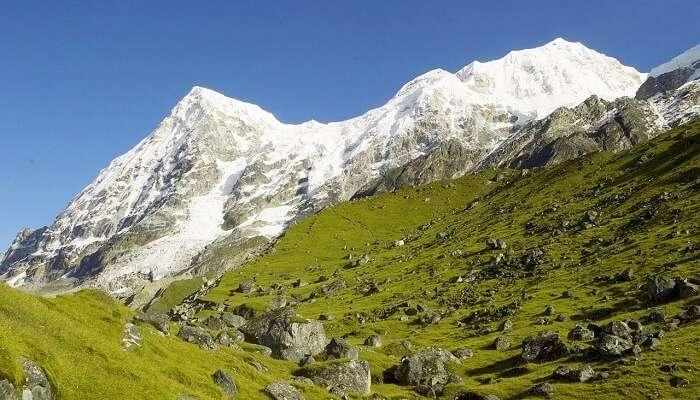 Khangchendzonga National Park is a national park which made its place in the list of UNESCO World Heritage Sites in 2016. It is also the first Mixed Heritage site of India. The park acquired its name from Mt. Kangchenjunga. Rich in flora and fauna, it is famous with nature lovers. One can spot snow leopards here.
Key Attractions:
Rich fauna including the red panda, snow leopard, and Himalayan black bear
Breathtaking trekking trails leading to Goechala, Yuksom and other beautiful places in Sikkim
Precautions: Do not break any of the national park rules
How to reach: The nearest town is Yuksom at a distance of 34 km while Gangtok is at a distance of 46 km from the park. One can hire a taxi to get to the park.
Best time to visit: October to December
16. Aritar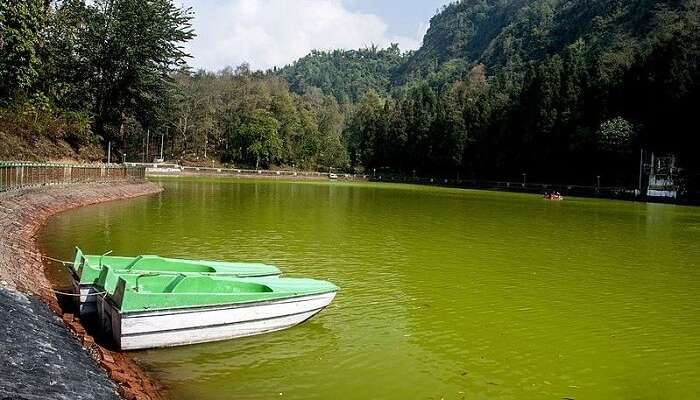 Aritar is famous for its virgin beauty, impressive temples and monasteries. It is located in the east of Sikkim and considered to be an important town of the region. Surrounded by forests and streams, Aritar is a true delight for any traveler who loves to spend a quiet time in the woods. Stroll along the forests or walk by the streams to get a taste of the pristine environment here.
Key Attractions
Best spot for paragliding
Aritar is a right place for other adventure sports as well
Precautions: Avoid travel during monsoons
How To Reach: Aritar, in East Sikkim, can be reached from Gangtok via Pakyong in 4 hours by taxi or cab.
Best time to visit: March to May
17. Do Drul Chorten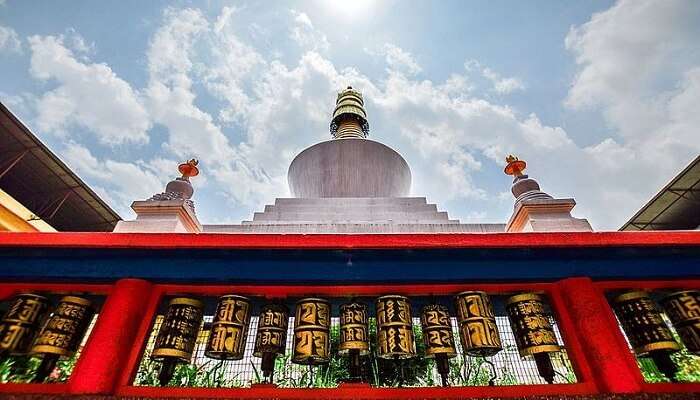 Once believed to be haunted by evil spirits, the Korten Stupa was an infamous spot in Sikkim until the revered Lama Trulshig Rnpoche came here in 1946 and built a stupa.The deity, Vajra Kilaya who is respected as one of the most eminent chortens in Sikkim, is placed on the top of the stupa. Inside the place, you will find a lot of holy Buddhist texts and other religious paraphernalia.
Key Attractions
The Stupa has nearly 108 prayer wheels which you can actually count on your visit.
How To Reach: Do Drul Chorten is located in the Deorali area of Gangtok. Taxis are available to take you here.
Best time to visit: March to mid-June
18. Rumtek Monastery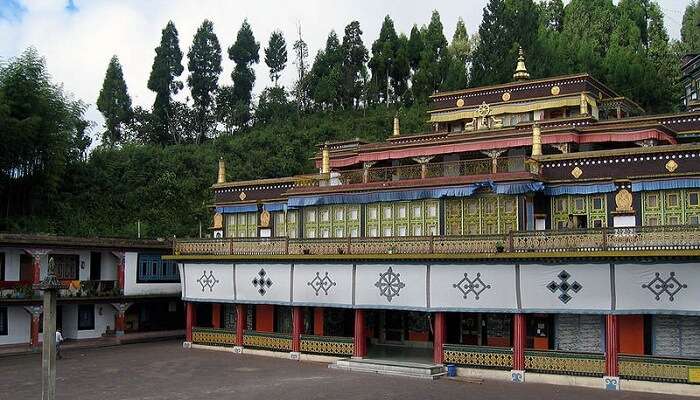 Witness some of the exquisite and rare artworks of Buddhist culture at the Rumtek Monastery. It is a treat to sore eyes. Built in the 12th century, the Monastery belongs to the Kagyu sect in Sikkim. In a sad state of affairs, the Rumtek Monastery was left to ruin for some years until 1960 when Gyalwa Karmapa reestablished it. The monastery is a treasure trove of unique hand paintings, murals and sculptures. There are 1001 miniature Gold sculptures which is a sight to behold.
Key Attractions
At the rear end of the wall of Rumtek Monastery, there is a small alley that leads to the stunning Golden Stupa
Precautions
It is suggested to go here with a travel guide.
Do not consume alcohol or smoke smoke at the monastery.
How To Reach: Rumtek Monastery can be easily reached by a private vehicle from Gangtok.
Best time to visit: March to May; and October to December
19. Mangan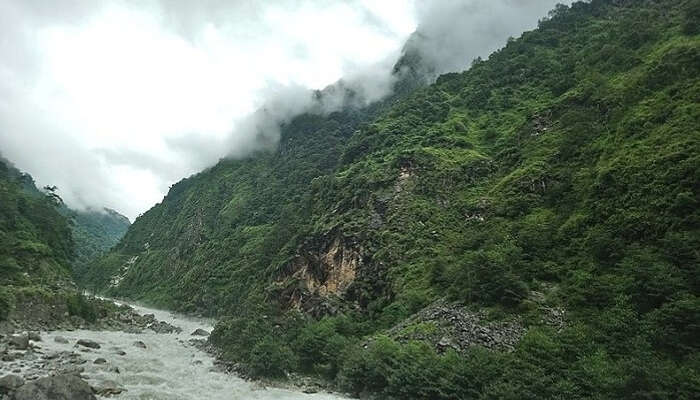 Mangan is a charismatic place that offers beautiful sightseeing spots. It also serves as a transit point to other parts of the state. Every year in December, a three-day music festival is organised here. You can cheer the bands that come from all over the region, as well as from the other states of northeast India. The perfect combination of hills, music and cold weather makes it a great experience. There are several other attractions such as traditional cultural songs performance and food festival.
Key Attractions
Mangan has become a sanctuary for nature lovers lately. Many travellers have flocked here to get a clear glimpse of white peaks.
During December, an exhibition cum sale of local handicrafts take place.
Precautions
It is always advisable to take the help of a guide.
It is suggested to take only the designated trails while walking.
Avoid littering around streams and lakes.
How To Reach: To reach from Gangtok, you can either take a private cab or local bus and reach directly to Mangan. The time taken is nearly 2 hours.
Best time to visit: April, May, June and July.
20. Cholamu Lake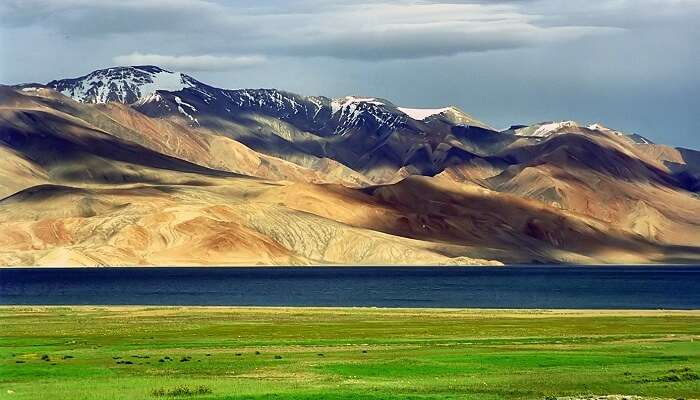 The 14th highest lake in the world and the only highest lake in India, Cholamu Lake is a wonder of Sikkim. It is located at a height of 18,000 feet above the sea level. On a descent from the top of Donkia La pass, which is located at a height of 18300 feet, you can get a glimpse of this almost frozen lake. It is a famous tourist attraction in Sikkim and needs special permit to enter the zone.
Key Attractions
Tibet border is very close to the Cholamu Lake.
Precautions
Avoid visiting the place during monsoon or winter.
Travelers going with families are advised to visit the Gurudongmar Lake instead.
Special border permit is required to visit the lake. Make sure to book in advance.
How To Reach: Bagdogra Airport is the nearest domestic airport that is around four and a half hour drive from Lachen. Hire a cab or taxi to reach Lachen and then take a jeep to go near the Lake.
Best time to visit: October and November
21. Tendong Hill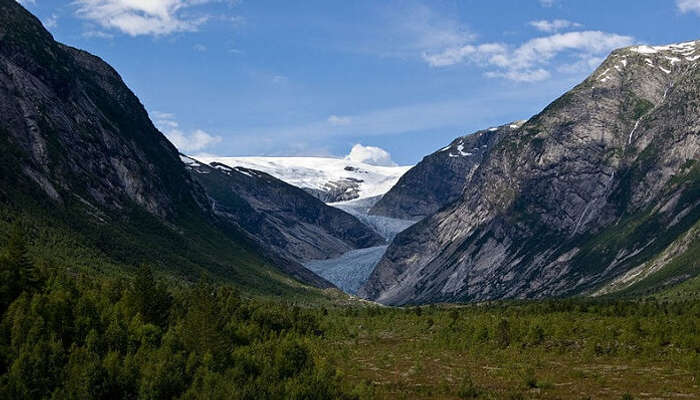 Tendong Hill is one of the famous tourist attractions in Sikkim. One gets stunning views of the valleys in Sikkim from this hill top. Tendong Hill is located at a height of 8530 ft above Damthang in Southern Sikkim. It is a perfect spot for meditation. The peaceful aura of this place makes it a choicest destination for a quiet holiday.
Key Attractions
The entire range of Singalila, Chola, part of Gangtok town, Nathu La, Darjeeling and part West Bengal plains are visible from here.
Precautions
Do not travel without a guide.
Do not disturb the wildlife here.
Avoid alcohol and smoke while you are here.
How To Reach: Taxis and buses are available from the nearest airport to Damthang-Tendong Hill.
Best Time To Visit: months of March, April, May and June
22. Geyzing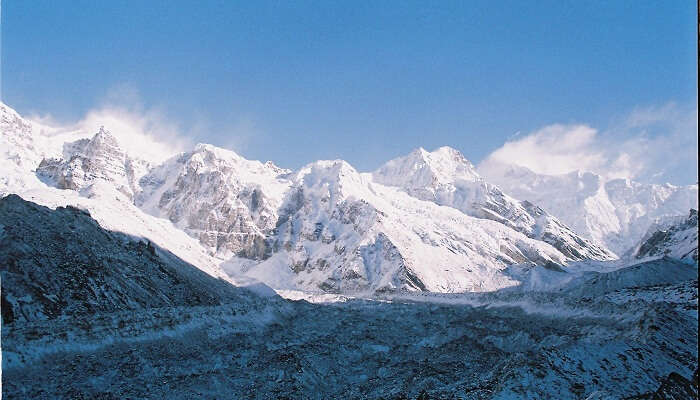 Not only one of the important towns in West District of Sikkim, Geyzing is also the district headquarters of the state. Popularly known as Gyalshing to the local people, it is just 10km away from Pelling. Geyzing has become a major tourist spot in these years. Since it is also the main trading and commercial hub of the district, Geyzing remains busy throughout the year. You can reach the river Rangeet to get stunning glimpses of the Mt. Kanchenjunga. There are several impressive monasteries here which also make Geyzing a hotspot for tourists.
Key Attractions
Yangtey, a hilltop, can easily be reached from here. It offers majestic views of the city underneath.
How To Reach: Located only 124 km away from Bagdogra Airport, Geyzing is easily accessible by taxis or cabs.
Best time to visit: months of March, April, May and June.
23. Goecha La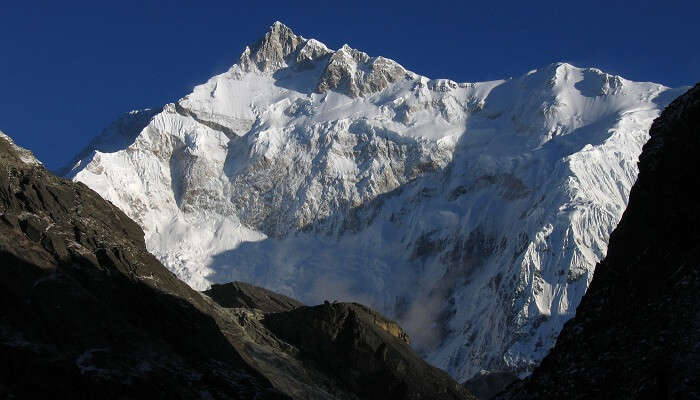 Goecha La is located at an altitude of 4,940 m. It is a popular high mountain pass and serves as the base camp for the southeast Kanchenjunga. Trekking is the only way to get an access to Goecha La. However, trekking should be ventured from Yuksom. It takes nearly 7-8 days to reach Goecha La and then trek back to Yuksom.
Precautions
The area is accessible only after proper permits are granted
Carry warm clothes irrespective of the season you are travelling in.
How To Reach: Yuksom is located about 140 km away from Siliguri. As it is the entry point for Sikkim and Gangtok, it is easily accessible by road. Taxis are available for the same.
Best time to visit: April to September
25. Yangtey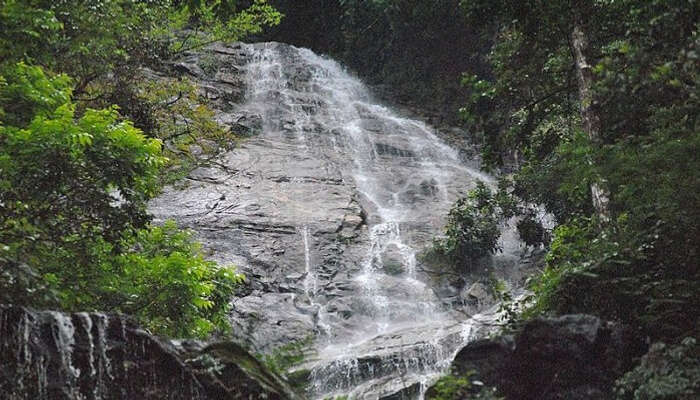 Yangtey is a small hamlet located only 9 km from Pelling. It is closer to other famous tourist attractions such as Khecheopalri Lake, Khangchendzonga waterfalls, Rimbi Waterfalls, Rabdentse Ruins, Sewaro Rock Garden and others. Excluding the stunning vistas of the Himalayas, Yangtey is also famous for the beautiful Tashigang Resort which is situated right in the middle of green gardens and lawns. It is a wonderful place to spend a quiet holiday.
Key Attractions
Spectacular views of Mt. Kanchenjungha
Trek to Khecheopalri Lake
How To Reach: Yangtey, located only 2 kms from Geyzing, can be reached by bus or taxi from Geyzing, West Sikkim.
Best time to visit: winter season
26. Kanchenjunga Base Camp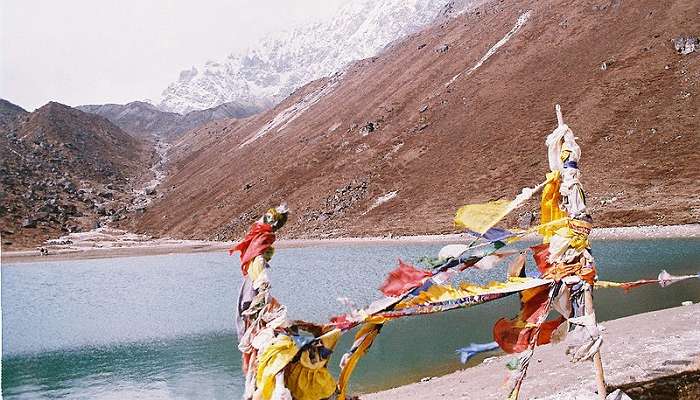 If you have the daring to reign the mountains, then you should sign up for Kanchenjunga Base Camp. Located at a height of 14,000 ft, the arduous trek will give you an opportunity to lay your eyes on the pristine Himalayas. Obviously, the mountainscapes you get to see on the trek will obviously be more unique and raw. It will also be a chance for you to brag about climbing the base camp of the world's third-highest peak.
Precaution: If you do not have physical stamina, then you shouldn't sign up for the trek
How to reach: The trek begins from Dzongri which the last road head.
Best time to visit: April-June, Sep-Oct
Suggested Read: Gangtok Honeymoon: A Handbook About This Ultimate Paradise In Sikkim!
27. Singalila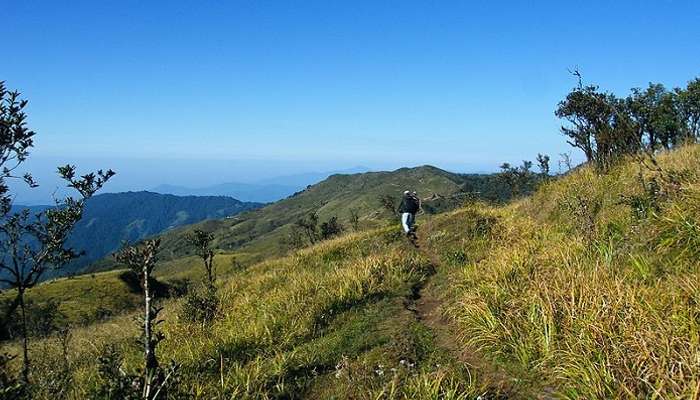 The amazing thing about Sikkim is that you get to explore a number of treks and mountain trails in the region. Singalila Ridge Trek is another popular trail where you unravel the majestic views of Kanchenjunga, Mount Everest, Makalu, and Mhotse as you reach the top. Singalila Ridge Trek is a moderate-level trek that requires fitness and stamina. You will also get to see unique species of flowers and medicinal plants along the trail that are used for making medicine.
Precaution: The climb is steep. So, wear proper trekking shoes
How to reach: The trek begins near Darjeeling and ends in Rimbik.
Best time to visit: March-June
Suggested Read: Our 4 Days Sikkim Local Sightseeing Trip Gave Us Innumerable Memories To Cherish
28. Green Lake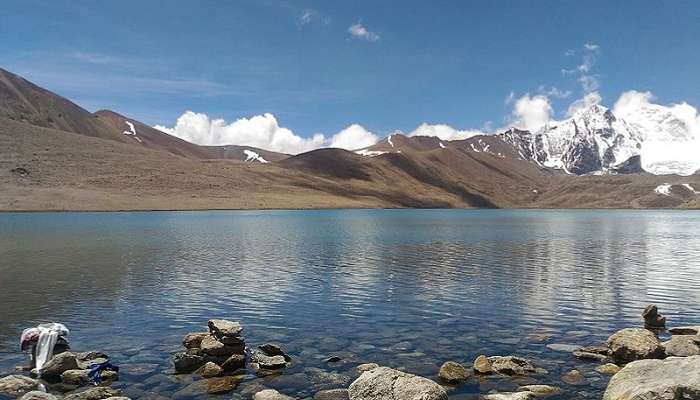 One of the less explored and unhindered destinations in Sikkim, Green Lake is a visual treat to the eyes. Surrounded by the snow-clad mountains and glaciers, Green Lake is a pristine embodiment of water formed by the melting of glaciers. It is located in the Kanchenjunga National park. So, if you are headed to the base camp, you will pass through the lake.
Precaution: If you have medical conditions, you should not sign up for the trek.
How to reach: It is a 10-day trek from Gangtok.
Best time to visit: October-December, March-June
Suggested Read: Sikkim In December 2020: Find Exciting Experiences In The Winter Wonderland Of North-East
29. Zero Point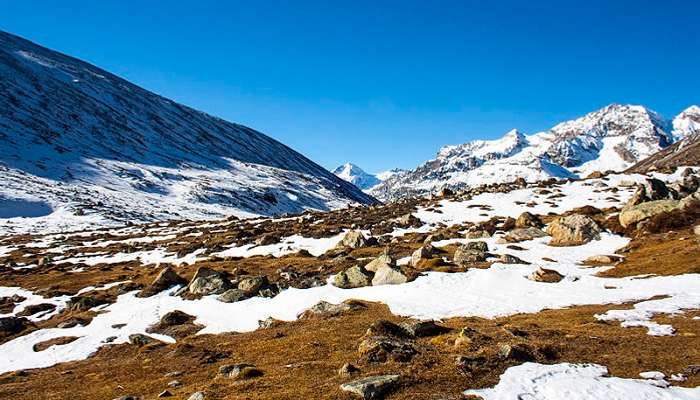 Also known as Yume Samdong in the local language, Zero Point is one of the most popular points of interest in Sikkim. It is located at an altitude of 4,724 m away from all civilization. Enjoy the striking views of snowy valleys and azure skies when you are at the Zero Point. It is only 15 km from Lachung Valley. So, if you are already on your way to Lachung, then you should make a point to visit this place too.
Precaution: Wear enough layers as the weather can be harsh.
How to reach: The only way to reach Zero Point is by car. Hire a private taxi from Lachung Village.
Best time to visit: April-May
Suggested Read: Planning To Travel To Sikkim? Take Cues From Supreet's Fantastic Vacay!
30. Tso Lhamo Lake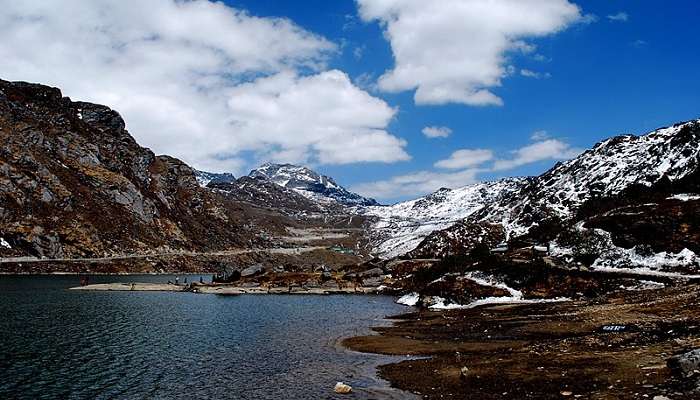 Lakes in Sikkim are in abundance. Most of them have not even been explored yet. located in the North Sikkim at an altitude of 5,330 m, Tso Lhamo Lake is probably one of the highest lakes in the world. The journey all the way to this lake is not an easy one but worth every breath. The surreal reflection of the mighty Himalayas in the turquoise blue waters of the lake is an appealing reward.
Precaution: Since it is difficult to reach, people with no prior trekking experience should not attempt to go here.
How to reach: The only way to reach is by trekking
Best time to visit: October-December, March-June
Suggested Read: Top 7 Places To Visit In Yuksom In Sikkim For A Unique Trip Experience
31. Thangu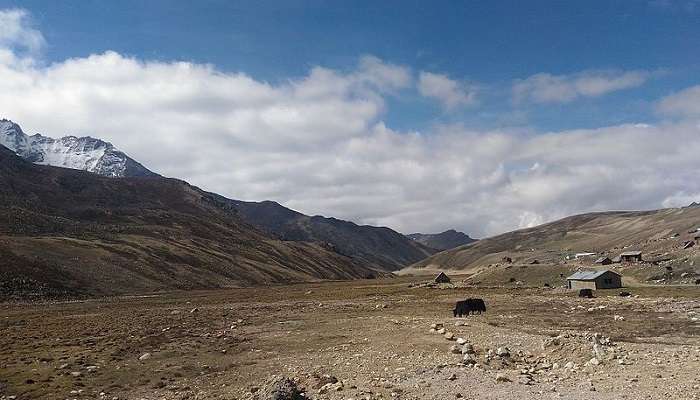 The valley of Thangu will captivate your senses with its breathtaking views and scenery. Come summer, the entire valley is covered with a carpet of colorful flowers. While most people visit Lachung and Yumthang, you should add this place to your itinerary to go offbeat. On either side, you will find massifs hovering over you. Don't worry. You won't be bored here because you will find plenty of things to do here like trekking and exploring the village and tribal life.
Precaution: It is a rural settlement. Don't except fancy accommodation or eateries in this place
How to reach: Thangu is 141 km from Gangtok and the only best way to reach here is by getting a private taxi.
Best time to visit: May-June
Suggested Read: Gurudongmar Lake: Visit This Pristine Lake In Sikkim In 2020
32. Enchey Monastery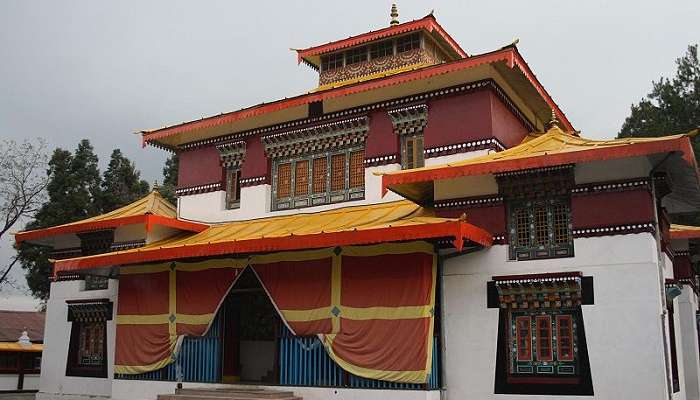 You won't believe it but the 19th-century monastery is one of the most popular attractions in Sikkim. The Chinese Pagoda design of the monastery is an architectural marvel and is inspired after China's sacred mountain which was also the spiritual dwelling of Jampelyang, the God of knowledge.
Precaution: Dress modestly when visiting the monastery and maintain quiet.
How to reach: The monastery is just 10-minute drive from the city center.
Best time to visit: 6 AM – 4 PM every day
33. Jawaharlal Nehru Botanical Garden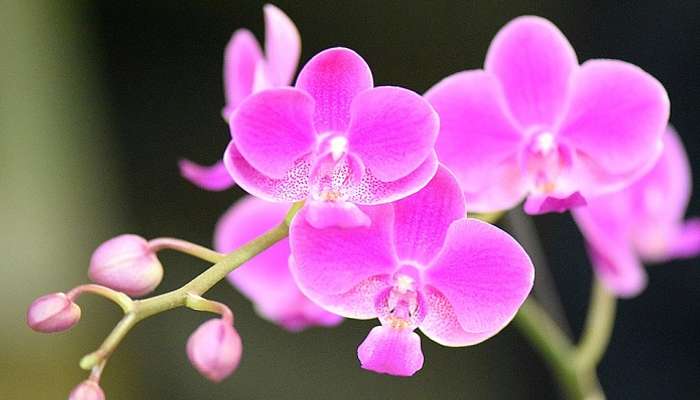 If Rumtek Monastery is on your itinerary, then make an impromptu stop at Jawaharlal Nehru Botanical Gardens. Sprawling across a huge area in Yumthang Valley, this is where you will find a huge variety of orchids, rhododendrons, and other gorgeous Himalayan flowers. There is a small lake inside the park where you can enjoy a little picnic while kids enjoy their time in the playground.
Precaution: Don't pluck any flowers from the garden
How to reach: Take a taxi from Gangtok for a day tour to Rumtek Monastery and botanical gardens.
Best time to visit: April-June
34. Namgyal Institute of Tibetology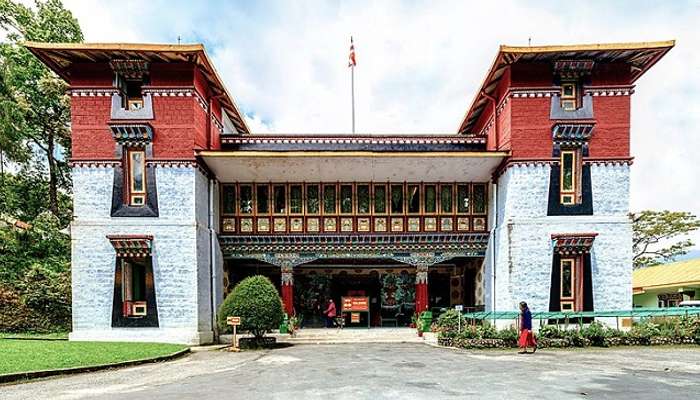 In case you are fascinated by Tibetan culture and lifestyle, then you should definitely visit the Namgyal Institute of Tibetology where you will learn so much about Tibet from their clothes to culture and language. There is a museum in the institute that features coins, valuable statues, thangkas, and scriptures from various languages on display.
Entry Fee: INR 10
How to reach: it is only 2 km from Deorali
Timings: 10 AM – 4 PM, Sunday closed
35. Tashiding Monastery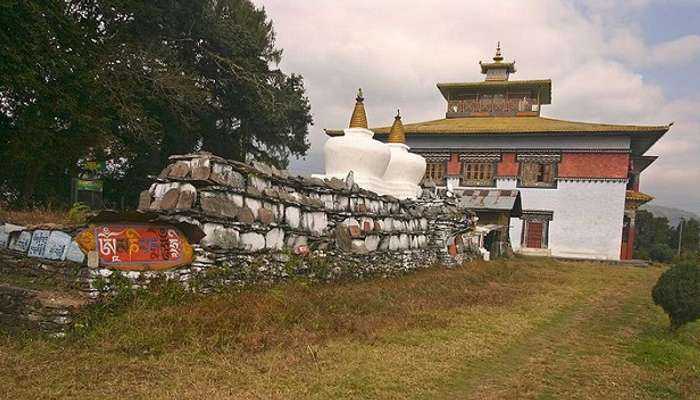 Flanked on a hilltop, Tashiding is one of the oldest monasteries in the region and a center of spiritual enlightenment for the followers. The magnificent views in the backdrop alone will make you feel at peace the monastery was built in the 17th century and it is believed that it cleanses you of all the sins and wrongdoings.
Don't miss: Attend the grand Bhumchu Festival in the monastery
How to reach: Take a private taxi to get around places in Sikkim
Timings: 7 AM – 7 PM
Further Read: 15 Secrets Of North East India Locals Have Been Keeping To Themselves
So, which of these places to visit in Sikkim will you be hopping away to first? Book your Sikkim trip with TravelTriangle and explore the best of the North East with these popular Sikkim tourist places. Why wait? Book now!
Frequently Asked Questions About Places To Visit In Sikkim
Q. Which are the best places to visit in east Sikkim?
A. Nathu La Pass, Tsomgo Lake, Buddhist sites in Gangtok, and Zuluk are some of the best places to visit in Sikkim. Take the Gangtok Ropeway, enjoy river rafting in Rangpo, and birdwatching in Dzuluk.
Q. Which are places to visit in Sikkim in February?
A. Even though the temperatures in February would be low, you can wish to explore Nathula Pass, Lachung, Gurudongmar, and Gangtok.
Q. Which are places to visit in Sikkim in December?
A.Sikkim in December becomes a snowy heaven. Everything is frozen in the winter months yet looks fascinating. You can visit Gurudongmar Lake, Yumthan Valley, Zuluk, and Kaluk.
 
Q. Where can I see snow in Gangtok?
A. You can see snow in Lachung in Gangtok.
 
Q.Which is the best place in Sikkim?
A. The best places in Sikkim are Tsomgo Lake and Yuksom.
Q. Is smoking allowed in Gangtok?
A. No, smoking isn't allowed in Gangtok .
Looking To Book A Holiday Package?
Book memorable holidays on TravelTriangle with 650+ verified travel agents for 65+ domestic and international destinations.
People Also Read:
Places To Visit In Shillong Places To Visit In Dibrugarh
Comments
comments