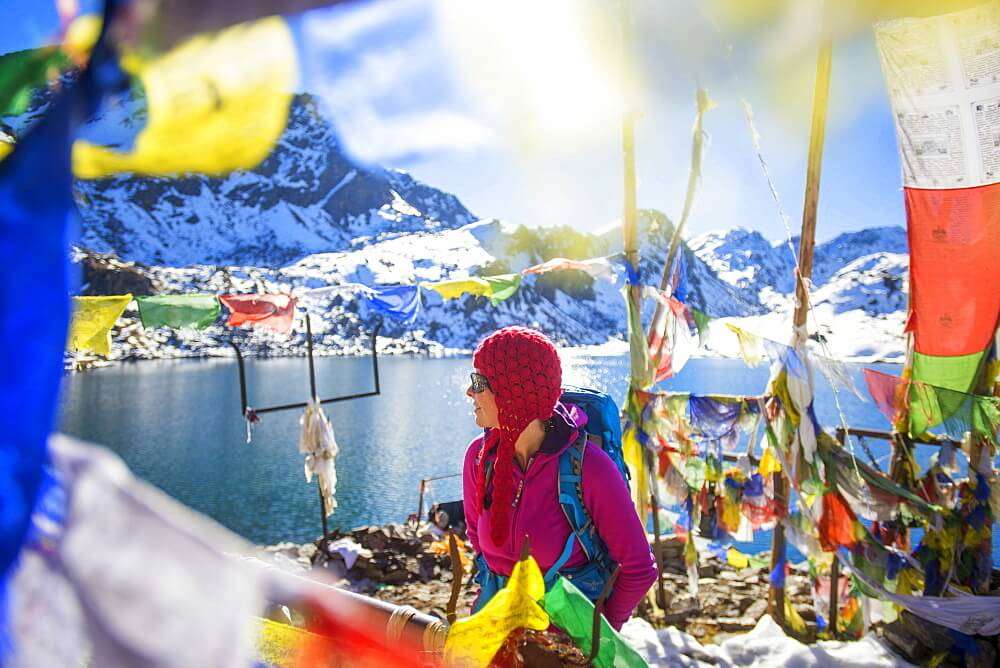 Witness the Winter Wonderland of the North-East by taking a trip to Sikkim in December. Winter in Sikkim surely comes with spine-chilling cold, but the breathtaking icy landscapes and scenic delights it brings along are worth it all. The snowy peaks, frozen lakes, gray forests, and a chance encounters with those pretty flakes of ice drifting down from the heavens turn each landscape into a masterpiece of Nature. In fact, with the kind of paradise snow turns it into, Sikkim in winters is bound to give Kashmir a run for its money! The best part is that Sikkim at this time of the year is relatively secluded in comparison to other winter destinations in India.
Best Places To Visit In Sikkim In December
Sikkim during December is nothing less than the Shangri La of North-East with thick layers of ice covering almost all areas of the state. Though there are numerous tourist attractions in Sikkim at this time, we have put together some of the best ones.
1. Gurudongmar Lake: The partially frozen wonder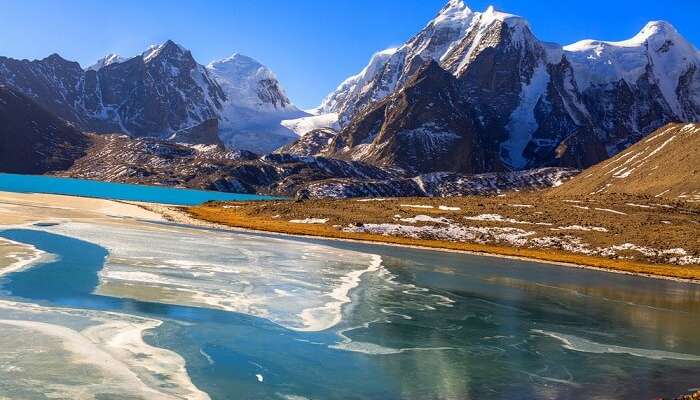 Located at an elevation of 17,800 ft above sea level, the holy lake of Gurudongmar is among the highest freshwater lakes in the world. Though it's a sight to behold in summers, it turns all the more enchanting in winters. What draws travelers to this lake in winters is the fact that part of the deep blue water never freezes completely even in sub-zero temperatures. The combination of white and blue on the surface of the lake is a vision you can't afford to miss!
Where: Near Indo-Tibet border, Lachen
Average temperature in December: Between -5 to 7 degree Celsius
How to reach: Drive to Lachen from Gangtok (7-8 hours) and from there to the lake (3-4 hours)
Suggested Read: 21 Must Visit Places When Travelling To The North East In 2018
2. Yumthang: A sunrise over snow-capped peaks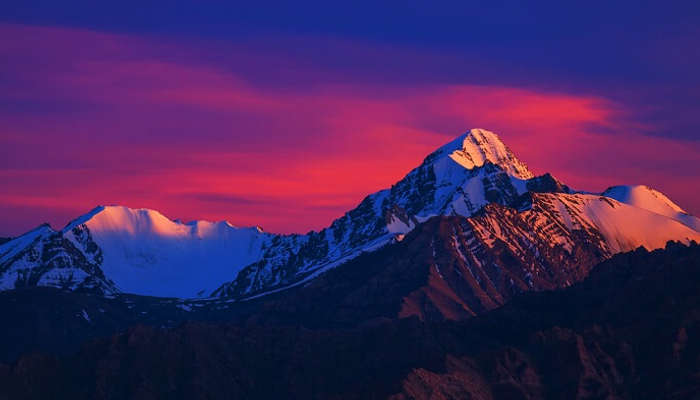 At an altitude of 8,800 ft above sea level, Yumthang is the 'Valley of Flowers' of Lachung in North Sikkim. If you don't find snow at Yumthang itself, go a little higher up till Zero Point which is always covered with layers of crisp snow in December. Here, you'll be greeted with overwhelming white landscapes till where the eyes can see, which turn into a riot of colours during sunrise. Zero Point is also popular for experiencing snowfall in sikkim in December.
Other than the Yumthang Valley, the tiny hamlet of Lachung itself is a delight. If you visit in late December, you may get to see this mesmerising town covered in deep snow with the bright colours of huts, cottages, frozen streams, and bare trees popping out of the soft mounds of white. A trip to Lachung in December may make you feel like stepping into the magical land of Narnia from a rustic old wardrobe. So, head here if you want to experience snowfall in Sikkim in December.
Where: Yumthang Valley, Lachen
Temperature in December: -6 to 13 degree Celsius
How to reach: Drive to Yumthang from Gangtok (7 hours) and then further up till Zero Point
Suggested Read: Darjeeling In December: Here's Why Wanderers Love These Hills More In The Winter Months
---
Sikkim-Gangtok-Darjeeling Holiday Packages On TravelTriangle
Visit Sikkim and explore Yumthang valley, Tsomgo Lake, Gangtok, Nathula Pass, and Pelling. Experience peace and tranquility while exploring Buddhist monasteries, snow-capped mountains, and wildlife sanctuaries. Book packages inclusive of airport transfers, cab, resort, sightseeing, and meals.
---
3. Zuluk: The winding roads to heaven itself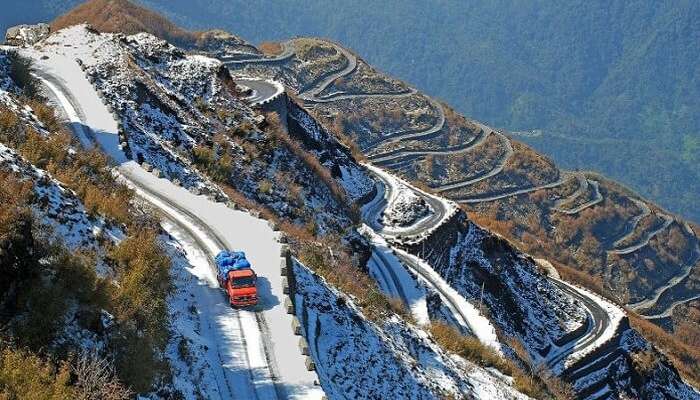 Located at an elevation of 14,500 ft above sea level, Zuluk is a small village located in a valley with eye-catching landscapes. Apart from the scenic beauty of the village, travelers also enjoy driving to this hamlet since it is accessible through the Old Silk Route, a remarkable icon representing the Indo-China border. Driving over the serpentine roads of Silk Route is nothing less than a roller coaster ride. The valley of Zuluk, apart from having alluring landscapes, friendly people, and a delightful culture indicating an empowering history, also gifts travelers breathtakingly closer views of the snowy Kanchenjunga peaks. The views of sunrise and sunset from Thambi Viewpoint here at this valley are absolutely breathtaking. One can obtain permits for visiting Zuluk from the Tourism And Civil Aviation Department of Sikkim.
Where: East of Gangtok on the border of Sikkim and Tibet Autonomous Region (China)
Temperature in December: -6 to 10 degree Celsius
How to reach: Take a cab ride from Jalpaiguri Railway Station to cover the 91 km distance
Warning: Don't drive in case of fog.
Must Read: A-Z Guide To Make Your Honeymoon In Sikkim An Affair To Remember
4. Teesta River: A soothing blend of blue and white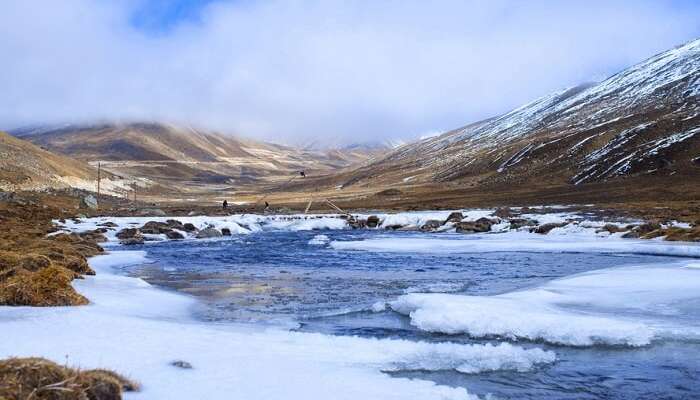 Teesta is the lifeline of Sikkim and one of the best spots in the state to try adventure sports like river rafting. Though this shimmering river invites a great influx of rafters with its ferociously gushing water in Summer and Spring, it turns into a stunning spectacle of Nature in Winters. The point of Sangam between of Teesta and its tributary Rangeet river in December is among the favourite spots for travel and landscape photographers. One must explore the frozen realms near this river while visiting Sikkim in December.
Where: Teesta, Chumthang
Temperature in December: 4 to 13 degree Celsius
Suggested Read: 10 Places To Visit In Sikkim In 2018: Extraordinary Realms In The North East
5. Kaluk: Undiscovered paradise of peace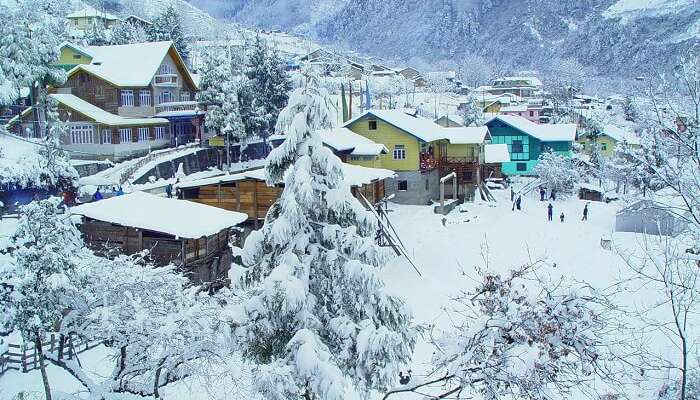 Image Source
Inhabited by the Lepcha tribe of Sikkim, Kaluk is an unexplored village located 2 km from Rinchenpong at an elevation of 5,300 ft above sea level. Kaluk is ideal for people who wish to take a break from the otherwise freezing temperatures of Sikkim. It is among the offbeat places to visit in Sikkim where one can luxuriate in peaceful and absolutely eco-friendly surroundings while also banking on majestic views of Kanchenjunga. While here, you can also embark on a scenic trek to the adjoining village of Rinchenpong through picturesque forests and meadows covered in snow.
Where: Hee Bermiok, Pelling, West Sikkim
Temperature in December: 2 to 16 degree Celsius
How to reach: Drive to Pelling from Bagdogra Airport / New Jalpaiguri Railway Station towards, and then to Hee Bermiok (1.5 hours)
Tip: Don't forget to visit Gurung Monastery, a beautiful sanctum located on top of a hill in Kaluk offering stunning views of the village and surrounding mountains.
Suggested Read: 7 Scenic Tourist Places In Darjeeling
Best Things To Do In Sikkim In December
December brings with itself a plethora of experiences for travelers to indulge in while at Sikkim. Some of the best ones are:
1. Dzongri La Embark on a stimulating trek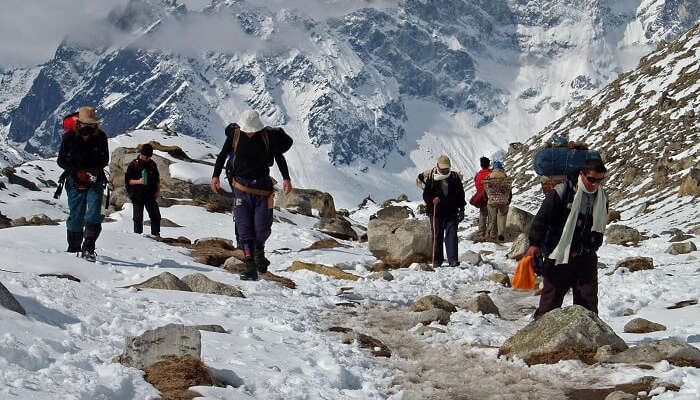 Image Source
The Yuksom – Dzongri La trek is a power-package of trekking in Sikkim in December for adrenaline junkies. The trek commences from the Dzongri in the Kanchenjunga National Park following the route to HMI base camp. It takes one through the densest forest cover in the Himalayas and the snow covered landscapes of Tsokha and rewards one with the most mesmerising vistas once the trek ends at an elevation of 4,170 meters above sea level. The panoramas of 16 Himalayan peaks from Dzongri top, including Kanchenjunga, the gorgeous views of Oklathang Valley, and the enormous spiritual presence of Black Kabru up there, all make this trek an unmissable part of Sikkim tour in December for hard-core trekkers. Adding to the excitement is the opportunity to experience rich and vivid cultures of Lepchas, Bhutias, Subbas and Limboos on the way. The trek can be carried out in Summers, but its true essence and thrill lies in Winters, especially December.
Where: Starts and ends at Yuksom, Chungthang
Duration: 5 Days
Level: Easy
How to reach: Drive to Yuksom from New Jalpaiguri railway station (150 km away) or Bagdogra airport (170 km away). Hire a taxi for the rest of the way
Temperature in December: -2 to 4 degree Celsius
2. Chhaang: Sip on to keep away the cold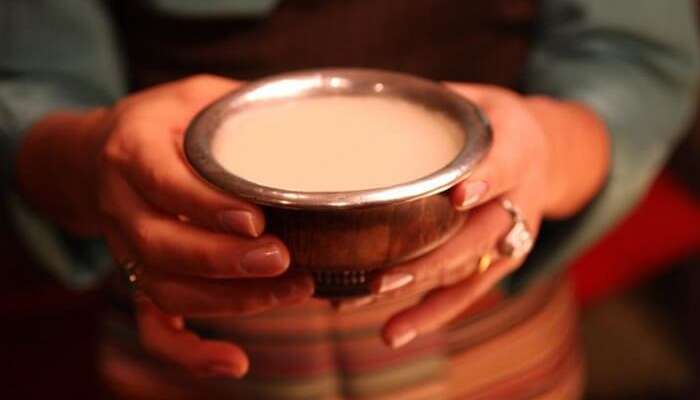 Image Source
Chhaang is a popular Tibetan alcoholic beverage made from barley, rice or millet and is traditionally sipped via a narrow-bore bamboo tube called pipsing. No Sikkim tour in December is complete without experiencing a taste of this charging local drink. While it is usually consumed during festivals in Sikkim, one can also find them in local alcohol stores to beat the heat or take few bottles home as tokens of a delightful Sikkim holiday.
Where: Restaurants, bars, and local alcohol stores across Sikkim
3. Festivals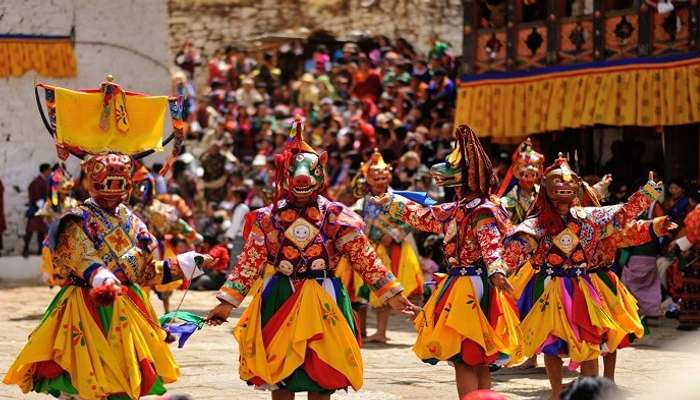 Image Source
December is the month of merry-making in Sikkim. And no, we are not talking about Christmas! Sikkim plays host to myriad festivals and cultural events at this time. Those visiting in December will come across a plethora of engaging sights on the streets every day after 5 PM – traditional food stalls with local alcoholic beverages like Chhaang being distributed like water, magic shows, bike stunts by professional bikers, and dancers performing freestyle numbers next to loud DJ setups.
Some of the prominent festivals of Sikkim during December include-
Gangtok Winter Festival: Cultural folk dance and song performances are the highlight of this festival organized by the Tourism Department of Sikkim. It's the best time to taste some of the most delicious local Sikkimese cuisine
Mangan Music Festival: This is a three day music festival held at Mangan from 12th to 14th December every year. Bands from all over North-East come together to entertain the massive music-loving crowds of locals and travelers alike
Losoong: This is the Sikkimese New Year celebrated inside the Phodong and Rumtek monasteries. The highlight of the carnival is the Black Hat dance
Losar: The Tibetan New Year, or Losar, is a three day celebration with prayers, chanting, folk music, dance drama, and many more performances
Kayged Festival: This is an excellent opportunity for travelers to witness the famous 'Cham' dance of masked monks in the monasteries
4. Yumthang Hot Springs: Take an intoxicating dip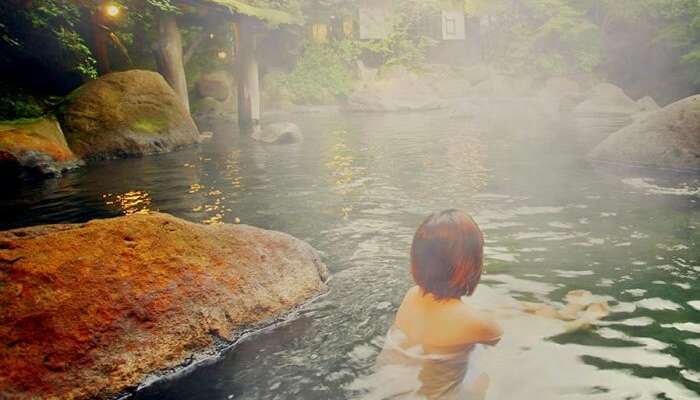 The Yume Samdong Hot Spring at Yumthang Valley is believed to possess healing powers and is a favourite spot for couples celebrating their honeymoon in Sikkim in December. Yume Samdong Hot Spring is located near the Yumthang village and requires one to cross the pedestrian bridge on River Lachung to reach it. The water from the natural spring is diverted into two pools here where travelers can soak in the natural jacuzzi and rejuvenate their senses. Visitors can also bathe in the flowing hot water (though carefully).
Where: Donkia-la Pass base, near Yumthang village, Lachen
Must Read: 15 Bewitching Places To Visit In Pelling And Its Vicinity
5. Tsomgo Lake: Walk over the frozen land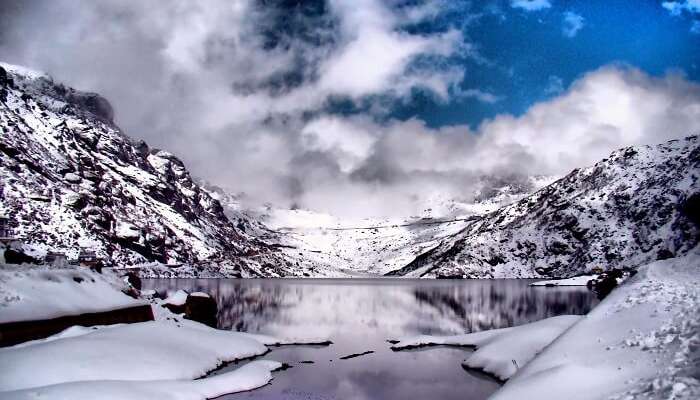 Image Source
Some of the most amazing experiences in Sikkim is walking on the frozen Tsomgo Lake in December. Though there are other fun things to do in Sikkim around Tsomgo Lake, like taking a yak ride, the thrill associated with treading on the thin layer of ice is matchless. The Tsomgo Lake is a sight to behold in December when it is in its most pristine state. While standing on the frozen water with your heart in your mouth, you will clearly be able to see through this crystal clear lake right down to its bottom. The deep blue sheet of ice of Tsomgo acts like a mirror in winters, reflecting the ever-changing faces of the sky. You can acquire a permit from the Tourism And Civil Aviation Department of Sikkim for visiting Tsomgo Lake.
Tip: While here, you can take a ride on the recently inaugurated and India's highest altitude passenger ropeway!
Warning: Be extremely careful and slow while treading on the thin layer of ice.
Where Can One Stay In Sikkim During December?
There is a range of budget to luxury accommodation options in Sikkim in all the major cities. Check some of the popular ones here:
1. Hotel New Castle In Gangtok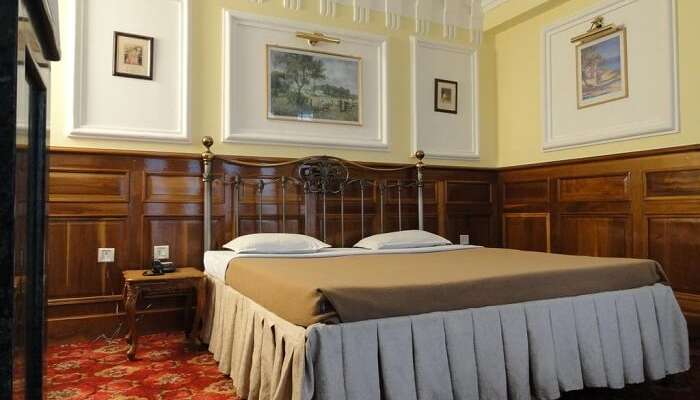 Image Source
Tucked amidst a sea of lush greenery, the New Castle Hotel offers luxury and premium hospitality services to its guests, along with panoramic views of the hills. The hotel is conveniently located with some of the best Sikkim sightseeing points nearby, like the Do-Drul Chorten, Namgyal Institute of Tibetology, and the Cable Car ride. Some of the services provided by the hotel include free WiFi, free parking, restaurant, bar & lounge, and more. Do stay at the hotel, if you are visiting Sikkim in December as it is located perfectly amidst hills.
Where: Deorali Bazaar, Gangtok 737102
Prices starting from: INR 3,782/- per night per person
Google Rating: 4.1 | TripAdvisor Rating: 4.5
Website | TripAdvisor Reviews
2. Norbu Ghang Resort In Pelling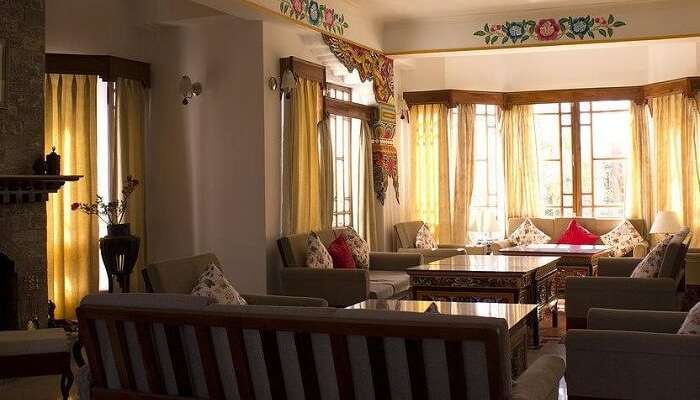 Image Source
The Norbu Ghang Retreat & Spa is a celebrated resort in Gangtok that offers luxury, class, and the best views to its visitors. Some of the prime attractions here include a well-manicured garden overlooking the scenic snowy mountains, traditional Sikkimese architecture, luxurious furnishings, a local handicrafts store called Khyom, a restaurant called the Himalayan Cafe, and a traditional hot stone bath and spa known as The Menchu.
Where: West Sikkim, Pelling 737113
Prices starting from: INR 6,602/- per night per person
Google Rating: 4.4 | TripAdvisor Rating: 4
Website | TripAdvisor Reviews
3. Etho Metho Hotel In Lachung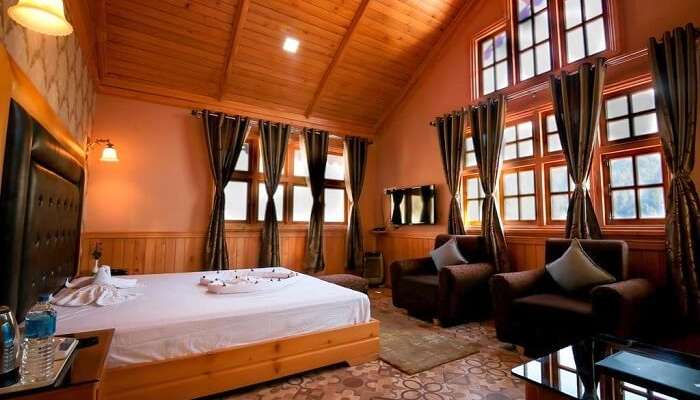 A warm and cosy ambiance is what greets every guest at Etho Metho, an elegant example of fine architecture, luxury, comfort, and style. The hospitable staff of the hotel provides services like fishing and hiking tours, business center, bar, restaurant, banquet facility, free WiFi, a gift shop, and a cosy shared lounge area.
Where: Faka, Near SBI Bank, Shingring, Lachung
Prices starting from: INR 5,897/- per night per person
Google Rating: 4.2 | TripAdvisor Rating: 4
Website | TripAdvisor Reviews
Tips For Visiting Sikkim In December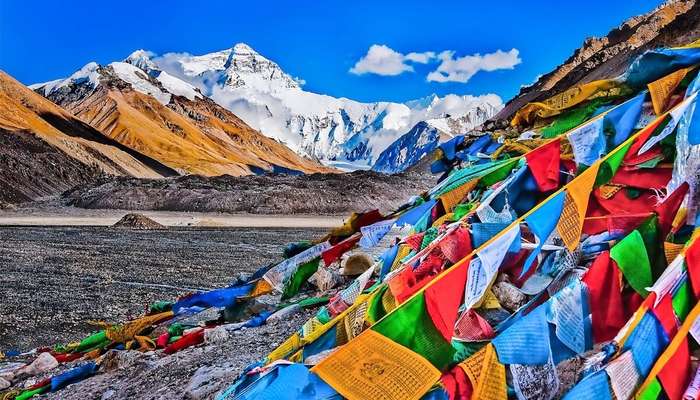 Though full of mind blowing scenic views, Sikkim during December can be a mess for travelers who do not prepare for the extreme weather conditions of the place. So, here are some guidelines for visiting Sikkim in winter to make your tour smooth and hassle-free:
Make sure you wear heavy woolens or layers in all areas of Sikkim during December, and snow boots in specific areas that require it
Do proper research on the weather conditions of Sikkim before booking a Sikkim tour in December. And when you are here, keep a regular watch on the weather forecast and road conditions of the places you're visiting
Do not venture out on the roads or drive in case of fog
Instead of hiring cabs for commuting, opt for shared taxis or jeeps wherever possible
Many places in Sikkim require special permits from state forest department, army authorities, and the Tourism And Civil Aviation Department of Sikkim owing to the close proximity of the state to the Chinese border. Make sure you acquire these permits before beginning your tour well in advance
Further Read: 20 Alluring Places To Visit In Gangtok
Ready for an invigorating trip to Sikkim in December? Start planning already so that you can enjoy the best of views and experiences on your holiday in Sikkim. So, if you can dare the biting cold for the scenic treats, then Sikkim is the place to be! Heads up – you must start browsing budget Sikkim tour packages already because, Winter Is Coming
Frequently Asked Questions
Q. How is the weather in Sikkim in December?
A. The weather in Sikkim in December is suitable for your trip as the average temperature during this time ranges from 10 degree Celsius to 4 degree Celsius, even dropping as low as 0 degrees Celsius in the high altitude areas, most of which remain closed in winters. December may also bring never ending snowfall covering almost everything.
Q. Is it a good idea to visit Sikkim during December or January?
A. Sikkim is beautiful in both December & January. However, you're least likely to face weather-induced issues in December than in January. Also, Sikkim turns into a hub of festivities in December. There are numerous festivals and events for travelers to attend during this time. Even though the months from December to February aren't the best time to visit Sikkim, people who can resist the extreme cold and wish to see the Sikkim in its most enchanting state flock to this paradise in great numbers.
You can visit almost all parts of Sikkim in December or January unless those places are struck by natural calamities like storms, landslides, etc. Since most regions in Sikkim are under army protection, the government and army personnel always ensure they are accessible at all times. So, in case you find any road blocked due to heavy snowfall, be assured it'll be cleared in a jiffy.
---
Looking To Book A Holiday Package?
Book memorable holidays on TravelTriangle with 650+ verified travel agents for 65+ domestic and international destinations.
---
Comments
comments