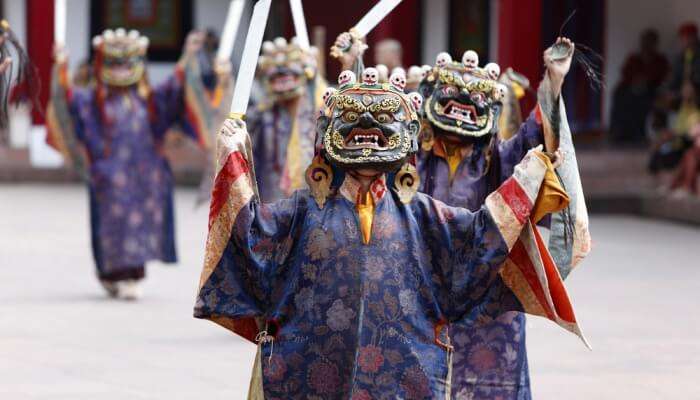 Sikkim is home to breathtaking glaciers, beautiful landscapes, and varieties of flowers. Counted amongst the list of top travel destinations to visit, it is known for its natural beauty and also its rich history and culture. These elements are depicted well with the festivals celebrated here. There are many Sikkim festivals that can be enjoyed while on a vacation to this beautiful destination.
Hordes of history and a great lot of colors and vibrancy, these festive occasions in the state of Sikkim brings about a beautiful amalgamation of all these elements. With many rituals, ceremonies, and things to do during these festivals, the entire arrangement becomes a beautiful spectacle that one shouldn't miss while on a holiday at this beautiful destination. Check out the Sikkim famous festivals list and plan your vacation accordingly.
15 Splendid Sikkim Festivals
Sikkim is an ultimate travel destination amongst the travelers from not only India, but also, the foreigners who want to experience a place that is authentic, beautiful, and vibrant. This interesting northeastern state in India is quite famous for not just its natural beauty, but the many Sikkim festivals 2020 too.
There are many Sikkim festivals that one can enjoy while on a trip to this amazing destination. Check out the details of the many festivals of this state in the list that we compiled for you. While you are planning your trip, you could include the dates of these festivals in your itinerary if you are looking for a cultural experience while on the vacation. We've curated this list of festivals in Sikkim specially for you:
Losoong Festival
Sonam Lhochhar Festival
Losar
Bhumchu
Ram Navami
Saga Dawa
Tendong Lho Rum Faat
Indrajatra Festival
Pang Lhabsol
Tihar
Annual Sikkim Paragliding Festival
Mangan Music Festival
International Flower and Garden Festival
Hee Bermiok Festival
Sikkim Summer Festival
1. Losoong Festival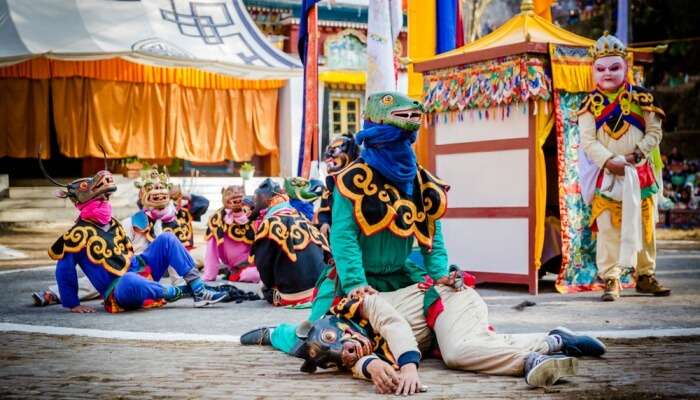 Beginning with the list of Sikkim famous festivals, Losoong is one of the most important festivals in this mesmerizing Indian state in the North East. This festival is the start of Sikkimese New Year – the reason why it is celebrated with immense joy and fervor. This is also the season of harvesting for the local communities and since the festival also coincides with this time, the celebration and merriment is doubled.
The festival has many traditional folk dances, rituals, and ceremonies. This is also an occasion to gorge upon the delectable Sikkimese cuisine. This occasion is celebrated with utmost gusto not just by the locals, but also by the tourists who are curious about the states cultures and the local traditional ceremonies and dances.
The dates for Losoong Festival are different every year, based on the Tibetan Lunar Calendar. The day typically falls on the 18th day of the 10th lunar month, which is usually December. The duration of this festival is for 4 days and there are arrangements for cultural programs at monasteries like Rumtek and Tsuklakhang Palace. It is one of the most popular festivals of Sikkim.
When: December 8th-12th, 2019
Must Read:15 Top Things To Do In Sikkim For Unbeatable Adventures In Breathtaking Landscapes
2. Sonam Lhochhar Festival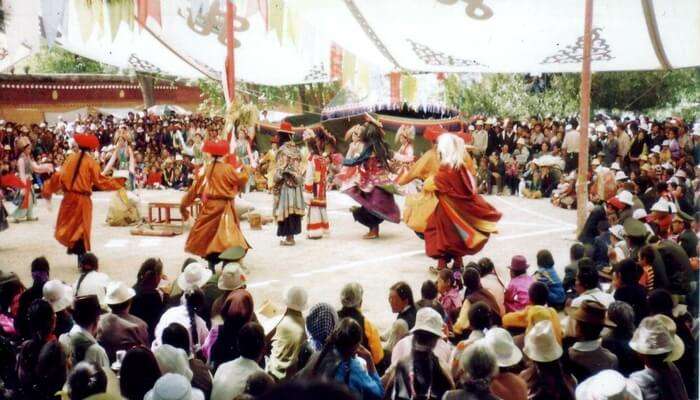 Amongst the Sikkim important festivals is the Sonam Lhochhar Festival, also spelled as Sonam Lhosar. It is celebrated by the Tamang community in this North Eastern state in India. This marks the beginning of the Tibetan New Year for the community. The rituals are performed with the utmost gusto and the celebrations are full of fanfare and zeal.
Men and women get dressed up in colorful and traditional attire. There are masked men who dance to the rhythmic beats of Damphu to get rid of all the negative energies and evil spirits (a traditional small round drum). The exotic Tamang cuisine served during this time is delectable. This festival is also celebrated in Nepal, Bhutan, and Tibet. It is one of the most popular festivals in Sikkim 2020.
When: February 2019
Suggested Read:A-Z Guide To Make Your Honeymoon In Sikkim An Affair To Remember In 2019
3. Losar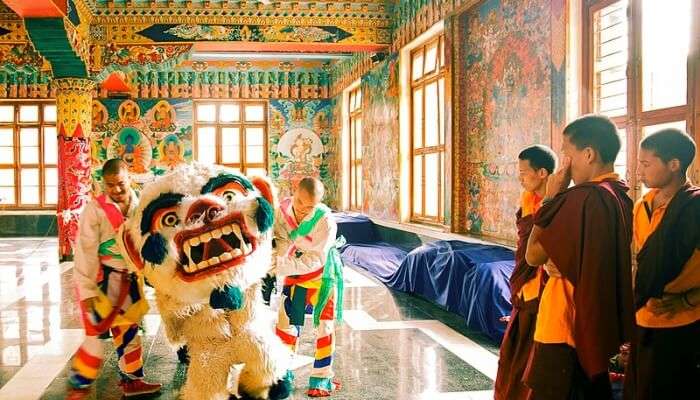 It is one of the most widely famous-festivals in Sikkim 2020.-Losar is a Tibetan word that translates to New Year in the English language. It coincides with the end of harvesting season giving the farmers a much-needed relief from all the work and celebrating their hard work and patience. The Sikkim festivals are mostly based on the celebration of the land, the harvest, and the local communities. This festival too brings about the same zeal and enthusiasm of these elements combined together.
The occasion is really special to the Tibetan Buddhists who are residing in this beautiful state. Along with the other things, the ritual of making a mixture of roasted barley flour and butter and offering it on home altars is significant. Its basically praying for a good harvest in the current New Year.
When: February 2019 (29th day of the 12th month of Tibetan lunar calendar year)
Suggested Read:9 Cosy Homestays In Sikkim That Are As Good As Home
4. Bhumchu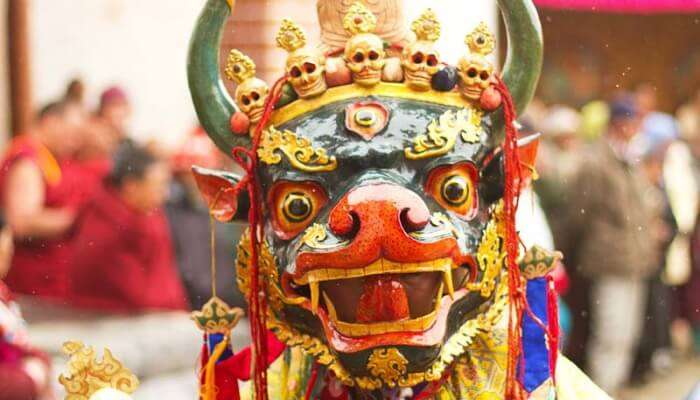 The word Bhumchu translates to a sacred pot of water. This meaning is translated and converted to actuality with the festivals ceremonies and rituals. Like other Sikkim festivals, this occasion is also celebrated with all the pomp and show with a specific focus on the ceremonies and rituals. The first day of the festival sees the monks at Tashiding Monastery opening the sacred vase of water. This is used to predict the future and generate forecasts of the impending year.
During the closure ceremony on the second day, the pot is re-filled with the water from the sacred river nearby and sealed to be opened next year. It is a great occasion for the tourists to take a peek or maybe a deep insight into Buddhism and its customs and rituals. It is one of the most zealous-festivals in Sikkim 2020.
When: February 2019
5. Ram Navami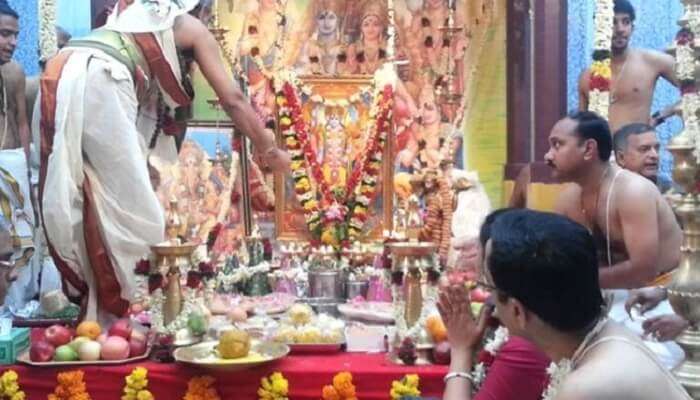 Chaite Dashain is one of the most important Sikkim festivals. Ram Navami is celebrated a day before it and is also known by the name of Small Dashain. This occasion remembers the birth of Lord Rama. It is the perfect time to enjoy get-togethers and enjoy festive meals. The people who want to enjoy this festival can plan a vacation during the months of March to April months. It is one of the most important religious festivals in Sikkim 2020.
When: April 2019
Suggested Read:Sikkim In June: A Complete Guide On How To Experience It Best
6. Saga Dawa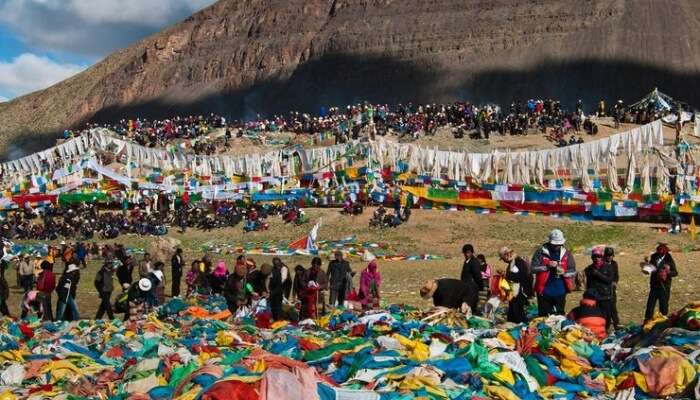 Saga Dawa Festival is one of the most famous of the Sikkim festivals. The festival celebrates Lord Buddhas birthday and is a great day for the people who follow Mahayana Buddhism. Tourists and travelers alike who want to understand the basic philosophies of Buddhism and are looking to acquaint themselves with it on their journey can be a part of this festival and get to see from close what the festival is all about.
The monks of the Mahayana Buddhism light butter lamps on these days in the monasteries. This way they show their obeisance to Lord Buddha who is believed to have enlightened their paths in life. It is one of the best family-friendly-festivals in Sikkim 2020.
When: June – July 2019
Suggested Read:10 Best Resorts In Sikkim You'll Never Want To Leave
7. Tendong Lho Rum Faat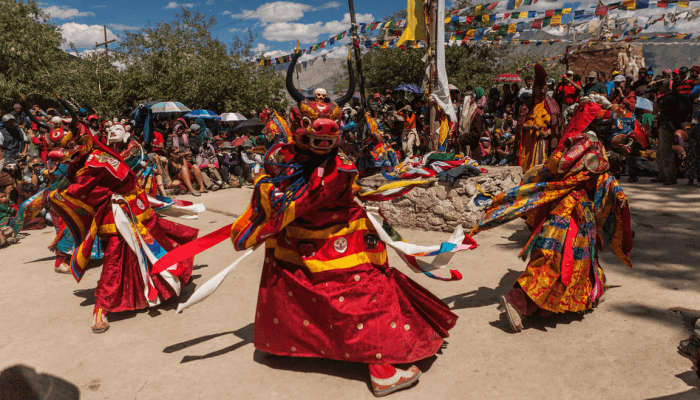 Tendong Lho Rum Faat is one of the most ancient and significant Sikkim festivals The occasion marks the time when the ancestors of the local Lepcha tribe were saved by Tendong Hill from a flash flood lasting 40 days and 40 nights. There are grand festivities over the entire state, with primary rituals and ceremonies happening at Namchi, the home to this sacred hill in Southern Sikkim.
A trek that goes to this hill from Ravangla is the highlight of the festival. If you are planning a vacation to Sikkim, this could be a great opportunity for you to experience this festival and induce some adrenaline rush on your journey.
When: 8th-11th August 2019
Suggested Read:Private: Sikkim Nightlife: 4 Different Ways To Discover The Gleaming Night
8. Indrajatra Festival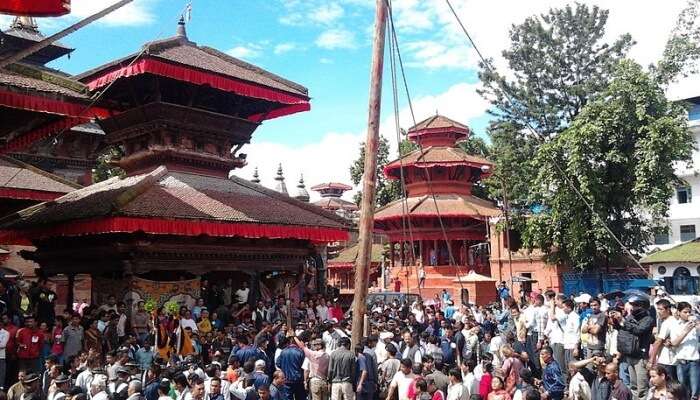 The Nepalese community in Sikkim celebrate this festival and there is a huge fanfare during it in the entire state. The festival is named after the Hindu God of rain called Indra. During the festival, one seeks the blessings of the rain gods in the forms of rain and showers. There are huge chariot processions, dance performances, use of masks and many classical dance performances. This is considered to be the best time to plan a trip to Sikkim and other nearby areas.
When: 12th September, Thursday in 2019
9. Pang Lhabsol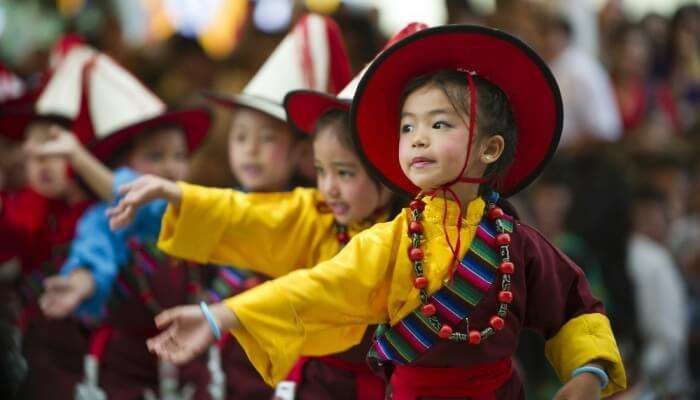 Probably one of the most popular Sikkim festivals, Pang Lhabsol is the festival that commemorates Mt. Kanchenjunga, the guardian deity of Sikkim. It is said that this mountain had been protecting the very soul of this beautiful state. It is quite a vibrant occasion with carnivals, dance performances, warrior dances by the llamas, and the ever-so-delicious Sikkimese cuisine. Travelers can plan their trip accordingly and include this trip onto their long journey.
When: August 26, 2019
Suggested Read:8 Incredible Local Sikkim Food Options To Gorge Upon
10. Tihar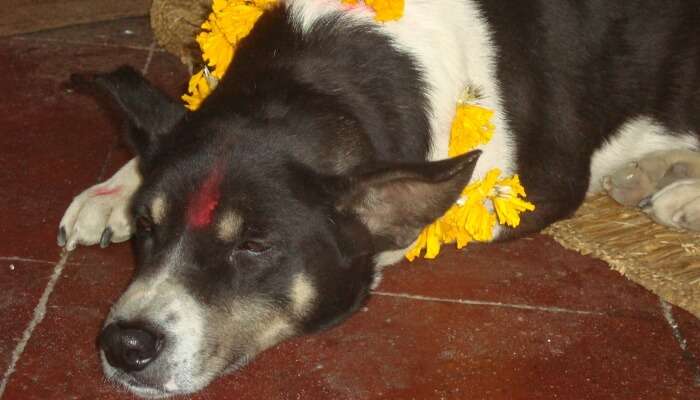 Out of all the Sikkim festivals, this occasion is on an off-beaten track, yet it tells many cultural stories of this beautiful destination. The festival is that of Diwali under the name of Tihar. The duration of this amazing festival is around five days with each day fixated on something special.
On the first day, crows are worshipped – the symbols of sorrow and sadness. The second day calls for Kukkar Tihar when dogs are worshipped and offered garlands and tilak. Each day out of the five honors some of the most significant animals in Hindu mythology. While enjoying a trip to Sikkim, do visit this place.
When: October 25th – 29th 2019
11. Annual Sikkim Paragliding Festival
For the best paragliding experience, one should visit Sikkim during the Annual Sikkim Paragliding Festival held in Gangtok during the month of October and November when the weather is favourable. You will have the time of your life here and won't be disappointed by the bevy of fun activities.
When:-October 31st – November 3rd 2019
12. Mangan Music Festival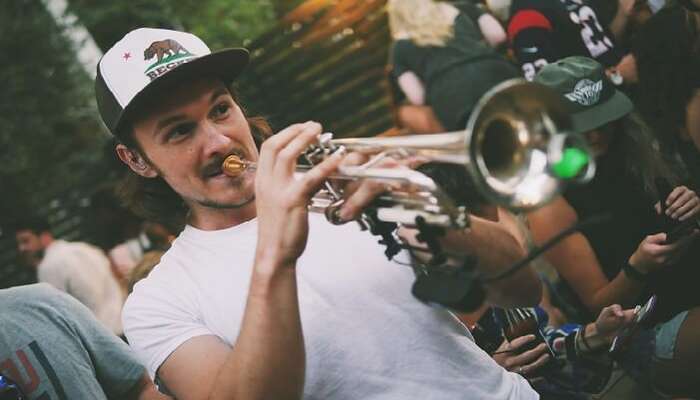 Every year in December, a three-day music festival is organised in Mangan. You can cheer the bands that come from all over the region, as well as from the other states of northeast India. The perfect combination of hills, music and cold weather makes it a great experience. An exhibition cum sale of local handicrafts take place.
When:-December 12th – December 14th 2019
13. International Flower and Garden Festival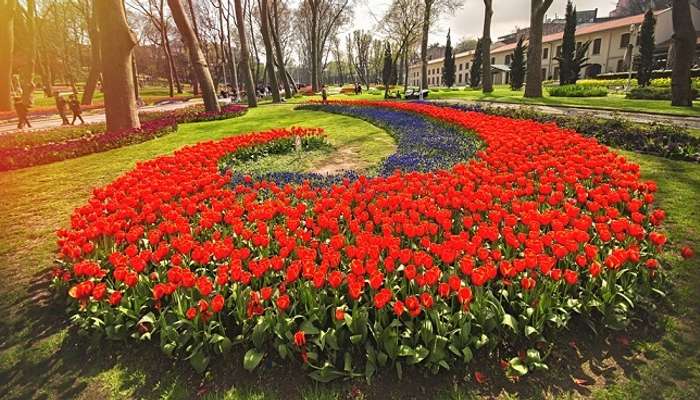 The International Flower and Garden Festival is a month-long festival which begins in May at the White Hall in Gangtok. The event features some of the best floral and landscape talent along with an extensive array of garden retail products from different parts of India.
When:-May 1st – May 31st 2019
14. Hee Bermiok Festival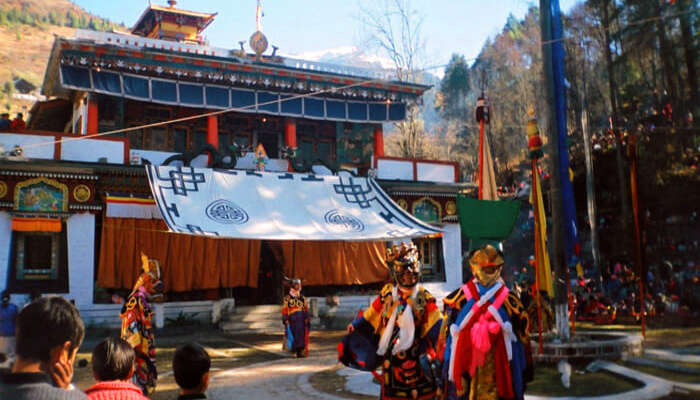 Hee Bermiok Festival, which is organised in Sikkim in Summer, is a chance for the tourists to explore the culture and lifestyle of the region up close. The traditional festival is a showcase of variety of rice and indigenous Sikkim culture. The visitors are served with rice wine and local delicacies.
When: May 10th – May 13th 2019
15. Sikkim Summer Festival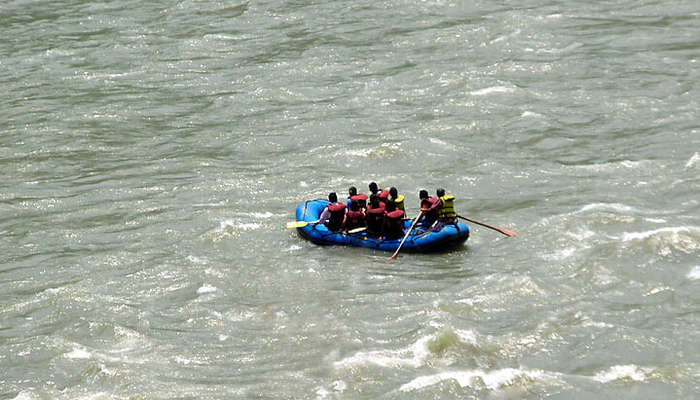 Sikkim Summer Festival is a month-long celebration. It features entertaining cultural shows, local food festivals, white water rafting in Teesta, Sikkimese folk dances, showcase of films on Sikkim tourism, local handicrafts exhibitions and stunning flower shows
When: May 1st – May 31st 2019
Further Read: Sikkim In December: Find Exciting Experiences In The Winter Wonderland Of North-East
Go on and check out these interesting festivals that are indigenous to this state. A few of them are unique to the state yet are celebrated in other parts of the country with different names. Read through our list of Sikkim festivals that you can become a part of on your journey. If you are someone who loves festivals and vibrant colorful occasions can choose to experience these festivals. Such occasions would give you a peek into the history and culture of this amazing state. Go ahead and book your vacation to Gangtok with TravelTriangle and enjoy the beauty of the amazing festivals in Sikkim.
Frequently Asked Questions About Sikkim Festivals
Q. How many festivals does Sikkim celebrate?
A. Sikkim celebrates 21 festivals with huge pomp and show.
Q. What is the famous food of Sikkim?
A. Thukpa, a noodle based soup with vegetables or meat, is the most famous food of Sikkim. Momos is another famous Sikkim food.
Q. What can I buy in Sikkim?
A. You can buy prayer flags, canvas wall hangings, woollen carpets, and tea in Sikkim.
People Also Read
Festivals In Darjeeling Festivals In Karnataka Festivals In Gujarat
Comments
comments