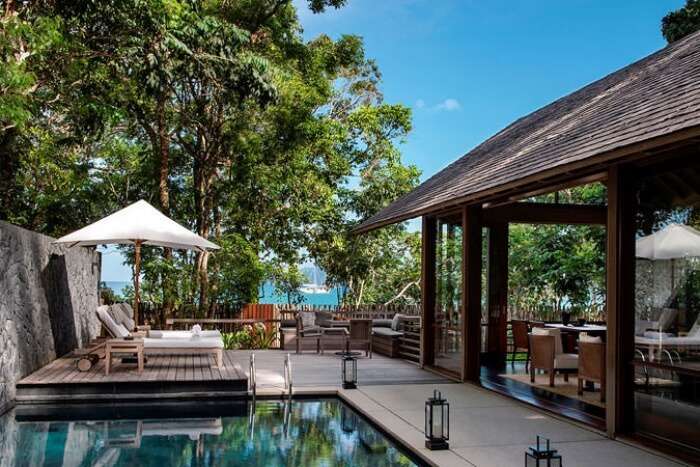 Overview
The Seychelles luxury hotels resorts welcome international tourists with an open heart, which is part of the Creole culture. Seychelles beaches are very clear and colorful as they change color at different times of the day. In the early morning, the waters appear to be blue-green color; as the sun is rising, it becomes more of turquoise and as the sun sets, it becomes azure. Visitors will not be surprised to learn that Seychelles is the most photographed island in the world.This is the only place where coral reefs are still alive and are uncontaminated. Tourists come here in millions every year to see the coral reefs and enjoy the warm waters of the Indian Ocean. The luxury holiday resorts and hotels in Seychelles offer the best amenities to their visitors and in a lavish way. The luxury hotels leave no stone unturned when it comes to the quality of service. The hotels are also designed to cater to international needs. Seychelles is surrounded by lush green tropical forests filled with rare flora and fauna. Also, it is the only home in the world for giant tortoises outside the Galapagos.
Special Experiences
Seychelles luxury hotels resorts are renowned for their top-quality services and facilities. There are many beach resorts in the world that provide high-class facilities, but it comes with a price. However, in Seychelles luxury resorts, the services and facilities provided are value for money. For example, most luxury hotels provide personal lockers for guests to lock up their important documents and valuables. They understand that the guests need to feel safe even while they are enjoying themselves. Another top feature of luxury resorts is that almost all of them have a private beach, and guests can enjoy a lot of privacy without having to wade through a crowded beach. Some top Seychelles luxury hotels resorts like Banyan Tree meet international standards for their services and value-added amenities. The staff in this hotel is very professional and treats the visitors with great respect. They make sure that every query is answered and they are very dependable.
Facilities
The top of the line facilities provided by Hilton Seychelles Northolme cannot be compared to any other 5-star hotels in Seychelles. This is the best Seychelles luxury hotels resorts and is true to the name of Hilton Group of hotels. Hilton is not only famous in the USA, but also in Seychelles. They provide private entrances from the rooms to the beach; and whether it is a couple or a family, they can enjoy total privacy in this hotel. The breakfast is a lavish spread, ranging from bread to fresh fruits to different kinds of dishes from all over the world. However, it is not complimentary. Breakfast is not complimentary in most of the luxury hotels.
Dining
There are so many dining options in Seychelles and it is a real gastronomical adventure. The Banyan Tree serves the best seafood on the island and also some other cuisines. The ambiance is very romantic and unique with treetop dining options as well. Four Seasons serves Asian food and even Turkish specialties like Khabsa Lamh, a barbecued lamb with special spices, and it is very popular on the island. Most luxurious resorts serve food that suits the international palette.
FAQs
Q1. Is Seychelles a good place for a vacation?
A. Seychelles offers a plethora of attractions to visitors. They can head over to the beach to relax and soak up the sun or go swimming. While they are swimming, they can check out the coral reefs that are teeming with marine life. The nature reserves too are spectacular and offer an insight into the wildlife of the archipelago.
Q2. How many islands are there in Seychelles?
A. Seychelles is an archipelago and made up of 115 islands. While Mahe island is the most popular among visitors, there are several others, like Victoria, which is the capital, Praslin, La Digue and Desroches. Each island has its own attraction and travelers should decide what they want to do to book their Seychelles luxury hotel or resort.
Q3. Can guests learn diving in Seychelles?
A. Yes, it is possible to learn diving in Seychelles. While there are diving schools in Mahe, Praslin, and La Digue, most Seychelles luxury hotels and resorts also have diving instructors, who teach guests either in a group or one-to-one basis.
Q4. What food is most common in Seychelles?
A. Seychelles cuisine is influenced by France, India, China, and Africa. This makes the cuisine unique and delicious. Look for grilled fish, which is flavored with chillies, ginger, garlic, and lemon juice. Breadfruit also grows ubiquitously across Seychelles and breadfruit chips are commonly consumed by the locals. It is delicious and often served as a snack in bars and pubs. If guests want an adventure, they can eat bat curry, which is a local delicacy.
Q5. Are Seychelles luxury hotels and resorts expensive?
A. It depends; some people may find them expensive while others may find them rather affordable. However, considering the amenities and facilities these hotels and resorts offer, they are quite economically priced.
The Seychelles luxury hotels resorts provide a wonderful holiday experience. They are comfortable, ideally located and have amenities that their guests expect each time they stay in these hotels and resorts. The highly trained staff can anticipate most of the needs of guests, and this makes Seychelles luxury hotels resorts different from the budget ones. The hotel staff is conversant in English and French, and many can speak several other languages. So, international travelers will always be able to find someone to speak to in the language they are comfortable in. The luxury hotels and resorts offer numerous activities for guests to partake in and get to know the local culture better. The sea life is precious and sacred for the people of Seychelles, so it is well-preserved here. The best way to enjoy this nature's wealth is to stay in a luxury resort in Mahe or Praslin islands and enjoy the beach to the fullest. The hospitality is also amazing in these resorts.