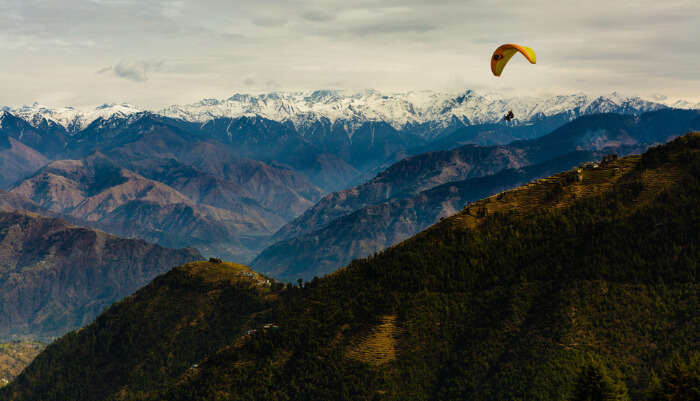 Dalhousie stands adorned with pine valleys and spectacular mountains in Himachal Pradesh. This pristine hill station is accompanied by colonial charm and misty mountains. Because of its proximity to the Dhauladhar mountain range, Dalhousie enjoys a pleasant weather throughout the year which attract thousands of visitors from the plains. The Victorian architecture will take you back to the past with its engraved carvings, glass paintings, and intricate details. We have compiled a list of the best things to do in Dalhousie right here to help you book your trip. Find out what each of these are!
9 Exciting Things To Do In Dalhousie, Himachal Pradesh
Dalhousie has plenty for those who love to explore. While some prefer adventurous activities, some prefer spending time in tranquil environment with their friends and family members, No matter where you go in Dalhousie, you will always find scenic landscapes, lush greenery, and misty mountains. Here are some of the most preferred things that travelers love to do if you're wondering what to do in Dalhousie:
1. Panch Pulla – Experience The Magic Of Whispering Woods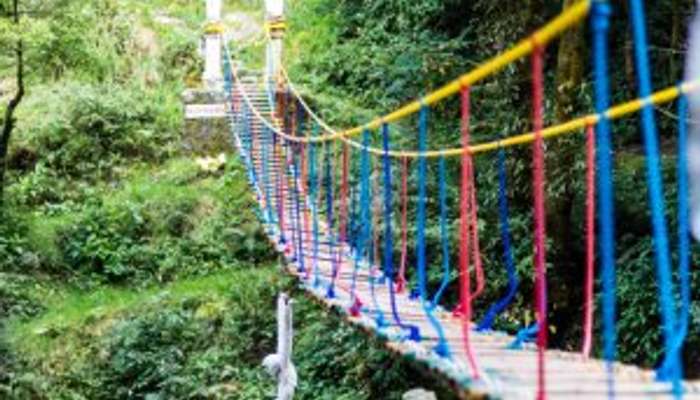 This picture perfect spot lets you experience five streams blending with each other and creating a scenic waterfall. Panch Pulla stands for five bridges. With whispering woods around, you will find this place to have a magical influence on you. What adds to that is the combination of lush greenery and old bridges. Dalhousie and its surrounding places rely on Panch Pulla for water. Visited by hikers, photographer, trekkers round the year, this spot lets you experience a tranquil atmosphere amidst the shushing streams and refreshing forest breeze. The parkland here has a monument here dedicated to Sardar Ajit Singh. This is one of the best things to do in Dalhousie for kids as well.
Location: Gandhi Chowk
Timings: Open all day.
Must Read: Guide To A Honeymoon In Dalhousie In 2020 – A Colonial Hill-Town In Chamba, HP
2. Khajjiar – Go Paragliding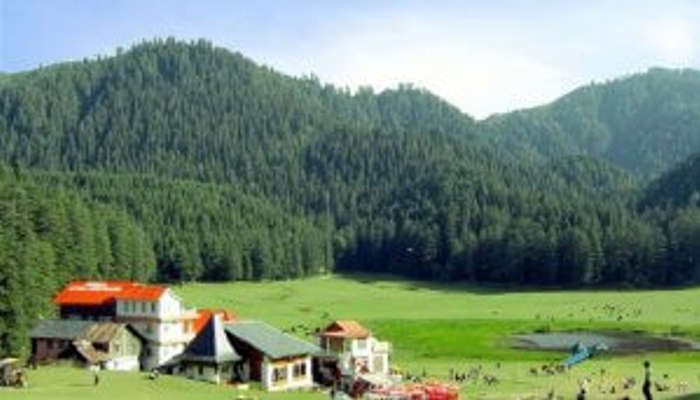 Khajjiar stands crowned with green meadows, lush forests, and pristine temples at an altitude of 6,500 feet. This small plateau is adorned with a lake in the centre and a nine-hole golf course. Having influenced many kingdoms over years, Khajjiar today is visited by thousands of tourists from all over the globe. Adventure-seekers come here to experience various adventure sports such as paragliding, horse riding, zorbing, and so on. Combining lakes, pastures, and forests, this small town remains closed during the Winter due to excessive snowfall. Ideal to be visited during the months in between January and June, the mini-Switzerland of India will leave you amazed with its breathtaking landscape.
Distance from Dalhousie: 24 km
Best experiences: Khajjiar Lake, Kalatop Wildlife Sanctuary, Lord Shiva Statue, Khajji Nag Temple
Timings: Open all day
Suggested Read: 10 Places To Visit In Dalhousie In December 2020
3. Chamera Lake – Go Boating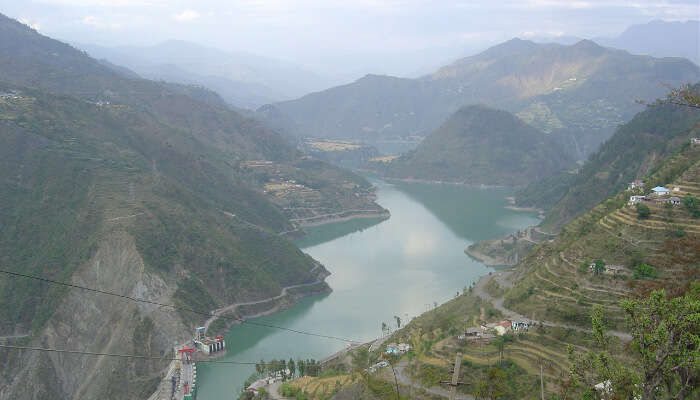 Located approximately 25 km away from Dalhousie, Chamera Lake is situated above 763 meters above the sea level. With its breathtaking beauty, the Chamera Dam owes its beauty to spectacular mountains filled with greenery. A bot ride here can unravel the avenue for you to rejuvenate your mind and soul. Whether you love boating or fishing, Chemra Lake is perfect for all such things. In addition, you can come here for camping as well. If you are free, you should visit this spot early in the morning to experience sunrise against the calm water. Come prepared to be engulfed by the beauty of nature.
Distance from Dalhousie: 25 km
Best experiences: Boating, river rafting, sunrise watching
Timings: 7 AM – 5 PM
Suggested Read: 8 Best Hotels In Dalhousie For Honeymoon
4. Satdhara Falls – Take A Dip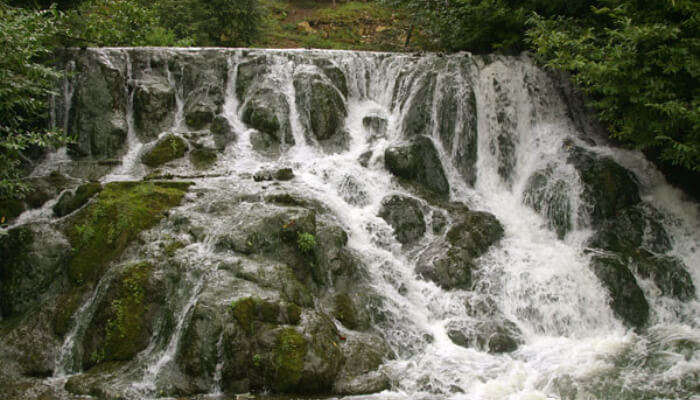 Visiting Satdhara Falls is one of the top things to do in Dalhousie. Seven magnificent streams pass the Chamba Valley to plunge into the pool here. The water of the Satdhara Falls is said to contain mica which has a significant amount of medicinal properties. Most of the tourists go for a dip in the water here. Gifting you with tranquility, this fall comes out of lush greenery and adds to your lifelong memory. Located on the way to Panch Pulla, this fall gives you a fresh feeling with the smell of mud and vegetation. In addition, the noise of the waterfall will certainly leave you amazed when you hear it with your eyes closed.
Best experiences: Swimming, picnicking, photography
Timings: Open all day
Suggested Read: 20 Alluring Places To Visit In Dalhousie In 2020 With Your Travel Buddies
5. Dainkund Peak – Go For A Scenic Hike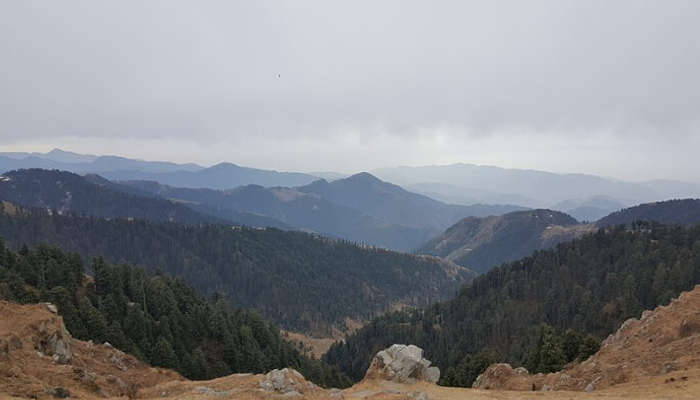 Located at an altitude of 2755 meters above the sea level, Dainkund Peak is known for being one of the highest points in Dalhousie. Hiking this peak is undoubtedly one of the best things to do in Dalhousie. Not only will you be able to enjoy snow-capped mountains from here but also will enjoy the refreshing breeze that accompany you throughout the hike. Once you reach the peak, you get to see waterfalls and rivers. Being one of the most adventurous things to do in Dalhousie, this trek is filled with scenic charm. From the peak, you will be able to experience the 360 degree view of the entire valley which will certainly leave you amazed.
Distance from Dalhousie: 12.8 km
Best experiences: Enjoy views of Khajjiar Lake
Timings: 7 AM – 7 PM
Suggested Read: New Year Party In Himachal: 9 Exciting Events To Welcome 2020 In The Mountains
6. Chamunda Devi Temple – Offer Prayers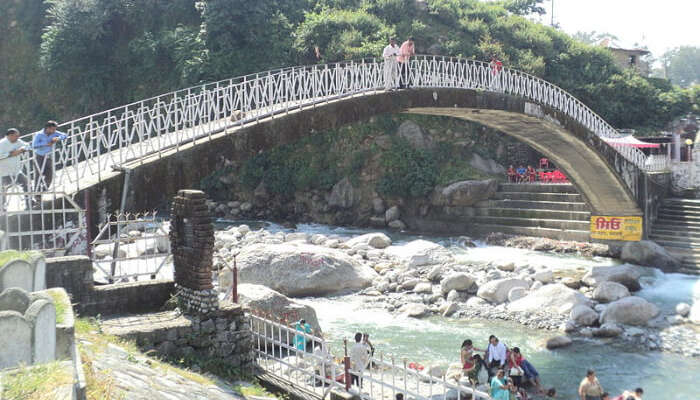 Located at Chamba Valley, Chamunda Devi Temple has a significant mythological significance. According to the mythology, Goddess Kali killed the demon kings named Shumbh and Nisumbh here. You will find Lord Bhairav and Lord Hanuman on two sides of the temple protecting the Goddess. In addition, the intricate carvings add to the beauty of the temple along with the colorful temples. If you believe in spirituality, this place will certainly give you a vibe of serenity and aura. The lush greenery in the surroundings adds to the beauty of the temple.
Location: Chamba Valley
Best experience: Trekking
Timings: 6 AM – 7 PM
Suggested Read: 8 Best Places To Visit In Himachal In January For A Blissful Retreat
7. St. John' Church – See The Beautiful Architecture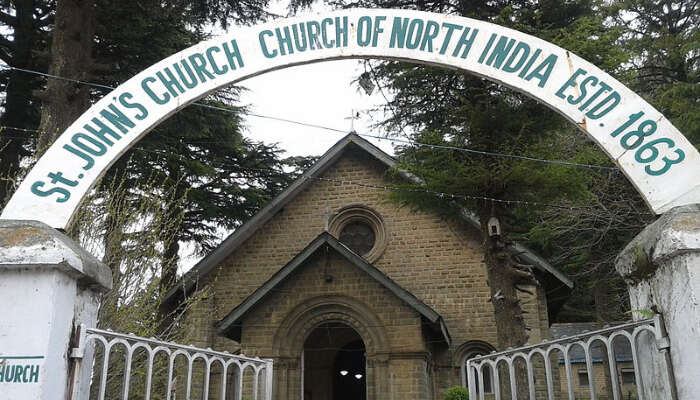 Experiencing beauty and history together at the St. John's Church is one of the best things to do in Dalhousie, Himachal Pradesh. Constructed in 1863, this Protestant Church will rejuvenate you with British-style stone construction. Adorned with glass paintings, St. John's Church takes you through an engaging tale of Saint John and Peter. The library located within close proximity from the church contains a large collection of books that depict the local history and culture. To get the best experience at the church, you must come here on a Sunday morning when the mass prayers take place.
Distance from Dalhousie: 3.4 km
Best experiences: Sunday prayer
Timings: 7 AM – 5 PM
Suggested Read: 15 Places To Visit In Himachal Pradesh In December 2019
8. Tibetan Handicrafts Market – Buy Some Exquisite Items
Your trip to Dalhousie remains incomplete without shopping at the Tibetan Handicrafts Market. Visiting this market is one of the best activities to do in Dalhousie. At this market, you will find a wide variety of items including scarves, shawls, hangings, carpets, jewellery, and so on at an affordable price. The best part is that you can satisfy the foody soul of yours here at the food stalls that sell delectable local foods. If you are looking forward to buy a souvenir for friends back home, this is the perfect place to get such things.
Timings: 10:30 AM – 7:30 PM
Suggested Read: 12 Snowfall Places In Himachal Pradesh: A List For Your 2020 Trip
9. Ganji Pahari – Enjoy The Lovely View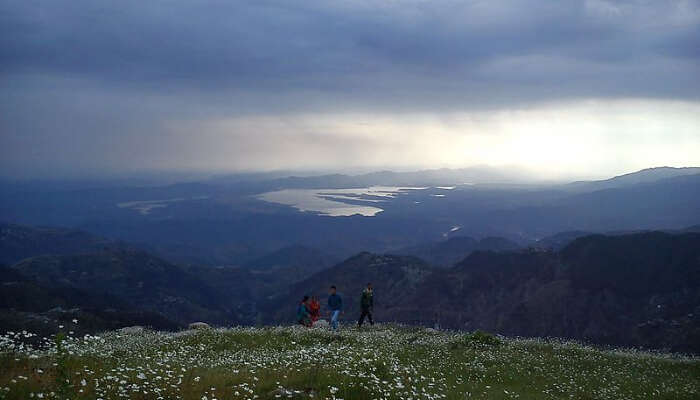 The serene trek to Ganji Pahari is one of the best things to do if you are still wondering what to do in Dalhousie. The hill has received such a name because of the lack of flora at the top of it. Thousands of trekkers across the country come here to experience the colors of the landscape and mesmerizing mountains. The gorgeous view from the top is the reason why none ever complaints about trekking. Being ideal for trekkers with moderate skill, this trek can be done by beginners as well. In addition, you are advised to carry your own food, water, and anything else that you might need. Also, it is best to take the help of a guide instead of going in the wrong direction.
Distance from Dalhousie: 6 km
Best experiences: Trekking, sunset viewing
Best time to visit: All seasons except winter
Further Read: 11 Travel Tips For Himachal Pradesh That Will Come In Handy For Your Trip In 2020
Now all you have to do is book a holiday in Dalhousie so that you can enjoy all these exciting things to do in Dalhousie with your friends and family. Did we miss out on any experience? Why don't you tell us what it is and we'll happily add it to this list!
Frequently Asked Questions About Things To Do In Dalhousie
Q. Is there snowfall in Dalhousie?
A. There is snowfall in Dalhousie during the winter season from December to February when the average temperature here remains between 4 and 11 degrees celsius.
Q. What is the most famous things to do in Dalhousie?
A. However, the most famous thing to do in Dalhousie is to go for trekking in the surrounding mountains which will provide you with opportunities to experience misty peaks and scenic views. You should also consider visiting places like Satdhara Falls, Dainkund Peak, and Tibetan Handicrafts Market.
Q. Does Khajjiar have snow?
A. Yes, because of being a hill station, Khajjiar gets snow just like any other hill station in the country. You can visit between October and March to experience snowfall here.
Q. Why is Dalhousie famous?
A. Named after Lord Dalhousie, the hill station of Dalhousie is famous for being home to pristine and serene Dhauladhar Mountain Range. It is also famous for its Victorian architecture, colonial charm, picturesque landscapes, and adventurous activities.
Q. How far is Dharamshala from Dalhousie?
A. The distance between Dharamshala and Dalhousie is 121 km. If you are traveling to Dalhousie from Dharamshala, it is best that you book a cab. The nearest railway station is the Pathankot railway station which is approximately 42 km away from Dalhousie.
Q. Which month is best for Dalhousie?
A. If you are planning to visit Dalhousie, you should plan your trip during the months between March and May or October and February.
People Also Read
Things To Do In Solan Things To Do In Pathankot Things To Do In Spiti Valley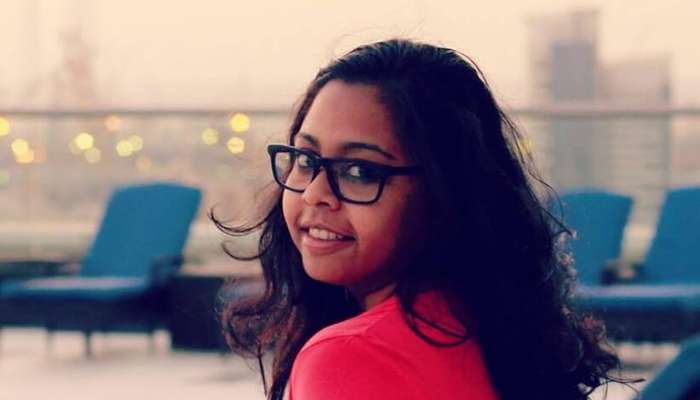 Comments
comments