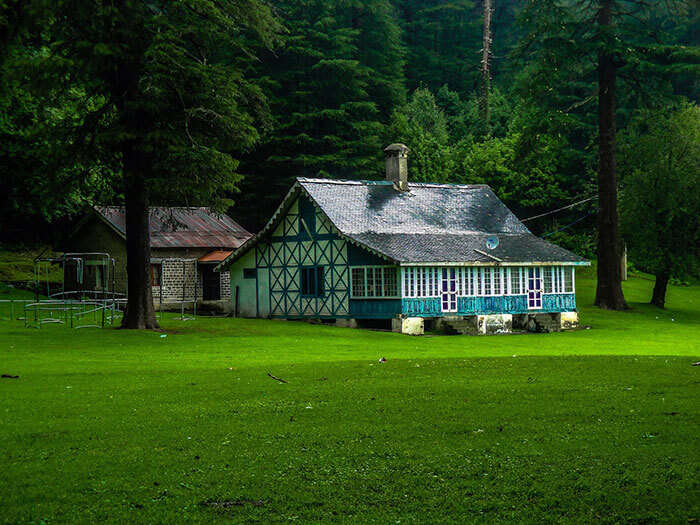 Nestled amidst green pine and oak trees in Chamba District of Himachal Pradesh, Dalhousie is a pristine, yet gorgeous hill town on the Dhauladhar Range of Himalayas. Characterised by lush green mountains, glistening rivers, cool mountain breeze, & a colonial architecture, Dalhousie is one serene town in India that has preserved its natural beauty, as well it's vintage charm. There are many fantastic places to visit in Dalhousie and awesome things to experience in the amazing hill station.
20 Best Places To Visit In Dalhousie
There are scores of places to explore in Dalhousie for every type of traveler ranging from the peace seeker to the adventure enthusiast.
Khajjiar
Dainkund_Peak
Kalatop Wildlife Reserve
St. Francis Catholic Church
Panchpula
Ganji Pahari
Satdhara Falls
Rang Mahal
Chamera Lake
Mall Road
Sach Pass
Tibetan Market
Bakrota Hills
Subhash Baoli
St.John's Church
Chamunda Devi Temple
Rock Garden
Garam Sadak
Dalhousie Community Garden
Norwood Paramdham
1. Khajjiar – The Mini Switzerland Of India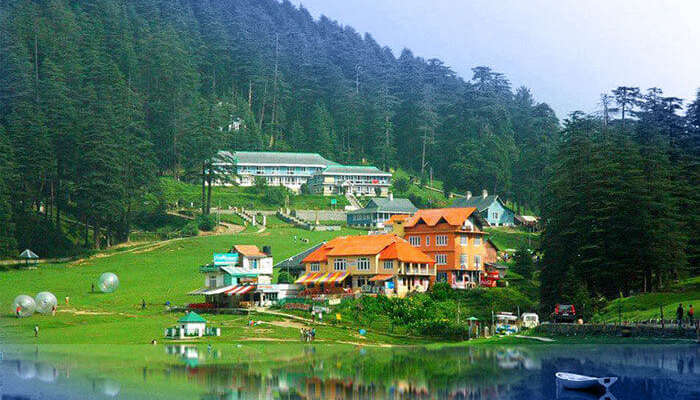 Image Source
Surrounded by a thick cover of deodar and pine trees with the snow capped Himalayas in the backdrop, Khajjiar makes up for a delightful picnic spot for friends and family. The Khajjiar Lake adds to the natural beauty of this little town, which is why it is one of the prominent tourist places in Dalhousie.
Distance from Dalhousie: 22 km
Elevation: 2,000 m
Ideal for: Picnic, relaxation, horse riding, forest trekking
2. Dainkund Peak – The Tale Of Three Rivers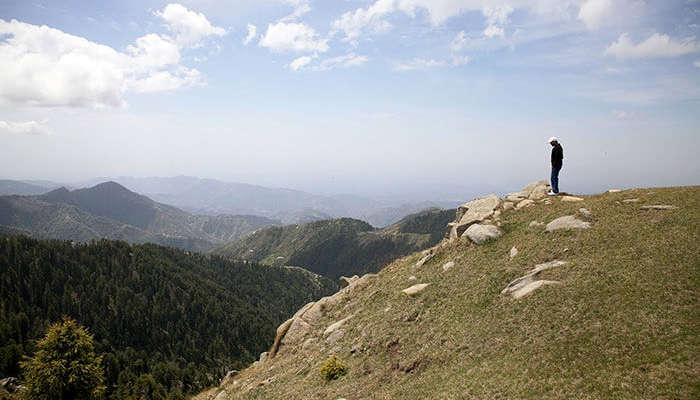 Image Source
Often termed as the 'Singing Hill', Dainkund Peak is one of the highly recommended places to visit in Dalhousie. One can enjoy refreshing views of the green hills, valleys and plains while they're here. But what makes it stand out is the enchanting view of the three rivers – Chenab, Ravi and Beas, that weave through these greens below and enhance the beauty of this place manifold.
Distance from Dalhousie: 10 km
Elevation: 2,745 m
Ideal for: Trekking, camping, picnic
3. Kalatop Wildlife Reserve – Home Of The Wild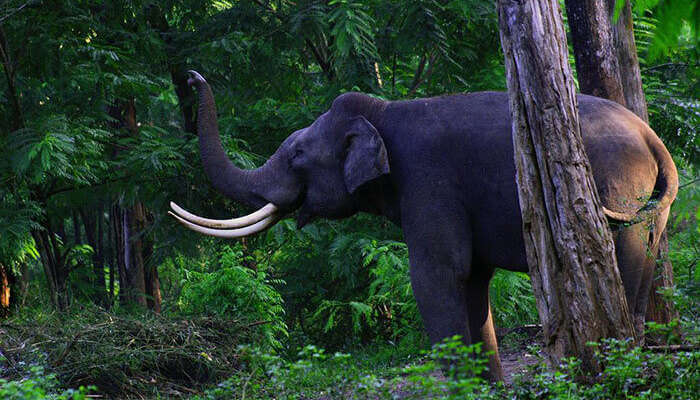 Image Source
Home to the Himalayan Bear, this reserve is among the best wildlife sanctuaries in Himachal Pradesh and one of the most popular places to visit in Dalhousie. The park, though, has a lot more that it's huge range of wild animals. The beautiful river Ravi that flows nearby and provides the park with it's water supply, the blue pine, deodar, & oak trees on the Kalatop hills, and the wild daisies that grow here, all make this park a splendid tourist spot in Dalhousie.
Distance from Dalhousie: 6 km
Ideal for: Jungle Safari, trekking, bird watching, bird photography
Must Read: 12 Gorgeous Places To Visit In India This Winter Season
4. St. Francis Catholic Church – A Paradigm Of Art And Architecture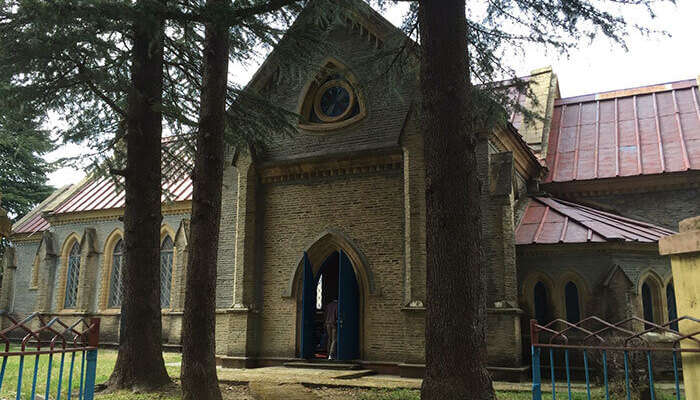 Image Source
Established in the year 1894, this magnificent church has European architecture and décor. The church is a major tourist attraction and a popular place of worship. It's distinguishing charm is the reason it is counted among the eminent tourist places in Dalhousie. This spiritual sanctum makes for a great respite for those who have experiences all adventure-packed hubs of Dalhousie.
Ideal for: Art lovers, History lovers
5. Panchpula – The Lifeline Of Dalhousie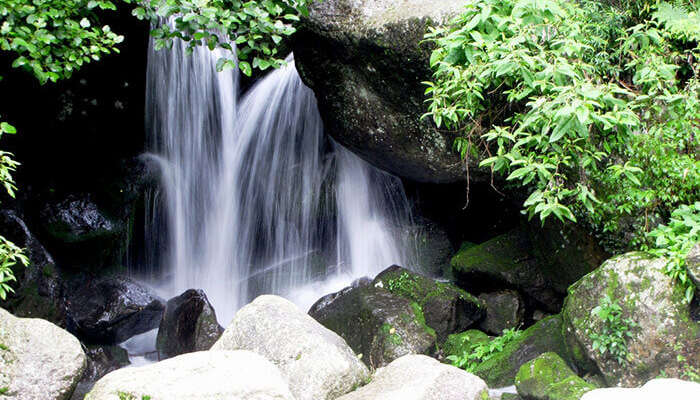 Image Source
Panchpula is famous for it's small yet stunning waterfalls, it's glistening streams, and the samadhi of the great freedom fighter Sardar Ajit Singh. Panchpula is among the important places to visit in Dalhousie owing to these streams that are the main source of water supply to the town and nearby villages. Its serene and scenic hiking trails make it one of the best places to visit in Dalhousie.
Ideal for: Trekking, couples
Suggested Read: Discovering Pleasure In The Pathless Woods: Shekhar's Solo Trip To Dharamshala & Dalhousie
6. Ganji Pahari – The Stunning Panoramas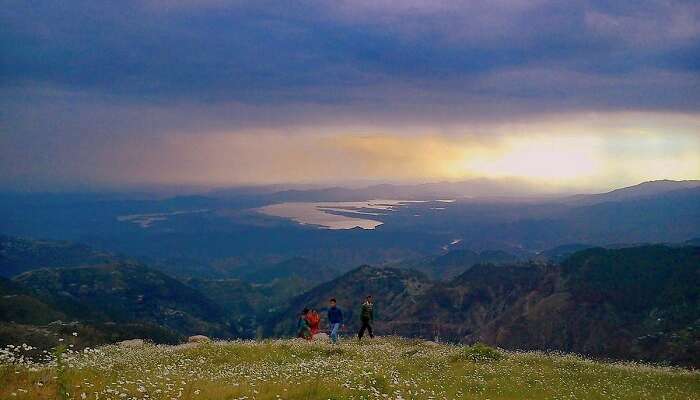 Image Courtesy: Himanshu Jain
Situated in the Bakrota Hills, this peak is one hour walk away from Dalhousie. The hill is devoid of any sort of vegetation on its top. This barrenness gives it the name 'bald hill'. The intoxicating views of the surroundings and the fresh mountain air makes the hill perfect for a trek and one of the best places to visit in Dalhousie.
Distance from Dalhousie: 5 km
Ideal for: Trekking, camping, picnic
Suggested Read: Snowfall In India Blankets These 15 Destinations
7. Satdhara Falls – The Water That Heals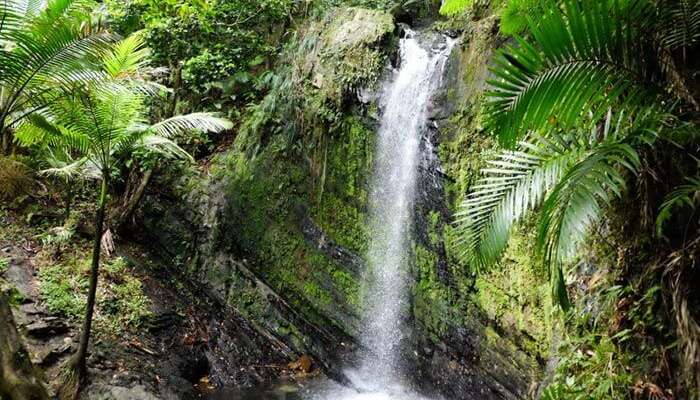 Image Source
Located on the Panchpula route, the Satdhara Falls is a great example of nature's artwork. The water in these falls is said to have medicinal and healing properties. Which is why this picturesque blend of seven streams is a great spot for rejuvenation and relaxation, and is among the finest tourist places in Dalhousie. The mighty falls are also a great spot for couples and honeymooners who visit Dalhousie.
Elevation: 2036 m
Ideal for: Taking a healing dip, rejuvenation, trekking, picnic
8. Rang Mahal – The Fusion Of Mughal & British Influences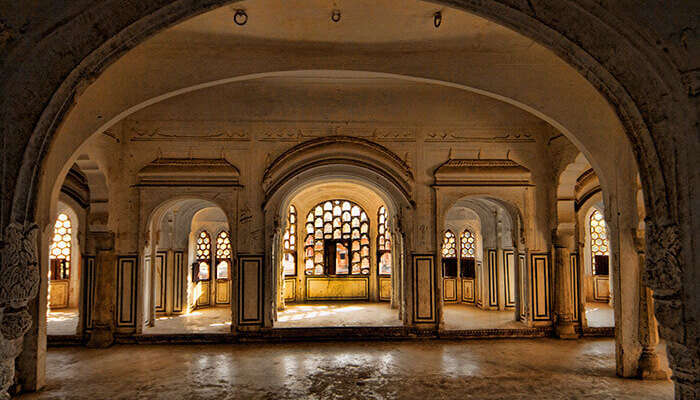 Image Source
The Rang Mahal is one of those very few historical structures in India that has the influences of both Mughal and British architecture. Along with that, it's walls are adorned with a large number of vibrant wall paintings portraying the life of Lord Krishna, and attracts swarms of tourists every year. It is among the significant places to explore in Dalhousie owing to its unique art and architecture.
Ideal for: History freaks, art lovers, family with kids
Must Visit: Don't forget to grab a souvenir or two from the Himachal Emporium inside the Mahal where everything from handmade handkerchiefs to shawls made in wooden looms are available.
9. Chamera Lake – Scenic Beauty Plus Water Conservation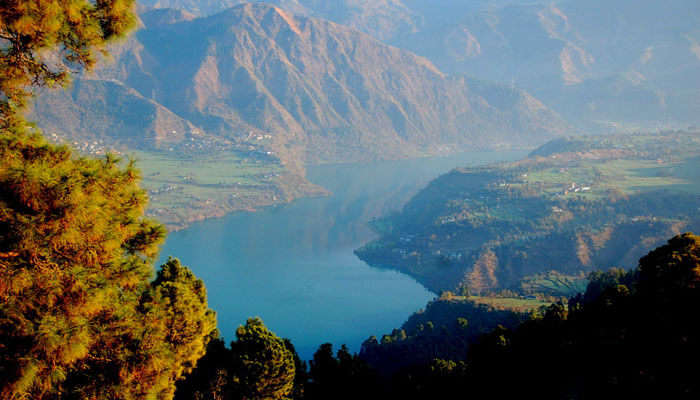 Image Source
Built over the river Ravi, Chamera Lake is an artificial lake and a part of the Chamera Hydroelectric Project. Among the top places to visit near Dalhousie, the lake and dam are a major source of water supply for the surrounding villages. Apart from its scenic beauty, which includes the dense pine forests of Bhandal Valley surrounding the dam, the lake is also famous for water sports like river rafting, motor boating, canoeing, & kayaking.
Distance from Dalhousie: 25 km
Elevation: 763 m
Ideal for: Watersports, jungle trekking, boating, fishing, picnic
Must Visit: The nearby Bhalei Temple, which is equally famous.
Suggested Read: Romance In The Hills: 15 Best Honeymoon Destinations In Himachal Pradesh

10. Mall Road – Glorious Vistas Of The Pir Panjal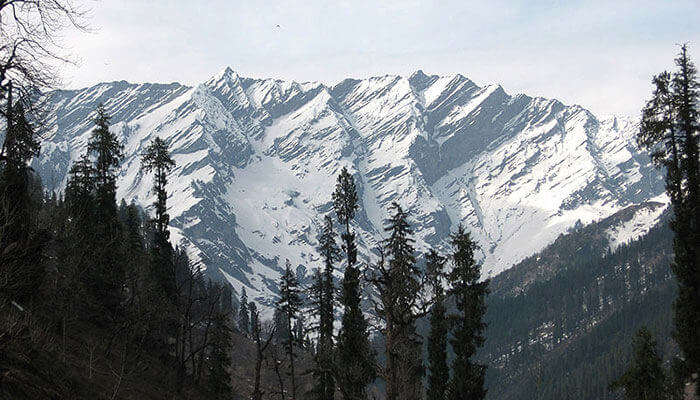 Image Source
It's a great place where shopaholics can hangout for buying the popular Himachali goods and foodies can gorge on knick-knacks like momos. Apart from being a hub of fabulous Dalhousie goodies that one can buy, the Mall Road is also among the popular tourist places in Dalhousie owing to a special reason. One can sit, relax, and enjoy the breathtaking views of the entire Pir Panjal mountain ranges from this road.
Ideal for: Shopping, eating, relaxing, photography
11. Sach Pass – The Trekker's Paradise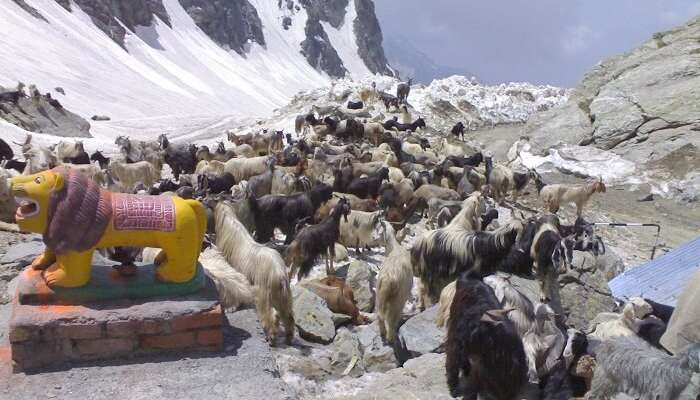 Image Source
Located in Sach Town of the Chamba District, Sach Pass is one of the top places to visit near Dalhousie. Blessed with picture-perfect landscapes and a rugged terrain, it acts as an amazing trekking trail leading all the way to the Pangi Valley, the place that happens to be the remotest and most enchanting valley in Hiamchal. In order to get to Sach Pass, one needs to drive through thick woods, snow-covered crests, and via verdant rolling plantations. It's just a road trip away from Dalhousie and makes for a great getaway for those who wish to explore beyond Dalhousie during their tour.
Location: Chamba District, Himachal Pradesh
Elevation: 14500 ft above sea level
Ideal for: Trekking, hiking, photography, road trip
12. Tibetan Market – Handicrafts And Souvenirs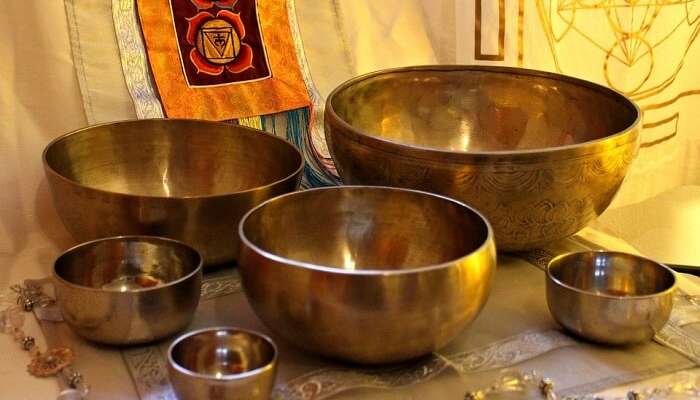 Image Source
Don't just keep wandering around in the Mall Road. Give this tiny yet beautiful market a visit during your holiday. If you love Tibetan culture and handicrafts, you'll definitely fall for this place. Located in Gandhi Chowk, the Tibetan Market is among the best places to visit in Dalhousie, Himachal Pradesh for buying the finest of Tibetan and Himachali handicrafts, woollens, colourful hand-woven carpets, home decor items, beautifully carved jewelry, Chamba slippers, and shawls. One can also find a range of cheap electronics and toys here.
Location: Moti Tiba, Gandhi Chowk, Dalhousie 176304
Ideal for: Shopping, Tibetan culture
13. Bakrota Hills – Sightseeing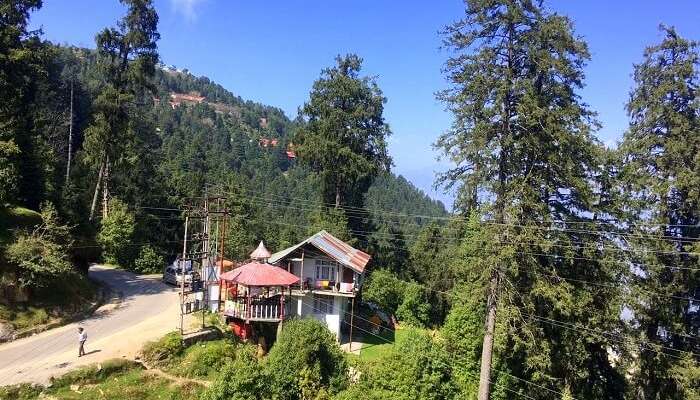 Bakrota hills is one of the top places to visit in Dalhousie. This hill offers amazing mountain views and offers the vistor to walk around the hills and breathe in pure air. It is the highest area in Dalhousie and is a good place to enjoy the sceneries. The beauty of this place is soul refreshing and will leave you spellbound. Enjoy some special time here with your loved ones for some beautiful memories.
Ideal For: Trekking, Photography and Sightseeing
Suggested Read: 13 Monuments In Himachal Pradesh For Your Vacay In The Snow Laden State!
14. Subhash Baoli – Picnic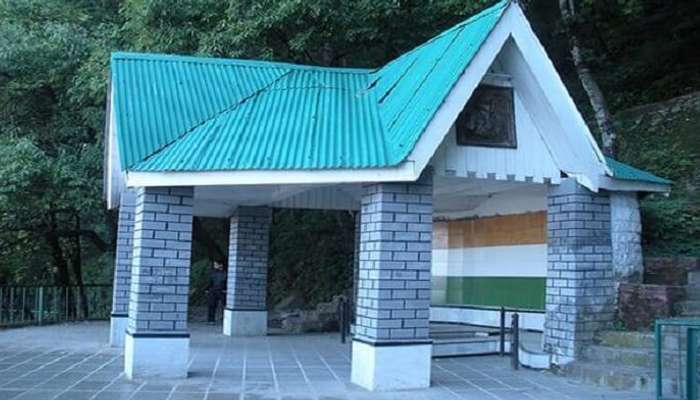 Subhash Baoli is another famous place to visit in Dalhousie. It is named after the well-known freedom fighter, Subhash Chandra Bose. Surrounded by snow-covered mountains, this place is sure to relax you. It is visited by a lot of travellers who come here to admire the beautiful view. Located 1km from Dalhousie, it is an ideal spot for people to enjoy their vacations in every season. There are many dhabas, fast food shops selling drink and local food to the visitors.
Ideal For: Picnic and Evening walk
15. St.John's Church – Religious place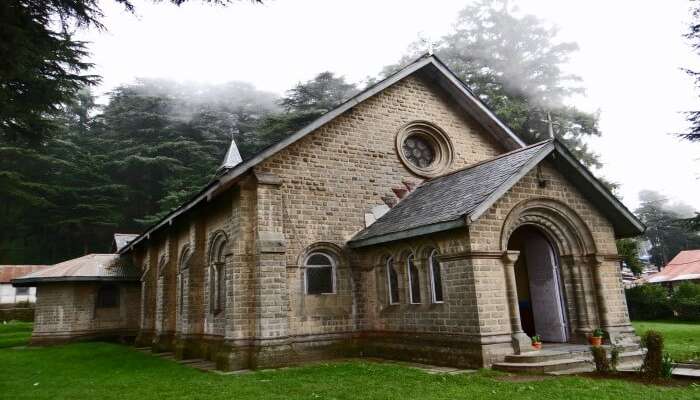 Located in Dalhousie, St. John's Church is one of the best places to visit at Dalhousie. It is the oldest church in the town and has a lot of religious and historical importance. Lady Elgin donated stained-glass windows which happens to be the main attraction of the church. There is a library which has an awesome collection of books and photography within the church buildings.
Timings: 7.00AM to 7.00PM
Suggested Read: 7 Best Airbnbs In Himachal Pradesh For One Of The Coziest Staycations Ever
16. Chamunda Devi Temple – Idol of Chamunda Devi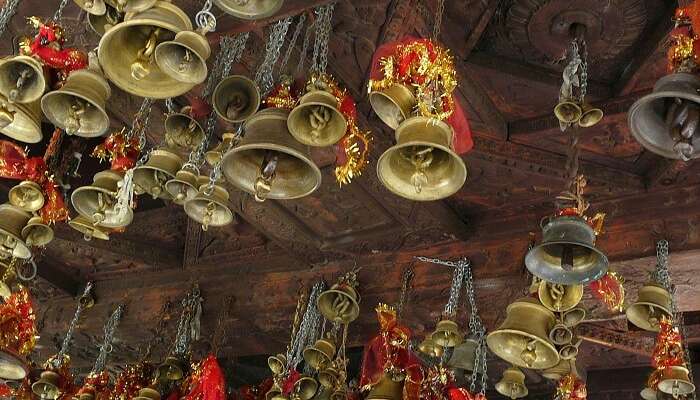 Chamunda Devi Temple houses a sacred idol of Chamunda Devi. Located in Kangra district of Himachal Pradesh, the ideal is worshipped daily. Inside the temple complex is a huge pond where devotees can take a dip. The 700-year old temple attracts crowd from all over the world. It is believed that Chamunda Mata blesses all her true devotees.
Suggested Read: 7 Scintillating Places To Visit In Himachal Pradesh In Monsoon In 2019!
17. Rock Garden – Ideal place for nature lovers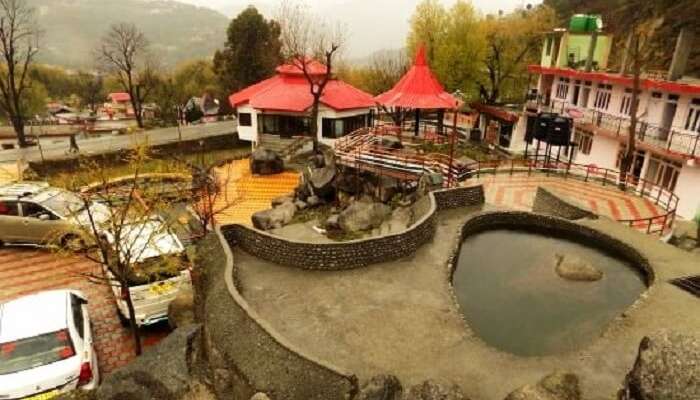 Rock garden is one of the best places to visit in Dalhousie Himachal Pradesh. Located on the way from Dalhousie to Chamera Lake, this place is worth visiting to spend some peaceful time. You can simply chill with your friends by the beautiful stream gushing from the rocks. The small natural place is not crowded and discovers its names under the most peaceful place to visit in Dalhousie.
Ideal For: Nature lovers and photographers
Timings: 7.00AM to 8.00PM
Suggested Read: 12 Snowfall Places In Himachal Pradesh: A List For Your 2019 Trip
18. Garam Sadak – Take A Stroll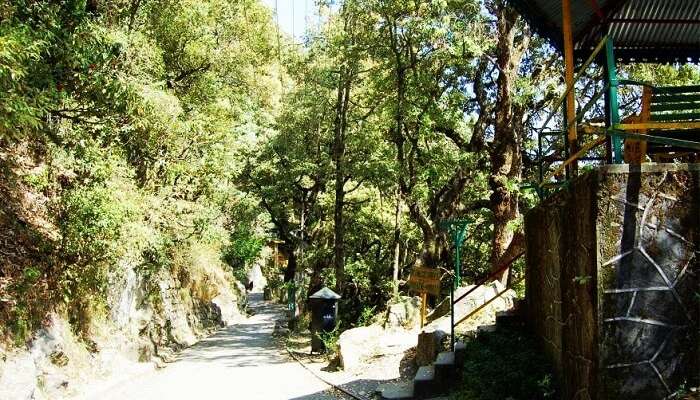 If you are one of those people who love going for a walk in the arms of nature, then this is just your place. Enveloped by lush green trees and a misty fog, this place is ideal for a stroll. The road derives its name from the warm and snug temperatures as well as the abundant sunlight it receives that makes it perfect for a trip.
Ideal For: Nature lovers and honeymooners
Timings: Open 24 hours
Suggested Read: 11 Travel Tips For Himachal Pradesh That Will Come In Handy For Your Trip In 2019
19. Dalhousie Community Garden – Take A Walk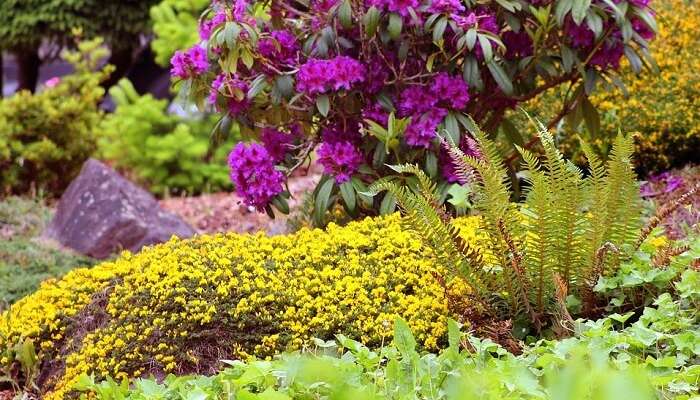 This little garden overlooking the majestic mountains was created by diverting the flow of a natural hill stream, and is a must on your list of places to visit in Dalhousie in December. It is a tranquil and relaxing spot away from the otherwise crowded Dalhousie, and is perfect for nature enthusiasts and photographers.
Ideal For: Nature lovers
Timings: 9 AM – 7 PM (Daily)
Suggested Read: 8 Best Hotels In Dalhousie For Honeymoon
20. Norwood Paramdham – Watch The Sunset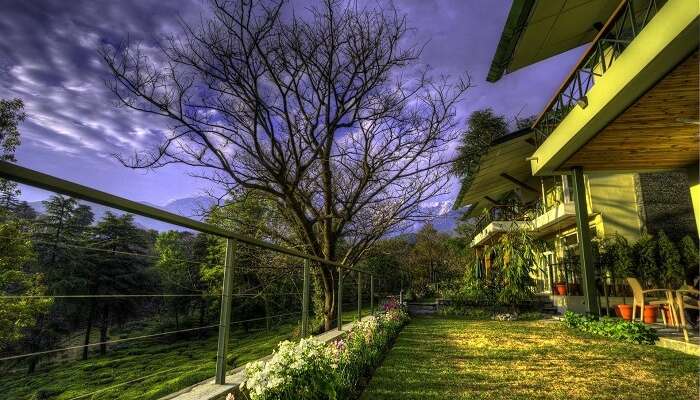 Apart from its soothing aura, this place is also ideal for watching a breathtaking sunset that makes it one marvel at the unparalleled beauty of nature. You will have the time of your life here and will be overjoyed at the prospect of visiting this beautiful place.
Ideal For: Nature lovers and photographers
Timings: Open 24 hours
Suggested Read: Guide To A Honeymoon In Dalhousie In 2019 – A Colonial Hill-Town In Chamba, HP
Best Time To Visit Dalhousie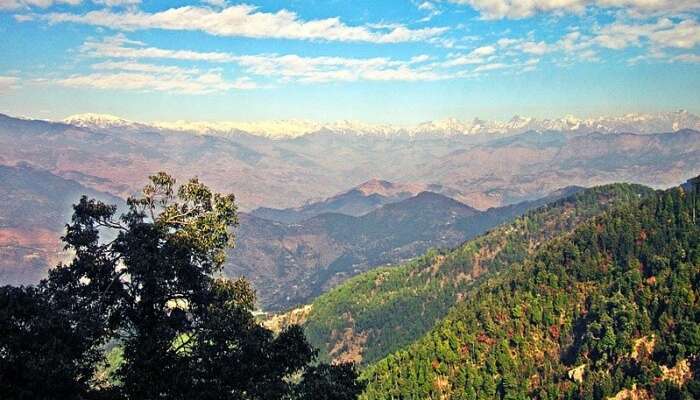 This period from April till June is the summer season in Dalhousie where the weather is cold during the beginning of summer but warms up towards June. This is considered the best season to visit Dalhousie as you can go sightseeing to explore the various attractions all around. You can take scenic walks all around this hill town and create some picture-perfect memories during this time.
Snowy Winters for Lovebirds: December to February
Sunny Summers for Kids and Adventure Seekers: March to May
Suggested Read: 10 Best Places To Visit In Dalhousie In December 2019 For A Perfect Vacation!
How To Reach Dalhousie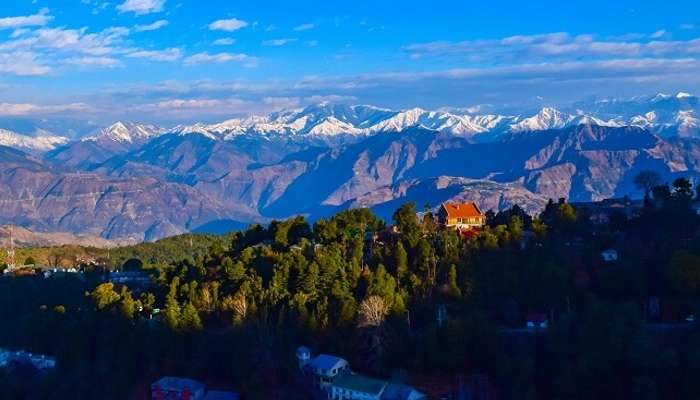 By Air: Take a flight to Pathankot Airport, which is 75 km away, and get to Dalhousie by bus or cab.
By Train: The nearest railhead to Dalhousie is Pathankot, which is 80 km away and is well connected to many cities in India, including Delhi, Mumbai and Amritsar. From there, get to Dalhousie by bus or cab.
By Road: There are local buses to Kangra, Dharamshala, Khajjiar and Chamba that charge approx INR 150/- per person. One can also drive to Dalhousie via the NH1 and the entire journey would take approx 10 hours to cover.
Further Read: 15 Hill Stations Near Delhi for a Peaceful Getaway
So, make sure you cover all of the best places to visit in Dalhousie on your next vacation in Himachal Pradesh. Plan a trip to Dalhousie and have the best time of your life. Know of any more tourist places in this charming city? Let us know in the comments section below, and don't forget to share this with your wanderer friends!
Frequently Asked Questions About Places To Visit In Dalhousie
Q. Is Dalhousie worth visiting?
A. Yes, Dalhousie's pristine beauty which comprises of lush greenery and lofty mountains makes it definitely worth visiting.
Q. Which place is better Dalhousie or Dharamshala?
A. Both Dharamshala and Dalhousie are amazing places to visit in Himachal Pradesh, known for their scenic beauty and pleasing weather.
Q. What is the best time to visit Dalhousie?
A. The best time to visit Dalhousie is between April and June.
Q. Is there snow in Dalhousie?
A. Yes, Dalhousie experiences snow from December to February.
Q. How far is Khajjiar from Dalhousie?
A. Khajjiar is 22 kilometres away from Dalhousie.
Q. Is Dalhousie expensive?
A. No, Dalhousie isn't very expensive but the expenses depend on the kind of accommodation one chooses here.
Q. Where can I stay in Dalhousie?
A. Some of the best places to stay in Dalhousie are:
1. Snow Valley Resorts Dalhousie
2. Alps Resort
3. Grand View Hotel
Q. How many days are enough to explore Dalhousie?
A. 1-2 days are good to explore the beautiful town of Dalhousie and Khajjiar.
Comments
comments