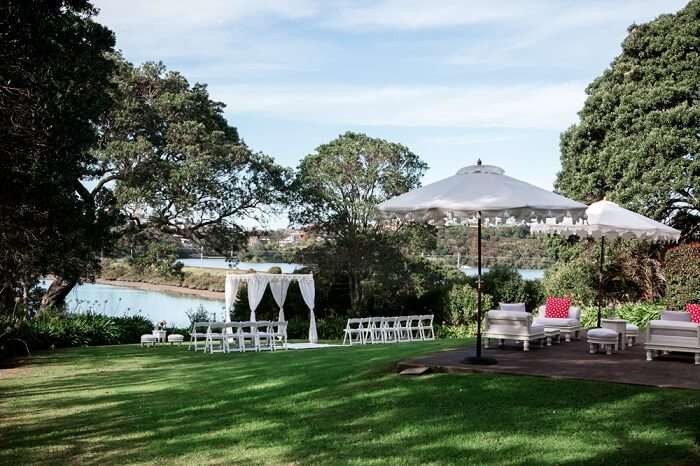 The City of Sails, Auckland boasts of some of the most amazing natural landscapes. With the vast number of marinas and a beautiful countryside, this destination is one of the loveliest cities in New Zealand. This place attracts a lot of people from in and around New Zealand every year and what could be better than holding your wedding in this land of beauty.
There are some stunning wedding venues in Auckland that will definitely turn your wedding into a festival of love. They strive to make your weddings as beautiful and as unique as possible. All the wedding organizations will be taken care of in the best possible manner such that your wedding truly remains as your most beautiful memory. So, if you're looking for a perfect destination, here's a list of the 10 best wedding venues in Auckland where you can celebrate your wedding like you have always dreamt of.
10 Top Wedding Venues In Auckland
Weddings in Auckland are as beautiful as they can be, especially when you arrange your D-day celebrations in one of these top locations. To make your search for wedding venues easier, here's a list of the 10 best wedding venues in Auckland, where they turn weddings into a magnificent affair.
1. Karstens Auckland

Karstens wedding venue in Auckland offers top class function and celebration space. They are considered as one of the top function venues in entire New Zealand, located just in the heart of Auckland. All the function rooms available in this place offer the most luxurious atmosphere fit for wedding ceremonies. The in-house gourmet catering paired with the highly diligent professionals, who go above and beyond to make your wedding most astounding one. With Karstens, you will never have to worry about any unwanted interruptions or any kind of last minute discrepancy. Located in a very convenient location, Karstens delivers the top quality services when it comes to an event as important as a wedding.
Location: Queen Street, Auckland, New Zealand.
Must Read: 10 Places To Visit In Christchurch For A Terrific New Zealand Vacay
2. Markovina Vineyard Estate

If you are looking for vineyard wedding venues in Auckland, then Markovina is a great choice. This is one of the premium vineyard wedding venues in Auckland. Located in Kumeu region, this wedding destination is operated by a family and they try their best to create the most astounding and stunning weddings. Markovina Vineyards have 50 years of experience in organizing wedding ceremonies, so when you book your wedding with them, you can be assured that you have placed your trust I very capable hands.
Location: Kumeu, Auckland, New Zealand.
3. The Wharf

The Wharf is an exceptionally beautiful and unique venue to set your wedding in. Located in Northcote region, this lovely venue is surrounded by the glistening waters of the Waitemata Harbor and is lined by the beautiful native Pohutukawa trees. From this location, you can see the beautiful Auckland cityscape and the beautiful harbor, serving as a beautiful backdrop to highlight your celebration. The service at The Wharf is truly exceptional with highly skilled professional looking after all the arrangements. This venue is highly recommended by the people of Auckland and a truly exceptional place to exchange your vows.
Location: Northcote Point, Auckland, New Zealand.
Suggested Read: 8 Best Hostels In Christchurch For A Soothing Holiday Falling Within Your Budget!
4. Kauri Bay Boomrock

If you are Beach wedding venues in Auckland, Kauri Bay Boomrock should be your first choice. With panoramic views of the Hauraki Gulf, Kauri Bay Boomrock is one of most exclusive wedding locations in Auckland. The team here, is totally dedicated to bring all your ideas of your dream wedding to reality. From the arrangement to menus to the management of transportation Kauri Bay Broomrock does it all. They even take care of the lodging of your guests and wedding photography sessions. At Kauri Bay Boomrock they make sure that in every way, your wedding turns to be the most affluent and magical moment of your life.
Location: Clevedon, Auckland, New Zealand.
5. Gracehill Vineyard Estate

Gracehill Vineyard is another popular vineyard wedding venue in Auckland. At Gracehill, there main aim is to turn your special day in to a fond memory for the future. With a beautiful private lake as well as manicured grounds, this place is one of the most premium wedding destinations in Auckland. They offer both summer and winter packages. This wedding venue is dedicated to make your wedding the most special one.
Location: Kumeu, Auckland, New Zealand.
Suggested Read: 9 Best Cafes In Christchurch To Try The Different Flavours Of The South Island City!
6. Mantells on the Water

If you are searching for byo wedding venues in Auckland, then Mantells on the Water is the perfect place for you. It is one of the best wedding locations that Auckland has to offer. This waterside venue offers the stunning views of Auckland Harbor Bridge. The pier located on the water is the perfect place for some nice wedding photography. The floating buffet adds a more fun to your wedding. The professionals at Mantells on the water are always set to make your wedding a stress free and beautiful affair. Booking your wedding at Mantells, you will leave with a lifetime of beautiful memories.
Location: Westhaven, Auckland, New Zealand.
7. Landsendt Wedding Venue

Landsendt is one of the popular garden wedding venues in Auckland. This resort style wedding venue is situated at just a distance of 30 minutes from downtown Auckland. Located in the foothills of Waitakere Ranges, this private resort garden offers some stunning views of the Oratia Valley. Landsendt offers various wedding packages. Starting from transportation to lodging to all the arrangements of the wedding, Landsendt professional carry out everything in a skilled manner.
Location: Oratia, Auckland, New Zealand
Suggested Read: Day Trips From Christchurch: 9 Places To Visit From Garden City
8. Orakei Bay

Located away from the hustle and bustle of the city, Orakei Bay is a plush retreat in Auckland. When it comes to wedding receptions, the professionals at Orakei Bay make sure that your celebration is carried on in an idyllic way, making it a success. The wedding planning team is diligently skilled to make your wedding memorable and unique. The culinary team also makes sure that your guests are provided with the most innovative cuisine.
Location: Remuera, Auckland, New Zealand.
9. Jonkers Farm

Jonkers Farm is one of the most famous rustic and woodland wedding location. The place is only thirty minutes away from downtown Auckland and if you opt for a helicopter ride than it is just eight minutes away. Situated in the west coast of Bethells Beach, this place offers some magnificent views of Muriwai and Bethells Beach etc. Offering a vast, beautiful wilderness, Jonker's Farm is truly an iconic site to hold your wedding. Jonkers Farm offers you the best rustic wedding experience, bringing your dreams to reality.
Location: Waitakere, Auckland, New Zealand.
Suggested Read: Top Five Airports In New Zealand For A Memorable NZ Beginning
10. The Kelliher Estate by Dawsons

Located in Puketutu Island, the Kelliher Estate is a very elegant location for the most special occasion of your life. His beautiful wedding location was once a beautiful Spanish homestead, which is now converted into a wedding venue. This scenic destination is the perfect location for wedding celebrations. This highly desired wedding venue Auckland offers various packages for weddings and the staff and wedding team are highly skilled to make your wedding the most beautiful day of your life.
Location: Managere, Auckland, New Zealand.
Further Read: Casinos In New Zealand: 5 Best Places For A Fascinating Outing In This Scenic Land!
Auckland has so many stunning wedding venues that you'll be ecstatic to know that you can hold your wedding in one of these beautiful locations. So, what's stopping you? Take a trip to New Zealand with TravelTriangle, pick a date and go explore the most gorgeous venue for your D-day.
---
Looking To Book An International Honeymoon?
Book memorable honeymoon on TravelTriangle with 650+ verified travel agents for 65+ domestic and international destinations.
---