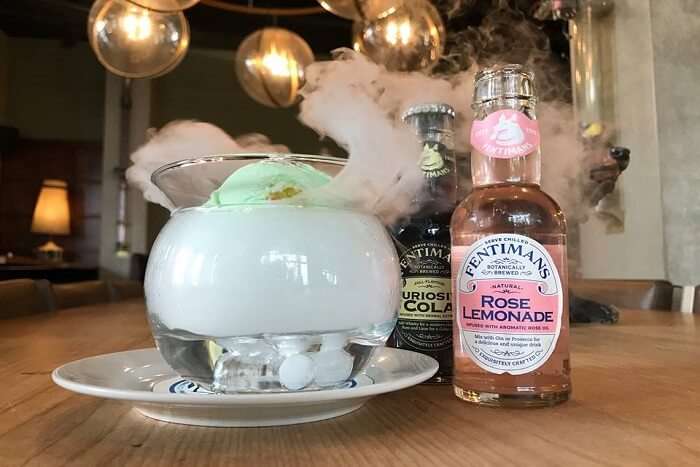 Christchurch is a huge city situated in the South Island in New Zealand, and is famous for its English heritage. There are many attractions here, but the most famous are the Cafes in Christchurch. They are a quite a hub for tourists. These Cafes are among the best places in Christchurch to hangout with buddies or for just reading a book, they serve all purposes.
Let us discuss some of the best cafes in Christchurch, so you know where to head next time!
9 Best Cafes In Christchurch
There are a number of cafes in Christchurch, New Zealand. Some of the cafes are excellent, and even the reviews of the people are fantastic. We have the best ones listed here. Have a look!
1. Grain Coffee & Eatery

This café is situated in Christchurch Central on Southwark Street. This street is filled with industrial traders, and this place is like a heaven for people. The workers in the industries need coffee at regular intervals, and this cafe is the most popular one here. This café has an experience of 14 years. This café provides customers with coffee, tea, sandwiches, salads, and many other delicacies also. There is a great variety of desserts and ice creams available here too. The hosts and the staff are very friendly in Grains. The interior of Grains café is combination of exposed bricks and clean whites, and there is a huge red gantry which is hung from the ceiling.
Opening Hours: 7:00 AM – 4:00 PM
Location: 19 Southwark Street, Christchurch Central
Must Read: 15 Adventurous Spots For Camping In New Zealand On Your Next Trip In 2022!
2. Black Betty

Black Betty café in Christchurch is most famous in the whole of Christchurch. This café is styled with amazing interiors made from an industrial building which has high ceilings, and a lot of space for people who wish to dine-in here. Black Betty is very famous for its espresso coffees. They have a lot of overseas experience in terms of coffee. The staff of Black Betty café takes trips to various places to experience different tastes of coffees to improve their coffee flavor. They serve coffee and other different delicacies for Breakfast as well as for lunch.
Opening Hours: 7:30 AM – 4:00 PM
Location: 165 Madras Street, Christchurch Central
3. Coffee Embassy

A person should keep their eyes open while passing from Fitzgerald Ave because there you will find a café with some of the best beans in the city. Coffee Embassy was an old workshop, and then it was transformed into a little espresso coffee bar as well as a wholesale roaster. It is very famous for its coffee beans and also for its innovation of coffee cold brew on top. They treat customers with coffee as well as other sweet treats and many more items. The walls in this café are made of painted bricks.
Opening Hours: 7:00 AM – 3:00 PM
Location: 107, Fitzgerald Avenue, Christchurch Central
Suggested Read: Food Festivals In New Zealand 2022: To Indulge In The Country's Most Exclusive Delicacies
4. The Caffeine Laboratory

This café provides with a spot to enjoy coffee as well as an excellent brunch. The café has a very compact interior which has been fitted with raw timber and that gives it a very clean and fresh look. The barists know the ways to brew a perfect cup of coffee for a fresh start of the day. The Caffeine Laboratory not only provides with great coffee but it also offers the customers with excellent burgers as well as chips. The doughnuts of this café are famous in the whole Christchurch in New Zealand , and there are new flavors added very often.
Opening Hours: 7:00 AM – 3:00 PM
Location: 1 New Regent Street, Christchurch Central
5. Engine Coffee Brewers

This café is located in a small Boxed Quarter which is very compact, and it is like a small coffee heaven. A husband and wife are the owners of this café and brew the café themselves, and they have great magic in their hands. The coffee made by them taste same every time. In most of the cafes the taste changes from day to day, but in this café, they work very passionately and have a great educational site towards coffee. This café also serves baked goods like bagels, cookies and also brownies.
Opening Hours: 7:00 AM – 4:30 PM
Location: 270 Saint Asaph Street, Christchurch Central
Suggested Read: Casinos In New Zealand: 5 Best Places For A Fascinating Outing In This Scenic Land!
6. The Origin

This café is situated on the corner of Westminster and Cranford Streets. This café is the best place in the neighborhood of Saint Albans Street because it provides with great hospitality as well as a perfect coffee boost in the morning. This café has a purely vegetarian menu, and it serves the customers with organic tea as well as coffee which is its specialty. It has a menu of selected items which includes both sweets as well as baked goods. All the food in The Origin is made without using any kind of animal products.
Opening Hours: 8:00 AM – 4:30 PM
Location: 95 Westminster Street Corner of Cranford Street & Westminster Street, St. Albans
7. Coffee Culture

There are many cafes near Christchurch airport, and in all of them, Coffee Culture is most famous. There is a lot of outdoor space here, and it caters the customers with amazing coffee which reminds a person of the staple coffee of Christchurch for over 20 years. A person who is tired of a flight journey should surely visit the Coffee Culture to have an excellent coffee and get relaxed. It is a great space between International and domestic terminals.
Opening Hours: 5 AM – 8 PM
Location: Christchurch Airport, Christchurch
Suggested Read: Top Five Airports In New Zealand For A Memorable NZ Beginning
8. C- One Espresso

There are several restaurants and new cafes in Christchurch 2022. Among these cafes, C-One Espresso has been very famous. As the name suggests, the espresso coffee in this café is very famous and its specialty also. The menu consists of a lot of things like fries, burgers, tea, hot chocolate and much more. It is situated at a rooftop ambience, and it provides with a great view.
Opening Hours: 7 AM – 10 PM
Location: 185 High Street, Christchurch Central, Christchurch
Suggested Read: 5 Best Zoos In New Zealand For A Thrilling Holiday Experience With The Wild!
9. Uncommon Café

It would sound weird, but there is an uncommon café Christchurch. This café is earning a great reputation among people due to its great coffee as well as tasty food which is worth trying. It is very much famous on Instagram for its great level of brunching food which makes it look very tasty. It is earning a name of its own in the list of most intagrammable brunch cafes or spots in Christchurch.
Opening Hours: 7 AM – 4 PM
Location: 262 Tuam Street, Christchurch Central, Christchurch
This is a list of various cafes in Christchurch which are worth trying. This was just a short overview while the list of cafes in Christchurch is a lot longer than this. There are a huge number of cafes in each and every area of Christchurch.
Further Read: New Zealand With Kids: To Pamper The Little Ones With The Best Things To Do!
The trend and need for caffeine have also increased a lot, and people visit cafes very often nowadays. So if you ever visit Christchurch, check the cafes out and have a sip of your favorite caffeine. Book your trip to Christchurch for experiencing a soothing vacation in this New Zealand city!
---
Looking To Book An International Honeymoon?
Book memorable honeymoon on TravelTriangle with 650+ verified travel agents for 65+ domestic and international destinations.
---