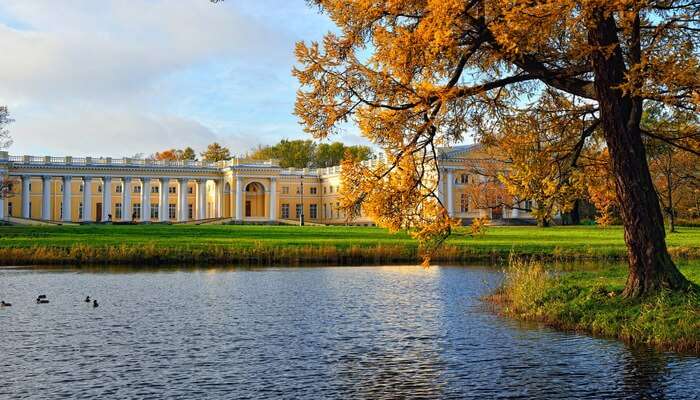 Russia is giving another reason to visit it in 2022 as people will be able to take a glimpse of Russian royalty. Yes, you heard it right! Soon, you will be able to see how and where one of the Russian tsars used to live. The famous Alexander Palace in Russia is being restored after which it will be open for the tourists to explore. The renovation till now has costed around two billion rubles and the amount is expected to stay high with the amount of work needed. This place will not only give a glimpse into the royal history of Russia but also in the wars witnessed by the country. Let's see how!

Designed and constructed by the architect Giacomo Quarenghi between 1792 and 1796, the neoclassical palace was based on the outskirts of St. Petersburg, the former imperial capital of Russia. Later, the palace became an abode of the emperor of Russia, Nicholas II. But during his reign, the Russian empire fell and the emperor with his family was banished to Serbia in 1917. The following year, everyone from the family was executed, including the servants. It is believed that the palace was used during the Second World War as a prison and to house military command. The courtyard turned into a cemetery for SS soldiers.
Suggested Read: Christmas In Russia: Get Your Festive Mode On And Take A Flight to Russia In 2022

With financial support from other nations over the years, the Russian government decided to restore the Alexander Palace and an exhibition was organized in 1997 which was dedicated to the Russian Imperial Family. The three-largest public rooms were partially restored in the middle wing. Followed by this, the palace has been under renovation since 2012 which has costed around two billion rubles till now. As expected, the first eight rooms of this palace will reopen in the summer of 2022 and the rest of the palace will open by 2022 for tourists. Some of the rooms that are being opened are Alexandra Feodorovna's favorite room (Mauve Boudoir) and the tsar's bathing chamber that was built in the Moorish style.
Further Read: The Complete Guide To Applying For A Russia Visa For Indians In 2022
A visit to Russia will not be complete without visiting this palace if you are planning your vacation in 2022. This is the time to take a glimpse at the luxurious life of the tsars and their families. Who would want to miss such an opportunity? So, get your bags ready for your trip to Russia and get a chance to witness the royalty yourself. Visiting Alexander Palace in Russia will be a thing in 2022, are you ready to be the first person to tell your tale about it?
People Also Read:
Ubud Water Palace Grand Palace Bangkok Royal Palace Phnom Penh