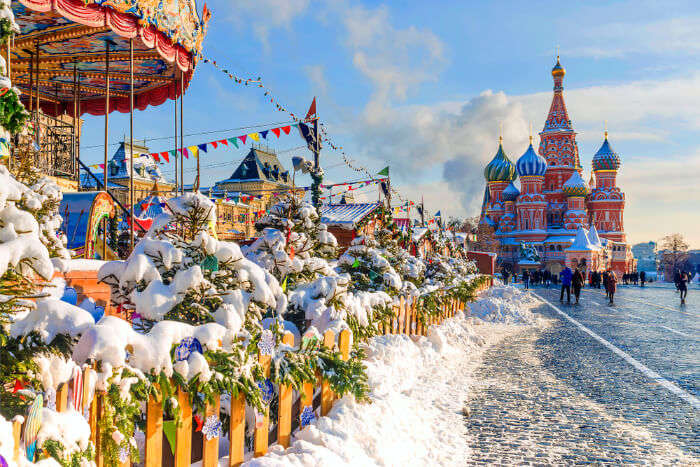 Christmas in Russia which is celebrated in Russian Orthodox church is observed on 7th January annually. A Christmas occasion significance the blessing on the individual homes. During the Christmas Eve feast, eve is celebrated with family and friends making everyone happy. Exchanging gifts is one of the traditions of celebrating Christmas.
Christmas is a great auspicious festival which is annually celebrated all over the world. Primarily it is observed on the 25th December. On this day the born of Jesus Christ is celebrated. The celebration of the Christmas eve is done by decorating the Christmas tree all over the town, greeting people, cutting cakes, going church and much more. What makes this is day special in Russia is its unique customs and traditions. Come, be a part of celebrations of Christmas in Russia during your winter holidays and have a fun-filled vacation experience.
Quick Summary
About Christmas In Russia
In the early Soviet days, Christmas was not celebrated in Russia, and even the other religious celebrations were discouraged. Despite all the discouragement, the Christmas celebration in Russia was put up on 25th December by the Soviet regime. All the traditional customs of the Christmas Eve was re-adopted in Russia after the October revolution. Nowadays, traditionally people return to their home celebrating with their loved ones and have a great festive Holy supper. In the present day, Russia is the largest country in the world area wise. Being the largest country, it even has the largest city as its capital called Moscow.
19 Cool And Unusual Things To Do In Russia In 2022 That You've Never Heard Before!
Facts About Russian Christmas
The festive of Christmas in Russia is celebrated with a great and grand fashion. The main religion practiced in Russia is Russian Orthodox. Russia had a great number of the Christian population. Thus, Christmas had become one of the major festivals in Russia. Many people do fast at Russian Christmas traditions, many do not eat meat, egg as their customary belief system. The great festival of Christmas includes decorating trees, singing carols, greeting people and enjoying the eve to the fullest. Russia celebrates the eve of Christmas in a white snowy day when the temperature is always falling towards minus degrees Celsius.
Russian New Year: To Experience The Enchanting Country's Best Party Flavours!
8 Places To Visit During Christmas In Russia 2022
Christmas being a festival of gifts does bring in a lot of festive mood. Vacationing at such a time becomes an even joyous affair as you get to see celebrations all round. So, here are a few places you should definitely visit while in Russia in case you decide to take a Christmas trip to this country:
Moscow
Suzdal
Yaroslavl
Saint Petersburg
Kazan
Novgorod
Lake Baikal
Vladivostok
1. Moscow
Moscow is considered one of the most popular cities in Russia. During the Christmas in Russia, the whole decorated and enlightened with colors and traditional Christmas tree in Russia. There are many tourist visiting place in Moscow like Moscow Kremlin, Red Square, Saint Basil's Cathedral, Lenin's Mausoleum, Bolshoi Theatre, Gorky Park, Kremlin Armory, Tretyakov gallery, Novodevichy Convent, State historical museum, kolomenskoye, VDNKh, Dormition Cathedral, Grand Kremlin Palace, Cathedral of Christ the Saviour, Sparrow Hills, Pushkin Museum, Tverskaya street, Alexander garden, Poklonnaya Hill, Moscow zoo, Tomb of the Unknown Soldier, Museum of the great patriotic war, Troiskaya tower and many more. Christmas in Russia is best celebrated in Moscow.
Places to stay: Hilton Moscow, Holiday Inn Moscow
What's special: The old Christmas traditions
9 Fabulous Beaches In Russia That Let You Relish The Taste Of The Good Life!
2. Suzdal
Suzdal is considered an ancient place in Russia. This place holds a special place in conserving the ancient monuments. Some of the places which must be visited during the Christmas holidays in Russia are Suzdal Kremlin, Monastery of Saint Euthymius, Museum of wooden architecture and peasant life, Torgovyye Ryady, Uspenskaya Tsekov, Transfiguration Cathedral, Wax museum, Venerable bell tower, Friday church and many more.
Places to stay: Pushkarskaya Sloboda, Suzdal Spasskaya Gorka
What's special: The attractions of the city
Russia Travel Guide: Explore The Vibrant Culture Of This Extraordinary Land!
3. Yaroslavl
Yaroslavl is even one of the ancient place in Russia. It is even considered as a place where ancient monuments and churches are located. Some of the places which must be visited during the Christmas in Yaroslavl are Khram ll'i Proroka, Museum "Music and Time", Yaroslavl Zoo, Baptist church, Strelka and much more.
Places to stay: Dostoevsky Hotel, Kuptsov Dom
What's special: The ancient vibes of the city
10 Places To Visit In Russia To Witness The Beauty Of This Incredible Nation
4. Saint Petersburg
It is considered the second-largest city in the world. It is also known for celebrating widespread occasions famous across the entire country and the world. This city is considered as one of the most modern cities of Russia. The places which must be visited during the Christmas holidays are hermitage museum, Peterhof Palace, Moika palace, Summer Palace, Bronze Horseman, Field of Mars, Marble Palace and many more.
Places to stay: Four Seasons Hotel Lion Palace, Bristol Hotel
What's special: The grand palace celebrations
8 Cities With Best Russia Nightlife; Say It Aloud, "Lights, Vodka, & Russians!" In 2022
5. Kazan

Kazan is also popular as the sports city of Russia. The city also played host to the 2018 FIFA World Cup. Some important destinations during the trip to Kazan, Russia are the Kazan Kremlin, Tatarstan, Suyumbike Tower, Epiphany Orthodox Cathedral, Pedestrian Baumana Street, The Farmers' Palace and more.
Places to stay: ibis Kazan, Osobnyak na Teatralnoy
What's special: The superb cathedrals
6. Novgorod

Novgorod is one of the oldest cities of Russia dating manuscripts as early as 859 AD. The striking silver and golden domes of St. Sophia's Cathedral brighten up during December and visiting this cathedral from 11th-century during Christmas is the best. The city does showcase the unique aspects of its celebrations with amazing markets, cathedrals that pull the best of celebrations over the festive time. 
Places to stay: Rachmaninoff Hotel, Truvor
What's special: The classic Christmas celebrations
7. Lake Baikal

An awesome fact about celebrating Christmas at Lake Baikal is that the winters here are milder than the summers. Lake Baikal is a serene paradise that seduces with its exotic beauty! It's the world's largest freshwater body and surrounded with stupendous vegetation that assures you a pristine experience for your Christmas vacation!
Places to stay:  Mini-hotel Baikal, Legend of Baikal
What's special: The mild winters
8. Vladivostok

Celebrating Christmas in Russia and leaving out Vladivostok is a crime. It is one of the finest places in the country to celebrate Christmas. The most impressive characteristic of the city are the markets and events that take place over the city. The lights, citadels, cathedrals and squares are full of festive spirits that runs high in the air. 
Places to stay:  Lighthouse – Маяк, Dream Catcher Hotel
What's special: The squares full of Christmas trees
Weather In Russia During Christmas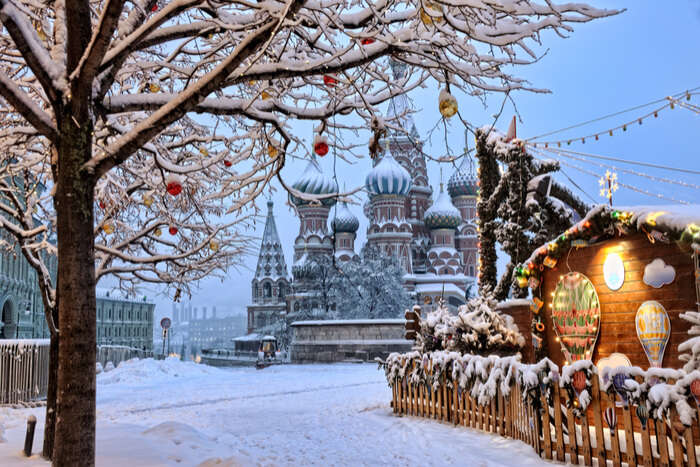 Weather during Christmas in Russia is freezing cold. The temperature rounds about somewhere in the range of high of -3°C to low -7.6°C. It is highly important that you stock the maximum amount of woolens in your kitty as it is going to be mighty. However, the average daylight is only going to be about 7 hours which means you can expect a lot of festivities to be celebrated in the evenings which is precisly the best time during the day of celebrating Christmas traditions in Russia.
Different Activities During The Christmas Eve In Russia
The festive of Christmas is celebrated in chilled days, thus Christmas in Russia activities includes the lighting of Bonfire. They light a fire in the honor of Sviatki tradition. Russian people even beliefs in the tradition of fortune-telling. Usually, it is practiced for fun but at some home, it is one of the ancient tradition to be practiced at Christmas Eve. They even sing Christmas carols together with friends and family. They make a great Christmas supper and spend quality time with family. Like the belief of Santa visiting home on the Christmas eve, the Russian people do have a belief of visiting Ded Moroz and Sengurochka in the Christmas Eve. Even decorating the Christmas tree is an important ritual and tradition in the Russian culture. The Christmas tree in Russia has a great fairy decoration with elegant attraction in it.
It's A Good Time To Be A FIFA Fan If You Want A Visa-Free Entry In Russia
Traditional Cuisine During Christmas In Russia
The Christmas eve traditions in Russia follows a great supper. Typically, in Russia, some people do follow the vegetarian diet during Christmas Eve and some people even fast. But, Russian Christmas food starting from pork, goose, and other specialty meats are accompanied by delicious cakes and pastries and other wonderful desserts. Even Christmas in Russia traditions offers vegetarian delicacies like stuffed beans, stuffed potatoes, a different form of desserts and much more. Offering these great suppers is a way of honoring the great festival of Christmas in Russia.
9 Hotels In Russia That Are A Perfect Blend Of Modern Culture And Old-World Charm!
The Christmas in Russia is one the biggest and beautiful occasion. From decorating the Christmas tree to welcoming the Russian Santa, each and every traditional ceremony in Russia is fulfilled with a great happiness. Greeting each other to offer great holy supper, everything is a part of Christmas in Russia activities. The Christmas eve traditions in Russia welcomes people from different part of the world and offer the opportunity to celebrate Christmas and New Year with them. Russia is considered one of the beautiful places in the world which is worth watching. Plan a trip to Russia to celebrate Christmas this winter.
Disclaimer: TravelTriangle claims no credit for images featured on our blog site unless otherwise noted. All visual content is copyrighted to its respectful owners. We try to link back to original sources whenever possible. If you own the rights to any of the images, and do not wish them to appear on TravelTriangle, please contact us and they will be promptly removed. We believe in providing proper attribution to the original author, artist or photographer.
Please Note: Any information published by TravelTriangle in any form of content is not intended to be a substitute for any kind of medical advice, and one must not take any action before consulting a professional medical expert of their own choice.
Frequently Asked Questions About Christmas In Russia
How do they celebrate Christmas in Russia?
Russian Orthodox Church is dominant in Russia and they follow the old 'Julian' calendar for observing a religious day. Therefore, Christmas in Russia is celebrated on the 7th of January and not on 25th December.
What is a typical Russian meal?
A typical Russian meal usually has appetizers and main course dish which is hot and consists either potato, fish or meat. They are also fond of tea after dinner. Borscht, Solyanka Soup, Olivier Salad, Blini, Kotleti, and Pelmeni are some of the traditional Russian meals.
What is Russia's national food?
Pelmeni is the national dish of Russia. There are many restaurants in Russia where you can taste Pelmeni and other dishes from the traditional Russian cuisine.
What do Russian eat at Christmas?
A Christmas dinner in Russia usually includes a lot of non-vegetarian dishes: 1. Roasted Pork 2. Stuffed Pig's Head 3. Whole Fish 4. Kholodets (Jelly) 5. Goose with Apples 6. Sour Cream Hare 7. Lamb
Is Christmas banned in Russia?
During the early-mid Soviet period, the state discouraged religious celebrations through the policy of atheism until 1936. Despite this, Christmas was marked by the Soviet regime on December 25.
What is Santa called in Russia?
Russian Santa Claus is also known as "Ded Moroz," which translates to "Grandfather Frost" in English.
Is Christmas a holiday in Russia?
Since 1992, Christmas has been marked as a national holiday in Russia, as part of the ten-day holiday at the start of the new year.
What is the last day of Christmas called?
The last day of Christmas is January 5, also called "the Twelfth Night."
What holiday does Russia celebrate in December?
There are 3 public and 1 non-public festivals celebrated in Russia in December. Public holidays: Christmas, Fatherland's Heroes Day and Strategic Missile Troops Day. Non-public holiday: Emergency Workers Day.
---