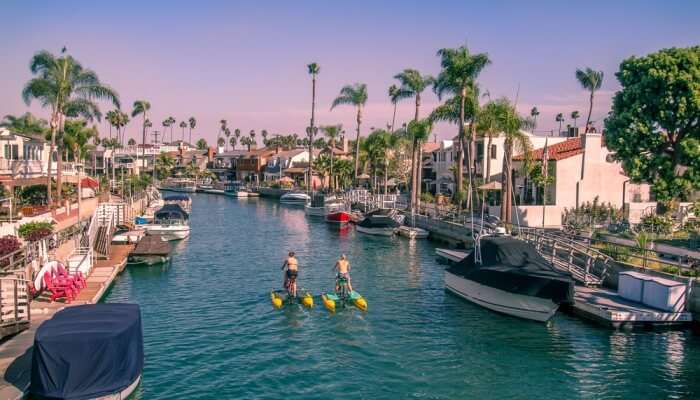 Encounter authentic coastal-quality living, with a true Pacific Coast staple in Long Beach, California. A port city that plays host to a wide variety of world-class attractions, Long Beach deservingly ranks among the world's premiere cities along the water's edge. Discover 7 attractions in Long Beach California that are ideal for a family reunion, romantic weekend or simply a getaway with the kids.
7 Attractions In Long Beach California
Long Beach is characterized by a Mediterranean climate and gifted with sweeping views of open waters. Cross these attractions in Long Beach California off your Long Beach bucket list right away:
1. Aquarium Of The Pacific
Experience marine life at the Aquarium of the Pacific. On more than five acres of land, it's a public aquarium in Rainbow Harbor with roughly 500 species available for viewing. And with more than 11,000 animals, the Aquarium of the Pacific is thronged by more than 1.5 million visitors per year.
Staple exhibits focus on Pacific regions, and include items like the June Keyes Penguin Habitat, Shark Lagoon and Lorikeet Forest, as well as the Northern Pacific Gallery. Stop by downtown Long Beach, to check out sea otters, octopus, sea anemones and more!
Must Read: This Ghost Town In California Can Soon Become Your Next Holiday Spot. Would You Dare To Go?
2. The Queen Mary
Immerse yourself in local history at Queen Mary! It is regarded as one of the most beautiful attractions in Long Beach California. Once a dynamic British ocean liner, the RMS Queen Mary is moored in Long Beach, and is open for a wide variety of interactive purposes. On any sunny Long Beach day, the Queen Mary proves a Southern California destination you can't afford to miss.
Locals and visitors alike can take to any one of the cabins on the ship itself, as the vessel now functions as a working hotel! Guests can choose from a wide variety of rooms, perfect for travel budgets and individual preferences. Take a guided or self-guided tour of the ship at large, everything from the machinery to the deck, much of it excellently preserved for your viewing. Come to appreciate a ship now listed on the National Register of Historic Places. The ship itself is also listed among other Historic Hotels of America! Whether you're onboard for a seasonal event, a tour, or a stay in a cabin, The Queen Mary is well worth your investment in Long Beach.
Suggested Read: This Island In South America Is The World's Most Dangerous Place
3. Art Theatre Of Long Beach
Discover the unique blend of culture and art present behind welcoming doors at the Art Theatre of Long Beach. Once a bustling theater in the 1920s, the space has since been renovated and preserved for the enjoyment of current and future Long Beach generations. Today, the Art Theatre shows much more than the best silent films of 1925!
On the premises, you can enjoy unique food and beverage selections, while you screen the world's most popular films currently in major theaters. Or, you can take advantage of the independent film showings and displays at the Art Theatre of Long Beach, for a personalized experience onsite. Choose from a wide selection of documentaries and films, while you enjoy dishes exclusive to the theatre itself!
4. Cesar E. Chavez Park
At the Cesar E. Chavez Park, you get sweeping views of the local area, together with wide spaces bathed in sunshine, easy recreation, and ocean breezes. Now is your chance to take life at a pace conducive to your own enjoyment!
North of the Berkeley marina, this park space has long since satisfied local park goers and visitors alike. More than 90 acres of greenery and sunshine right next to the water's edge easily captivates those who frequent park grounds. You can take easy advantage of picnic facilities onsite, together with a play structure for younger children to love. Other amenities include a basketball court, a weight room, public restrooms, and a community center.
Suggested Read: The Largest Mall In USA Is All Set To Open & It's The 'American Dream' You Always Wished For!
5. Belmont Shore
One of the best attractions in Long Beach California, Belmont Shore gets you up, close and personal with seasonally cool waters. Introduce your feet to white sands and discover the place where the turf meets the surf! Dip your toes for a refreshing Pacific experience, before discovering everything else that this neighborhood has to offer.
Even when you're not shoeless on the shore, this neighborhood proves an unprecedented epicenter for local events. The largest single-day car show on the entire west coast, Belmont Shore Car Show, takes place nearby, as does the Long Beach Sea Festival!
Suggested Read: 15 Most Haunted Places In America: One Of A Kind & Each One With A Disturbing History!
6. Shoreline Village
You can't miss the Shoreline Village – the white wood and red roofs give it away! Whether dining out, enjoying retail therapy, or seeking a social center once the sun sets, the Shoreline Village promises to entertain, with a portfolio of attractions set to impress. Even if you're onsite for a walk around the grounds, the Shoreline Village boasts a true Long Beach feel worth experiencing for yourself.
You can choose from a fantastic assemblage of upscale dining, casual eating, and go-to treats while you're there. Their ice cream is recommended by locals!
Suggested Read: Cruises From California: A Luxury Experience Aboard A Streamlined Palace
7. Museum Of Latin American Art
Make sure you allow a little time for cultural appreciation in Long Beach. Since its founding in 1996, the Museum of Latin American Art has existed as the go-to site for world-class Latin American artistic contributions in Long Beach. At the museum, you're exposed to well-arranged, dynamic displays and exhibits which is arranged professionally and characterized by a tasteful, educational atmosphere.
As the only museum in the nation dedicated to today's Latin American and Latino art scene, the Museum of Latin American Art gifts you unprecedented access to the latest and greatest in native and creative contributions. Located in the heart of downtown Long Beach, the museum is easily affordable and features a constantly changing series of displays and exhibits.
Further Read: 15 Festivals In America Which Reflects The Culture And Heritage Of The Country!
Coastal excellence is available around every corner in Long Beach, especially when you check out one or more of these certified Long Beach staples on your USA vacation! Capitalize on frequent Southern California sunshine while visiting these attractions in Long Beach California, where you can familiarize yourself with world-class retail, cuisine, and recreation well worth your time!
Daniel Hall is a travel writer, blogger, and English teacher interested in learning new languages and cultures and trying a cooking class everywhere he goes. He also enjoys reading, writing, and playing football.
People Also Read
Cruises In San Francisco Hikes In Northern California Los Angeles Travel Guide
Comments
comments