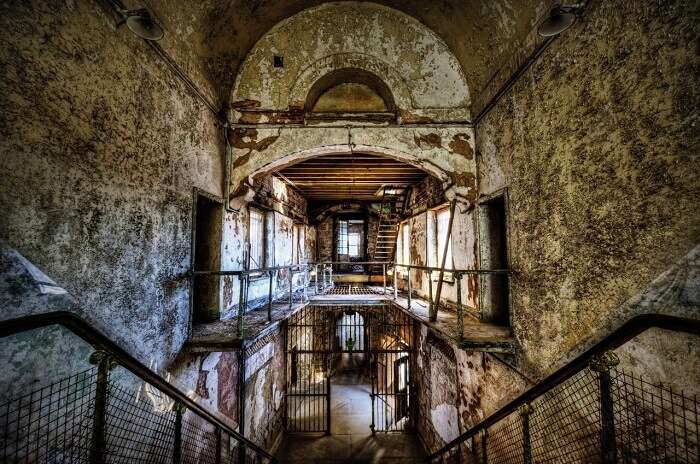 The world is a balance of good and evil, and there is no denying of this fact. Whichever corner of the world you may be at right now, the fact remains that what you're seeking, be it good or bad, is probably seeking you too. However, as much as a country like that of USA has been a pioneer in many of the world's leading facets, there indeed is an eerie side to the country and these 15 most haunted places in America, prove just that.
15. Masonic Temple, Detroit
A Creation That Drowned Its Own Master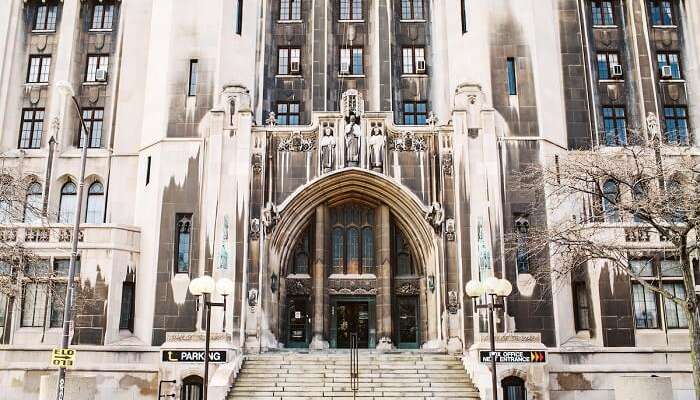 Suggested Read: 47 Most Haunted Places In India And Their Real Ghost Stories In 2022!
There may be many haunted towns in America but Detroit is one of a kind. Famous for being home to the world's most biggest Masonic Temple, little do the travelers know until they get here that the site is haunted by the ghost of its architect, George D. Mason. As mystical as it looks, the temple houses hidden passages, secret staircases, and just about 1000 rooms with a facade so Gothic, that the construction of this massive temple turned George Mason totally bankrupt. And as a result of this, it is believed that he jumped off from the roof of this 16-storeyed temple leaving his soul behind.
14. St. Augustine Lighthouse, Florida
The Dark Side Of A Lighthouse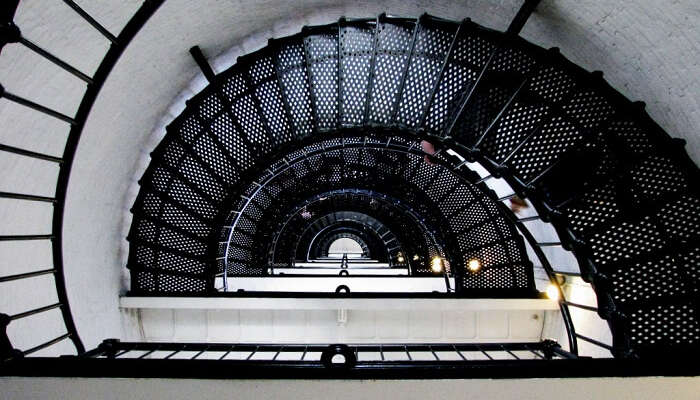 Paradoxical as it gets, St. Augustine's Lighthouse is an epitome of irony in the heart of Florida. Built to give light to the city and guide the lost souls, this lighthouse turns out be one of the most haunted places in America. While the lighthouse keeper happens to be the first one whose life was claimed while painting the tower, it is believed that three young girls also passed away while playing in a cart which broke and drowned in the ocean. And ever since, the site has been spooked by the ghosts of children who cry the night away.
13. San Fernando Cathedral, Texas
The Burial Ground Of Three Alamo Soldiers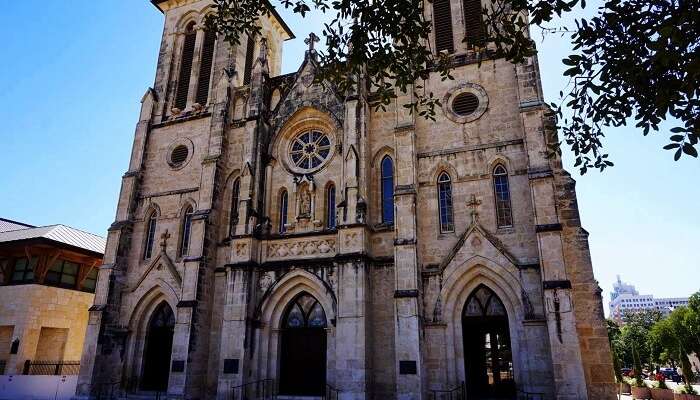 Man-made idols are prone to possession which is why most of the Cathedrals are haunted and the famous San Fernando Cathedral in San Antonio is no exception. Considered to be one of the most haunted places in America, no one who visits this church in the daytime can ever imagine that they're standing on a ground that turns into a nightmare as the dusk approaches. History has it, that the remains of three Alamo soldiers were excavated in form of nails, bones, and shredded uniform while the church was being renovated in the year of 1936. So next time you visit this church, you might wanna say your prayers sincerely, and seriously!
12. Poinsett Bridge, South Carolina
A Bridge With The Mummy Of Its Mason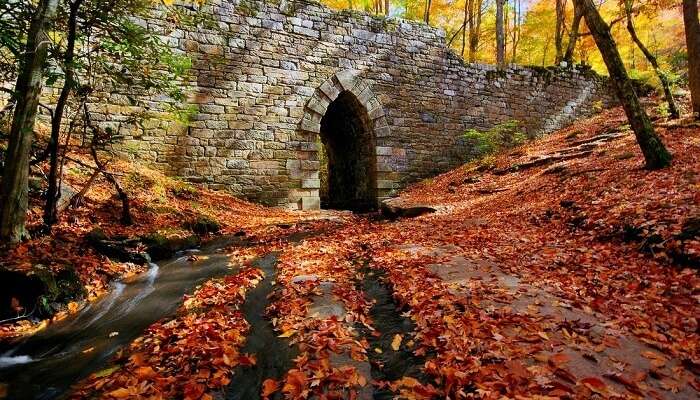 Suggested Read: 25 Most Haunted Places In The World
An accident is the most unnatural way of death wherein people pass away before their appointed time, leaving a significant part of them behind. And similar is the case with Poinsett Bridge in Greenville. Reckoned to be one of the oldest bridges in the state of South Carolina, Poinsett Bridge also happens to be the most terrifying places in America. While the bridge is bound by the ghosts of two people who died in a car accident, what spooks people the most is that the body of a mason who died during its construction, is bound within the bridge. Wanna go for ride now?
11. Dock Street Theatre, South Carolina
A Theatre Where Lightning Struck A Drama Queen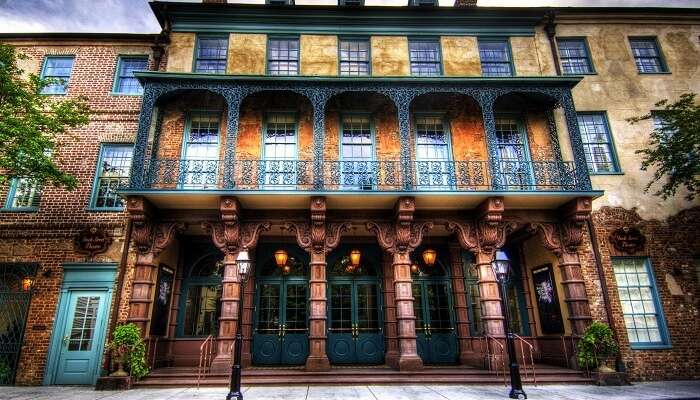 Image Courtesy: Only In Your State
Being one of the oldest theatres in Charleston, the Dock Street Theatre can proudly flaunt the fact that it has literally been tested in fire. Originally built as a theatre that caught fire, it was later turned into a hotel, and then again transformed back into a theatre during the late 1930s. With a lot of history attached to it, Dock Street Theatre is one among the many haunted places in America wherein a call girl who is recognised as Nettie Dickerson died post getting struck by a lightning on the balcony of the hotel's second floor. So before you could a book a stay for yourself, check with the locals once who claim that she is often spotted in the same spot wearing a red gown.
10. The Moon River Brewery, Georgia
A Brewery Where Blood Is The Favorite Drink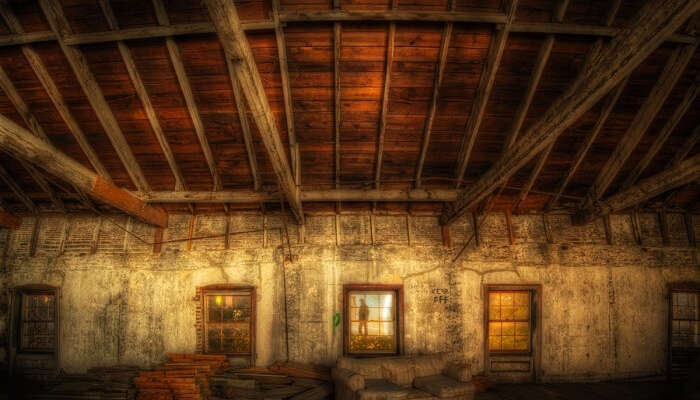 Reckoned to be as one of the oldest buildings in Savannah, the building of Moon River Brewery was once a hotel that welcomed a lot of guests from Yankee North. And being referred to as one of the most haunted cities in USA by the American Institute of Paranormal Psychology, it is needless to say that the brewery also suffered a fate of horrific incidents by the guests who refused to leave. Many lost their lives in the violence that the guests caused in the hotel. Eventually, when the hotel was turned into a brewery, many customers witnessed beer bottles flying across the bar, people being slapped and tripping without getting drunk, and so on. This brewery especially caught attention as one of the most haunted places in America post the incident wherein a woman was pushed by an unidentified entity from the third floor of the building's staircase. Eerie much?
9. Mizpah Hotel, Nevada
Hotel For You, And Home Of The Red Lady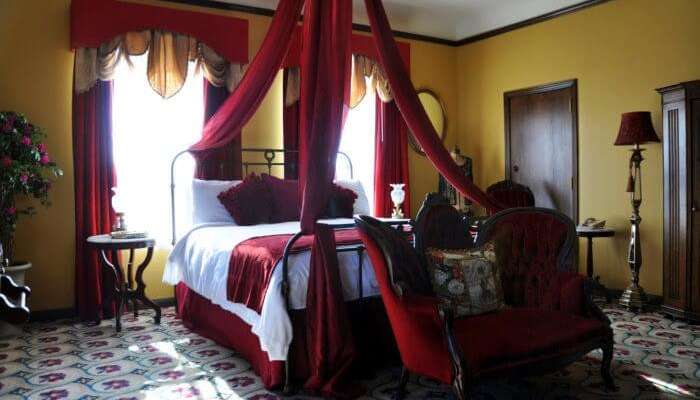 Image Courtesy: Only In Your State
Suggested Read: 10 Scary Secrets of Haunted Cemeteries In India
If you've seen the movie Raaz then you will relate to how it feels when someone whispers in your ears and that rustling sound takes no time in beating the hell out of you. Well such incidents are common in the famous Mizpah Hotel in Tonopah, which owes much of its credit for being tagged as one of the most haunted places in America to the Red Lady. Years ago, a female guest died on the fifth floor of the hotel, and surprised the hotel staff with her soul as a return gift. Years later, many have claimed of hearing her whispering sound, especially men have found pearls from a broken necklace on the pillows in their room. Booking a stay anytime soon?
8. Myrtles Plantation, Louisiana
A Plantation Where Revenge Was Served Cold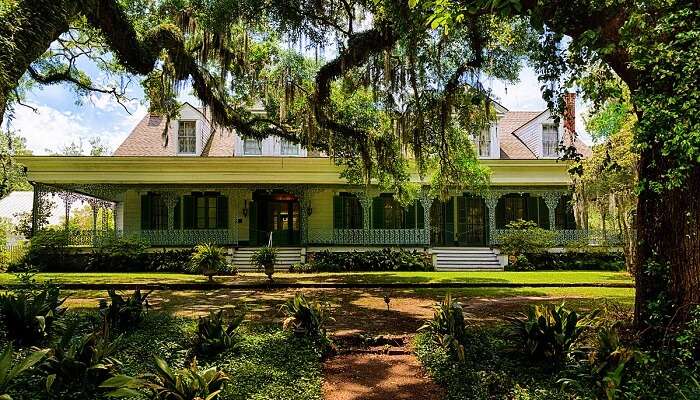 What you sow is exactly what you reap and when you sow hatred, it is exactly what you get in return. While this clean and green plantation in St. Francisville may look very lush and refreshing to some, most of you who've seen Conjuring, would definitely feel the eeriness in the air on seeing the tree in front of the house and immediately relate it to the point where Lorraine Warren visualizes the dead body hanging in the movie. Walking back into the past, the history has it that the plantation is home to ghosts of 12 people who were the victims of revenge. Apparently, a former master had cut off the ears of one of the slaves who was recognized as Chloe for eavesdropping. And in return, Chloe killed her master's two daughters by poisoning their birthday cake. Post the incident, she was hung in that very house and years later, Myrtles Plantations remains to terrify people as one of the most haunted houses in America.
7. Eastern State Penitentiary, Philadelphia
An Abandoned Prison Of The Tortured Inmates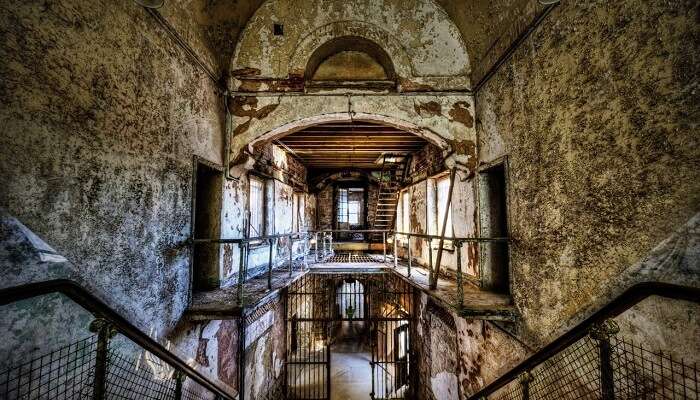 Ever thought of the most extreme level of punishments that the prisoners could receive? Well whatever you may have imagined, the incidents that took place at Eastern State Penitentiary in Philadelphia will shatter your imagination into million pieces with their level of extreme. Undoubtedly being one of the most haunted places in America, the prisoners learnt to deal with their demons alone in this solitary confinement. With torturous punishments like chaining one's tongue to their wrists, this places has witnessed cruelty in its true form which is being returned by the ghosts of those who lost their lives in this cell.
6. Gettysburg Battlefield, Pennsylvania
The Bloodiest Battlefield In The History Of USA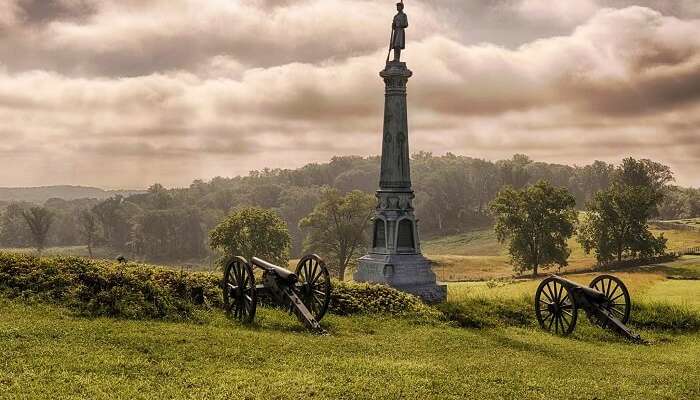 Suggested Read: 9 Scary Haunted Hotels In India That Will Give You Chills On Your 2022 Vacay
Though soldiers wear death like an armour, it is not such a great feeling to die in a battlefield than it is to return from one. While many soldiers are killed in the battlefield, none of them have been as bloody as the one of the gruesome Gettysburg Battlefield that claimed the lives of more than fifty thousand young soldiers in just a matter of three days. Marking its spot in the list of the top ten haunted places in America, it is believed that the ghosts of the soldiers who didn't receive a proper burial have been seen wandering in the fields each day and every night.
5. Calcasieu Courthouse, Louisiana
A Court That Raised An Electrocuted Troublemaker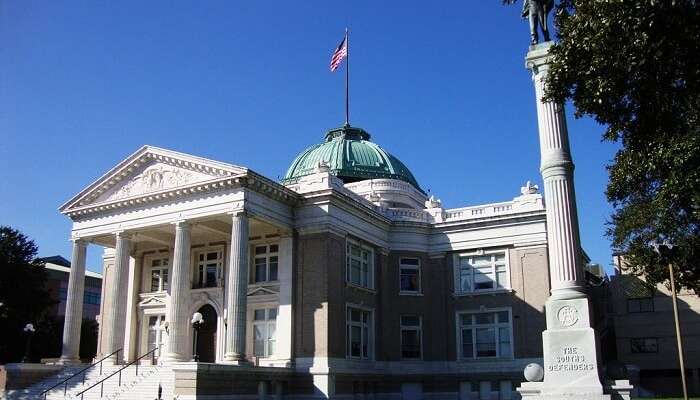 This case seems like people asked for the horror, and so did the ghost of the convicted call girl. Infamy saw new heights and extremes when a hooker – recognized as Toni Jo Henry, committed a cold-blooded murder back in the late 1940s. Post three worrisome trials, it was right here in the Calcasieu Courthouse of Lake Charles that Toni Jo was finally sentenced to death. And the worst part is, her death was to be executed in an electric chair. It is believed that her spirit does linger in the court as many workers have felt her presence in form of a burning stench. She was literally burnt while getting electrocuted and such is the horror that has gained this court, the tag of being the most haunted places in America.
4. RMS Queen Mary, California
A Ship That Serves As The Hotbed Of The Deceased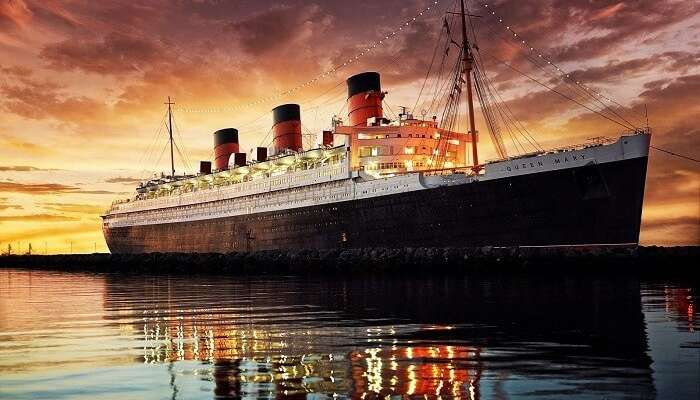 Wrecking the lives of many, this ship has definitely not sailed for a very long time. From a warship in the World War II to a luxury ocean liner, this ship has served many purposes apart from claiming the life of a sailor who was literally smashed to death by the door of the engine room. Docked on the Long Beach of California and being of the most haunted places in America, the ship has also drowned many children in the pool of death. While the presence of the ghosts is felt heavily by most of the guests, the engine room in particular is considered to be the hotbed of paranormality.
3. Hotel Monte Vista, Arizona
A Hotel Of Unwelcomed Paranormal Guests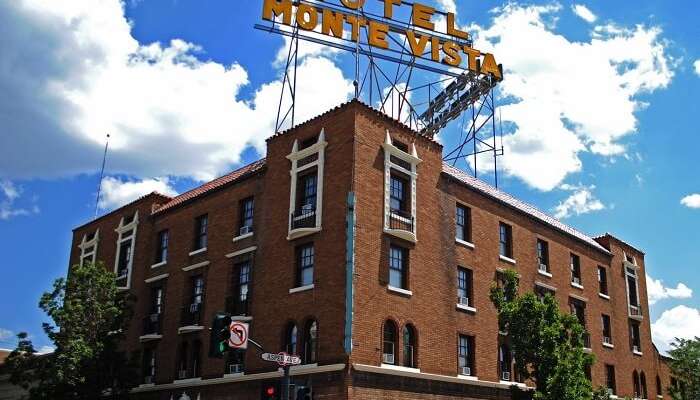 Suggested Read: 10 Haunted Places In Hyderabad With Real Ghost Stories For Spooky Trips In 2022
A famous hotel set in heart of Flagstaff also happens to be one of the top haunted houses in America. From a man hanging raw meat on the chandeliers to the ghosts of two women suffocating men during their sleep, this hotel has been through all the horrors that one could possibly imagine. To add to it, there is also a ghost of an infant who keeps the staff of the hotel on their toes with the sound of disturbing cries all night long, and no one (unless you plan to give it a try) so far has been able to stop the baby from crying. Hence, the horror continues to disturb the guests of this hotel.
2. Villisca Axe Murder House, Iowa
A Site Of 8 Cold Blooded Murders, And All Together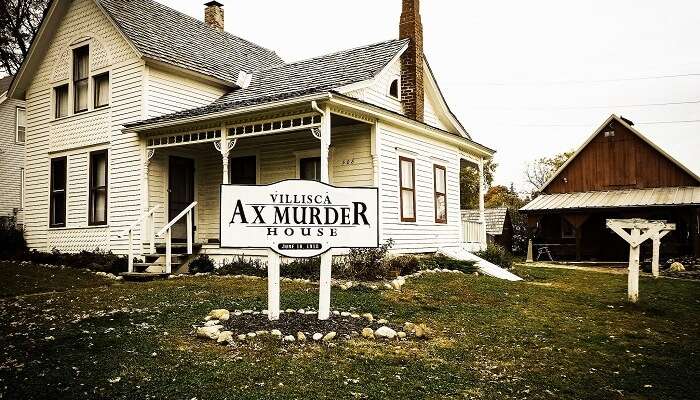 Image Courtesy: Only In Your State
The power and might of the unidentified entities and paranormal activity is so extreme, that a visitor was reported to have stabbed himself on a ghost tour to the horrifying Villisca Axe Murder House in Iowa. Filled with the rage of eight people who were murdered on the site, this is considered to be one of the most cruelly haunted houses in USA. In an incident that occured in the month of June 1912, all the six Moore family members along with two guests who visited them on that night were found floating in their own blood by the authorities. Two adults, four children, and two young guests had suffered major injuries from an axe and what makes it worse is, it still remains a mystery as the case stands unresolved till date. Unbelievable isn't it?
1. Trans-Allegheny Asylum, West Virginia
An Asylum Of The Lunatics Within The Cramped Walls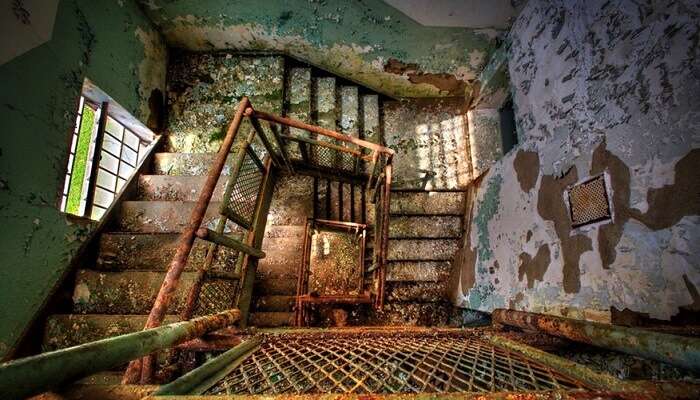 Are you one of those who keep complaining that you don't have your own space? Well you wouldn't be complaining anymore post reading how an asylum for psychopaths in Weston, accommodated 2400 patients in a facility which could only accommodate 250 patients. Needless to say, the overcrowding not only led to lack of space, but also resulted in savage conditions due to which the extreme patients had to be caged in one of the most haunted places in America. While the patients lost control of their barbaric actions which ranged from attacking the staff to setting the site on fire, this asylum had killed many by the time it was shut down in the early 90s.
Being one of a kind and each one tracing back to a disturbing history, you're more than welcome to test your daredevil skills (if you're one) at these most haunted places in America. And for when you're back, do not hesitate to share your experiences with us!
Disclaimer: TravelTriangle claims no credit for images featured on our blog site unless otherwise noted. All visual content is copyrighted to its respectful owners. We try to link back to original sources whenever possible. If you own the rights to any of the images, and do not wish them to appear on TravelTriangle, please contact us and they will be promptly removed. We believe in providing proper attribution to the original author, artist or photographer.
Please Note: Any information published by TravelTriangle in any form of content is not intended to be a substitute for any kind of medical advice, and one must not take any action before consulting a professional medical expert of their own choice.
Frequently Asked Questions About Haunted Places In America
How much are tickets for Eastern State Penitentiary also known to be the most haunted place in America?
The tickets to Eastern State Penitentiary can be bought both online and offline. The online tickets can be bought at $14 for adults, $12 for seniors, and $10 for children between the age of 7-12.
How can travelers get around the Gettysburg battlefield?
Some of the best things for travelers to do in Gettysburg battlefield include:
1. Get acquainted at the Museum
2. Take a tour of the battlefield
3. Visit the historic buildings
4. Take a stroll downtown
5. Indulge in culinary excellence
What time is the light show at San Fernando Cathedral?
The light show at San Fernando Cathedral runs every week on Tuesdays, Fridays, Saturdays and Sundays. The show takes place at different timings of the day like 9 AM, 9:30 PM and 10 PM.
What are the signs that locals have noticed at the Poinsett Bridge?
Some of the locals say that they have experienced incidents like some residents have seen a white figure at the bridge at night while others have felt movements around themselves and also seen white, green and yellow lights on the bridge.
What are the opening and closing timings of the Calcasieu Courthouse?
The opening and closing timings of the Calcasieu Courthouse is from 8:30 AM to 4:30 PM
What is the story behind the hauntings of Mizpah Hotel, Nevada?
Many years ago, a female guest died from the fifth floor of the hotel and it is claimed that her soul still haunts the hotel. Guests have claimed to hear her whispering sounds and also found pearls from a broken necklace on their pillows.
---
Looking To Book A Holiday Package?
Book memorable holidays on TravelTriangle with 650+ verified travel agents for 65+ domestic and international destinations.
---