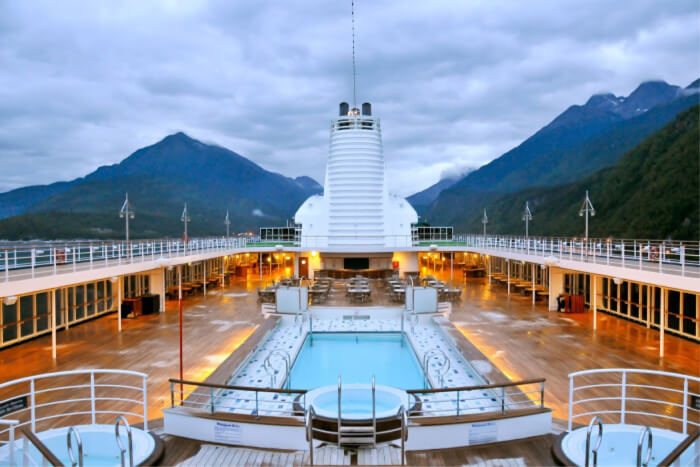 Cruises are a luxury to at least experience once in the lifetime. Through the oceans, a cruise travels on its own pace with modern amenities, all draped in luxury. There are multiple cruises to and from California's Long Beach port to different parts of the continent.
Top 10 Cruises From California
For your grand vacay, here is a list of 10 different cruise liners that depart from California, USA and travel around the seas, giving you a real taste of luxury.
1. Carnival Inspiration
This cruise ship leaves from Long Beach in California, LA, and travels all the way to Catalina Island in Mexico. You will get a fun crowd and luxuries like pools, good food along with a perfect getaway on the sea. The pretty design packed with ultimate luxury, this cruise is a must-have experience in California. This is one of the most interesting family cruises from California.
Duration: 4 nights
Destination: California to Catalina Island, Ensenada, Mexico
Cost: Rs. 14,800 – 20,000
Highlights: Fun-loving vibe | Affordable | Very few extra attractions
2. Star Princess
The Star Princess is a destination all on its own. Redefining luxury, it contains more than 700 staterooms with a balcony and mini-suites that offer stellar views. It features four pool and a Lotus Spa along with splendid food. The luxury ship, with its more than stellar architecture, makes for a perfectly lazy-friendly deck holiday.
Duration: 7 nights
Destination: California to Hilo, Honolulu
Cost: Rs. 45,000
Highlights: Activities and cuisines planned around cruise's itinerary | Food & Drinks | Offers plenty of Port Days
3. Ruby Princess
This is an excellent cruise ship lined with all the modern amenities like suites, luxurious decks, and awesome views. It boasts of excellent service and a wide array of entertainment, multimedia and dining options to choose from. The crowd's usually friendly and goes along with the vibe of the cruise.
Duration: 7 nights
Destination: California to Cabo San Lucas, Mazatlan
Cost: Rs. 46,000
Highlights: Dining Options | Excellent Service | Free Dining | Minimum to-pay service Alternatives
Must Read: This Ghost Town In California Can Soon Become Your Next Holiday Spot. Would You Dare To Go?
4. Grand Princess
Known as the sister ship of the Star Princess, it is even bigger and better than its sibling. Offering great food and drinks, a tantalizing atmosphere and dazzling entertainment, there is something for everyone aboard the Grand Princess. Also, the ship is even more beautiful in real than in these pictures.
Duration: 10 nights
Destination: California to Puerto Vallarta, Manzanillo
Cost: Rs. 30,000
Highlights: Affordable mix of sailings from US West Coast | Great Choice For Multigenerational Groups & Old Couples | Brilliant Food & Wine
5. Norwegian Star
Truly variety at its best, the Norwegian Star cruise ship sails to a variety of destinations. Aboard it, you can play golf, take a swim, purchase gifts, play volleyball or detoxify with a massage. Spirits are always high aboard the Norwegian Star with its excellent customer service.
Duration: 7 nights
Destination: California to Cabo San Lucas, Acapulco
Cost: Rs. 30,000
Highlights: Original Freestyle Ship | Golf | Massage
Suggested Read: This Island In South America Is The World's Most Dangerous Place
6. Carnival Imagination
This ship got a multi-million dollar renovation in September in 2016. Onboard are crowd-favorite features such as the WaterWorks aqua park with a Twister slide which is 300 feet long. With an array of dining options, entertainment, and activities, this is a convenient and value-for-money package that all tourists should opt for.
Duration: 4 nights
Destination: California to Catalina Island, Ensenada, Mexico
Cost: Rs. 31,000
Highlights: Attractive Dining |Entertainment & Kids' Activities | Balcony | All-Inclusive Price
Suggested Read: The Largest Mall In USA Is All Set To Open & It's The 'American Dream' You Always Wished For!
7. Carnival Splendor
This is the sole ship of the Splendor class, which is a compact and cut down version of the sister Concordia class cruise ship without compromising on the amenities. With onboard entertainment, you can expect to have a grand time socializing and having fun while aboard the Carnival Splendor.
Duration: 7 nights
Destination: California to Mazatlan
Cost: Rs. 35,000
Highlights: Fully-equipped spa | Comedy Nights | Live Shows | Value-for-Money pricing
Suggested Read: 15 Best Places To Visit In Chicago That Add Charm To Your American Vacay!
8. Seven Seas Explorer
The Italian Crown Jewel of the sea, this ship was built for the company Regent Seven Sea Cruises. Offering absolutely splendid decorations in its interiors, the Seven Seas Explorer leaves no stone unturned in order to treat their guests with the utmost luxurious experience available on the sea.
Duration: 10 nights
Destination: California to Panama Canal to Miami
Cost: Rs. 315000
Highlights: Fine Dining | Gorgeous Interiors | Intuitive Service | All Inclusive Prices
Suggested Read: 15 Most Haunted Places In America: One Of A Kind & Each One With A Disturbing History!
9. Emerald Princess
Another one in the Princess fleet of cruises, the Emerald Princess offers unparalleled amenities to the ticket-holders. This ship contains two nightclubs, a spa, a fitness center, hot tubs, multiple swimming pools, and a plaza-style atrium to accommodate all the tourists. A small city on its own, the Emerald Princess has it all.
Duration: 15 nights
Destination: California to Catalina Island, Ensenada, Mexico
Cost: Rs. 85,000
Highlights: Speciality Dining | Multilingual & Friendly Crew | Spa | Gym | Nightclubs | Suitable For All Ages
10. MS Amsterdam
The last of the 4 ships of MS Line in the Holland America fleet of ships, MS Amsterdam is named after the capital of Netherlands. This cruise ship offers fabulous entertainment to all its guests despite the relatively smaller size. Consider the cruise an applaudable success if you get to enjoy to the fullest.
Duration: 17 nights
Destination: California to Catalina Island, Ensenada, Mexico
Cost: Rs. 120,000
Highlights: Delicious Dining | World-Class Entertainment | Enriching Activities | Value-for-Money
Further Read: 10 Hostels In Washington DC That Offer Luxury Without Burning A Hole In Your Pocket
Now you can say that you are spoiled for choice with these 10 cruises from California. Choose any one according to your budget and get aboard this memorable experience. In fact, to avoid any last minute issues, you can include the cruise to your US holiday if you feel like.
Comments
comments