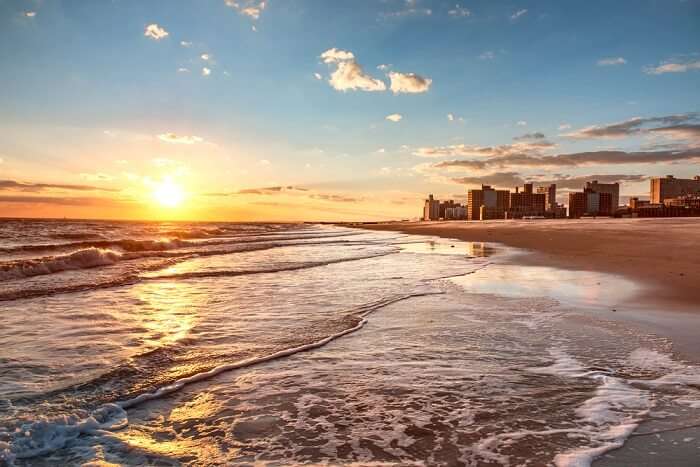 Away from the hassle of the busy city life of New York, there are perfect getaways that offer a quiet solitude to the people who don't want to travel too far. These beautiful getaways are the quiet beaches near New York City. The city of New York is known for its skyscrapers, the Empire State Building and the busy urban life, but there are a number of exquisite beaches around New York. In the summertime, when the mercury rises to eighties or nineties, what better way than to dip in the cool water?
10 Beautiful Beaches Near New York
Here are some of the best beaches near New York. Head here to unwind and relax as you explore these pristine places. Photography lovers and water babies are certainly going to enjoy their day out on the gorgeous beaches.
1. Rockaway Beach
The largest urban beach in the United States, Rockaway Beach is the only beach in NYC that offers the pleasure of surfing. The beach consists of two separate stretches for surfing on the beach. During summer, the sea-waves are placid, making it ideal for surfing for the beginners. However, the experienced surfers can surf during the autumn turbulence. The beach is an hour away from downtown NYC. Enjoy swimming, and gorge on tasty food at the mouth-watering food joints here.
10 Best Homestays In New York For The Most Luxurious Staycation
2. Jacob Riis Park Beach
Slightly away, towards the west of the Rockaway, facing the Atlantic is the Jacob Riis Park Beach. It is called the "People's Beach" of New York and is one of the least crowded beaches in the city as it is slightly hidden behind a summer recreation park and a second World War military fort. The beach is maintained by the National Park Service. Located at Queens, this beach allows the sunbathers an exquisite quarter-mile long waterfront. The opening of Riis Park Beach Bazaar has made the beach a much more popular destination. To reach Jacob Riis Park Beach, there is the NYC Metropolitan Transit Authority (MTA) subway or one can take a bus from Manhattan.
3. Orchard Beach
It is The Bronx's only public beach whose shore was created by Robert Moses in 1930s and spans over a mile with an area of 115 acres. This is famous for its unique crescent shape with a beautiful view of the City Island and attracts thousands of New Yorkers during the summer. This beach also offers various sports activities like volleyball, basketball, and handball.
10 Romantic Places In New York Every Couple Must Visit For A Dreamy Escapade In 2022
4. Coney Island Beach
If you are looking for beaches near Manhattan, New York, then one of the best known beaches, Coney Island Beach, has got a new face lift recently. The boardwalk has been renovated, new showers and toilets have been installed and the 2.5 mile beach is once again clean and inviting. One of the attractions of the beach is its easy accessibility through cheap subway ride from Midtown Manhattan which takes less than an hour. The Mermaid Parade draws lots of tourists each year.
5. South Beach
This Staten Island beach in New York area is adjacent to Midland Beach and called the "Riviera of New York City". It offers an excellent view of the Verrazano Bridge with a number of outdoor activities like kayaking, fishing, and exploring the beach on bikes. There is a lovely two-miles long wooden boardwalk too. The beach also has a beautiful fountain called the "Fountain of Dolphin".
10 Best Theme Parks In New York That Are Perfect For The Adrenaline Junkie In You
6. Long Beach
Located at the south shore of the Long Island, this idyllic beach is an hour train ride from New York. This small city was founded in 1880 and was devastated by the Sandy superstorm in 2012. Today it boasts of a supercool boardwalk of more than two miles. The beach consists of 3.5 miles of soft sand, and is a host to sunbathers, boogie-boarders, surfers, boaters, and swimmers.
---
Planning your holiday but confused about where to go? These travel stories help you find your best trip ever!
---
7. Jones Beach
Situated at Long Island, the world famous Jones Beach State Park consists of a 6.5 miles stretch of beautiful white sand on the Atlantic Ocean. More than 6 million visitors come to the park each year to enjoy activities like swimming, strolling, and fishing. There are some eating stands too which offer a cheap bite. Jones Beach Nature Center is a must visit place to peek into the marine life.
20 New York Restaurants: The Culinary Capital Of The World (2022)
8. Robert Moses State Park
Situated at Long Island, this 875 acre state park lies on the western end of Fire Island and is known for its five mile stretch of beaches on the Atlantic Ocean. This is a haven for peace lovers. Visitors can enjoy swimming, fishing or surfing here. There is also a volleyball court and a golf course. The 200 year old light house consists of 192 steps and offers excellent sea-front views.
9. Brighton Beach
Brighton Beach is at the southern part of the New York City borough of Brooklyn and is also known as "Little Odessa" due its Russian and eastern European population. It is a lively neighborhood due to its residential buildings, traditional ethnic restaurants, and food markets. This beach attracts more surfers and sun-bathers than the nearby Coney Island beach.
10 Best Things To Do In New York For First-time Visitors
10. Manhattan Beach
Within walking distance and at the east of Brighton beach in the same Brooklyn peninsula, is the Manhattan beach which is popular with families and outdoor enthusiasts. It was created in 1877 as a summer resort and is now a popular destination for family picnics and barbecues. There are several parks and facilities for tennis, handball, and other activities.
For our editorial codes of conduct and copyright disclaimer, please click here.
Book your trip to New York and explore these beautiful beaches near New York to have an amazing time on your vacation. Make sure to gather your friends and get out there in the sun. It's going to be magical, we promise.
Frequently Asked Questions About Beaches Near New York
What is the closest beach to New York City?
The following are the popular beaches near New York City - Rockaway Beach, Brighton Beach, Coney Island, Ditch Plains, Long Island. Fort Tilden, Asbury Park, Pier 4 Beach, etc.
What's the cleanest beach in New York?
Fort Tilden Beach is known to be the cleanest beach in the NYC. It comprises of three-mile stretch of clean sand, trees and grassy dunes.
Are there private beaches in New York?
While the public beaches on the oceanfront of Coney Island are often overcrowded, the other side of the peninsula contains a series of small, private hideaways along the wild shoreline of Coney Island Creek.
---
Looking To Book A Holiday Package?
---