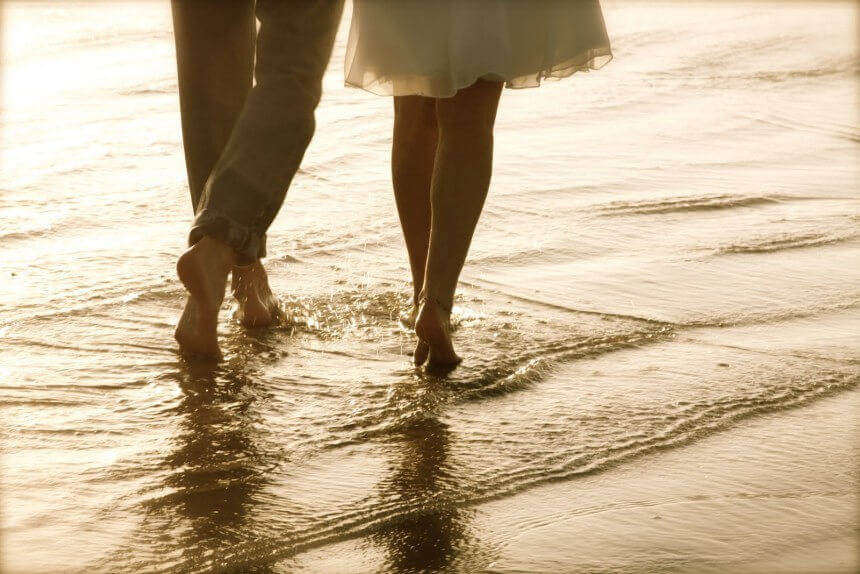 A large percentage of newlywed couples head to Andaman every year. Similar itineraries are available on different travel portals, and all offer similar hotel stays and activities in their packages. If that makes you drop the idea of a honeymoon in Andaman, pause! Pause, read, and then decide. The land of Kalapani is actually a land of crystal blue waters. And if you are looking to have a romantic honeymoon here, a unique one at that, stay away from the cliches. Here are some unusual alterations that can make it an awesome experience for you.
Table Of Content
Best Time To Plan A Honeymoon In Andaman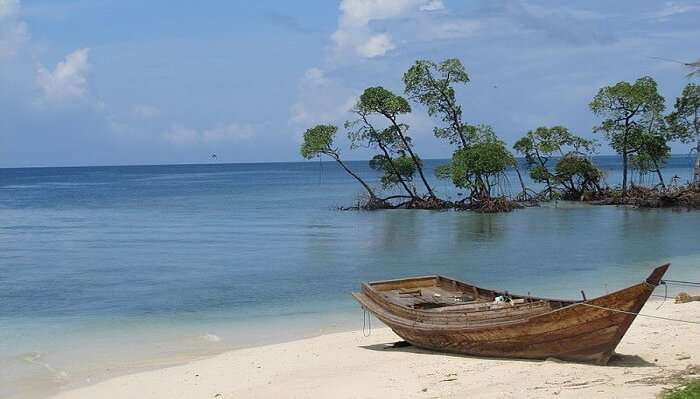 Are you searching how to plan honeymoon in Andaman? Andaman has a moderate climate and one can visit it at any time during the year. But the best time to plan a honeymoon in Andaman is from October to May. October to March is the winter season here which is also the best time to enjoy the water activities at the beaches in Andaman. The skies are clear and the temperature is pleasant during the winter season here. There is also an exciting beach festival that takes place in the month of April here. Thus, these are some of the best months to plan a honeymoon in Andaman.
5 Places To Visit For Honeymoon In Andaman
Andaman is a beautiful Indian archipelago with the most romantic places in Andaman to explore. Have a look at the places that you shouldn't miss on a honeymoon in Andaman. Keep scrolling down and read along!
1. Havelock Island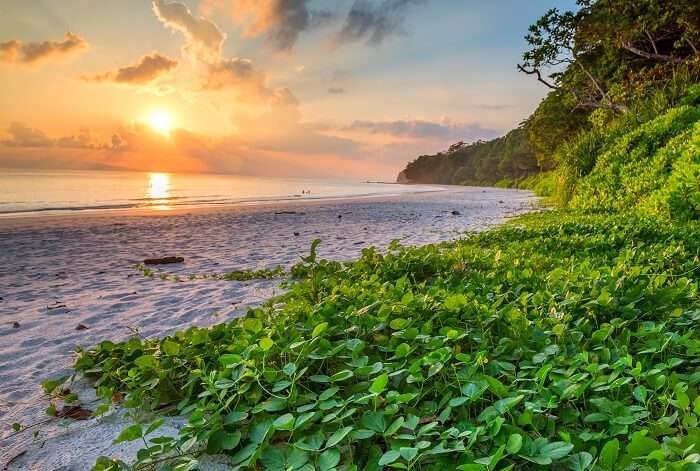 Famous for its dive sites and beaches, Havelock Island is the perfect island for couples. It offers one with thrilling activities to enjoy like diving, snorkeling, kayaking and more. If one is looking for a more laid back honeymoon vacay, then too Havelock is a perfect choice. It has some of the most beautiful beaches for one to unwind and relax. Don't forget to indulge in the amazing things to do in Havelock Island.
Places To Visit: Radhanagar Beach, Elephant Beach, Kalapathar Beach
Suggested Read: A Guide To Elephant Beach: Traversing The Most Silent Beach Of Andaman
2. Neil Island

Neil Island is an epitome of scenic beauty. The island with its beautiful environs is paradisiacal. The white sand beaches here are perfect to enjoy evening strolls with your partner. The waters are calm and clean and one can enjoy swimming and diving. Enjoy candlelight dinners at the beach and plan romantic dates for the perfect honeymoon in Andaman at Neil Island.
Places To Visit: Laxmanpur Beach, Sitapur Beach, Bharatpur Beach
3. Little Andaman

Little Andaman is another beautiful island to visit on a 2023 honeymoon trip to Andaman. One can spend some quality time with their partner at the pristine beaches here. The seaside resorts are beautiful offering one with all the luxuries. It is a perfect escape for a beautiful honeymoon in Andaman.
Places To Visit: Butler Bay Beach, Kalapathar Beach, White Surf Waterfall
Suggested Read: 14 Thrilling Water Sports In Andaman That All Adventure Enthusiasts Must Try
4. Cuthbert Bay Wildlife Sanctuary

Image Credit: Bernard Gagnon for Wikimedia Commons
Considered as one of the best honeymoon places in Andaman, Cuthbert Bay Wildlife Sanctuary is a turtle-nesting ground. The best time to visit this wildlife sanctuary is between October to April. You can spot Olive Ridley turtle, Hawksbill, spotted deer, and Leatherback turtles at this spectacular Cuthbert Bay Wildlife Sanctuary in Andman and Nicobar Islands.
Location: Andman and Nicobar Islands
5. Samudrika Marine Museum

Image Credit: Ritiks for Wikimedia Commons
Located near Andaman Teal House, Samudrika Marine Museum is one of the most famous tourist attractions for all marine lovers. This museum was built to spread awareness about the ocean and marine life. Visit this museum to witness cells, corals, and a few species of colorful fishes.
Location: Haddo Road, Port Blair, Andaman, and the Nicobar Islands
Places To Stay For Honeymoon In Andaman
Wondering whether Andaman good for honeymoon? A perfect honeymoon is one when the accommodation is perfect, the necessities are looked after and the setting is beautiful. Some of these places in Andaman are the best options for one to stay at for a honeymoon. Have a look.
1. Silver Sand Beach Resort Havelock

Image Source
Silver Sand Beach Resort is a beautiful resort located on Havelock Island in Andaman. With beautiful surroundings and the perfect ambiance, it makes for a great place for honeymooners to stay. The rooms come with beautiful garden views and the property also has an inhouse bar for the guests to enjoy exotic drinks and more.
Location: Beach No. 5, Vijay Nagar Beach, 744211 Havelock Island, India
2. Munjoh Ocean Resort

Image Source
Another beautiful resort situated on Havelock Island is Munjoh Ocean Resort. It is an amazing stay option for honeymooners and comes with ocean suites, pool suites and more. One can choose according to their preferences. Other than the comfortable rooms that come with all the basic amenities, the resort features an in-house restaurant which serves delicious seafood and continental cuisines.
Location: Beach 5, 744211 Havelock Island, India
Suggested Read: 19 Best Hotels And Resorts In Andaman That Fit Under Every Budget
3. Sea Princess Beach Resort

Image Source
With an outdoor pool and beautiful views of the sea, Sea Princess Beach Resort is another great option for honeymooners. The rooms come with a garden or pool view. The resort is set in lush green environs and the ambiance is calm and tranquil. The resort also features an onsite bar for the guests.
Location: New Wandoor Beach, Wandoor, 744105 Manglutān, India
How To Reach Andaman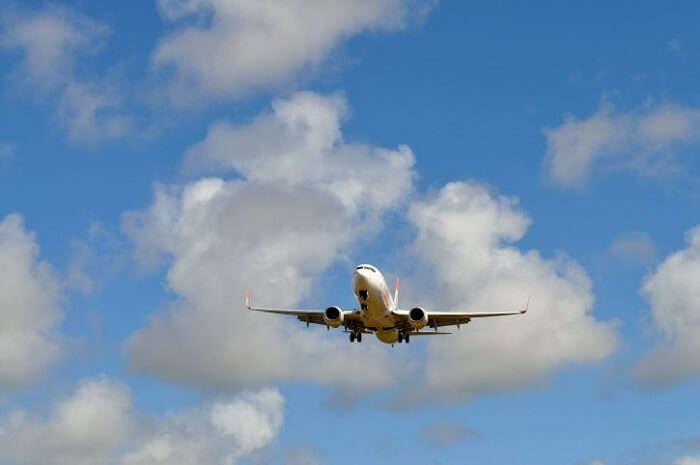 The best way to reach Andaman is to take a flight to Port Blair. Flights are available to Port Blair from multiple Indian cities. There are no direct road or rail routes available to Andaman. One can take a train or road trip to Chennai, after which one will have to again board a flight. The waterway is another option available but not too feasible as it takes one 2 to 3 days via ship to reach Port Blair from the Indian mainland.
Suggested Read: 13 Top Sea-Facing And Beach Resorts In Port Blair, Andaman
3 Legit Tips For Honeymoon In Andaman
If you're planning a honeymoon anytime soon to Andaman and Nicobar Islands then make sure to keep in mind these 3 legit tips and enjoy a memorable time with your partner at the best honeymoon destinations in Andaman.
1. DIY Planning

Make your own itinerary, pick the best honeymoon places in Andaman choose a hotel you like, get in touch and bargain. Yes, it's easier to outsource these hassles to a travel portal, but few will customize it for you. Most itineraries have a set package of places to visit in Andaman for honeymoon, but you are the best judge of how many days you want to simply soak on the sunny beach, and how many days you'd spend in awe of the underwater universe. Alongside this, one must also have an idea about the best honeymoon places in Andaman.
Gaurav Saxena from Delhi who went to Andaman in 2014 says, "While my wife was looking at three-star hotels through travel agents of leading travel portals, I surprised her by bargaining a deal with Munjoh Resorts, which still isn't on the prefixed itineraries of many portals."
You could also choose islands you find most fascinating. Ask those who have been there and connect with a local agent to know more and make the bookings. Aditya Jha from Bangalore adds, "I didn't settle with packages that were being offered to me. Luckily I had someone to guide me, and I made sure I took my wife to islands like Cinque and Ross & Smith, which are far less commercial. It was an effort to make the arrangements, but the experience was totally worth it"
Note: Hotels and resorts are recommended on the basis of beautiful views and experiences they allow. Also, the suggested destinations need special permissions (from the forest department); not more money.
2. Fishing And Kayaking

Yes, scuba and snorkeling are good experiences, and all couples in Andaman for honeymoon keep them in their checklist. Go for them, the ocean is full of treasures, but explore other sports like kayaking, sea bed walking, fishing and island camping too. Make sure to do good research for the best time for honeymoon in Andaman to enjoy the finest views around the island. They are as romantic as your romantic beach dinner and give you a lot of memories of doing adventurous things together.
Ashima Sachdeva shares, "On our honeymoon, we went for kayaking in Havelock after the sunset. It was the most peaceful experience ever. It's thrilling to be in the middle of the ocean and sea no city lights at all. It makes you realize how powerful nature and the universe are." The daytime kayaking is equally mesmerizing as you row through narrow mangrove gullies.
Tip: Advance booking are suggested. Also, underwater photography allows you to take your romantic memories to home.
Suggested Read: Sail To Unlock Mysteries Of Little Andaman Island With This Travel Guide
3. Cuisine

If you love coastal cuisines and seafood, a honeymoon in Andaman is just perfect. From small restaurants to four-star restaurants, everything will please your taste buds. Finding North Indian and South Indian cuisines are not going to be tough either. Vegetarian couples, however, must know what kind of options they can explore. You definitely don't want to spoil the fun because of the kind of food you don't appreciate. While the finer restaurant offers you a host of Indian, Continental, and European picks, the smaller local dhabas don't disappoint either. Try the aloo-parantha meal at Havelock or the delicious fluffy idlis at a near-by food joint. At Port Blair, one of the most popular vegetarian family restaurants is Annapurna at MG Road. Their thali is the most recommended dish.
As Priya Bhatnagar states, "We found this local place where we tried Parota, served with unlimited curry and chutneys, at Rs 20 each. It wasn't a typical lavish meal, which we could have at our resort, but it was fun to take a stroll till this place early morning and feast on a lip-smacking yet simple meal."
Suggested Read: 53 Best Places To Visit In Andaman
Does these ideas give you that urge to pack your bags and fly off for your honeymoon in Andaman Islands? If yes, then don't wait for the right time and head to these exotic beaches with your partner. And for a stress-free holiday experience let TravelTriangle plan your much-awaited honeymoon trip to Andaman.
For our editorial codes of conduct and copyright disclaimer, please click here.
Frequently Asked Questions About Honeymoon In Andaman
Is Andaman a good destination for honeymoon?
Yes, Andaman is one of the best places to spend your honeymoon. With oodles of natural beauty, tranquility, opportunities for adventurous activities, beach resorts, and sheer calmness, the destination makes a perfect base to indulge in a memorable honeymoon experience. Some attractions where you can visit with your better half include Neil Island, North Bay, Havelock Island, and more.
Is it safe to visit Andaman during Covid?
Yes, you can plan a trip to Andaman during the current Covid situation. However, you need to take all the safety measures and abide by government protocols. Keep wearing a mask when surrounded by people or when going out, maintain the required social distance, and don't forget to sanitize your hands at certain intervals.
Do we need a passport for Andaman?
Andaman is a part of India thus it doesn't require a passport to visit this place for Indian citizens. However, if someone is planning to visit the tribal regions of the Andaman and Nicobar islands then special permission is required.
What should I wear in Andaman?
The travellers can carry light cotton clothes, bathing suits, hats, caps, shrugs, and poncho to wear in Andaman and Nicobar islands
Is alcohol allowed in Andaman?
Alcohol is easily available in and around the regions in government-licensed shops of Andaman and Nicobar except for some restricted areas.
How to plan a honeymoon in Andaman?
Here is how to plan your Andaman honeymoon with step by step process. 1. First, decide the best time to visit and the duration of your Andaman honeymoon. These factors will determine the budget for your honeymoon. 2. Now, book your flight tickets and hotel room. 3. Plan your itinerary after thorough research on attractions and experiences in Andaman. Must include Havelock Island, Port Blair, and Baratang Island. You can add more places according to your budget and duration. 4. Get packing when the trip is near. 5. Enjoy your Andaman honeymoon.
Which are the best restaurants in the Andaman Islands?
Some of the best restaurants in the Andaman and Nicobar Islands where you can enjoy a scrumptious meal are Fat Martin, Sea Dragon Restaurant, and Bliss Holiday Resort & Restaurants.
Where can I enjoy scuba diving on Andaman Island?
If you want to enjoy a spectacular scuba diving experience, you must try at Havelock Island, Barren Island, North Bay, and Lalaji Bay Beach
People Also Read:
Honeymoon In Coorg Honeymoon In Gangtok Honeymoon In Rajasthan