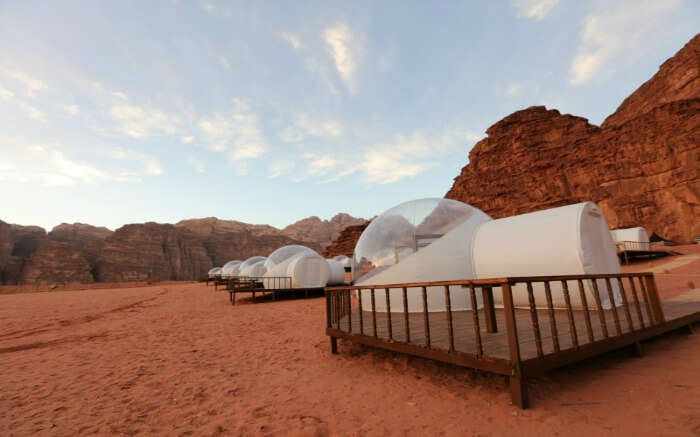 Courtesy to the outlandish landscape, Wadi Rum has been rightly given the name Valley of the Moon. This protected desert area is stipped with craggy rocks projecting rust tinges. Camping in such isolated and alien spot, without having to split with the luxuries, might sound delusional. But believe us glamping in Wadi Rum could be the best affair to experience in Jordan.
Unwinding amid desert, interacting with friendly locals, or kissing the sky on a hot air balloon; there's a lot to luxuriate in when you're camping in Wadi Rum. Listed below are the top options to consider if you're up for the adventure.
1. Bedouin Lifestyle Camp – Presenting the Bedouin heritage at its purest

Location: Wadi Rum Village, Quairah District, Aqaba Governorate
The Bedouin Lifestyle Camp give an insight to authentic Bedouin culture; you'll see the glimpse in everything from decor theme to hospitality. Debka dance performances, Bedouin coffee, and narration of the history will transport you to the locals' life while you're camping at Wadi Rum as a visitor.
What's special: The camp authorities provide the comfiest stay, while presenting their ethnicity with grace.
Tariff per night: INR 2,500 onwards

Must Read: Top 7 Reasons To Visit Jordan Right Now
2. Bait Ali Lodge – Looking like a plush settlement amid desert

Location: Wadi Rum Village
Looking like a city of its own, Bait Ali Lodge could be your best bet for camping at Wadi Rum. This campsite witfully blends the shade of local heritage with the ruggedness of desert and elegance of modernity.
Fridays are generally dedicated to parties and BBQs, and the pool is a happening place to beat the heat. If you're up for a bird's' eye view, then the hot air balloon flight will feed your soul.
What's special: Bait Ali Lodge features a swimming pool, an amenitiy not so common when it comes to camping at Wadi Rum.
Tariff per night: 5,000 onwards

3. Rahayeb Desert Camp – Glamourous camping in remote area of Wadi Rum

Location: Disi, Protected Area
The Rahayeb is a recommended spot for glamping in Wadi Rum for more than one reason. It's settled in an isolated locale of Wadi Rum Protected Area, and this aspect unearths the essential understanding of desert environment. The taste of local culture is also served curled up with comfort.
The camp offers activities like hot air balloon ride, and ultra light flight which is a 40 minute flight experience leaving you feel like a bird.
What's special: Presenting the Bedouin heritage, Rahayeb Desert Camp also offers a number of activities like hot air balloon ride, and ultra light flight.
Tariff per night: INR 5,000 onwards

Suggested Read: 15 Best Places To Visit In Jordan: A Blend Of Old And New
4. Wadi Rum Night Luxury Camp – Standing out with its bubble rooms

Location: Anfeshiah , Wadi Rum Protected Area and Natural Reserve
Adding luxe to ordinary camping Wadi Rum Night Luxury Camp tops the list when it comes to glamping in Wadi Rum. The accommodation comes in two categories here- tented and bubble rooms. The tented rooms are spacious and craftily furnished, while the bubble rooms allow the direct view of the sky and desert.
Camel rides, jeep adventure, and sand boarding are some of the activities you can indulge in when you're in this Wadi Rum luxury camp.
What's special: All the rooms here are luxurious, and furnished with an attention to detail. The bubble rooms with transparent sides give you a lovely view of the vicinity.
Tariff per night: INR 9,000 onwards

5. Sun City Camp – Tents from outside, suites insides

Location: Wadi Rum
The Sun City is surrounded by soaring rocks. Each of the tents are designed to outshine modernity, you won't even realize it's a tented accommodation from the inside. The private sitting area outside the tent is made cozy enough to unwind.
Camel safaris, hot air ballooning, and jeep safari are among the best things to do in Jordan and these are activities offered in the property.
What's special: The fact that the interiors are designed to defy the conventional tented look make this a special spot for glamping in Wadi Rum. The decor consists of modern furniture and hard flooring to give it a classy look.
Tariff per night: 11,500 onwards

So, you don't have to necessarily forget all the amenities for camping in the deserted area like Wadi Rum.
Further Read: World's Best Glamping Resorts For Honeymoon Are So Good, You Won't Mind Ditching 5 Star Stays Even Once
Frequently Asked Questions About Glamping In Wadi Rum
What does Wadi Rum mean?
Wadi Rum is an Arabic term which means Valley of Light or Roman Valley. It is called Roman Valley because you'll find the Roman ruins in this site. It even translates to Valley of the Moon.
Is Wadi Rum worth visiting?
Yes, Wadi Rum is worth a visit owing to the breathtaking sites that will ensure a memorable travel experience to you. You can visit this place for glamping at some of the best sites.
Is Wadi Rum safe?
Yes, this place is considered to be safe for the tourists of all kinds who come here to tey out glamping and other activities.
What is Wadi Rum famous for?
Wadi Rum Protected Area is known for the awe-striking sandstone mountains, canyons, dunes, arches, and desert valleys. This place has also been used as shooting location for the movies The Martian, Lawrence of Arabia, and Prometheus.
How big is Wadi Rum?
The beautiful location of Wadi Rum has an area of around 720 square kilometers. The area is frequented by tourists who visit this place for glamping.
Why is Wadi Rum called the Valley of the Moon?
Wadi Rum is popularly known as the Valley of the Moon. This valley has been cut into granite rock as well as sandstone in the southern region of Jordan. The place is known for Zalabia Bedouin who lives here and works with climbers as well as trekkers, promoting eco-adventure tourism.
Is Petra in Wadi Rum?
A well-known historical site in Jordan, Petra is located at a distance of 113 kilometers from Wadi Rum. From the car, it will take you around 1 hour and 50 minutes to cover the distance between the two sites of Jordan. Petra was been recorded amongst UNESCO World Heritage Sites in July 2011.
---
Looking To Book A Holiday Package?
Book memorable holidays on TravelTriangle with 650+ verified travel agents for 65+ domestic and international destinations.
---