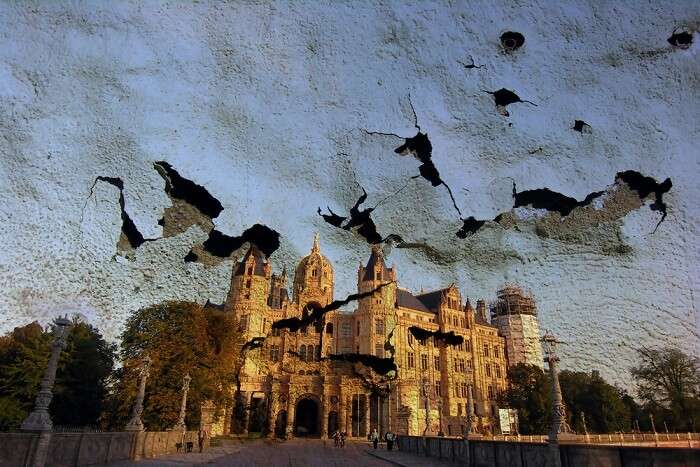 Halloween might not be a Germany thing as it is celebrated in other countries, but when it comes to a number of spooky sights, Germany is no less than a Halloween themed party for supernaturalism. With Halloween being around the corner, you might want to visit or be interested in the haunted places in Germany that are widely famous for the kind of chills they give. However there is no guarantee that you'd actually witness any ghost or a three-legged spooky dog that you might not want to pet, but there are countless spots in Germany that the locals keep shun about, especially the haunting.
8 Most Haunted Places in Germany
It's about time that the spookiest festival, Halloween is approaching. While you set yourself on an exotic trip to Germany this year, let's walk through a list of 8 most haunted places in Germany to feel the chills already. These places might be eerie but are worth a visit. Take a look.
1. Berlin's Citadel
What is not to like about this place and what a spooky place without a tragic love story? A classic horror love story awaits you in the Berlin's Citadel which is widely famous for the story- almost 6 centuries ago a local ruler Joachim 2nd had an ex-lover, Anna Sydow who was a short time prisoner and was locked in the castle. On his deathbed, the ruler asked his son to take care of Anna. But the son apparently ditched his father and kept the poor lover as a prisoner. If we believe the locals, Anna is still felt roaming the halls and yearning to leave the citadel, but unfortunately her pleas can only haunt forever.
Must Read: 10 Best Berlin Churches To Get Closer To Your Inner Self In The Enchanting Capital Of Germany
2. Zvíkov Castle
The Zvíkov Castle in Zvíkovské Podhradí, Czech Republic is said to one of the creepiest places in Germany. It is said that at the end of 16th century, the castle was badly haunted by some supernatural entity. It is believed that the castle still experiences bizarre happenings. People have mentioned of strange voices, abnormal pictures, and technical malfunctions, odd animal behavior, and the spookiest part is when candles and fires blow up anytime. If someone sleeps in the main tower, he is likely to die within a year.
3. The White Lady In Freihung
This white lady is quite poles apart that the stories Old Nan used to tell. The spirit of a woman is still said to haunt Freihung who died an unnatural death while she was in the middle ages of her life. She used old mining tunnels as her medium to scare people as she glided through them until the time the local residents were scared enough to destroy the tunnels. This, however, didn't stop the spooky white lady to haunt the locality. She now uses car rearview mirrors as her medium.
Suggested Read: Germany Nightlife: An Ultimate Guide To Experience A Kaleidoscope Of Drinks And Music
4. Poveglia, Italy
This small island is located nearby Venice in Italy and is considered to be the perfect landing for a spooky destination. Earlier, this island was inhabited by refugees during the Ottoman inconsistencies, along with treating patients away from the land. Like any other horror movie, Poveglia is said to be haunted by a mental hospital that dated back in 1922. It is said that a crazy doctor used to experiment his medical procedure on patients. He killed himself on this very island after he was traumatized by the spirits living there.
5. Château Miranda
What's a castle that is not haunted? The Château Miranda (dates back around the mid-1800s) is said to be the one of the creepiest castles in Europe. Likewise the Poveglia Island, this castle too housed mentally ill patients from 1950, earning it the nickname- Chateau de Noisy. It once used to be a very beautiful castle, but now it is neglected and dilapidated. If the haunting weren't enough, the castle is almost turned into ruins by the trespassers who shattered doors and windows and have badly ruined the floors.
Suggested Read: 5 Waterfalls In Germany To Witness The Charismatic Beauty Of Nature
6. Wolfsegg Castle
Let's talk about a thriller here. The owner of a beautiful castle plots the murder of his wife who was cheating on him and when the murder went well, he too died. Sounds like any old Hollywood movie? Well however this may look like a thriller plot, the Wolfsegg Castle is an actual Bavarian Castle. The haunting here dates back to the 1500s. The owner of the castle murdered his wife after he found that she was having an affair. He too died soon after with his two sons. Visitors to this castle have reported seeing a "White Woman" that passes by the hallways and strange but eerie noises sending chills down.
Suggested Read: Oktoberfest Germany 2022: Bottoms Up Your Mugs At The World's Largest Beer Fest
7. Pfaueninsel
This renowned historical park located in Berlin is the perfect example of a pictorial construction. Being a serene park, Pfaueninsel is regularly visited by wild animals but it is well said to be a haunted park in Germany. Legends believe that the alchemist, Johann Kunckel haunts the park. People believe him to have a dark figure, eerie glowing red eyes and he is cursed in his afterlife. It is said that Kunckel used to perform his bizarre experiments related to black magic in his laboratory and thus, he haunts the park at midnight.
Suggested Read: Winter In Germany: Witness The Beauty & Grandeur Of The Country Like Never Before!
8. Babenhausen Barracks
Germany will forever be remembered for Adolf Hitler and his experiments with the Nazis. Apart from being a historical significance, the history has a dark side too. Apparently around the Babenhausen Barracks in central Germany, many soldiers in Nazi uniforms have been spotted marching. The spookiest thing is that these soldiers pick up ringing phones only to hear a strange woman's voice talking backwards. If we believe the legends, there was a witch hanged in the town during the early 1800s. Her ghost is said to seduce and killed soldiers in 1900s. This is enough to send chills down the spine.
Further Read: Shopping In Germany: A Look At The 10 Best Shopping Boulevards, Flea Markets & More
If you really wish to spend your Halloween the grand way, these are not the only haunted places in Germany. The country is a blend of spooky tales and haunted spots that are enough to give you a nightmare. Though haunted, these spots are actually beautiful and worth visiting once in a lifetime. Book your trip to Germany with TravelTriangle and experience a spine-chilling holiday like never before!
Frequently Asked Questions About Haunted Places In Germany
Which is the best time to visit Germany?
The best time to visit Germany is from May to September. The tourism is in full swing and the weather is also great as the days are long, sunny with cool winds.
What are the must visit places in Germany?
The must visit places in Germany are: 1. Neuschwanstein Castle 2. Brandenburg Gate 3. Cologne Cathedral 4. Museum island 5. Merlin Wall Memorial 6. Romantic Road 7. Memorial to the Murdered Jews 8. The Eagle's Nest 9. Eltz castle
What is Germany famous for?
Germany is famous for a lot of things. The top ones are: 1. Beer 2. Oktober fest 3. Sausages 4. Bread 5. Cars 6. Music 7. Berlin
What are some of the must-eat dishes in Germany?
The must -eat dishes that people must try in germany are: 1. Sauerbraten (Roast Beef Stew) 2. Schweinshaxe (Pork Knuckle) 3. Bratwurst (Grilled Sausage) 4. Kartoffelkloesse (Potato Dumplings) 5. Sauerkraut (Fermented Cabbage) 6. Spätzle (Egg Noodles) 7. Rinderroulade (Beef Roll)
What are some of the souvenirs that people must-buy from Germany?
Some of the must-buy things from Germany are: 1. Christmas Ornaments and mugs 2. Drindl 3. Beer Steins 4. Cuckoo Clock 5. German Chocolate 6. Birkenstock Shoes 7. Steiff Bear 8. Nut Cracker
What all transportation options are available in Germany?
People can move around Germany very easily as there are ample of options available like trams, buses, subways, trains, suburban trains and more.
---