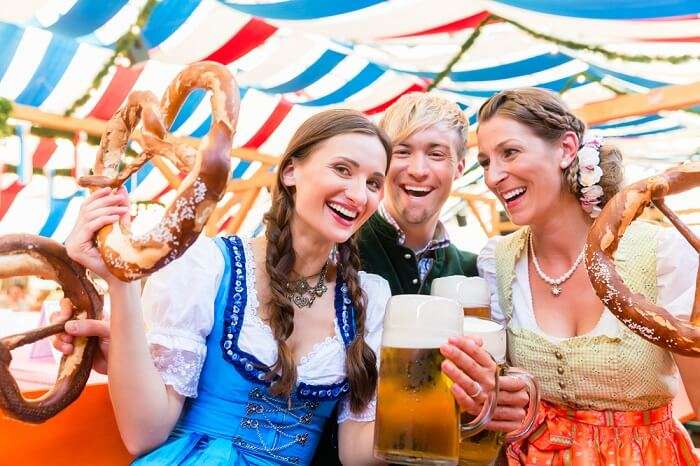 Are you ready to 'Gsuffa' (bottoms up in Bavarian language) and chug down gallons of beer at Oktoberfest Germany? If you are a big-time beer aficionado, then you must already be waiting for your departure date, ready to leave to Munich and be the part of world's largest beer fest. 
Oktoberfest Germany is the world's largest Volksfest where Germans and beer aficionados from all around the world gather every year at the fairgrounds of Wiesn to celebrate to centuries-old Bavarian traditions with millions of liters (not exaggerating!) of Munich-brewed beer and toothsome Bavarian cuisine.
September is just around the corner and the city of Munich is all set to host 6 million visitors (again, not exaggerating!) to the 16-day cultural fest. Get set to be inebriated with beer and fun at the world's largest gathering. Know everything there is to know about the festival from its history, location, beer halls, and even the dress code.
Oktoberfest Germany History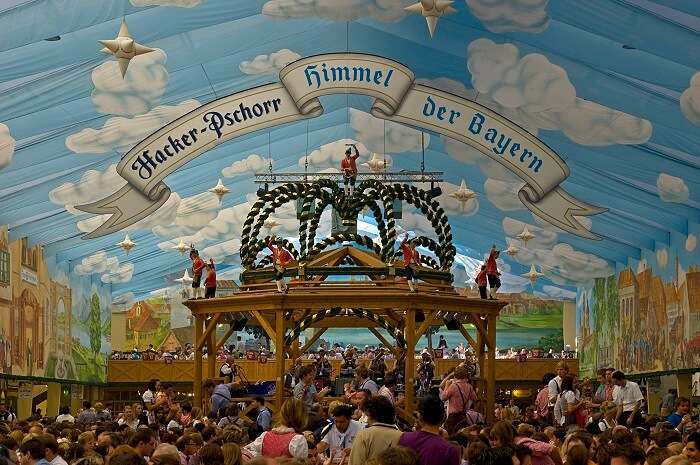 It was on October 12, 1810, when Crown Prince Ludwig and Crown Princess Therese of Saxony-Hildburghausen got married and the whole of Bavaria was invited to their reception. The horse race event marked the closing ceremony and it was then decided to continue the tradition for the subsequent years.
Small beer stalls came along to quench the thirst of the masses who attended the horse race every year. While the horse race became obsolete with time, beer stalls started gaining momentum. Before you knew it, the beer stalls were replaced with large beer tents and Oktoberfest was born as a world-wide Volksfest.
---
Europe Holiday Packages On TravelTriangle
Explore the most beautiful places to visit in Europe, from Paris to the Venice canals and from the Greek islands to the Swiss alps. Book customized packages by expert agents on TravelTriangle. Inclusive of airport transfers, cab, resort, sightseeing and meals. Best holiday experience Guaranteed. Book Now
---
Oktoberfest Germany Location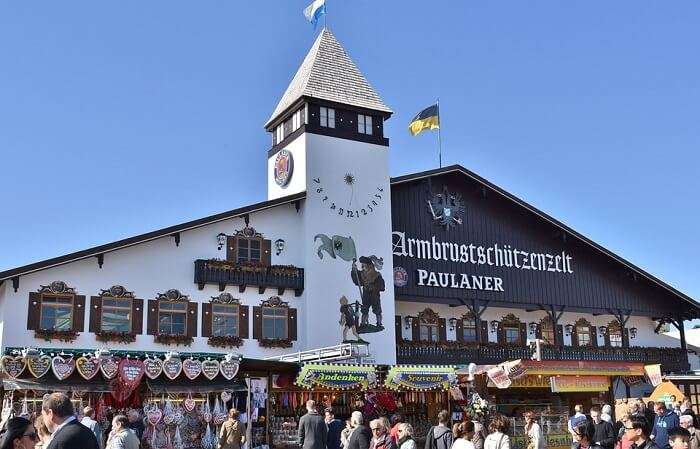 Oktoberfest takes place in Munich, Bavarian capital of Germany. Since its inception, the festivities have been taking place at Theresienwiese, a big fairground near Munich City Centre. There are 14 big brewery tents and 21 small tents in total to accommodate people taking part in the Bavarian tradition. All these tents have different experiences and offerings in terms of food menu and beer. Oktoberfest Germany 2022 will also take place at the same venue.
The largest tent which can accommodate 10,000 people is Schottenhamel. This is where the first beer of season is poured with much rapture and applause marking the beginning of the ceremony. Glöckle Wirt is the smallest tent which can only accommodate 98 people.
Must Read: Munich Nightlife: A Handy Guide For Party Animals To Explore This Bavarian Capital

Major Highlights Of Oktoberfest Germany
Oktoberfest is about celebrating centuries-old Bavarian traditions and not just getting plastered. Apart from savoring Bavarian beer and food, there are a lot of fairground attractions. Apart from souvenir stalls from where you can buy Oktoberfest merchandise like beer mugs, there are fancy rides for kids which have been part of the tradition for many years. Here's what happens during Oktoberfest Germany:
1. German Oktoberfest Outfit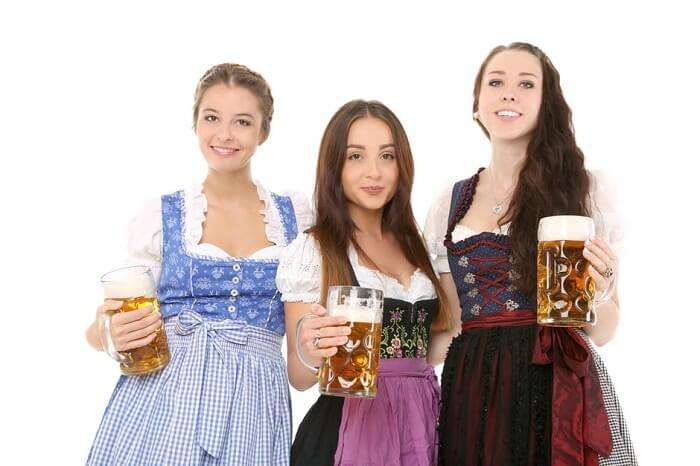 Yes, there is a dress code too; dirndls and trachts. While it is not mandatory, not following the dress code might make you feel out of the place since 80% of the people attending the festival are Germans. The traditional outfit is a huge part of the whole fanfare so make sure you wear the Oktoberfest Germany dress.
For women, white blouse with colorful dirndl aka colorful flowing skirts is the norm. While for guys, it is Lederhosen, a Bavarian-style leather shorts that are slightly above the knee.
There are various shops in Munich that sells the traditional German outfit. If you think it is a total waste of your money, think about how much fun it is and what a perfect souvenir it makes. You can improvise the skirt and the blouse later.
Suggested Read: 15 Best Things To Do In Munich In 2022 For Treating The Culture Vulture In You
2. German Oktoberfest Beer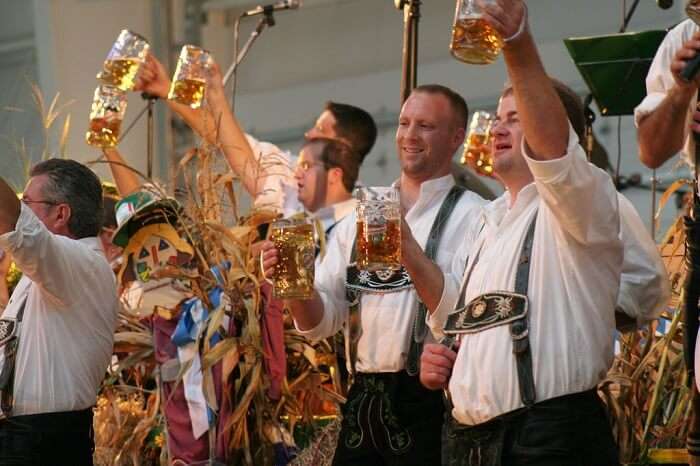 All the beer that is served at Oktoberfest in Germany is strictly 'brewed-in-Munich' only. There are 14 permitted brewers who can serve beer at Oktoberfest which include Paulaner, Spaten, Hacker-Pschorr, Augustiner, Hofbräu, and Löwenbräu. Well, here is an experience for all the beer aficionados out there – to try out all 14 beers from different brewers in Munich.
3. German Oktoberfest Food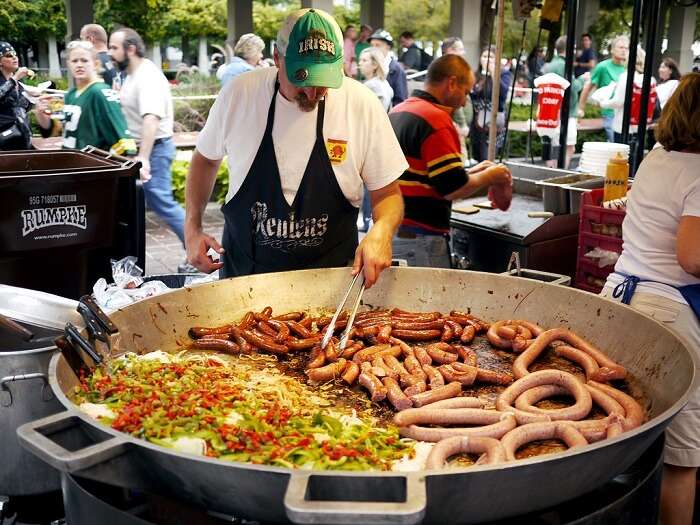 Oktoberfest is a pretty good reason to throw dieting out of the window and try the authentic Bavarian cuisine. It is a dream come true for epicureans and food lovers. Feast upon the following lip-smacking dishes at the fest to chug down with a large mug of beer:
Bratwurst (German sausage) stewed with Sauerkraut (cabbage)
Sweet and salty Pretzels with orange-vanilla sugar
Beer braised brisket
Grilled fish on a stick
Knödel (potato or flour dumplings)
Wiener Schnitzel
Suggested Read: 12 Tourist Places In Munich You Should Not Miss

Details Of Oktoberfest Germany 2022
Here are some important details about Octoberfest 2022:
Oktoberfest Germany 2022 Dates And Timings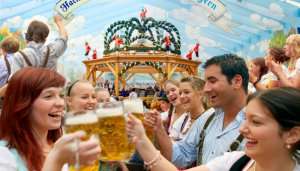 Image Source
Oktoberfest Germany dates for this year are September 19th, 2022. It is a 16-day event. The festival concludes on October 4th, 2022.
If you thought, the fest is open 24 hours, you could not be more wrong. There are fixed timings when the beer stalls and events for the day commence and end.
Beer Serving Hours
Opening day: 12.00 noon – 10.30 pm
Weekdays: 10.00 am – 10.30 pm
Saturday, Sunday & holiday: 09.00 am – 10.30 pm
Daily closing hour: 12.30 am 'Käfers Wiesnschänke' and 'Weinzelt' open until 1.00 am
Fairground attractions & sideshows
Opening day: 12.00 noon-midnight
Monday – Thursday: 10 am – 11.30 pm
Friday, Saturday: 10.00 am – midnight
Sunday: 10 am – 11.30 pm
End of Oktoberfest 2022
Sunday, October 4th, 2022 11.30 pm
Suggested Read: Germany Nightlife: An Ultimate Guide To Experience A Kaleidoscope Of Drinks And Music

Oktoberfest Germany Tickets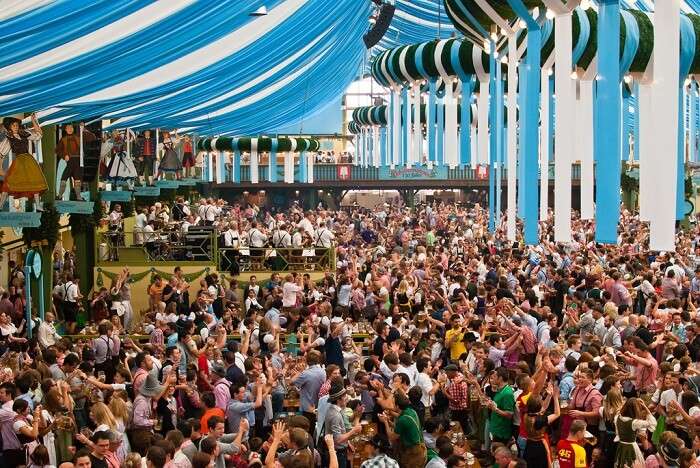 Image Source
The entry to Oktoberfest is FREE (don't get too excited, hard drinkers!). There is no need to purchase any passes or tickets to access entry. However, you can use vouchers or tickets which are equivalent of the tickets to spend on food and drinks.
Oktoberfest Germany Food And Beer Cost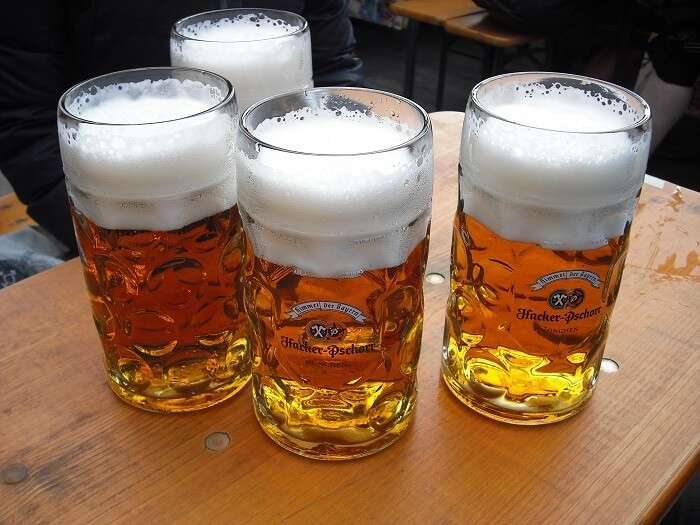 Read below to know how much do the food and beer cost at Oktoberfest:
Beer Prices: You can get a beer mug for as low as 10 Euros (INR 823). The beer price in bigger tents begin as low as 11.50 Euros (INR 947) and at smaller tents, it starts from INR 900. There is also a 2 Euros (INR 164) deposit for the beer mug they give you.
Small meals and snacks are as cheap as 5 Euros (INR 420).
For non-alcoholic drinks, teetotalers will have to shell out 8 Euros (INR 658).
Suggested Read: Shopping In Germany: A Look At The 10 Best Shopping Boulevards, Flea Markets & More

Facts About Oktoberfest In Germany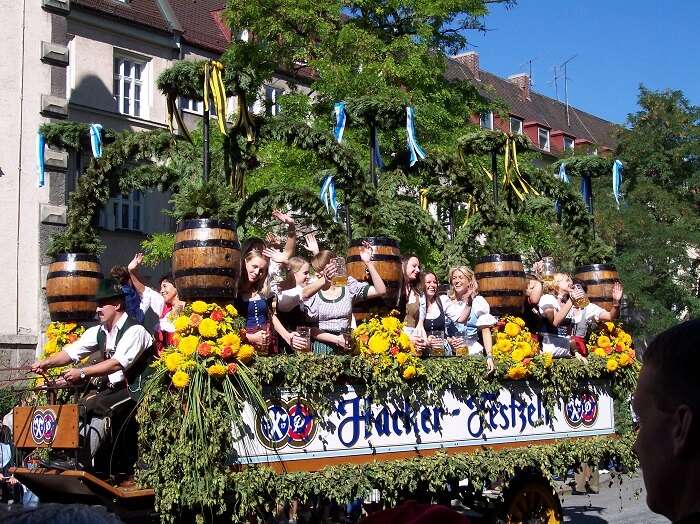 The reason why it is called an Oktoberfest is that it concludes in October and not begins. The festival commences in September.
The only beer you will find at the fest is the beer brewed in the city limits of Munich to keep the Bavarian traditions alive. Also, the beer served during the festivity is specially brewed extra strong for the Oktoberfest.
Oktoberfest has been canceled 24 times till now mostly due to the reasons of war and epidemic like cholera.
One fact the attendees should keep in mind is that no one is allowed to raise their beer mugs until the Mayor says O'zapft is! Meaning 'it is tapped'. Keep your ears open for this Bavarian term.
There is a 20-year waiting list for those who want to set up a food stall or tent at the fest.
Where To Stay In Munich During Oktoberfest Germany
Check out these comfortable stay options in Munich, Germany:
1. Hotel Sofitel Munich Bayerpost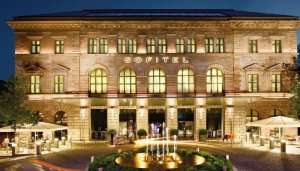 Just 2-minute walk from Munich Train Station, Hotel Sofitel in Munich is your address for a luxurious stay. Its elegant rooms and glamorous suite offer even the tiniest of things to keep your stay comfortable and cozy.
Address: Bayerstraße 12, 80335 München, Germany
Tariff: INR 16,137 onwards
2. Aloft Munich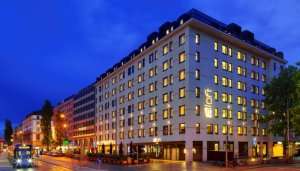 A 4-star hotel in the city center, this contemporary hotel is one of the best places to stay in Munich. The hotel is just 2 km from the Hofbräuhaus am Platzl beer halls. Expect tremendous views of the streets from your bedroom window.
Address: Bayerstraße 37, 80335 München, Germany
Tariff: INR 10,276 onwards
Suggested Read: 15 Top Things To Do In Germany That Offer A Glimpse Of Its Kaleidoscopic Culture

3. Leonardo Hotel Munich City South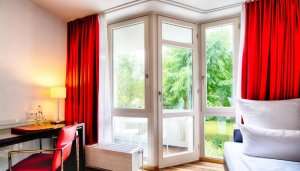 Just 8-minute walk from U-Bahn Station, Leonardo offers budget and comfortable stay in the city of Munich. The sound-proof colorful modern rooms are the perfect place to crash in at the end of the day when you are done enjoying the hoorah of the beer fest.
Address: Hofmannstraße 1, 81379 München, Germany
Tariff: INR 4,381 onwards
Tips For Attending Oktoberfest Germany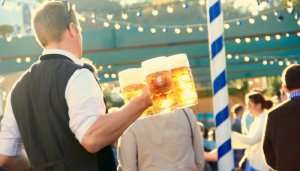 Long queues at the tents: While the tents open at 10 in the morning, people start forming queues outside the venue as early as 7 AM. Hence, there is no point in reaching the venue later than 10 as all the tents will already be full.
Long queues outside the restrooms because obviously. Even if you can hold your alcohol very well, your bladder has a limit.
Vomits because when there is so much to drink, some people may find it difficult to control their limits. Don't get yourself too drunk.
Beer Spills: You will either be getting spilled at or spilling your beer on someone.
Rainfall and cold temperatures as opposed to generally dry weather in autumn.
How To Reach Oktoberfest Germany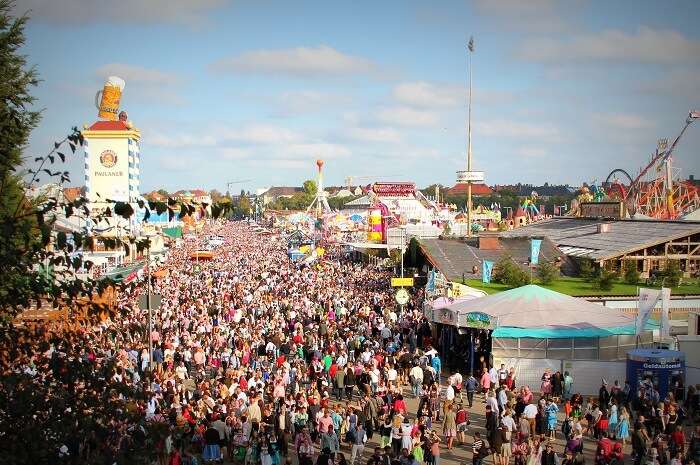 By Rail: Theresienwiese is located at a walkable distance from the Central Railway Station and U-Bahn Station. While U-Bahn is the underground metro system in Germany, S-Bahn is the central railway system which operates both above and underground. The subway ticket costs around INR 955.
By Air: Munich has its own airport which has direct flights from New Delhi and all the European cities. Munich Airport is connected with the city center via S1 and S8 train lines which have a frequency of 10 minutes. The train journey from the airport to the city center takes about 20 minutes.
Further Read: 10 Best Museums In Germany That'll Give You A True Glimpse Of The Country's Historic Past

While Oktoberfest is an irresistible excuse to plan a trip to Germany, one day is enough to attend the shindig. You can plan rest of the days to explore the admirable landscapes and its rich culture and history.
People Also Read:
Day Of The Dead Pro Kabaddi League Schedule Grand Prix In Singapore
---
Looking To Book An International Holiday?
Book memorable holidays on TravelTriangle with 650+ verified travel agents for 65+ domestic and international destinations.
---