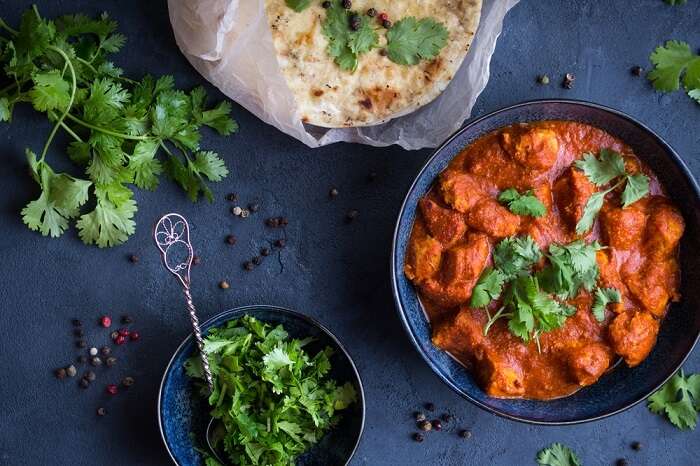 Craving for some Indian taste while wandering into the streets of the vibrant Barcelona? No need to worry, as there are endless Indian restaurants in Barcelona to satisfy the appetite of desi tourists. While Barcelona might be well-known for its delicious tapas and fresh seafood, there is also a flourishing scene of Indian restaurants in this city. The availability of Indian cuisine is loved by both Indian tourists as well as citizens of the city who relish Indian food. See what all there is to serve your hungry soul in Barcelona regarding spicy and tangy Indian food!
Top Indian Restaurants In Barcelona
For a town that claims a large Asian population, the food options here have to get it right, and they're doing too. After trying different authentic meals of the Barcelona city, if you start yearning for your favorite Indian food, these restaurants in Barcelona won't disappoint you. Here's our top list:
1. Koh-i-Noor India

As the name itself suggests, Restaurante Koh-i-Noor India is viewed by numerous to be an excellent Indian restaurant in Barcelona. Since 1981, it has been offering home-made curries. The restaurant boasts of its fresh ingredients and authenticity of the food, which it willingly customizes to suit the preferences of its guests. The food is served in a medley of flavored combinations.
One of its best meals is biryani, which of course, every Indian value for its taste and variety of spices. Also, the restaurant has a warm, welcoming ambiance and staff gives friendly service that really makes it shine out in comparison to the other eateries of a city where service can be somewhat hastened at times.
Must Try: Chicken Madras, Biryani
Address: Carrer del Marquès de Campo Sagrado, 3, 08015 Barcelona, Spain
Google Rating: 4.5/5
Website
Must Read: Barcelona In Winter: A Complete Account To Help You Plan A Wintry Spanish Spin
2. Bembi

In a more formal ambiance, this place is made to entertain yourself with the savory flavors of Indian meals. Culinary expert Anand Negi mastered himself from India and now serves delicious meals in this homely space.
Although it's more costly than other Indian eateries in Barcelona, they offer great menu bargains. In case you want to taste everything, try one of their tasting menus. They have two Indian restaurants in Barcelona. Their sister restaurant in the city is named Rangoli that likewise serves delectable Indian dishes.
Must Try: Daal Makhani, Mutton Rogan Josh
Address: Carrer del Consell de Cent, 377, 08009 Barcelona, Spain
Google Rating: 4.4/5
Website
3. Rasoi

At Rasoi, you get to enjoy tasty vegetarian meals in a luxurious environment. A perfectly decorated fine dining place to relish Indian cuisine, the restaurant is serving one of the best Indian food in the city which is a must visit for every Indian traveler.
Starters, mains, and desserts, all of the meals served at this restaurant are just fabulous given the dirt cheap rates they're priced at. Some of the best dishes to try from the menu are Garlic Chili Chicken, Chicken Cheese Chilly Tikka, and Rasoi Ki Lamb with Garlic Naan.
Must Try: Chilli Cheese Chicken, Samosa, Chaat, Paneer Rasoi Kee
Address: Carrer de Londres, 63, 08036 Barcelona, Spain
Google Rating: 4.7/5
Website
Suggested Read: 10 Most-Photographed Beautiful Streets In Barcelona That You Must Visit
4. Tandoori Nights

Relish Indian food with its harmony of flavors and aromas in a living environment in the heart of the Rival. The restaurant has a variety of wealthy Indian meals that are served on the rooftop giving you both the perfect view and ambiance!
If you are going here, do not forget to try the famous Tandoori Chicken of the eatery. Other authentic Indian meals on the menu of the restaurant include Tarka Dal, Keema Rice, Vegetables Moglai, Chicken Korma, Vegetable Vindaloo, Lamb Kashmir, and much more.
Must Try: Chicken Curry, Mango Lassi
Address: Carrer de les Carretes, 44, 08001 Barcelona, Spain
Google Rating: 4.4/5
Website
Suggested Read: Celebrate Christmas In Barcelona For An Amazing Insight Into The Spanish Traditions
5. Sindur

Talking about this restaurant in the core of Barcelona – the eatery has a comprehensive menu with meals that let you appreciate the quality of flavors with the typical recipes of Hindu food.
However, there are several other cultures infused in this restaurant's menu, along with Persian and English cuisines, that add up to the variety of recipes that you can try at one of the famous Indian restaurants in Barcelona. This restaurant is worth every penny you invest here and is only a walk away from downtown Barcelona.
Must Try: Samosa, Chicken Tikka
Address: Carrer de Còrsega, nº 211, bajo, 08036 Barcelona, Spain
Google Rating: 4.2/5
Website
6. Masala 73 Curry Bar

This place is the most current, hip looking Indian food seller in Barcelona. The simple, moderate design of the eatery truly represents the foodie culture here. The Masala 73 Curry Bar began off as a food truck that ultimately turned into a permanent area based on pure energy for this large yet simple restaurant.
What matters is that the food is GOOD! They moreover change their menu every 3-4 months because they concentrate on seasonal local produce. However, the restaurant adheres to traditional Indian cuisines by offering cherished Indian dishes and curries.
Must Try: Rasmalai, Palak Paneer, kulfi
Address: Carrer de Muntaner, 152, 08036 Barcelona, Spain
Google Rating: 4.5/5
Website
Suggested Read: Barcelona In December: 10 Must-Have Experiences That Will Make Your Winter Trip More Magical
7. Namaste

The food at this Indian restaurant is incredible as well as pocket-friendly. Even natives from the city love to visit this place to relish a platter or two of the sumptuous Indian fare.
Here, you can get various customary super tasty Indian dishes ranging from non-veg like Murg Korma prepared with authentic spices, to vegan dishes such as Palak Paneer, and seafood like Jhinga Khumbula. Conclude your meal with one of their delectable desserts such as Gajar Ka Halwa. Everything here is simply finger-licking!
Must Try: Palak Paneer, Jhinga Fish
Address: Carrer de Villarroel, 70, 08011 Barcelona, Spain
Google Rating: 4.1/5
Website
8. Veg World India

Again, for those travelers searching for real vegan Indian nourishment with a fresh, unique taste, this is the place to go! As a traveler from India, you wouldn't have discovered this taste, quality, and value anywhere else. There is no hold down on real Indian ingredients used in meals at this restaurant from curry leaves to mustard seeds and cardamom. Every dish is delicious and remarkably prepared to offer a definitive Indian taste.
Additionally, the hospitality here will make you feel like you're dining in the comforts of your own home. The waiters even clarify the menu in case that you're not Indian but want to try Indian cuisine. The romantic setting of the restaurant is ideal if you're going to have a first-time vegetarian date.
Must Try: Veg Korma, Sala buffet
Address: 26, Carrer de Bruniquer, 08012 Barcelona, Spain
Google Rating: 4.5 / 5
Website
Suggested Read: Barcelona In October: Experience The Grandeur In The Rusty Colors Of Fall
9. Swad

This restaurant in Barcelona represents considerable authority in home-made Indian food. It's situated in the area of Sant Martí called POBLENOU, and its proprietor, Punit Gupta, is in charge of charming the diners from his role as a culinary expert, where he presents full capability and experience.
Curries and spices are components that describe the conventional food of India, and, Gupta understands it well and rules your heart with menus such as aubergine slices covered with chickpea flour, curry in tamarind and coconut leaf, fish curry with spices, chicken tikka masala, and numerous others.
Must Try: Chicken Tikka Masala
Address: Carrer de Sancho de Ávila, 167, 08018 Barcelona, Spain
Google Rating: 4.5/5
Website
10. Bollywood Indian Restaurant

Bollywood Indian Restaurant in Barcelona is also a famous restaurant serving Indian delicacies with an authentic Indian taste along with a touch of Bollywood goodness. You can pick from the two available options, i.e. buffet menu and vegetarian menu. They also offer takeaway and catering service. You will additionally get to fancy the environment that is puffed with the prominent film industry of India. The walls are decorated with Hindi movie posters giving all a full filmy ambiance. It's the perfect place to eat and dance with your friends and family.
Must Try: Chicken Biryani, Paani Puri
Address: Av. de les Drassanes, 27-29, 08001 Barcelona, Spain
Google Rating: 3.7/5
Website
Suggested Read: A Guide To Barcelona In March: A Traveller's Paradise
11. Govinda

It was opened in 1986 and has turned out to be a celebrated option amongst vegetarian lovers ever since. It's the most suitable place for individuals who are in search of incredible Indian vegetarian food. There's an extensive variety of vegan and vegetarian dishes. Also, the dessert and bread served here are all homemade – just the way your desi tummy would fancy – giving you the real taste of Indian home meals.
Dig into the sumptuous thali at this restaurant, which is fundamentally a full Indian meal course, alongside sweets and slices of Indian bread. You will also get lassi, which is an Indian yogurt beverage and comes in various flavors. The restaurant doesn't serve alcohol, so having lunch would be an appropriate choice when one wishes to eat out at this place.
Must Try: Vegetarian Thali
Address: Plaça de la Vila de Madrid, 4, 08002 Barcelona, Spain
Google Rating: 4.2/5
Website
12. Bombay Spicy Restaurant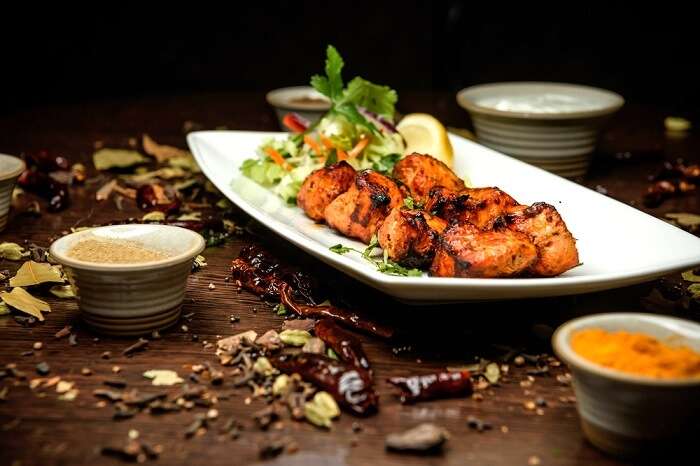 Merriment your taste with the yummy North Indian cuisine at Bombay Spicy that opened their doors in 2007. Here, you can appreciate a contemporary feasting background of the traditional taste of real Indian cooking – for example, flavored curries of Punjab, authentic tandoori meals prepared from the expert hands of the restaurant's chef, and much more.
With world-class amenities, Indians can also discover a fair share of Indian food at the city of Barcelona. The place stands out as a dining retreat for Indian food lovers with many restaurants dedicated to Indian cuisine. Barcelona has a lot to soothe the cravings of every Indian voyager.
Must Try: Chicken Tandoori
Address: Carrer de Sant Pau, 16-18, 08001 Barcelona
Google Rating: 3.7 / 5
Website
Further Read: 6 Ravishing Water Parks In Barcelona To Stay Cool And Beat The Heat!
Hungry already? Try these amazing Indian restaurants in Barcelona on your next trip to Spain. We bet the taste of the dishes would remind you of the food back home in India and will have you coming back to Spain for more! Book your vacation to Spain with TravelTriangle and travel hassle-free with the help of its many great deals and offers!
---
Looking To Book An International Holiday?
Book memorable holidays on TravelTriangle with 650+ verified travel agents for 65+ domestic and international destinations.
---