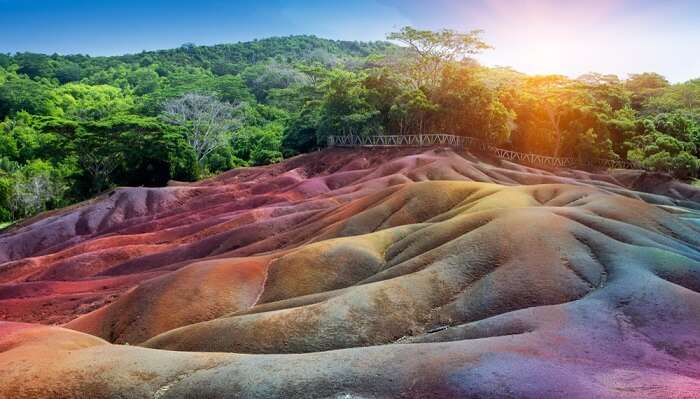 Mauritius, the place that has remained the inspiration for poets, writers, and artists for centuries, is known for its sapphire-colored waters contrasting magnificently with white sand beaches and grandeurs of lush green plantations. The encounters of Mauritius are beyond beachy leisure. It gives you a chance to sneak peek at the forested and mountainous interiors, explore enormous botanical gardens, and indulge in world-class diving expeditions. From exotic wildlife to exclusive culinary celebrations, Mauritius features an amalgamation of various cultures where you can rejuvenate in your way while being surrounded by untouched nature. As the country has opened up its borders for vaccinated and non-vaccinated travelers, here are the detailed Mauritius tourism guidelines that you must know before planning your future trip.
Mauritius Tourism Guidelines During Covid

According to the Mauritius tourism guidelines, Indian travelers can now visit the country. The borders are currently open for vaccinated and non-vaccinated travelers. However, you need to follow some mandatory steps to enjoy an uninterrupted holiday in Mauritius. Strict compliances with redefined safety and hygiene standards are followed across the island country to ensure the safety of the citizens and visitors. Don't forget to consider the following Mauritius rules for tourists before planning your next vacation:
Vaccinated visitors can freely explore the island. However, a negative PCR test report taken within 72 hours of your departure will be required to enter the country.
Non-vaccinated guests must book a quarantine stay, and the traveler shall be in the hotel for 14 nights. You must produce a negative RT PCR report for entry.
All the visitors must have Covid-19 insurance health cover.
Covid-19 testing is mandatory on the first and fifth of arrival for vaccinated travelers.
Non-vaccinated visitors must undertake tests on the first, seventh, and fourteenth day of the arrival.
Fill the Passenger Locator Form & Health Declaration Form on your arrival.
10 Seafood Restaurants In Mauritius To Enjoy The Best That The Sea Offers
Best Time To Visit

Mauritius experiences the tropical climate with sun-kissed mornings and breezy evenings. The best time to visit Mauritius is between May to December. The weather remains dry, pleasant, and sunny during this time. February is the warmest month, whereas July is the coldest. Summers in Mauritius start from January and extend till April. You can find pocket-friendly options during this time. However, days during the summer months, especially in January and February, remain warm and humid.
How To Reach

The fastest way to reach Mauritius is by air. You can book a flight from India to reach Mauritius. A direct flight from Delhi to Mauritius takes nearly 6-7 hours. After the Covid outburst, the airlines are following strict measures to ensure the safety of passengers and crew. You need to produce a negative Covid test report before boarding a flight to Mauritius. The regulations regarding flights depend upon the individual airlines, and you must check the updated requirements on the official website.
Mauritius has two airports, which are Sir Seewoosagur Ramgoolam International Airport and Sir Gaetan Duval Airport. Both the airports are well-connected. Most of the connecting flights to Mauritius go via Jeddah, Dubai, or Abu Dhabi.
Monsoon In Mauritius: A Handy Guide To Gather Experiences Like Never Before!
Getting Around

According to Mauritius tourism guidelines, there are strict rules followed in the country regarding exploration and activities. The country has set three categories for visitors, and access to different parts of the island depends according to these categories:
Vaccinated hotel stay is for fully vaccinated travelers who wish to stay in a hotel. The traveler can explore the entire island country freely.
Vaccinated other accommodation, is for vaccinated travelers who wish to stay at the island's villas, bungalows, guest houses, B&Bs, or homestays. They will have unlimited access to explore the island.
Unvaccinated travelers need to stay at the hotel for the quarantine period. The access to these travelers remains restricted to the hotel room until 14 days.
Places To Visit In Mauritius During Covid

The tourist places in Mauritius, including beaches, waterfalls, and religious sites, are open. However, the authorities are following strict guidelines to curb the spread of the virus. Trou Aux Biches, Belle Mare Plage, Ile Aux Cerfs, Pereybere, La Cambuse, Le Morne, Ilot Gabriel Beach, Chamarel Coloured Earth, La Cuvette Beach, Flic En Flac Beach, Mont Choisy Beach, Poste Lafayette Beach, Black River Gorges National Park, and more. Covid safety measures especially, wearing masks and maintaining distance, are mandatory at all tourist places.
8 Exciting Things To Do In Mauritius On Your Vacation In 2022!
Things To Do In Mauritius During Covid

Mauritius is known for its adventurous expeditions, and from diving to hiking, the country offers almost everything that makes your tropical vacay memorable. As per Mauritius rules for tourists, non-vaccinated travelers must complete 14 days quarantine before undertaking these activities. A PCR test is conducted on the fourteenth day of your stay, and tourist with negative results gets unlimited access to explore the island country.
Accommodation

Hotels, resorts, and other accommodations in Mauritius are open for visitors and follow safety and hygiene standards to ensure a safer ambiance. Vaccinated visitors can stay at a property of their choice by pre-booking the stay before arrival. Non-vaccinated travelers need to accommodate only at the property approved by the authorities for 14 days. After completing the quarantine period, the traveler can shift to other accommodations, as per Mauritius tourism guidelines.
Parasailing In Mauritius: 3 Amazing Places Ensuring Adrenaline Rush
Restaurants

The restaurants in Mauritius are operating with strict measures undertaken to curb the spread of the virus. Mauritian cuisine has a blend of African, Chinese, European, and Indian flavors and features exquisite recipes worth tasting while exploring the island. Some of the best restaurants to plan your meals while holidaying here are Dix Neuf Restaurant, Stars Restaurant, La Plage Beach Club Restaurant, Republik Beach Club & Grill, Château Mon Désir, and Annabella's Restaurant.
What To Pack

Traveling in the post-Covid times requires a little more preparation from your end. Now, there are many essentials that you need to carry for an uninterrupted holiday. The following are essential to pack for your upcoming Mauritius holiday:
Important documents such as treatment you have taken in the near past.
Medicines for cold, cough, fever, nausea, allergy, etc.
Extra pair of masks, hand sanitizers, and disinfectants.
Carry light clothes, especially cotton or preferred breathable fabric.
First-aid kit with all the mandatory items.
A pair of slippers, sunscreen, swimwear, and sunglasses.
Skydiving In Mauritius 2022: Explore Limitless Fun & Adventure In The Air
Travel Checklist

According to the latest Mauritius tourism guidelines, check the following things before your trip:
Pre-book your flights and hotel and must have confirmed status.
Meet the prerequisite and fill Passenger Locator Form and Health Declaration Form before arrival.
Carry your negative Covid report taken within 72 hours of your arrival.
Keep your vaccination certificate handy as proof to submit on arrival in Mauritius.
Covid-19 Prerequisites And Consequences In Mauritius

Make sure you go through the thermal screening at the airport.
Expect to be asked for random samples which is a part of health surveillance by the Government.
On showing any covid-19 symptoms, you will have to go through PCR testing and quarantine yourself.
On testing positive, you will be isolated either till you test negative or for 14 days.
Covid test will be conducted during the stay to ensure safety.
14 Restaurants In Mauritius Which You Cannot Miss On Your Trip In 2022!
Further Travel Tips

Here are some Mauritius rules for tourists that will keep your journey safe:
Carry and wear your mask throughout your journey.
Keep extra sanitizers, masks, gloves, and wipes for backup.
Avoid visiting crowded places and maintain social distancing.
Non-vaccinated travelers must complete 14 days quarantine before exploring the island.
Mauritius has opened up its borders for travelers and is offering a safe ambiance to Globetrotters. The country is welcoming visitors from across the world with strict guidelines. We hope that the mentioned Mauritius tourism guidelines will help you while planning your future trip. You can book your Mauritius holiday with TravelTriangle and have an enthralling experience with your loved ones.
For our editorial codes of conduct and copyright disclaimer, please click here.
People Also Read:
Post-Covid Travel Guide To Seychelles Post-Covid Travel Guide To Thailand Post-Covid Travel Guide To Sri Lanka