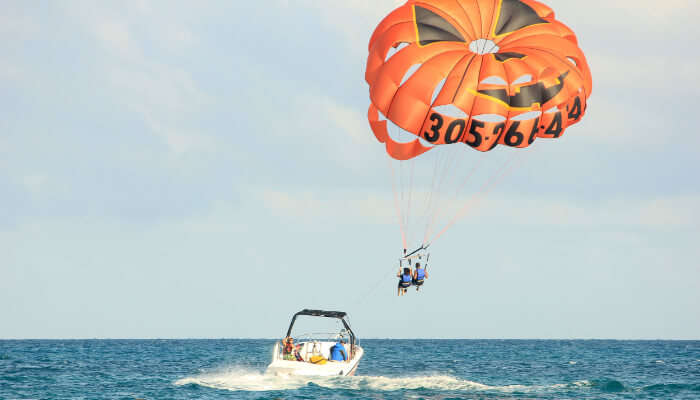 Mauritius is all about fancy lagoons, verdant landscape, rich marine life and tropical waterfalls. But there's a lot more to Mauritius than its pristine beaches and sapphire waters. While there is hiking and diving which may look and feel ordinary, there's parasailing in Mauritius that offers you a panoramic view of Mauritius's blue lagoons and picturesque landscape. There can be nothing more adventurous than sailing through the waters of Mauritius while tearing your way against the wind – yes it is as exciting as it sounds! Parasailing is an adventure sport where a parachute is towed behind a boat and when the boat speeds up, the air pressure makes the parachute sail up while carrying the person attached to it.
Top 3 Places for Parasailing in Mauritius
As parasailing is a sea-water activity which strictly takes places in open water body, there are only a few places in Mauritius that offer this adventurous experience. You may choose to perform this activity in any of the following locations. On reaching the preferred destination, you will be given a briefing which is followed by performing the activity under supervision. The charges are calculated per head.
1. Grand Bay

Grand Bay is located in the North West of Mauritius. It is also one of the best parasailing places in Mauritius. The vast expanse of blue waters surrounded by lush, green forests make you feel more excited even before the activity begins. On reaching the location, you will be given a short instruction about the whole activity, safety measures and equipment. You will then be driven by a boat to reach the launch pod where you will later take off to start parasailing. The whole activity takes a duration of 12 minutes. Parasailing in Grand Bay is charged 35 Euro per person.
Must Read: 4 Beaches In Balaclava Mauritius That Are Perfect For A Relaxing Sunbath In 2022
2. Mare

Located on the East Coast of Mauritius, Mare is famous for its sandy beaches. The azure waters of these beaches acts as the perfect playground for parasailing. You will be driven to the launching pod by a boat which takes about 30 minutes. After reaching the pod, you will take off for parasailing. The activity will take place for about 3-4 mins. As you parasail, get a stunning bird eye's view of the turquoise lagoons of Mauritius. العب كوتشينة Cost per participant is only 29 Euros.
Suggested Read: Monsoon In Mauritius: A Handy Guide To Gather Experiences Like Never Before!
3. Ile aux Cerfs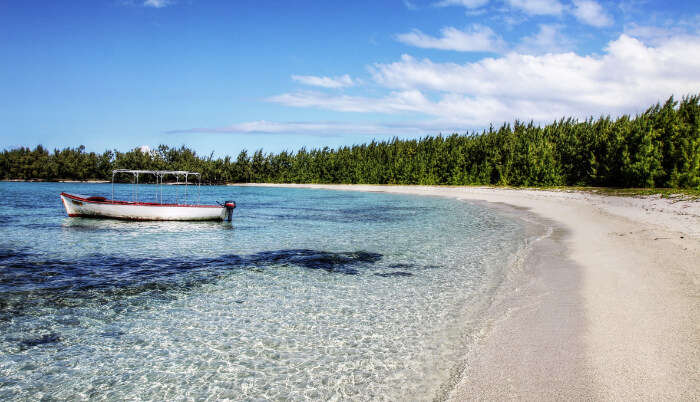 Ile aux Cerfs is a private island which is located in the east coast of Mauritius. The island of Ile aux Cerfs lies off the largest lagoon of Mauritius, Trou d'Eau Douce. The 87 hectares of vast landscape and white beaches are the special attractions here. Parasailing in Ile aux Cerfs offers you enticing glimpses of the sandy white beaches and vegetation fields. The activity takes place for about 5-7 minutes. Round-trip is also done for additional charges while the usual charge per participant is 24 Euros.
Suggested Read: A 2022 Beginner's Guide To The Holy Cavadee Festival In Mauritius
Beginners' Tips for Parasailing in Mauritius
While parasailing may seem too exciting for the first-time, there are a lot of safety measures that should be taken. It is highly essential to follow these safety guide brief before taking off.

You must remember that parasailing in Mauritius does not immediately start off at the beach. Boat transfers take place to help you reach the launch pod.
It is mandatory to attend the brief from professional instructors on parasailing. Briefing will be provided on safety harness, tackling any emergency situation and staying focused.
Once you reach the launch pod, safety harnesses and equipment will be provided to you. Note that the boat which is used to transfer you to the launch pod will later be used for parasailing. امريكا اكسبرس
Parasailing only starts when the professional instructors and ground assistance have confirmed the efficiency of the harness and rig. Post that, the driver is given a green signal to start the ride.
After a couple of minutes, the boat gains momentum on increased acceleration and you will find yourself floating in the air against the blue waters. You must know that there is no manual steering required for the sail. برامج الولاء It automatically moves in the direction of the boat.
You must remember that parasailing is best enjoyed during early morning when the air is fresh and the oceans provide for the smoothest rides. Although the activity can be performed anytime of the day before dusk, early morning to late noon are considered favorable options.
You may also take a thrilling dive in the ocean if you wish to experience ''touch and go'' without flying high up in the air.
Further Read: 5 Best Places To Visit In Moka In March 2022 For An Amazing Trip To Mauritius
If Parasailing in Mauritius has been waiting in your adventure bucket-list for too long now, it's time to finally tick it off. On your trip to Mauritius, make sure to try your hand on this thrilling water-air ride. To live the best of Mauritius and enjoy activities like this, check out our adventure-friendly Mauritius tour packages available at amazing prices.
People Also Read
Water Sports In Galle Water Sports In Sharjah Water Sports In Switzerland