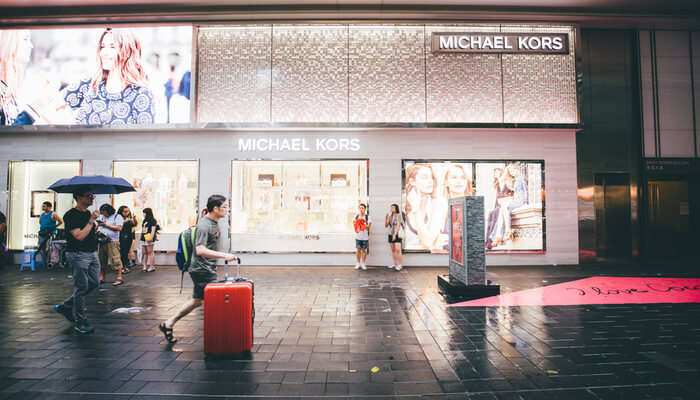 Often tagged as a shopper's paradise and foodie's heaven, Hong Kong is one of the most vibrant and lively cities of China. Exhibiting a fine and iconic skyline, Hong Kong leaves every traveler in awe of it. The historic double-decker tram, energetic horse races, interesting hiking trails, fierce mountains, historical gems, and geological jewels of Hong Kong makes this destination one of its kind. Home to a cosmopolitan area, Causeway Bay, Hong Kong exhibits modern and contemporary architecture perfectly. There is no dearth of places to visit in Causeway Bay that makes the escape to this stunning nation absolute.
From amazing theatres showing all the latest movies and shopping districts to spend money without any guilt to flea markets for groceries and Victoria Park for strolling, Causeway Bay is full of impeccable spots and experiences. Causeway Bay is that destination in Hong Kong that showcases a fine juxtaposition between traditions and modernity. Go through this list of places that one should pay a visit to in Causeway Bay when traveling to Hong Kong.
Top 5 Places To Visit In Causeway Bay
An epitome of metropolitan city architecture and lifestyle, Causeway Bay blankets some of the most enchanting attractions and experiences that one is bound to remember for a lifetime. Ensuring that travelers get to experience the best of Hong Kong, Causeway Bay offers an experience for each and every kind of traveler. Take a look at this list of places that one can visit when in Causeway Bay.
1. Din Tai Fung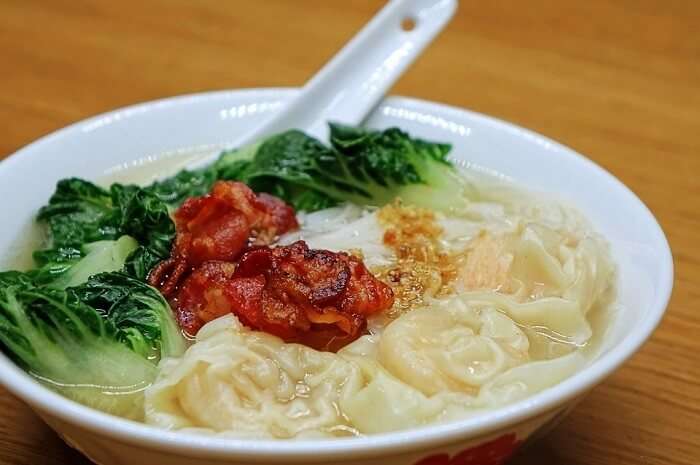 Din Tai Fung is easily accessible from the main part of Causeway Bay, yet it is far enough from the throngs of the crowd, thus giving diners quite a pleasant dining environment. The staff is known to be attentive, the food arrives quickly, and the prices are reasonable. These reasons and more make Din Tai Fung one of the most reliable dim sum restaurants in Hong Kong. The flavors of their food never fail to cheer up even the weariest of souls.
Your One-Stop Guide For Best Dim Sum Places In Hong Kong
2. Cinema

The nightlife of a nation which is the third-largest producer of cinema cant stays away from it. With more than 100 cinema halls, the theaters stay open till late at night in Hong Kong. On top of everything, these screens are in the shopping malls which also boasts of awesome food parks and shopping options to be exploited. Chinachem, 77, Mody Road, East Tsim Sha Tsui and UA Times Square, G/F, Times Square, 1 Matheson Street, Causeway Bay are some of the famous theatres in Hong Kong.
Nightlife In Hong Kong: 10 Must Visit Places
3. Causeway Bay Hong Kongs Liveliest Shopping Hub

Get a feel of Hong Kong's shopping scene at the popular Causeway Bay. Every nook of the Causeway Bay is covered with malls, shops, and goodies. It is best known for its happening brand stores and the Fashion Walk Area. Causeways two gems are SOGO Hong Kong's biggest department store, and the Times Square Shopping Mall one of the biggest malls in the city. Always buzzing with shopaholics, the Causeway is alive till 11 pm. Best buys and good bargains can be found during the weekends when most stores run special offers.
SOGO Store, the department store spread over 13 floors has the monopoly of pricier brands. However, you will be able to dig out some good bargains if you look closely. Times Square Mall, on the other hand, boasts of 16 floors with over 230 shops. The shops here are of mixed category, starting from a Levis store to an Armani store.
There are several small high-end boutiques and hip shops by local designers in the Fashion Walk area where you can get the taste of local shopping in Hong Kong. Mostly, the area caters to the young hipster crowd but there are shops for those with a mature taste too. You just need to find those in the sea of flashing neon advertisements.
Shopping In Hong Kong: 5 Chic Hubs You Must Visit
4. Victoria Park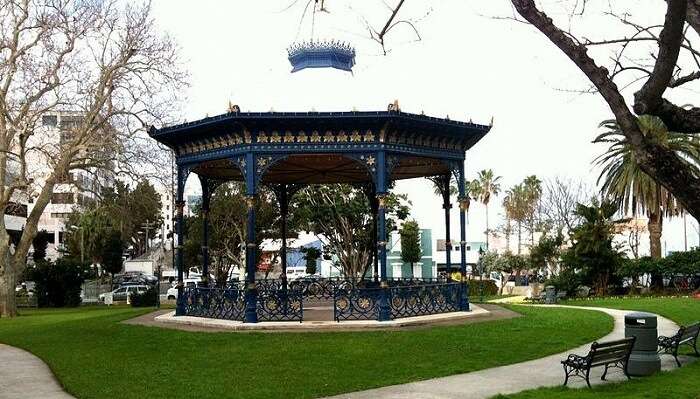 Image Source
One of the most famous spots in Hong Kong, Victoria Park is named after the former British queen. This largest park on the island blankets some of the most amazing features. Fountains, ponds, lush greenery, benches, and ample space for families to enjoy an outing make this park a favorite amongst locals and tourists alike. One can witness families out on a picnic, kids trying their hands on new skills, people trying tai chi, or fitness freaks zipping along the jogging trail.
5 Places To Visit In Aberdeen That Will Leave You In Awe Of Hong Kong!

5. Tin Hau Temple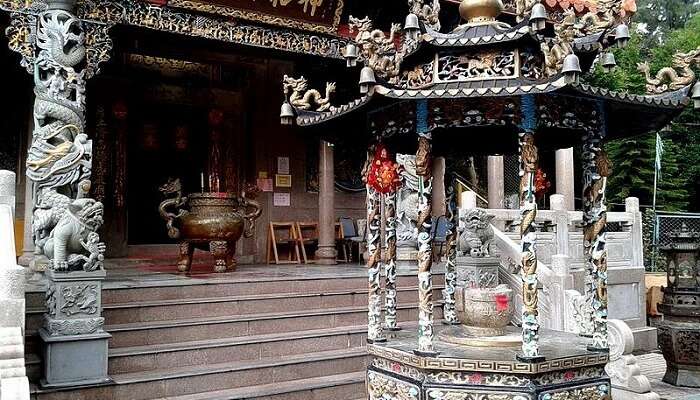 Image Source
A great spot of embracing the essence of tranquility and spirituality, Tin Hau Temple is also considered as a monument by the locals. Dedicated to Tin Hau, the goddess of the sea, this years-old structure is still standing and stands proudly amidst the surrounding skyscrapers. This temple blankets a garden that offers a perfect space to meditate and feel the peacefulness surrounding the atmosphere. For those who are seeking to escape the hustling and bustling of the world and rejuvenate, this temple is definitely the place to be, without any shadow of a doubt.
5 Fun-Filled Things To Do Near Merdeka Square Malaysia That Will Makes Your Vacation Worthwhile!

From a serene park and tranquil temple to the largest shopping district and world-class restaurants, there is no dearth of places to visit in Causeway Bay. The metropolitan city with an impeccable concrete jungle full of steel and glass constructions, and the energetic vibes encircling the atmosphere, Causeway Bay is a destination that leaves no stone unturned to ensure that travelers get to enjoy a vacation of their lifetime. Plan your escapade to Hong Kong and witness the modernity at its best!
---
Looking To Book An International Holiday?
Book memorable holidays on TravelTriangle with 650+ verified travel agents for 65+ domestic and international destinations.
---