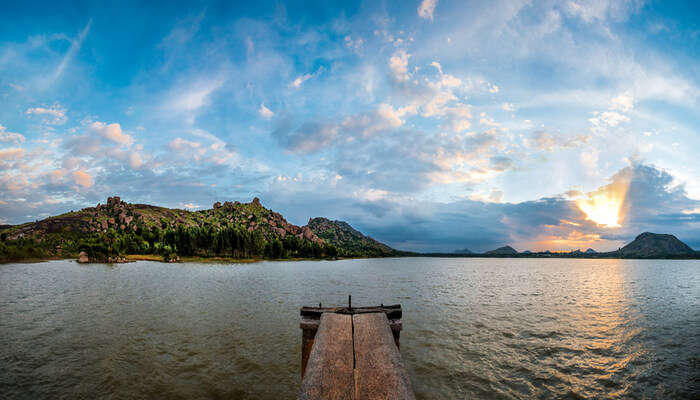 The district of Tumkur lies in the foothills of Devarayadurga Hill. Located 70 kilometers away from Bangalore, which is known as the IT hub of India, Tumkur is often ignored by tourists traveling to Karnataka for a weekend retreat. Though not very popular as a tourist hotspot, the places to visit in Tumkur are recently gaining traction, thanks to their scenic beauty.
Top 7 Places To Visit In Tumkur
We have shortlisted 7 places to visit in Tumkur that are the picture perfect stops to witness the best of the city and experience Karnataka's cultural scene:
Devarayanadurga Fort
Namada Chilume
Devarayanadurga State Forest
Mahima Garuda Ranganatha Swamy Temple
Shivaganga Hills
Bhoga Narasimha Temple
Yoganarasimha Swamy Temple
1. Devarayanadurga Fort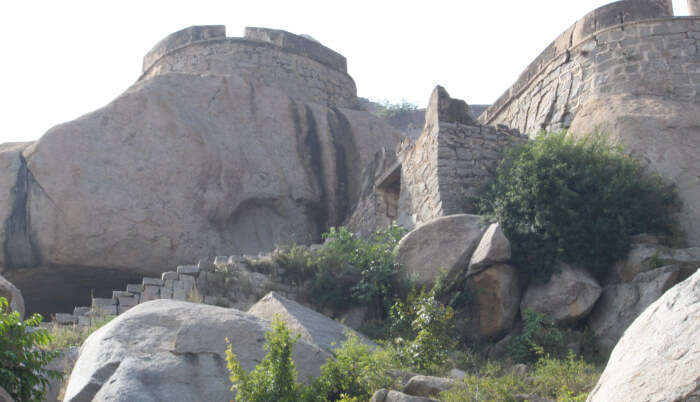 The fort was built by Chikka Devaraja Wadiyar , the 14th king of the Wadiyar dynasty of Mysore, in the 17th century. The fort also led to the name Devarayanadurga, which means "fort of Devaraja". Not much is left of it now, but the place called for a brief stop. There are no food stalls on the way, so carry ample food and water. You can also preplan your trip to the fort to catch the setting sun. Apart from this, there are various things to do in Tumkur that you can enjoy with with your loved ones. 
How to reach: Drive straight from Siddaganga Hale Mata to Devarayanadurga. The approximate distance between them is around 14.4 km.
Must Read: 8 Hill Stations Near Tumkur For An Enchanting Vacation With Your Pals!
2. Namada Chilume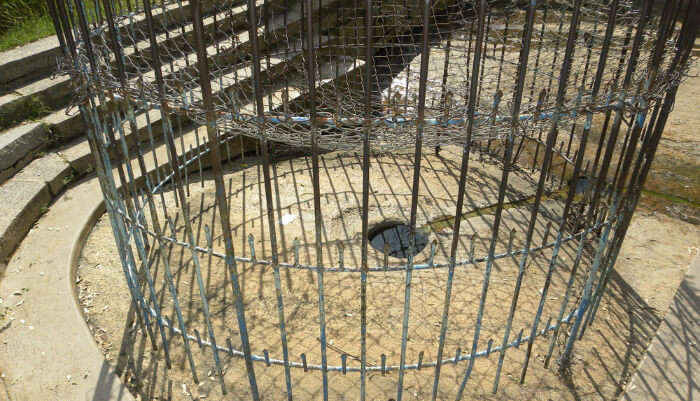 Namada Chilume is considered as the starting point of the famous Jayamangali river. It is a perennial natural spring that has a rich historical significance. It gushes out of a massive hole in a dark dreary rock. As per the legend, Lord Ram, on his journey to Lanka to rescue Sita, rested near Namada Chilume for one night. The next morning, when he wanted to make a vermilion paste for his forehead, he shot an arrow into the rock, and a spring burst open. This is why Namada Chilume translates to "small spring for forehead paste" in English.
How to reach: Namada Chilume is on the way to Devarayanadurga from Tumkur. Several buses ply on this route.
Suggested Read: 7 Best Restaurants In Tumkur Offering A Variety of South Indian Delicacies
3. Devarayanadurga State Forest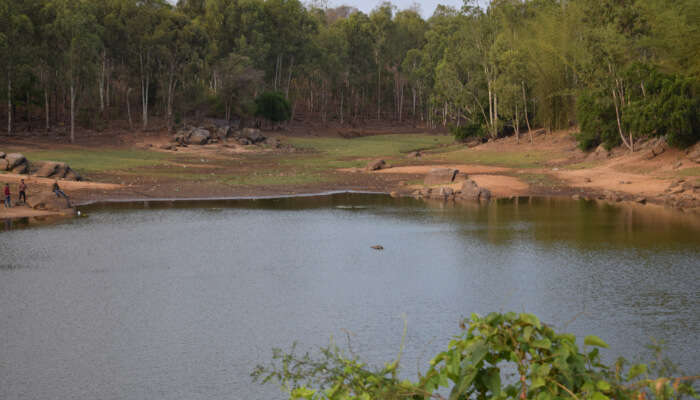 Devarayanadurga State Forest is at an altitude high enough to prompt you to get lots of woollens. It is a forty two square kilometre designated spread of jungle. The forest has been protected by Karnataka since 1853. The highest point is at 3,940 feet. The forest has a tantalizing variety of wildlife, which includes langurs, chitals, wild boars, leopards, and tigers. The tigers usually remain elusive.
How to reach: The nearest railway station is Tumkur Railway Station at a distance of 15 km.
Suggested Read: 10 Best Adventure Activities In Karnataka That Will Sweep You Off Your Feet
4. Mahima Garuda Ranganatha Swamy Temple

The temple, which is devoted to Mahima Garuda Ranganatha, is on Bangalore-Tumkur Road. You can reach it via Dobbspet. Located on a tiny hilltop, it can be reached after 300 steps of climbing. The village's name is also Mahimapura, which can also be reached from either Mahimapura Cross near Dobbspet or Neelamangala. Garuda's idol is located near garbhagruha's entrance.
How to reach: Travel on NH4 on the Bangalore-Tumkur Road and take a right turn on Mahimapura Cross before Dobbspet and reach Mahimapura.
Suggested Read: Shopping In Karnataka: 10 Spots To Shop!
5. Shivaganga Hills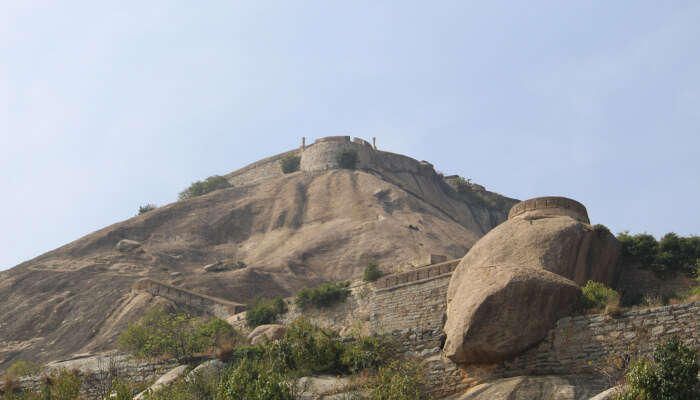 Shivaganga Hills are considered sacred by the locals of Tumkur. According to the ancient books like, Vishnupurana and Brahmavaivartha Purana, Lord Sri Vishnu donned several avataras to teach his disciples important life lessons. Apart from his 10 incarnations, he also appeared in several forms like Hayagriva, Venkateshwara, Ranganathaswamy, or Varadaraja. Make sure to wear comfortable trekking shoes.
How to reach: The nearest airport is the Kempegowda International Airport in Bangalore, at a distance of about 76 km. From there, visitors can take a bus to Dabaspet and then hire an auto to reach Shivaganga.
Suggested Read: 9 Museums In Karnataka: Top Creative Spots With A Rich Heritage
6. Bhoga Narasimha Temple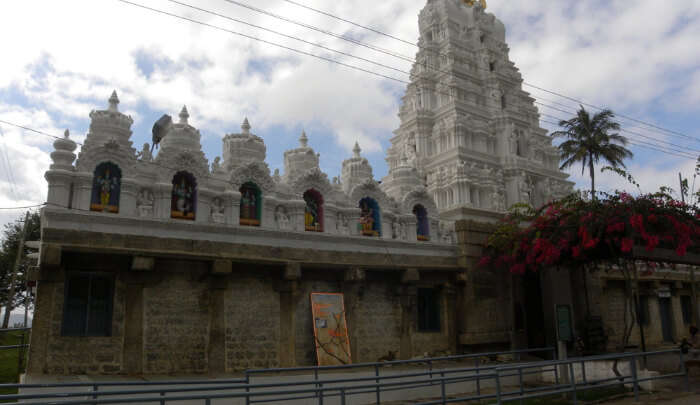 A somewhat exhausting trek by means of a lofty bending street, rough landscape and steps prompted another sanctuary, Bhoga Narasimha is every aesthete's joy. From here, you get an all encompassing perspective on the slopes and valleys. There are a bunch of rough slopes encompassed by woods, with ancient temples in close proximity. We suggest that you take your fitness levels into account before embarking on this strenuous trek.
How to reach: Take the deviation from Dobbespet on Bangalore Tumkur Road.
Suggested Read: 17 Festivals In Karnataka That Will Give You A Glimpse Into Its Vibrant Culture
7. Yoganarasimha Swamy Temple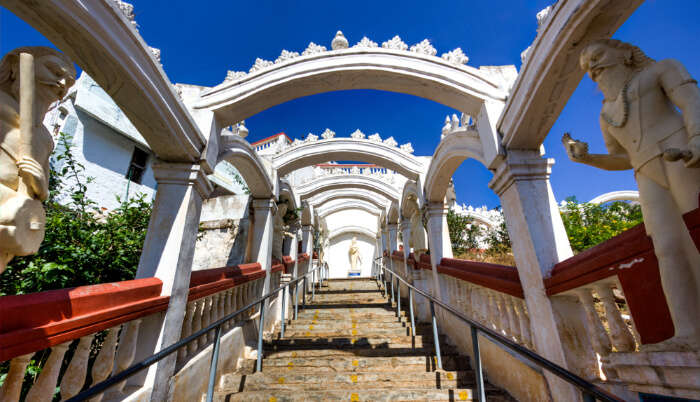 It is a sanctuary devoted to Yoganarasimha Swamy — a part man, part-lion symbol of Lord Vishnu. The sanctuary is known to have existed from the time of the Cholas. It has excellent columns and carvings and a huge circumambulatory entry encompassing the inward sanctum. We suggest you cover your legs and shoulders before entering the temple premises to respect the sanctity of the temple.
How to reach: The nearest railway station is 25 km away in Dobbespet.
Further Read: 25 Stunning Places To Visit In Summer In Karnataka For A Relaxing Retreat
The places to visit in Tumkur are slowly becoming popular with backpackers from across India. It is a fine spot to visit for nature lovers and history aficionados. As mentioned above, there are several temples in the region that are dedicated to Vishnu, Shiva and other Indian gods. From a pilgrim to a nature enthusiast, there is something for everybody at Tumkur. Book a trip to Tumkur with TravelTriangle today to avail exciting deals and discounts.
For our editorial codes of conduct and copyright disclaimer please click here. 
Frequently Asked Questions About Places To Visit In Tumkur
Are hotels in Tumkur safe and hygienic after the outbreak of COVID and is the food prepared up to the mark?
Analysing the COVID situation, every hotel is maintaining its standards to offer a relaxed stay for its guests. As the hotel industry is suffering from a financial crisis, they are taking every necessary step to invite the guests including proper sanitisation, the mandatory wearing of masks and frequent cleaning of the kitchen area to avoid catching any virus which will enhance the quality of food they offer to their guests.
Is Tumkur a religious center for Hindus?
Yes, Tumkur has many religious places that one can visit like the Bhoga Narasimha Temple, Yoga Narasimha Swamy Temple, and more.
What are some of the places in Tumkur beyond the temples?
There are many places to visit in Tumkur apart from the temples. For instance the Devarayanadurga Fort, Namada Chilume, Devarayanadurga State Forest, and more.
What is Tumkur famous for?
Tumkur is famous for being home to Shree Siddaganga Mutt, for being an industrial city and for the many great temples it is home to.
Where is Tumkur located?
Tumkur is situated in Karnataka. It is situated at a distance of 71 kilometers from Bangalore. Also, this place is governed by the municipal corporation.
How can one reach Tumkur?
Travelers can take both flights as well as use road transport facilities to travel to Tumkur from Bangalore. The air route would be good and fast so its better to travel to the destination by air.
Are there any hills in the city of Tumkur?
Yes, the district of Tumkur has several hills that catch the attention of the people over there. The most popular ones are the Shivaganga hills in Tumkur, which is among the most visited place over there. So, if you want to bask in the glory of a hilly area, make sure to visit various hill stations near Tumkur.
Is Tumkur a developed city?
Yes, Tumkur is a very well developed place that has a lot of growing industries so there are various other developments taking place in the city. It is, therefore, a smart city in present-day terminology.
---
Looking To Book A Holiday Package?
Book memorable holidays on TravelTriangle with 650+ verified travel agents for 65+ domestic and international destinations.
---
People Also Read
Places To Visit In Karnataka Places To Visit In Kerala Places One Must Visit In Ernakulam