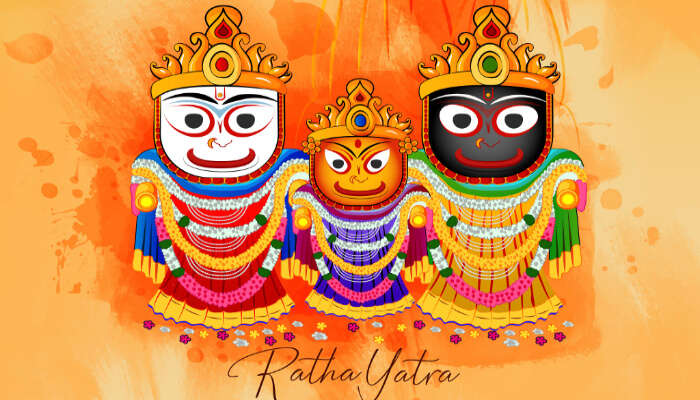 The Jagannath temple in India is famous all over the country for its annual chariot festival Puri Jagannath Yatra. The festival marks the journey of Lord Jagannath, his brother Lord Balabhadra, and his sister Subhadra from their abode in Jagannath temple to Gundicha temple. The journey passes through different parts of Odisha covering a distance of around 17 km.
The Puri Jagannath Yatra is slated to be held on June 23 this year. As per traditions, devotees pull the three colourfully decorated chariots which carry the three idols of the deities.
Start Place: Bhagvaneshwar Mahadev Temple
Places visited: Ghogha circle, Devrajnagar, Radha temple, Nilam Baug Chauk, Haluriya
Final destination: Gundicha temple
History Of Rath Yatra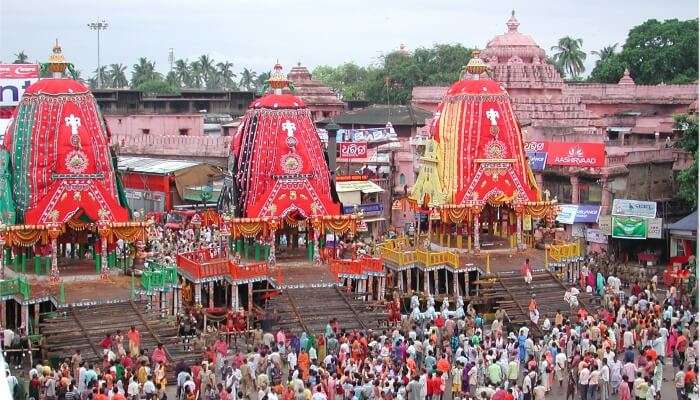 Jagannath Rath Yatra has a significant history that makes it one of the most popular events in our country. One can even find this festival mentioned in the Puranas. This event is celebrated so much because since time immemorial, it is believed that the Lord Krishna comes to Mathura, his birthplace every year for some days.
Puja Rituals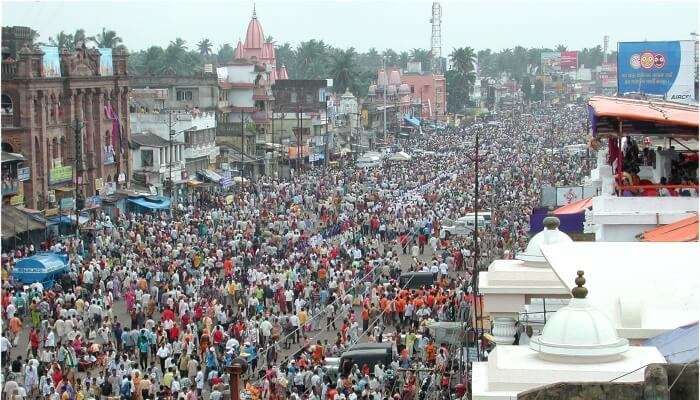 As mentioned earlier, the chariots with three idols are taken to Gundicha Temple. There are different ceremonies that are organized around this. Before the idols are set out for the procession, they are isolated for some days after they've been bathed ritualistically. On the day when the procession is supposed to happen, people welcome the King of Puri and it is in his presence that the idols are brought.
Types Of Raths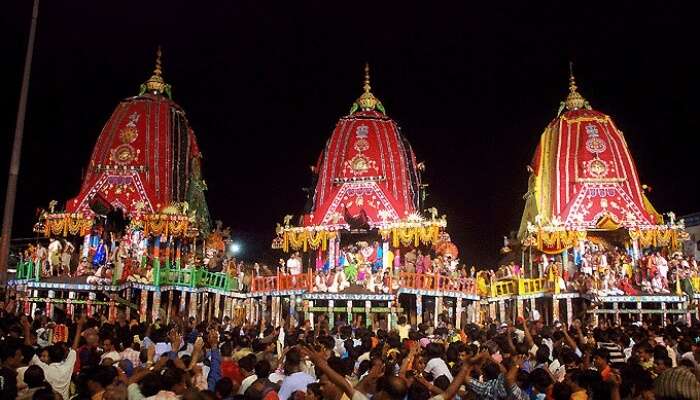 Since the procession is all focused on the raths, each of them is well decorated with flowers. You'll see three chariots with the idols of the three deities. The chariot that features Lord Jagannath's idol is the biggest one of the three with 16 wheels and is 44 feet high. Goddess Subhadra's rath is 42 feet high and has 12 wheels while Lord Balabhadra's has 14 wheels with 43 feet height.
Puri Jagannath Yatra: The Journey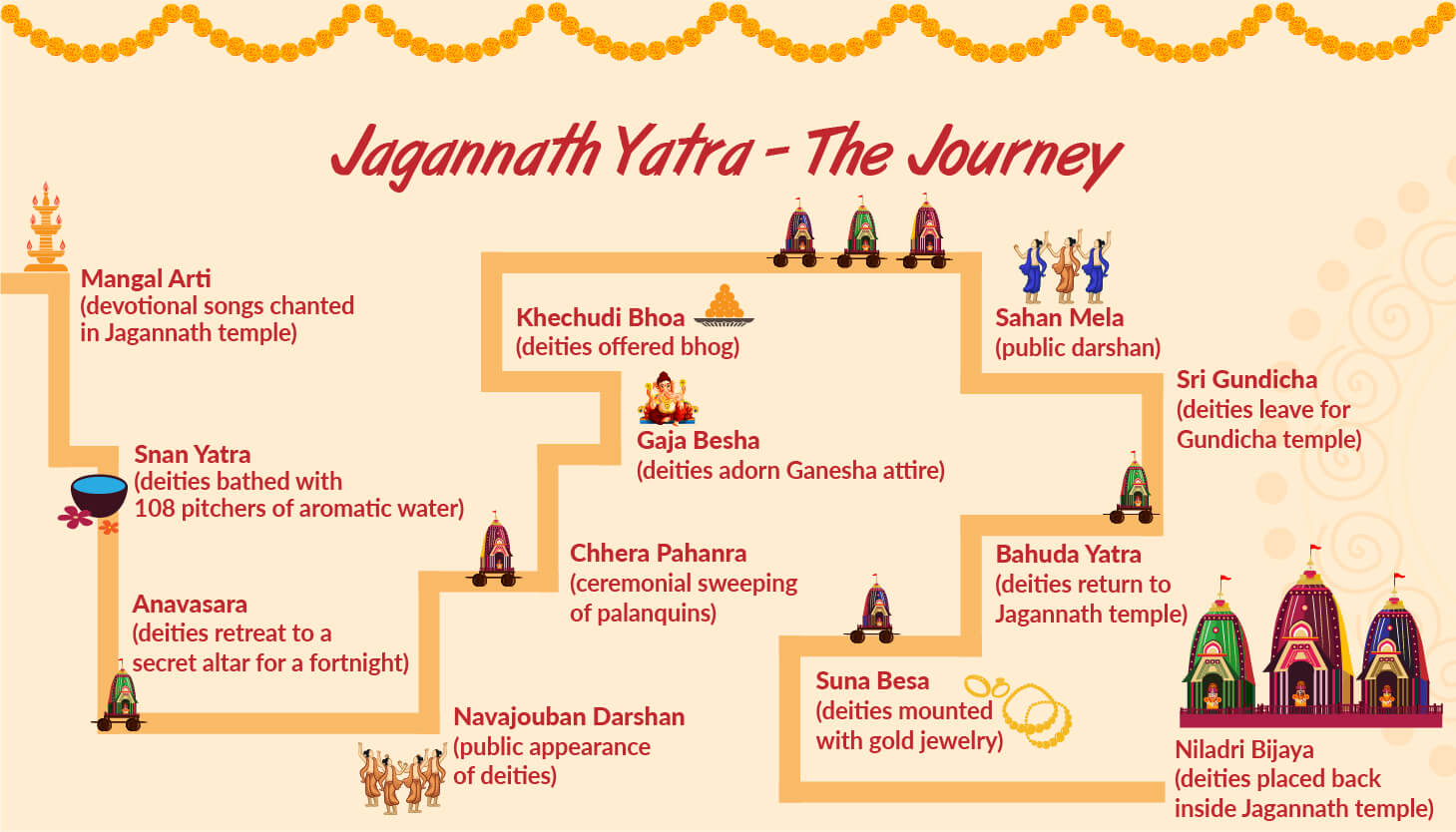 Must Read: Top 10 Haunted Places In Odisha And Their Paranormal Activities
Schedule Of Rituals During Puri Jagannath Yatra
DISCLAIMER: The  following schedule for rituals during Puri jagannath yatra is of 2022. We would be coming up with the updated list soon. So stay tuned!
Suggested Read: 10 Beaches In Odisha That Are So Lit That You Will Want To Visit Them Again
The Three Chariots In Puri Jagannath Yatra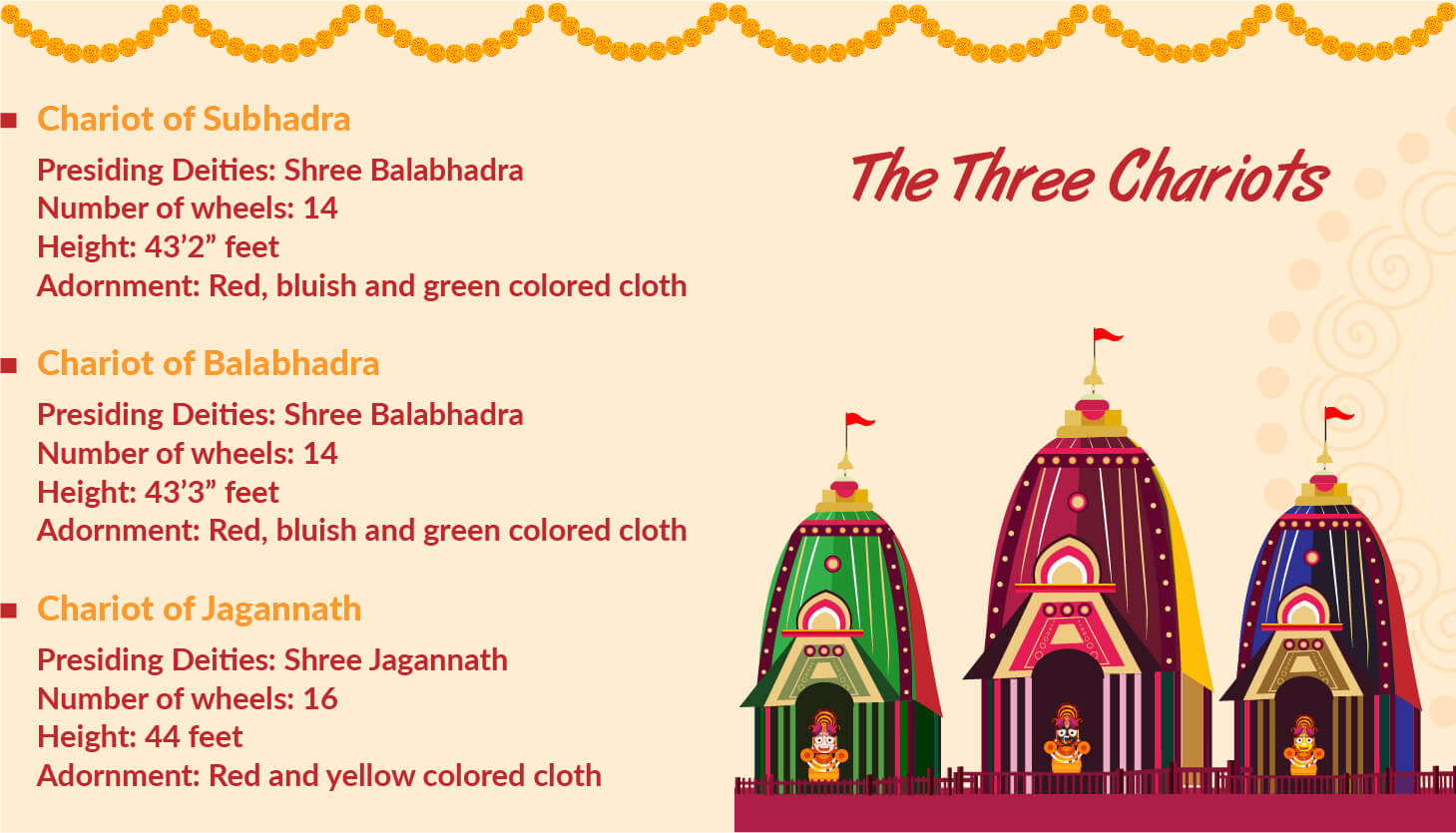 4 Places To Stay At During Puri Jagannath Yatra
There are a plethora of places where you can stay at during Puri Jagannath Yatra. Go through our list and pick an accommodation for yourself:
1. Pride Ananya Resorts
Offering tranquil views, Pride Ananya Resorts is located just 1 km away from Lord Jagannath Temple. The resort features a fair-sized outdoor swimming pool, sauna and a lush garden. The service is flawless, cuisine standards are high, and the overall experience unforgettable. The air-conditioned rooms are equipped with a seating area, minibar and satellite TV. The attached bathroom comes with free toiletries and slippers. Every room comes with round-the-clock butler service.
Location: Banki Muhan, VIP Road, Puri 752001, India
Tariff: INR 2519 per night
2. Hotel Gandhara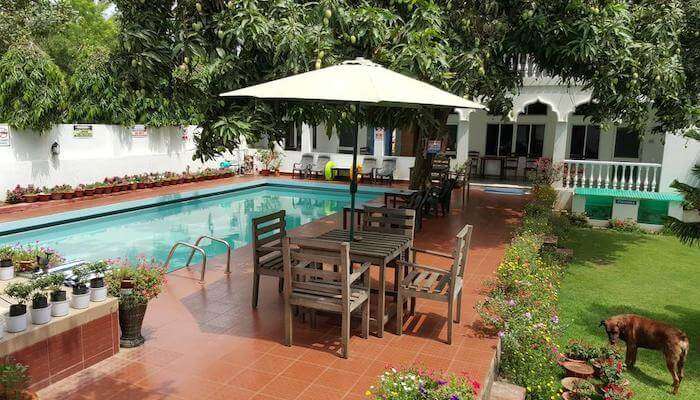 Hotel Gandhara is situated approximately 2 km away from Puri Jagannath Temple. Providing free WiFi, it also has an outdoor pool and a 24-hour front desk. Gandhara Restaurant, on the hotel's rooftop, serves Indian, Chinese, Continental and Chinese dishes. The spacious air-conditioned rooms come with a flat-screen TV, personal safe and a minibar. If you can afford it, don't think twice about splurging on this hotel. It is definitely worth the experience.
Location: CT Road, Puri 752002, India
Tariff: INR 999 per night
---
Planning your holiday but confused about where to go? These travel stories help you find your best trip ever!
---
3. Mayfair Waves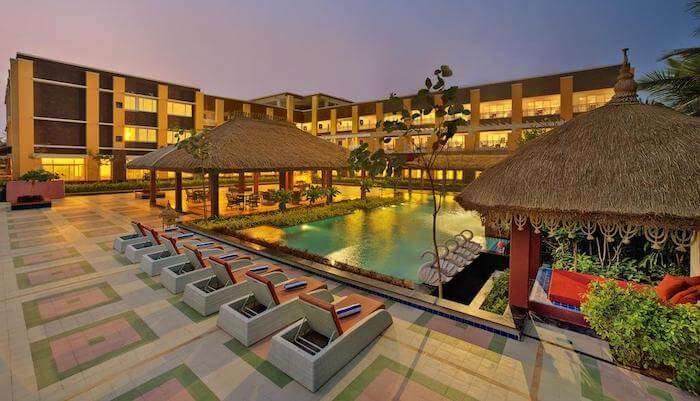 Offering an outdoor swimming pool, a fitness centre, a spa and a wellness centre, Mayfair Waves is located within walking distance of Jagannath Temple. Guests can enjoy and relax at the private beach with a drink in their hand. The modern air-conditioned rooms will provide you with a flat-screen cable TV, seating area and a balcony. Featuring a shower, private bathrooms also come with a hairdryer and towels. You can enjoy a sea view and a pool view from all the rooms. There's also a 24-hour concierge and travel desk service.
Location: Chakratirtha Road, 752002 Puri, India
Tariff: INR 7500 per night
4. Chanakya BNR Hotel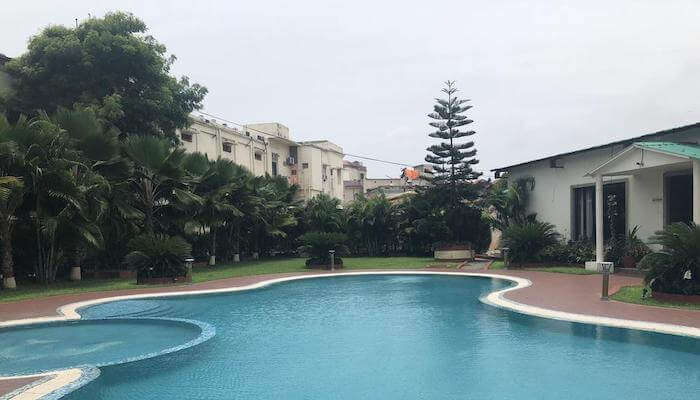 Boasting a garden, fitness centre and views of a large garden, Chanakya BNR Hotel is situated 3 km away from Jagannath Temple. This property features an in-house restaurant, a 24-hour front desk and room service, and free Wi-Fi. The king-size beds are super comfortable, and the spotless bathrooms have walk-in showers, fluffy towels and scented soaps. Restaurants and major tourist attractions including shopping centres and the heritage buildings are all a few minutes' walk away. This iconic hotel certainly lives up to its reputation of being one of Puri's best hotels.
Location: Chakra Tritha Road, 752002 Puri, India
Tariff: INR 3780 per night
Traveler Tips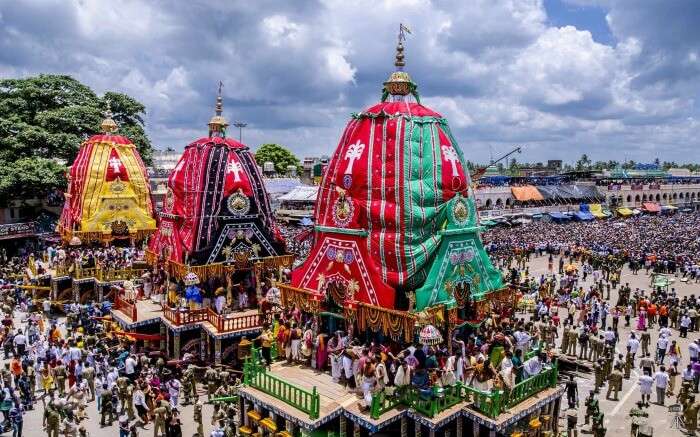 If you plan to be a part of the Puri Jagannath Yatra, there are some do's and dont's that you must follow in order to be safe and have a prosperous journey:
The huge number of devotees that flock to the Puri Jagannath Yatra poses a safety risk. Make sure to be extra careful.
Book a hotel a month in advance and stay as close to the temple as possible, since the presence of large crowds adds to the travel time.
Don't carry money or valuables in your pocket on your visit to the yatra because the street is crowded and there is a high chance of pickpocketing.
Avoid getting lost in the massive crowd.
The Rath Yatra begins around 7 AM, so try and be present at the temple early.
The Yatra involves a lot of walking, so make sure you're well fed.
How To Reach Puri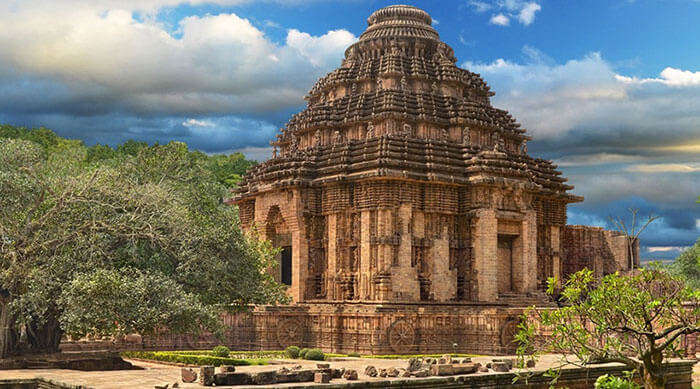 There are many ways of getting to Puri. It is up to you if you want an inexpensive or an expensive means of transportation. Choose the means that suits you best:
By air: Puri is situated 60 km away from the domestic airport which is in Bhubaneswar. The capital city of Odisha is connected by air to many Indian cities like Calcutta, Mumbai, New Delhi, and Chennai. All domestic airlines, such as Air Deccan, Jetlite, Indian Airlines, and Kingfisher have daily flights to and from Bhubaneswar. The nearest International Airport is at Kolkata.
By rail: Puri is a terminus on South Eastern Railway having direct express train links with Kolkata, New Delhi, Chennai, and Mumbai. Puri Express and Neelachal Express arrive in Puri from New Delhi in 30-35 hours. Howrah-Puri SriJagannath Express and Howrah-Puri Express leave Kolkata and arrive in Puri within 9 hours. Puri railway station is 1 km north of town.
By road: Puri is connected to Bhubaneswar by State Highway No. 8. Bhubaneswar is situated along National Highway No. 5 connecting Chennai and Kolkata. You can take the state government buses, mini buses and tourist buses leaving from Bhubaneswar main bus stand. They take roughly 2 hours to reach Puri.
Further Read: 30 Tourist Places In Odisha To Visit In 2022 For A Fun Vacation
Puri Jagannath Yatra is celebrated with great fervor in Odisha. The atmosphere is electric. Lakhs of devotees throng just to get a glimpse of Lord Jagannath and touch the chariots once. The Jagannath temple management has made all arrangements for the smooth running of the event. Security has been beefed up in the holy town in view of the festivities. Skip the live telecast and instead book a trip to Puri to attend one of the world's largest religious gatherings. We assure you that it will be worth your time.
People Also Read
Tourist Places In Madhya Pradesh Tourist Places In Kerala Tourist Places In Assam
---
Looking To Book An International Holiday?
---