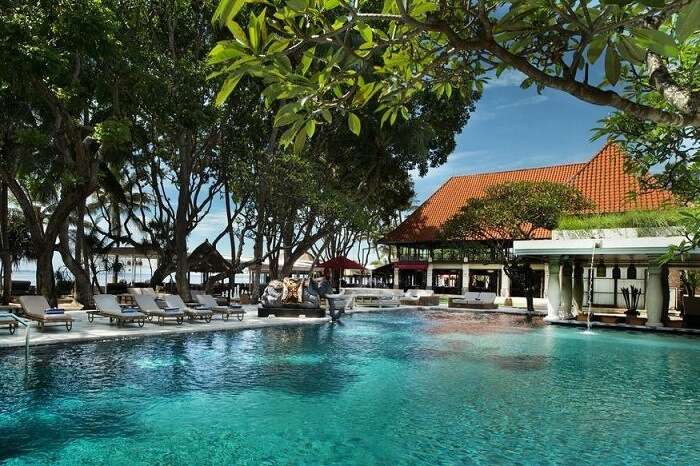 Overview
Puri Santrian Sanur is a 4-star beach resort in Sanur that never fails to charm its guests. Situated on the South Western end of the island, the resort offers a comfortable shelter for couples/honeymooners or business and leisure travelers looking for a wonderful holiday. It features 3 large pools out of which 2 have separate areas for children. The beach resort also boasts of The Santrian Club which is like a virtual hotel within the hotel. Its features include a private pool for club members, a library, lounge areas, and a whirlpool Jacuzzi. Its warm hospitality and incomparable amenities help offer unforgettable memories. Its proximity to the nearby tourist attractions like the white sandy beach in Sanur makes it an ideal place to stay for all travelers. Guests can also unwind on the lazy day beds if they don't feel like going out. Its property is especially great for couples as they can an exclusive wedding gazebo in the garden or a floating pavilion.
Amenities
Puri Santrian Sanur boasts of 3 pool, private Jacuzzi for club members and spa. It also features restaurants and bars within the hotel premises for the convenience of the guests. Besides, the hotel maintains a free parking area, 24-hour front desk, tour desk, and foreign exchange counters. All the hotel rooms are equipped with state-of-the-art amenities and complimentary wi-fi. It also offers airport pick up, laundry, dry cleaning and ironing services at an additional charge. Further, guests can also make use of other facilities including luggage storage, massages, and babysitting services. Guests also have access to a private beach area, garden, and terrace.
Dining
Puri Santrian Sanur features exceptional restaurants and bars offering delightful culinary experiences throughout the day and the ideal settings for the night. The hotel maintains three restaurants namely Beach Club Restaurant, Lounge By The Sea and The Mezzanine. The Beach Club Restaurant offers breakfast and all day dining with views of the pool. Next to the Beach Club Restaurant is an air-conditioned lounge where guests can read the newspaper, use the free wi-fi and have snacks with coffee. Lounge By The Sea has a beachfront setting and is open till late. The Mezzanine offers a cosmopolitan menu with a fusion of Eastern and Western cuisine. Guests can go for Thai, Japanese or Western dishes.
The beach resort is an ideal setting for the perfect vacation. Situated right next to the beach, guests can just walk over and have a wonderful evening. They can go for Balinese cooking classes or do yoga. Puri Santrian Sanur can also arrange for weddings and other events.
Resort Accommodation
Superior
Bungalow
Santrian Club
Santrian Deluxe
Premier Deluxe
All of the rooms are elegantly designed and feature a satellite TV, tea and coffee maker, mini-bar and hairdryer. They have balconies with views of the tropical gardens. The Santrian Club accommodation is exclusive for Santrian Club members. It offers a private pool and Jacuzzi along with walk-in dressing area, daily buffet breakfast and afternoon tea with a fruit platter. He Premier Deluxe accommodation is located in a separate wing. It has a different language as compared to the other accommodation options. They are for adults only and have their private infinity pool, lounging pavilion and sun deck. The Santrian Club membership at Puri Santrian Sanur sure has its perks.
Resort Highlights
Have a gastronomic affair at the hotel's 3 restaurants
Get massages on request and spa treatments
Become a Santrian Club member and get a private Jacuzzi
Walk to the beach and enjoy the sunset
Relax in the lounge area beside Beach Club Restaurant
Do yoga or learn how to cook Balinese food
Indian Restaurants Near The Resort
Little India
Gateway of India – Sanur
Curry in Bali
FAQs
Q1. What is the distance between the hotel and the international airport?
A. Puri Santrian Sanur is about 13 km away from Ngurah Rai International Airport.
Q2. Does this hotel offer a pick-up service from the airport?
A. Yes, the hotel provides airport shuttle services to its guests at an additional charge.
Q3. What are the things one can do in and around the hotel during their stay?
A. There is a lot to do in and around the resort. Guests can take a dip in the pool, get massages, go to the private beach area and watch the sunset or just relax in their rooms and make use of the free wi-fi. They can also opt for various activities like snorkeling, cooking class or rent bicycles and explore the town. The golf course is less than 3 km from Puri Santrian Sanur.
Q4. Does the hotel provide meeting facilities?
A. Yes, the resort can arrange for meetings and has fax/photocopying facilities.
Q5. Can the guests avail any discount or offer at this hotel?
A. Yes, the resort has several offers like last minute offers, hot deal Santrian Club, hot deal Premier Deluxe and various other offers for the various types of rooms.
This beach resort in Sanur is located in a quiet and peaceful area. It is owned and managed by a family who Balinese tradition and it shows in the design of the resort. The staff is devoted to making sure that the guests have the best time. Puri Santrian Sanur has a private and exclusive club, the members of which get special offers and facilities. These facilities are surely enticing and the membership gives a feeling of exclusivity. The resort manages three large pools, one of which is exclusively for club members. The other two pools have an area for children as well so parents can let their kids splash around. Puri Santrian Sanur can cater to all kinds of travelers. Couples can tie the knot at this beautiful location to make their special day even more special. With a host of fun activities like canoeing and snorkeling, adventure lovers will feel right at home. Staying at the beach resort will surely be an unforgettable experience.