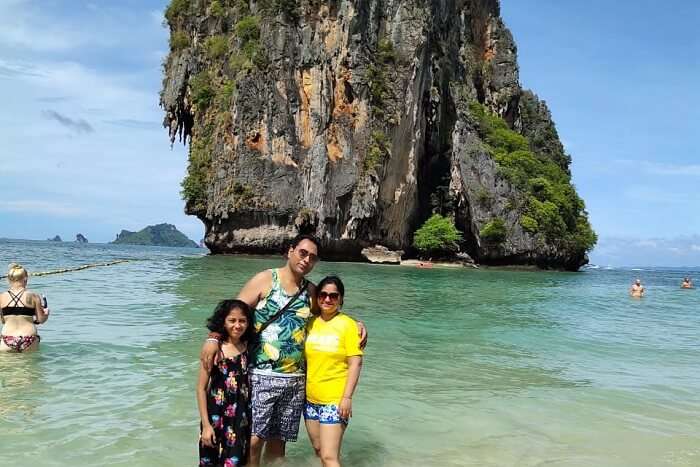 Ever since our first time in Thailand, when we explored Bangkok, my family and I couldn't wait to visit again. However, this time we were looking for a more relaxed vacation, close to the beach and away from the bustling city. When a friend mentioned visiting Krabi and Phuket, we started to look more into it. The beaches were extremely beautiful with so many exciting water sports to try, we felt like it would be the perfect fit for a laid-back holiday.
Moreover, we found that there are plenty of things to do in krabi with kids which was perfect since we were taking our daughter along. Soon we started browsing for packages and came across TravelTriangle. We were thrilled with the options and settled on the package that met our preferences best. And soon, we were on the exotic island making memories to cherish for a lifetime.
Table Of Content
Details Of Our Family Trip To Krabi
Trip Type: Family Trip
Cost: INR 119000
No. Of People: 3
Duration: 5 Nights 6 Days
Inclusions: Breakfast, Airport Transfer, Sightseeing and Tours, Airfare
Exclusions: Visa, Personal Expenses
A Glimpse Of Our Itinerary
Day 1: Arrival in Phuket and transfer to Krabi
Day 2: Four Island Tour in Krabi
Day 3: Transfer to Phuket
Day 4: Phi Phi Island Tour
Day 5: Phuket City Tour
Day 6: Departure back home
45 Breathtaking Places To Visit In Krabi In 2022 For A Relaxing Thai Vacation
Weather In Krabi In May
I would say that summer can get quite hot in Krabi. This didn't bring down the enthusiasm, but I would definitely recommend planning a little further in the year. If you are a beach lover, then however this is a good time to hop in for a refreshing swim or work on your tan!
The Best Things To Do In Krabi With Kids
Here is the list of the experiences which made our trip extraordianary. Take a look!
1. Krabi: Going Island Hopping!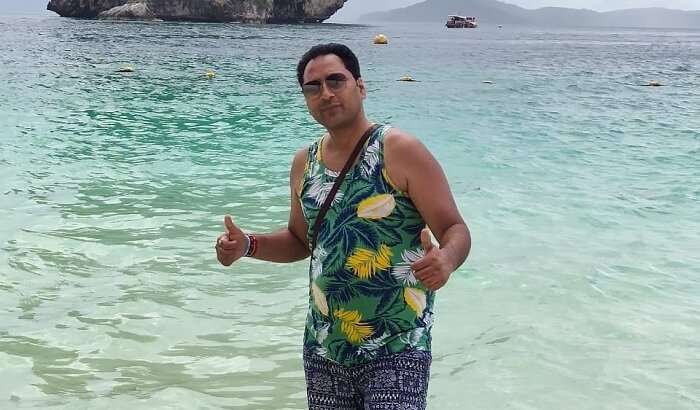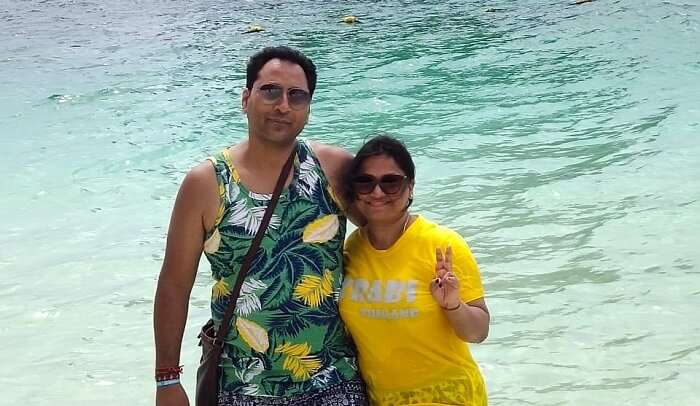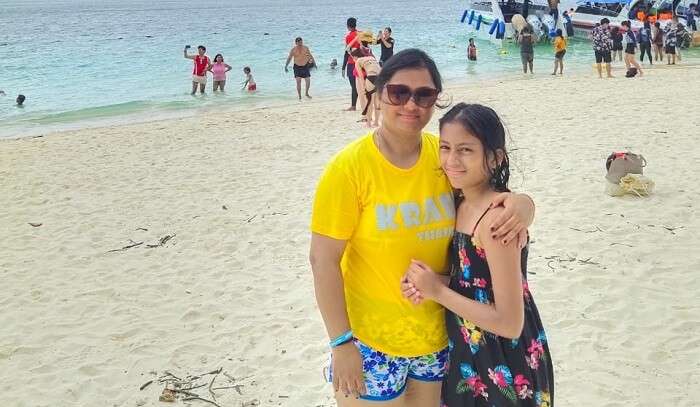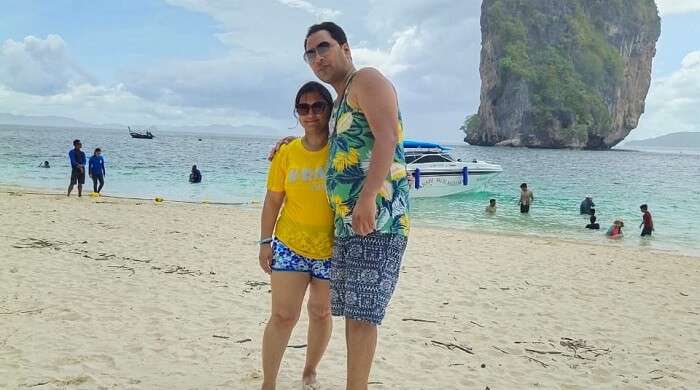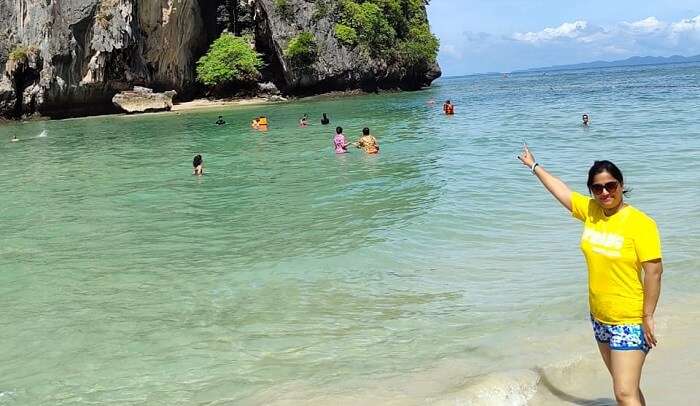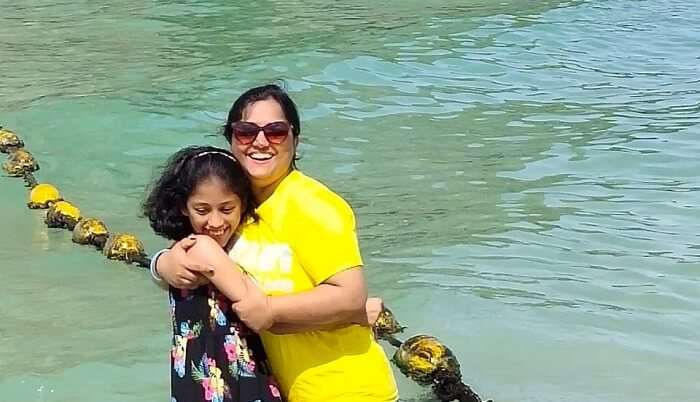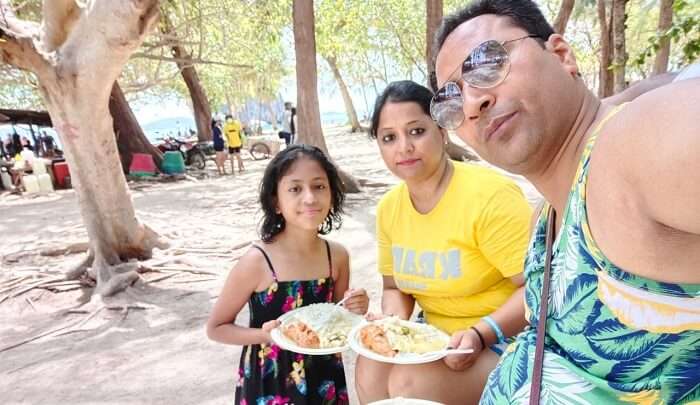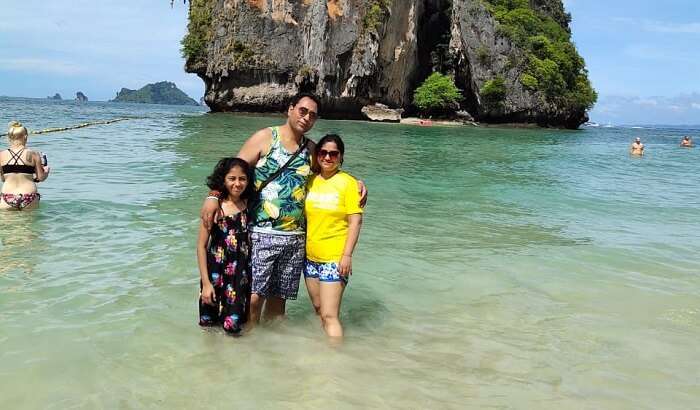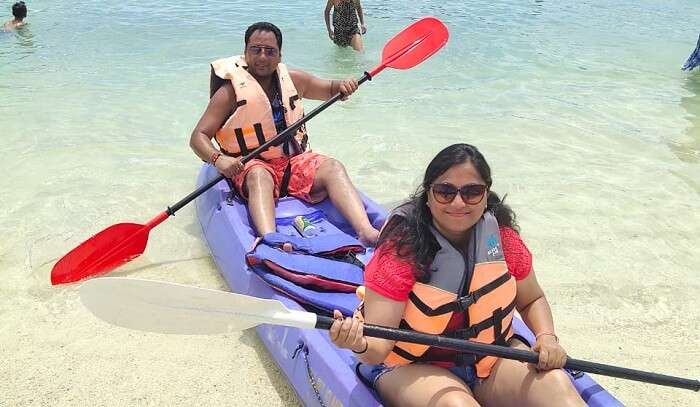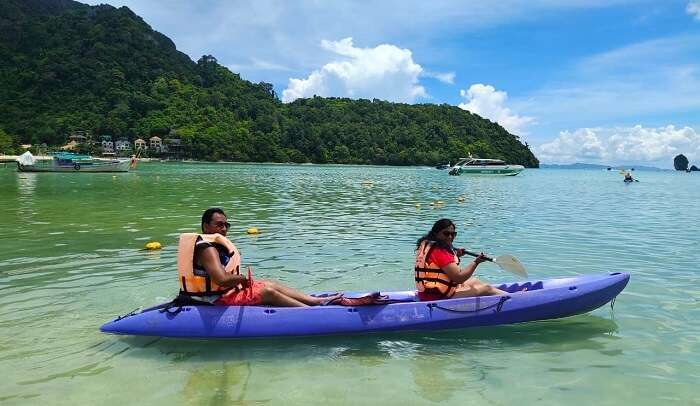 As we landed in Phuket on the first day of our holiday, we were transferred to Krabi where we checked into our resort named, Apple A Day Resort. The next day, after a delicious breakfast, we set out on a Four Island Tour. First Up was the Chicken Island where enjoyed swimming among the beautiful fishes and clear waters. Our daughter enjoyed this experience as well and I would definitely recommend this tour to families looking for things to do in krabi with kids.
From there on, we walked the sand bank to Tup Island which was just as beautiful. We hopped in for some exciting water sports at Poda island and lastly we relaxed at Pranang Cave Beach. These islands are certainly one of the best places to visit in Krabi with kids.
2. Phuket: Exploring Phi Phi Island!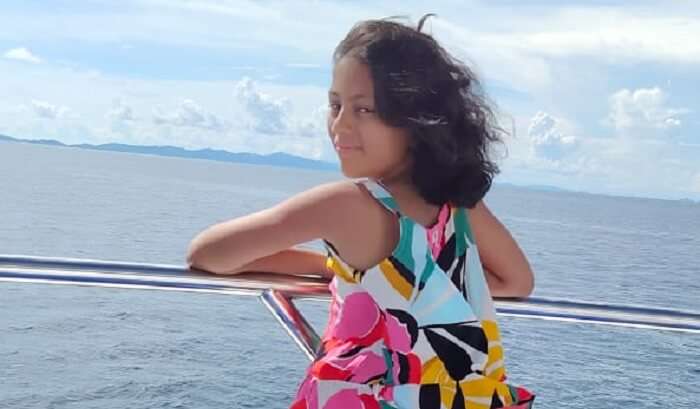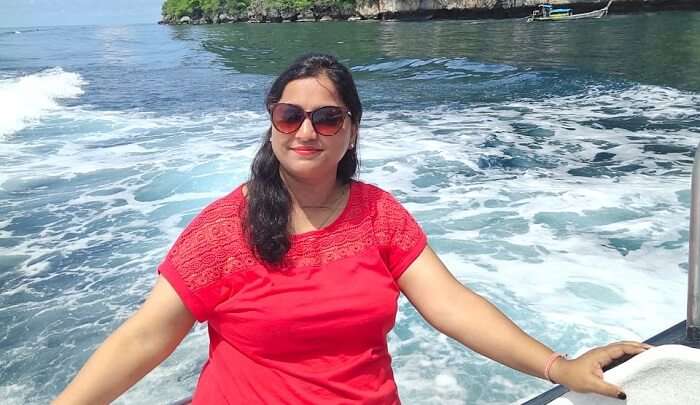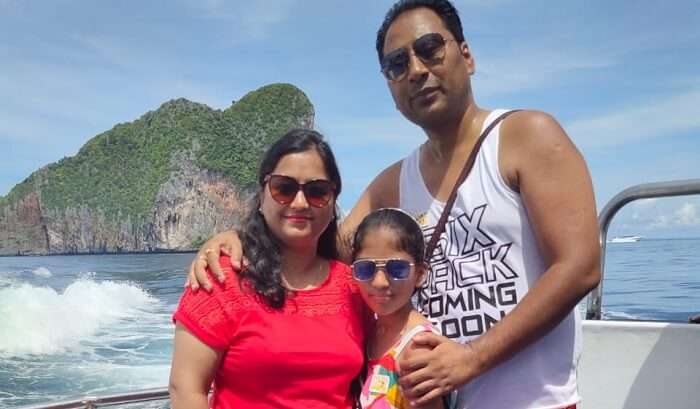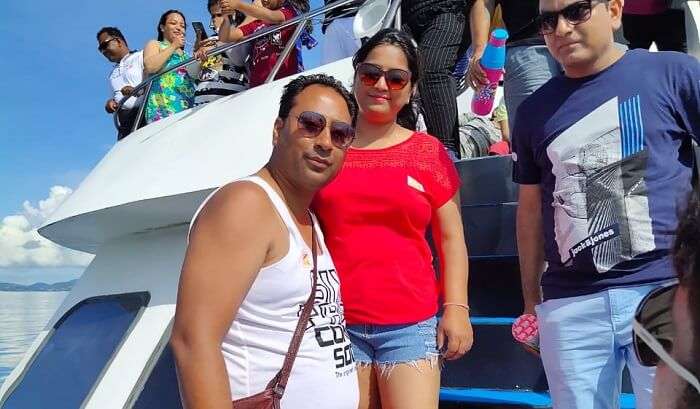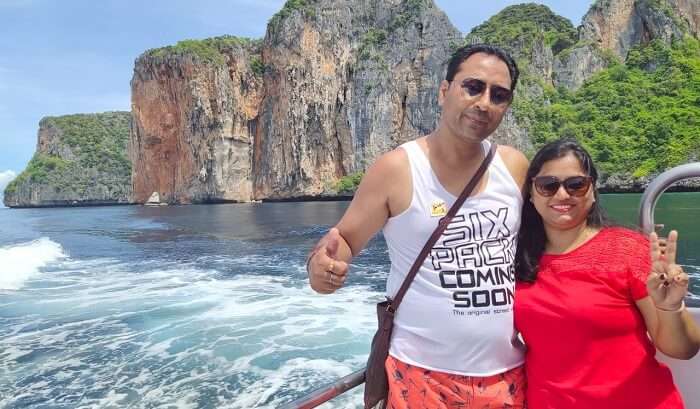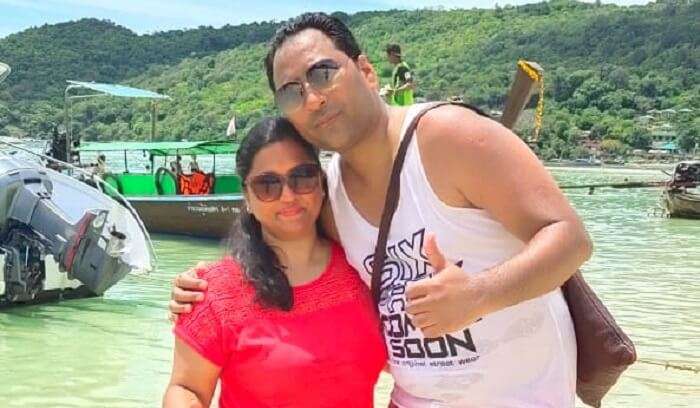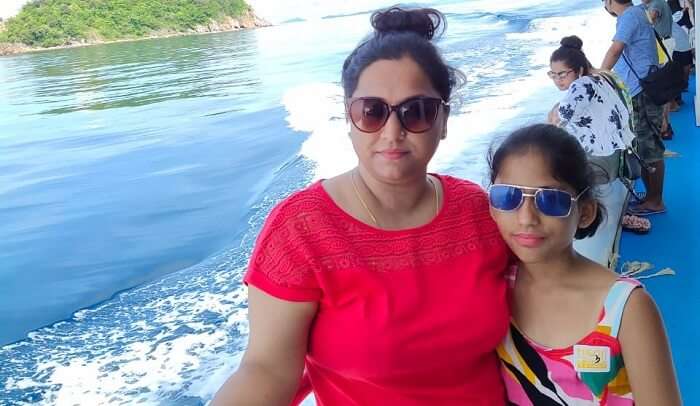 After an exciting 4 island tour, it was time to pack our bags and head back to Phuket. After a quick boat transfers, we checked into our hotel and spent the rest of the day at leisure. The next day, we woke up as thrilled as ever for the Phi Phi Island Tour. This is one of the most talked about Phuket day tours and we just had to take it!
We hopped onto the boat and proceeded to witness some of the most beautiful sights. We stopped at Maya Bay and LoSah Bay on the way. Soon it was time was lunch and we indulged in an exquisite meal onboard. I have to say, if you are a seafood lover, Phuket is a your paradise. We also visited the Ton Sai Bay which a little village where you can shop and enjoy some street food.
Shopping In Krabi: 10 Places To Stop By In This Lesser Known Paradise For Shopaholics
3. Phuket: Experiencing The Vibrancy Of The City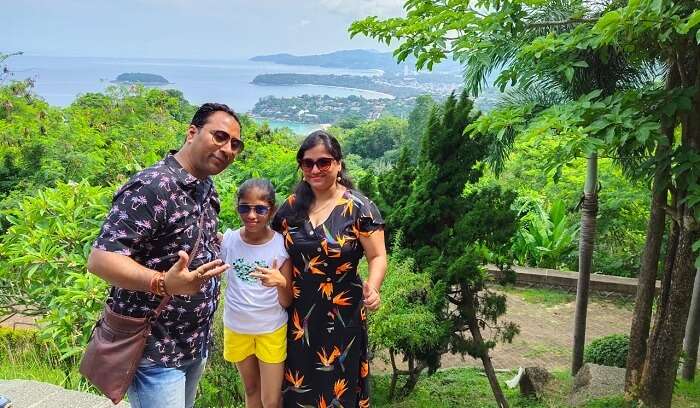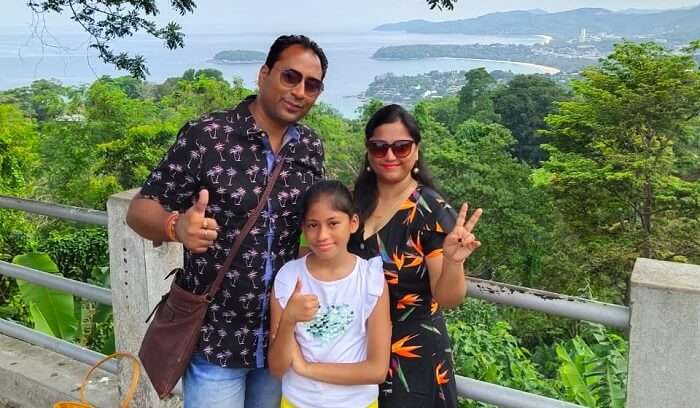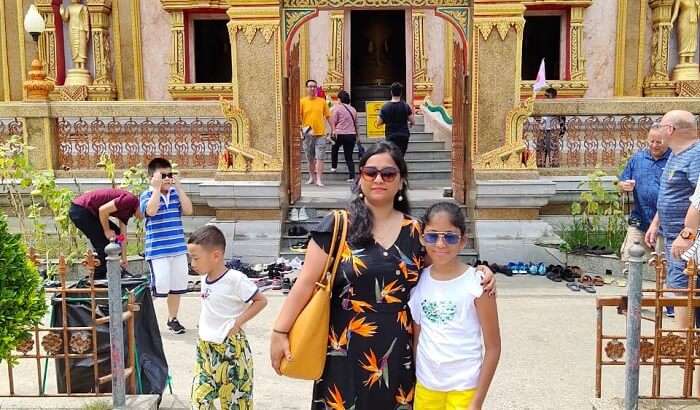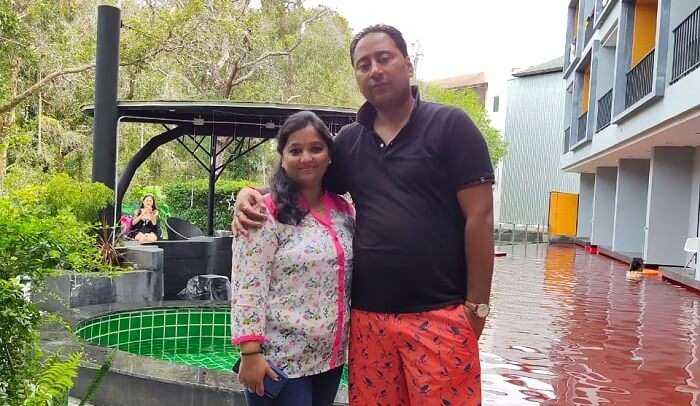 We had saved the second last day of our vacation for a Phuket city tour. We put on our walking shoes and head towards the Rawai Beach and Nai Harn Beach. On the tour we also visited the Chalong Temple which is the largest temple in the city. This should be on your list of places to visit in Phuket, for sure. And of course, how could we forget the World Gems Gallery which has some of the most luxurious stones and jewelry. After spending a day exploring all the major attractions, we head back to our hotel to catch up on some rest before our flight the next day.
Where We Stayed During Our Phuket Holiday
In Krabi we stayed at An Apple A Day Resort which was simply beyond beautiful. The location was great as well while the staff were extremely humble and helpful. In Phuket on the other hand, we stayed Seaview Patong Hotel. Here while we had a comfortable stay, we would have appreciated prompt room services and customer assistance.
Kayaking In Krabi: A Handy Guide For 2022 To Sail To The Hidden Islands
Our Food Experience In Krabi & Phuket
As I mentioned before, Phuket is certainly an amazing place for non-vegetarians in terms of food. We indulge in amazing seafood varieties as well as sampled some of the local delights. You must also make sure to Pad Thai which is raved about in Phuket. Vegetarians on the other hand have a few options as well, and Indian restaurants can be found in the city as well. We happen to dine at one of the Punjabi restaurants and had an amazing time.
Vibrant Culture, Majestic Beaches, And An Epic Nightlife: Our Romantic Trip To Thailand Was Blissful
Do's And Don'ts
Dress properly when visiting temples and royal palaces.
Don't forget to take out your shoes wherever required.
Don't point out anyone.
Do carry a mosquito repellent.
What To Pack For Krabi Trip
I would definitely recommend packing light since the weather is hot and humid for the most part. Also, don't forget to pack your swimsuits and sunscreen since you will be spending most of your time at the beach or in the water. Krabi with kids is just as fun, but if you have very young kids make sure to carry your own floaters if you will be going in the water.
How To Reach Krabi
The best way to reach Krabi is by boarding a flight from any of the major airports in India . You can board a flight from India to Bangkok or Phuket and then a take a bus from there to Krabi. There are a lot of buses availble.
Our Experience With TravelTriangle
Our vacation in Krabi and Phuket was simply beyond amazing. The beaches, the palm trees swimming along and the fun-filled island tours have given us memories that we will cherish forever. There are many things to do in Krabi with kids and our little one enjoyed this trip just as much as we did. Kudos to TravelTriangle for always communications with us and managing the bookings so well!
Full Moon Party In Thailand In 2022 Is Going To Be Beach Madness At Its Loudest!
If Phuket is a place that has been sitting on your travel list for long enough, then go ahead and start packing your bags. And if you are traveling with family, then don;t worry because there are plenty of things to do in krabi with kids. The beauty of this island is definitely something one must experience when in Thailand. So go ahead and head iver to TravelTriangle to customize your Thailand itinerary now!
Common Queries You May Have About Krabi
What is there to do in Krabi at night?
If you are a party person, you will find many places to Krabi to visit at night. However if you are traveling with kids, then I would suggest heading to Walking Street for some delicious street food and shopping experiences.
What is the best beach in Krabi Thailand?
I have to say our favorite was the Phra Nang Cave Beach. It wasn't just breathtaking beautiful but also unique in its own way.
How many days in Phuket is enough?
I would suggest a minimum of 2 days if you are visiting Phuket since there are plenty of beaches and temples you can explore. If you want to enjoy a more laid-back vacation then 3-4 days are enough.
Which is better Phuket or Krabi?
While Krabi is perfect if you're looking for a more peaceful getaway, Phuket has its own charm. Krabi is less crowded with natural beauty all around, while Phuket on the other hand might be crowded but has some truly interesting attractions to visit. We wanted a little bit of both and so we went ahead with it!
Comments
comments