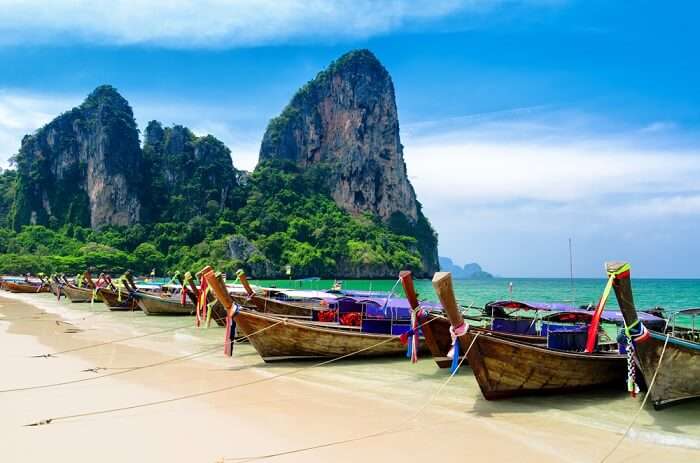 Lying in the area of mangrove forests and limestone karsts, Krabi is a Thailand Province near Andaman coastline. Full of stunning places and beautiful islands, it has slowly but steadily emerged as a popular place to visit in Thailand. An overwhelming list of best places to visit in Krabi, make it quite a loved holiday destination. While we help you freeze the key attractions you must have in your itinerary, make sure you are closing down on the booking just in time.
Best Time To Visit Krabi
The temperature around the province is always pleasant with around 32° Celsius. There are only two seasonal spells in Krabi – one the dry season and the other being the rainy season. So you can either visit during the rainy season i.e. from June to November which are the best months to soak in the moisture. Or you can opt for the dry months and enjoy the sunshine time. However, if you ask specifically, then January to late March is the best time to visit Krabi. Clear sky, pleasant weather, glassy sea, and moderate crowd welcome you to the shores of this coastal province.
Must Read: 15 Best Resorts In Krabi For Soaking In Ultimate Bliss & Luxury
17 Best Places To Visit In Krabi, Thailand
Now that we are done with the basic information, let's dive into the beachy world of the Province and know more about the best places to visit in Krabi.
1. Railay Beaches And Caves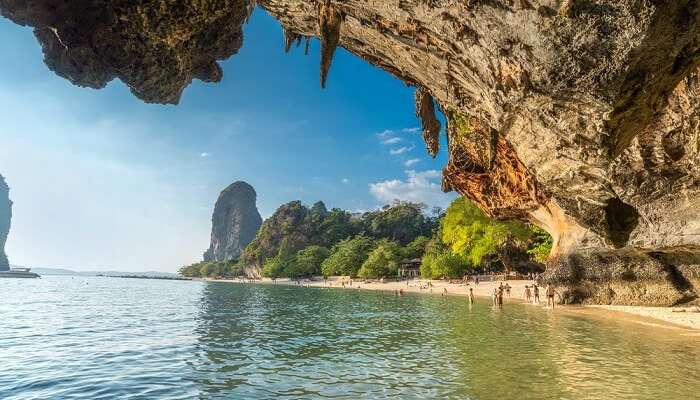 Glittering white sand, stunning landscapes, shining sun, transparent water and tropical climate of Railay Beach are quite pleasing. However, all these things don't set it apart; what indeed set it apart is its limestone caves ceded in high and mighty cliffs. Even though it accessible only by boats (due to sharp cliffs on both sides), Railay Beach has been able to gain its popularity as one of the best places to visit in Krabi. Apart from its few long-tailed boats and scanty bars, the island is secluded.
What's special: Limestone caves and seclusion from all the world.
Things to do: Set out on foot to explore these caves. If you know the right people, or if you are not reserved about shelling out some extra bucks then indulge in a yacht party. Float on clear water and hold your bae while doing so.
Must Read: 10 Best Beaches In Thailand You Need To Visit Right Now
---
Thailand Holiday Packages On TravelTriangle
Experience thrilling adventure sports, enjoy Thai cuisines, or pamper yourself with a relaxing spa. Book Thailand holiday packages on TravelTriangle and enjoy the beauty of the beaches of Krabi, Phuket, and Ko Samui.
---
2. Thung Teao Forest Natural Park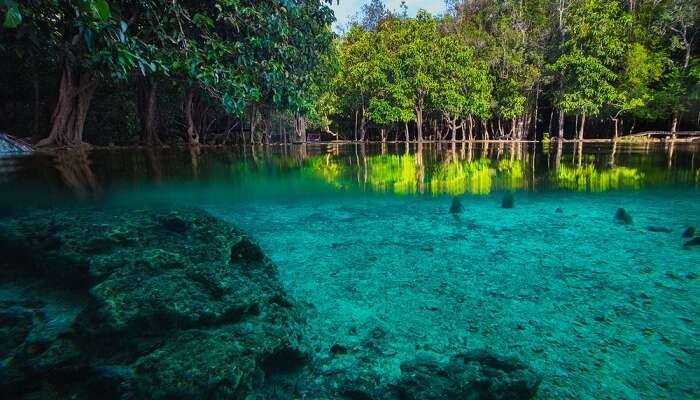 Fabled beauty and ethereal landscapes are two apt phrases used to describe Thung Teo Forest Natural Park. High trees in the darkest of greens, deep emerald-colored water at its purest, wildlife at its maximum ease, and beauty at its unusual prime – the stunning waterfall in the middle of the Natural Park gives off the surrealistic charm. So much beauty and there are no takers for it? Not possible! Thung Teao Forest Natural Park is one of those unmissable spots that should be on the list even if you are looking for places to visit in Krabi in 2 days or 3 days. Often bustling with for photographers and nature lovers as the park offers various opportunities and landscapes to capture this otherworldly beauty in camera or on canvas.
What's special: Emerald Pool and beautiful landscapes.
Things to do: Grab a camera and set out to arrest those beautiful places in for eternity. Sit beside rocks and reflect back on your life. Dive in the Emerald Pool and go splashing. Bring a picnic basket and munch on comfort food while exploring the wilderness of the Park.
Must Read: Krabi vs Phuket: Which Exotic Destinations Fits Your Holiday Plans?
3. Wat Tham Sua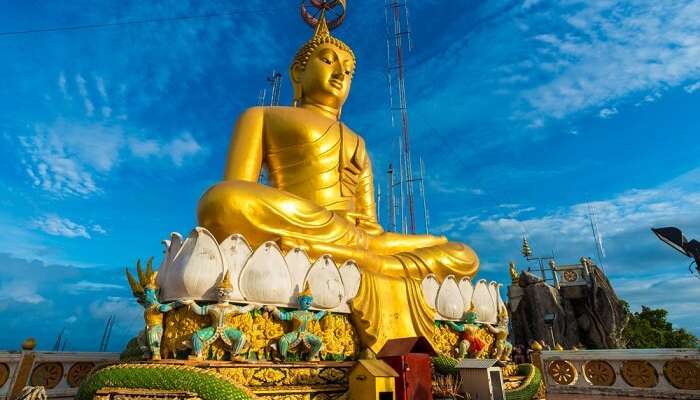 Labyrinth of stone caves, Wat Tham Sua—also known as Tiger Cave—is a remarkable place to see in Krabi. Sitting within the thick and high jungles, these caves house many temples and pilgrims inside their premises. Several monks set their station inside these caves to take a step towards divinity. Some of these monks have been there since their birth. Legends state that once a tiger used to live in these caves who was precious to Lord Buddha, and hence the name. As you explore the caves, you will come across many relics and icons depicting the lives and beliefs of the religion. The climb to the top of the caves is whole another story; the cool breeze and energetic aura of the place are very well received by many with open arms.
What's special: Spectacular caves and 360° view from the top.
Things to do: Climb the 1,237 steps to reach the top of the caves where 'Footprints of Buddha' are stationed. Reaching there is no small feat, however it is all worth it for the panoramic view of the Andaman Sea and other surrounding islands dotting the sea.
Must Read: How To Plan An Exquisite Family Trip To Thailand: Get Fun Ideas From This Sweet Couple
4. Krabi Town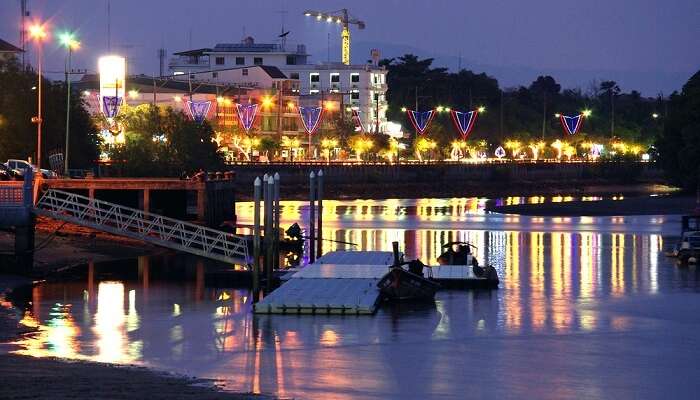 Even after being termed as one of the best places to visit in Krabi, Krabi Town has managed to retain its old-world charm and simplicity. Amidst all the hoopla, it has been able to live and breathe as it used to several decades back. Even though it has been introduced to modernity, the town is still considered to a homely place which spreads a comforting blanket over home-sick and troubled people. Several fishing boats line the dock, small bars welcome the tourists, quaint café see many evening teas and morning breakfasts being held in them, beautiful parks have seen tourists and locals mingling and jingling with each other.
What's special: Old world charm and Thailand's unquestionable beauty
Things to do: Laid-back days and lazy nights are well-spent in Krabi Town. Take a stroll on the docks, sit on the sea-side and enjoy a drink of coffee. Also, partake in musical galore if the bars and have a gala time. And don't forget to capture moments in your camera to share with your loved ones. Or if you are a lazy bum, just grab a book and lie down under a tree to enjoy a sunny afternoon.
Suggested Read: Beyond Bangkok: 10 Tourist Places in Thailand You May Have Ignored Before
5. Krabi Shell Cemetery, Susan Hoi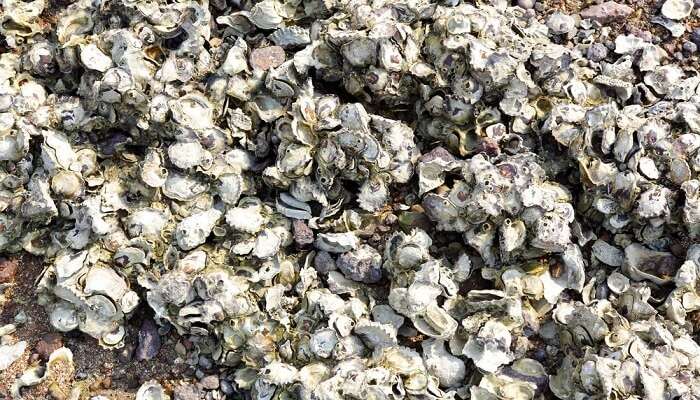 A scary spot in the city, Krabi Shell Cemetery is one of the oldest places to visit in Krabi Island, dating back to more than 40 million years. The 200 m stretch of fossilized shells came into being when limestone deposits covered the beings, trapping them in the process. It is one of the only three such cemeteries found in the world. The place is a haven for geology buffs and sea-relic lovers. There are mangrove forests and several small Chinese temples to explore around the cemetery. However, it's preserved and undisturbed beaches of Susan Hoi that steal the show, apart from the eerie cemetery itself. Un-littered beach, white water, natural surroundings, and non-commercialized air, everything about Susan Hoi calls you in.
What's special: Geological wonders of shell carcasses and stretches of undisturbed sea-fronts.
Things to do: Play a game of discovery and see who can find more unique shells and explore the reserved forest area and parallel beaches which are otherwise closed for the public, but accessible through the cemetery. Also, enjoy a beach hour or two on the beaches of Susan Hoi.
PS: It is recommended that you hire a guide to take you through the fossils of shells, thoroughly.
Suggested Read: Indian Restaurants In Krabi: Get The Taste Of Desi Zayaka In Thailand In 2018!
---
Planning your holiday in Thailand but confused about what to do? These Thailand travel stories help you find your best trip ever!
Real travel stories. Real stays. Handy tips to help you make the right choice.
---
6. Klong Thom Hot Springs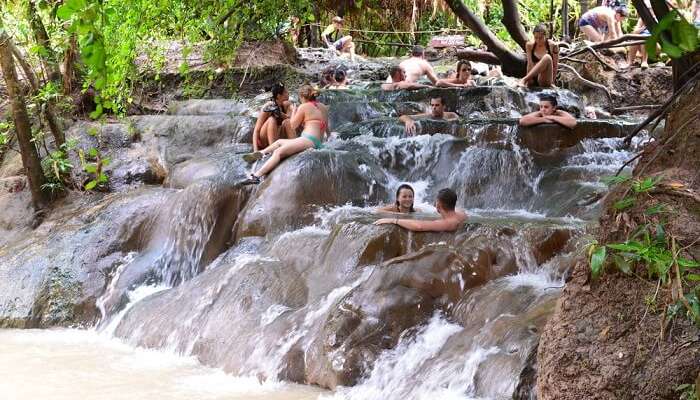 Free flowing warm water, decorated by shiny rocks that have been smoothed by the ferocious water flow – that's the scene at Klong Thom hot springs. These deep-rooted thermal springs are located inside the volcanic chambers of Klong Thom. The warm water is believed to possess certain healing properties that help aid the skin diseases. Stretches of vegetation come as a welcome gift, away from the hustles-bustles of the city. Even on the warmest day, the temperature of water goes upto 42°-43° Celsius. Still, if the warmth gets the better of you, douse yourself in the cool stream, flowing alongside the hot springs. Located quite close to the Emerald Pool at Thung Teao Forest Natural Park, it is a good idea to plan a combined trip and enjoy the perks of these two spectacular places to see in Krabi.
What's special: Healing water and surrounding beauty.
Things to do: Take a dip in the thermal spring; or march out to the surrounding woods and have a day-picnic, right in the middle of the wilderness.
7. Phi Phi Islands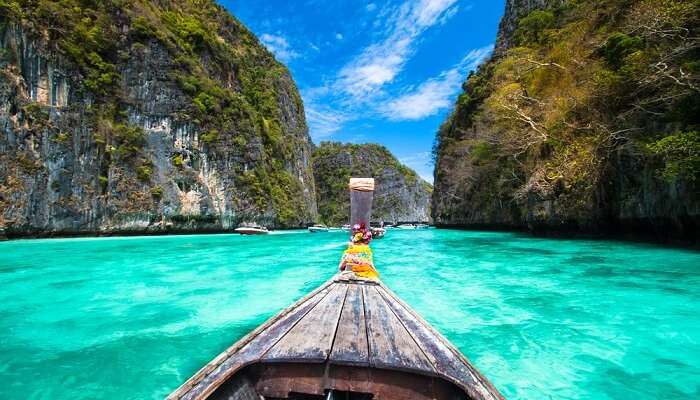 Remember the paradisiacal island from the Leonardo DiCaprio starrer, The Beach , of 2000? Well, that heavenly place from the fabled map does exist, though with the name Phi Phi Islands. A 45 minutes boat ride from mainland Krabi takes you through the illustrious journey to find this piece of heaven. Only one of the two islands – Phi Phi Don and Phi Phi Leh – is inhabited. Tourists flock to Phi Phi Don with the motive to connect with the natives as well as nature. The tropical paradise is known for its turquoise water and pristine beaches. You can even take your own yacht to the islands if you plan to stay longer than 4 hours.
What's special: Exquisite beauty and white sand beaches.
Things to do: The tropical heaven calls for a tropical vacation – so set out to spend your day the beachy way, complete with a couple of bikinis, suntan, and coveralls.
Suggested Read: Full Moon Party In Thailand Is Beach Madness At Its Loudest
8. Khao Khanab Nam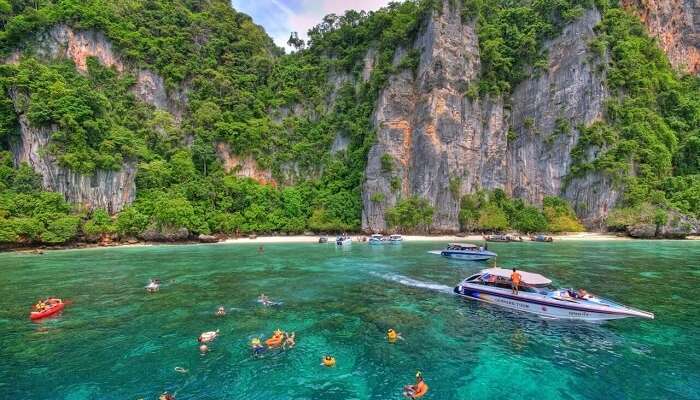 Khao Khanab Nam is the most recognizable landmarks in Krabi. These are actually a set of mountains on either side of the bay. Their sparse vegetation and dusky brown color set the color of blue ocean bright. On top of these two mountains sits a labyrinth of caves. Made of stalagmites and stalactites, these caves are said to date to pre-historic era. Alas, the beauty comes with a beast. There have been numerous findings of human skeletons in these caves. Some claim that these are the passengers bound by pirates, while others state that these people were once stranded in the caves due to floods. Some even go as far as to say that these people were offerings to the demon residing in the caves. Intriguing indeed! Some now set sail to this one of the mysterious places to visit in Krabi island and have a thrill-filled day out.
What's special: Landmark mountains and humongous caves.
Things to do: Climb one of the mountains and get some panoramic clicks while enjoying the top; claim a spot on any of the caves and search for relics and possessions of old times; pose for the iconic picture in right in the middle of the two mountains; take a dive from one of the cliffs as the water here is clear and free of any rock formations.
9. Jianta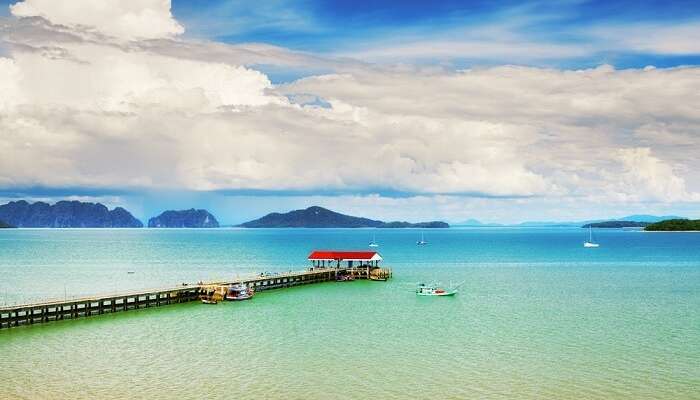 As they say, the image speaks for itself – Koh Lanta in Krabi is real, utter paradise on earth. Serenity, tranquility, and placidity lull the inconsequential chatter in your mind. Complete bliss and utter peace are your hand-in-hand companions on this island. About two hours away from Krabi, the island offers some quaint guest houses and resorts for you to reside in the utopian island. The surroundings are flourishing and contenting, perfect for soul-soothing. This stretch of 20 km seems like some other world where peace is the language spoken.
What's special: Calm and secluded location, surrounded with blissful beauty.
Things to do: Koh Lanta is a base to many diving schools. Get enrolled and dive into the colorful world of marine life and corals. Also, since tourism is not as evolved here, the place offers some exquisite spots to spend some alone time.
10. The Four Islands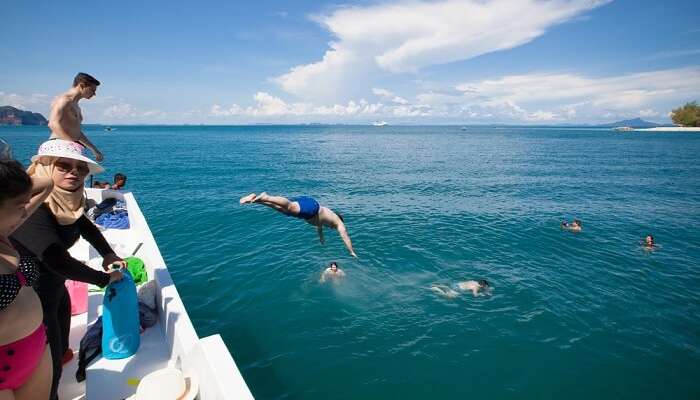 The four of the seasoned points of interest in Krabi are Tup Island, Phra Nang Cave, Chicken Island, and Poda Island. The tour to these four islands is popularly known as Four Island Tour in Krabi. The tour stops at every island for enough time for you to indulge in sunbathing, swimming, eating, exploring, and relaxing. The tour usually takes a day to complete, including leisure and traveling time. The tour serves your purpose of going for Krabi sightseeing at minimal cost and with a set of guides. Individually, these islands don't have much to offer except their exquisite beauty and serene environment. However, when combined, these four islands impress the tourists to no bound.
What's special: Adventure sports and exquisite beauty.
Things to do: Try your hand at adventure sports like kayaking, parasailing, caving, water-scooter riding, diving, snorkeling and etc. Instead of club-hopping, the party in a more stylish manner with island-hopping. Chill out with a drink or two on the shore of these islands and have fun times.
PS: The boats usually seat 35-40 people. The seats are on the basis of first-come, first-serve basis. So hurry up while trying to board the catamaran.
Suggested Read: Koh Lanta Tours: 10 Places That One Cannot Miss During Their Vacation In Krabi!
11. Ao Nang – Enjoy a long beachfront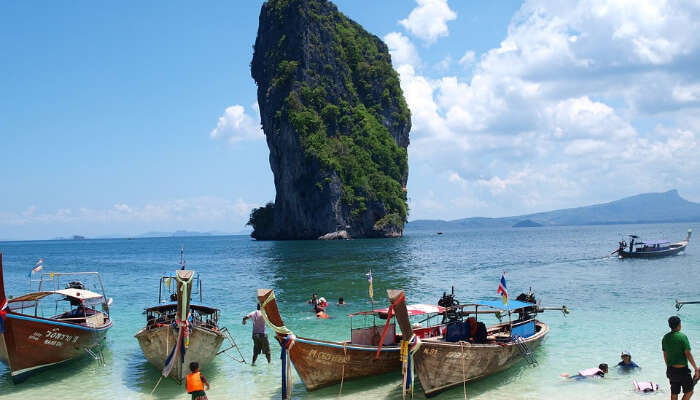 A resort town in southern Thailand's Krabi Province, Ao Nang is popular for its long Andaman beachfront. It is also a great place from where you can go off for diving, as there many good diving spots in the vicinity of its bay. Another major highlight of Ao Nang is that it is a hub for long tail boats Hire a boat and take trips to the nearby beaches of limestone islands including Ko Hong, Koh Poda and Koh Gai (Chicken Island). If you want to try some rock climbing, you can take a boat tour to Railay Beach.
What's special: Long boat trip to the nearby locations
Things to do: Adventure activities including diving, snorkeling, rock climbing
12. Lanta Animal Welfare – Cuddle some animals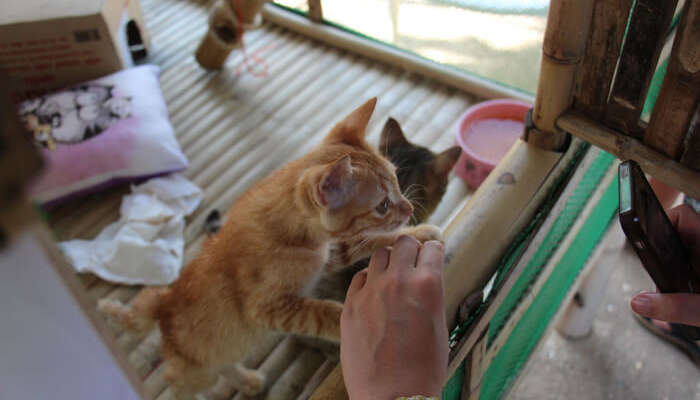 You must be wondering how an animal welfare organization has got on the list of best tourist spots. But you too would agree with us if you visit this place. Lanta Animal Welfare is a non-profit animal protection organization located in the Sala Dan region of Krabi. This place has a large number of rescued dogs and cats which are out their adoption. But if you love these adorable creatures, come over to spend some time here cuddling and feeding them. You can also play with the animals and take them out for a walk. It is going to be true stress relieving experience.
What's special: There are guided tours and merchandise available here
Things to do: spend some quality with dogs and cats, cuddling and feeding them
Suggested Read: 10 Indian Restaurants In Krabi: Get The Taste Of Desi Zayaka In Thailand In 2018!
13. Phra Nang Beach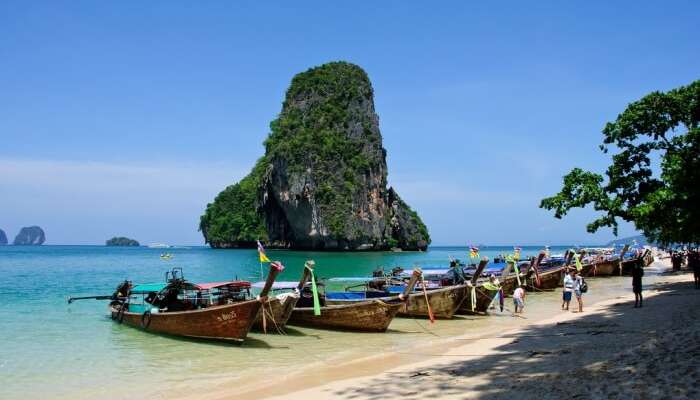 While you might have to take a boat from Ao Nang to reach this little haven, it will be worth your while. The ride might cost you around 100 baht or so and will take only 10 minutes. According to a local legend, the beach is named after an Indian princess-goddess who died in a shipwreck. To represent the Hindu god Shiva, the cave is covered with many phallic-shaped statues or lingas. The soft, white sand of the sprawling beach will have you enchanted for sure.
What's special: Phra Nang Cave Beach
Other things to do: Other than visiting the beautiful beach cave, you can go rock climbing here
14. Krabi Elephant Sanctuary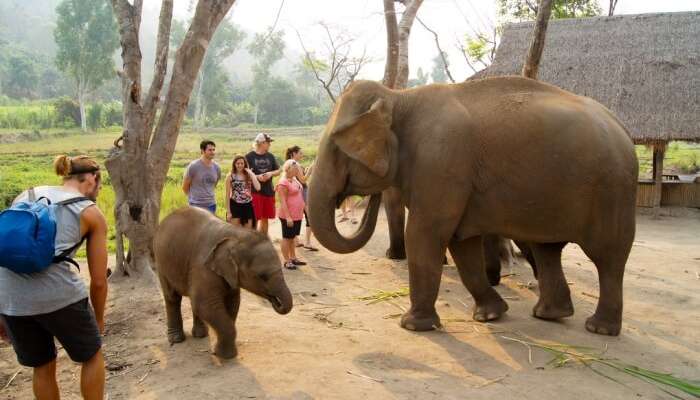 Krabi Elephant Sanctuary is a new home for those elephants that have become overtired after working in logging and tourism industries for years. The sanctuary tries to get these elephants back into their natural habitat where they can form herds and live the rest of their lives without the risk of being overworked. You can feed and walk with the elephants and watch them while they enjoy a splash in the natural lagoon nearby.
What's special: Rescued elephants that you can feed and walk with
15. Wat Kaew Korawaram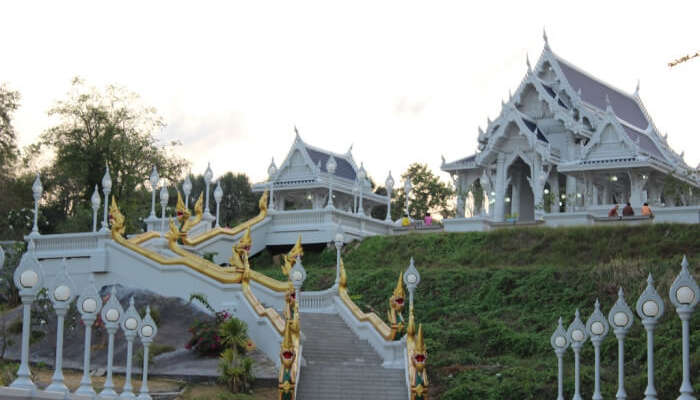 Wat Kaew Korawaram is the biggest temple in Krabi. Though not as beautiful as Tiger Temple, it manages to hold its own due to its dazzling white exterior. You will get to see many colourful frescoes telling the stories of Buddha and will enjoy walking through the long hallways. While you can visit this temple on your own, there are some rooms and hallways that you cannot enter without the monks' permission. It is a great choice as it does not attract as many tourists as other places.
What's special: The carving of Buddha made from a single piece of jade
Other things to do: You can click pictures of the beautiful frescoes, enjoy the temple gardens and try your hand at meditation
Suggested Read: The Best Oasis Of Thailand: 8 Best Beaches In Krabi One Should Explore In 2018!
16. Ao Luk Mangroves and Caves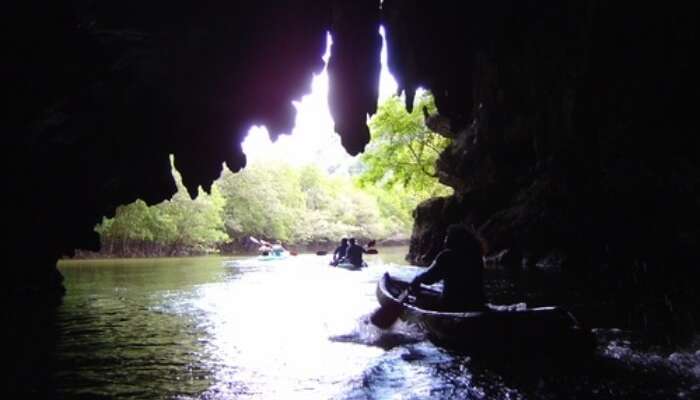 If you are looking for uncrowded tourist destinations in Krabi then Ao Luk Mangroves should be your choice. With these limestone caves, of which one is nearly a narrow tunnel with many stalagmites and stalactites and the other that served as a burial site nearly 3 millennia ago, you will enjoy a day full of adventure in solitude. The caves even have some wall paintings and unique rock formations.
What's special: The 3000 years old Dragon head carving in one of the caves
Other things to do: You can go boating here and climb up mangroves
17. Than Bok Khorani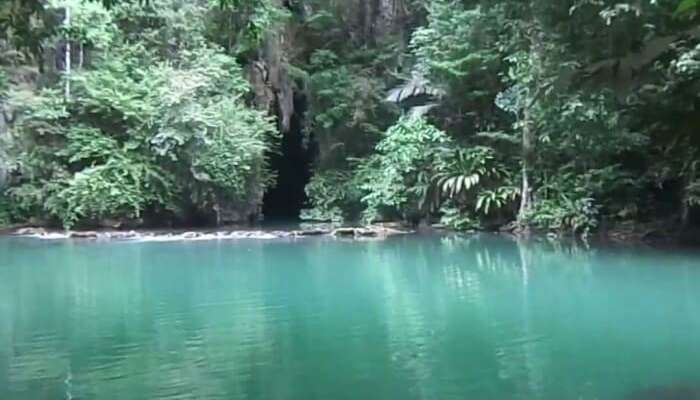 Some 10 minutes upstream of the mangroves is Than Bok Khorani Nationak Park. While there is a 300 baht entry fee associated with it, the picturesque waterfalls and emerald water pools are completely worth the while. Not a very well-known spot with tourists, it is a hub for the locals who believe that the waterfall has rejuvenating properties. There are a lot of caves around the area as well.
What's special: Emerald pools
Other things to do: kayaking, longtail boat riding, see crystal rock formations and stalactites
18. Tiger Cave Temple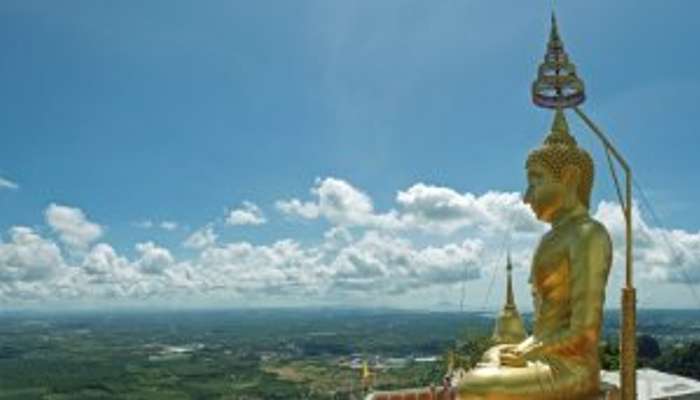 This is one of the best places to visit in Krabi with family. Reaching atop this temple might seem like a vigorous task but the breathtaking view that you'll get after reaching there will totally compensate for it. This is a Buddhist temple that is much revered here. Tiger Cave Temple has derived its name from the fact that there are said to be the paw prints of tiger that you can see once you're in the cave.
What's special: the magnificently giant golden Buddha statue at this temple.
Things to do: sightseeing from the temple to have an awe-striking panoramic view.
19. Tab Kak Hang Nak Nature Trail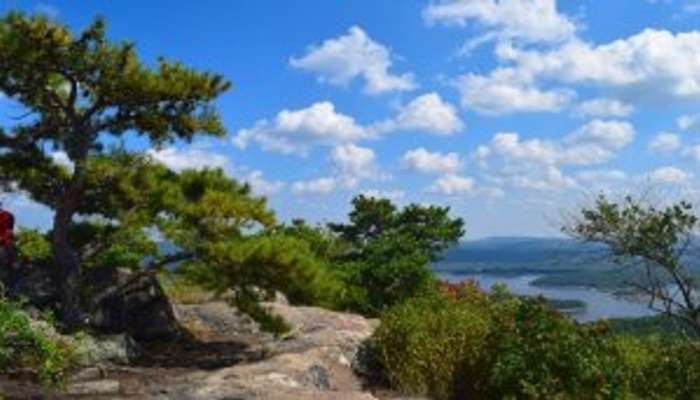 One of the best ways to witness the natural aspects of Krabi from close is indulging in adventurous activities. This trail will ensure you undergo a memorable trekking experience, thanks to the lush greenery, bright flora, and awe-striking views of the landscape. Don't forget to carry your camera along, for you'll get some really great shots here.
What's special: vantage point of this trail will surprise you owing to the mesmerising view of the landscape you'll get to witness here.
Things to do: adventurous trekking
20. Ao Nang Beach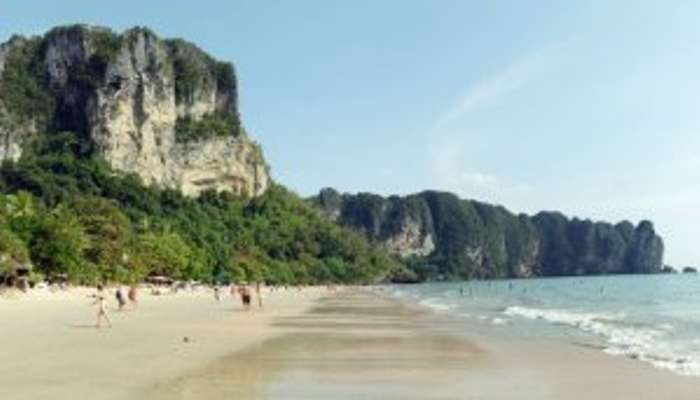 Krabi is like a paradise for all the beach lovers. Ao Nang Beach is one of the best places to visit here if you want to unwind and refresh yourself during your vacation. This is one of the most sought-after places in Krabi and this is why there are many tourist-friendly options available here. There are many dining places as well as accommodation options.
What's special: the limestone structures and the shallow waters that are ideal for swimming and snorkelling.
Things to do: swimming and snorkelling
21. Yung Island Or Mosquito Island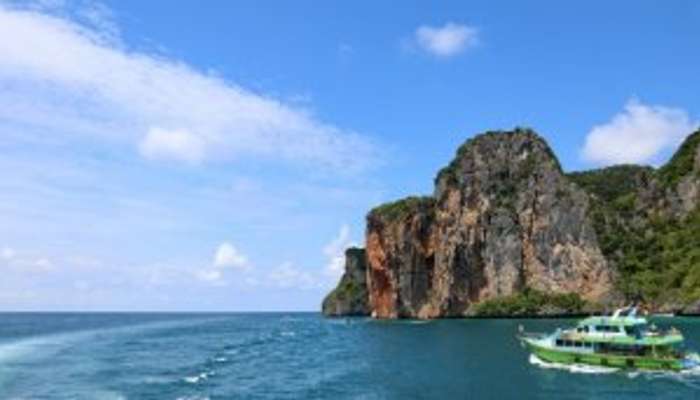 This is located in the most secluded areas of the island of Phi Phi. The Mosquito Island is known for the limestone cliff rock that has a height of 700 meters. This island is comprised of two beaches. At the time of sunset, the mosquitoes come to the two beaches in huge numbers and this is why the island is called Mosquito Island.
What's special: Mosquito Pinnacle that is located at a distance of 1 kilometer from the island
Things to do: you can try out snorkeling in the southeastern shores
22. Krabi Weekend Night Market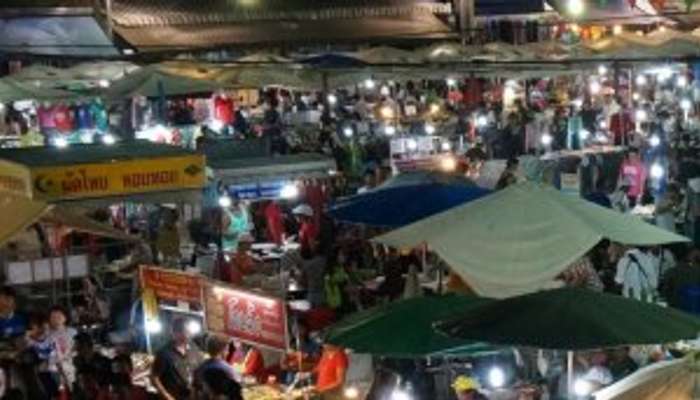 Make your weekends brighter and more happening by visiting this weekend market in Krabi that happens during the nighttime. The market is set up in the streets of Pak Nam, you can buy some really cool stuff here. Vibrant and vast, you must consider coming to this market when you want to explore some of the best places to visit in Krabi at night.
What's special: the street is known for best local food apart from stuff for shopping
Things to do: ultimate dining and shopping experience
23. Mor Island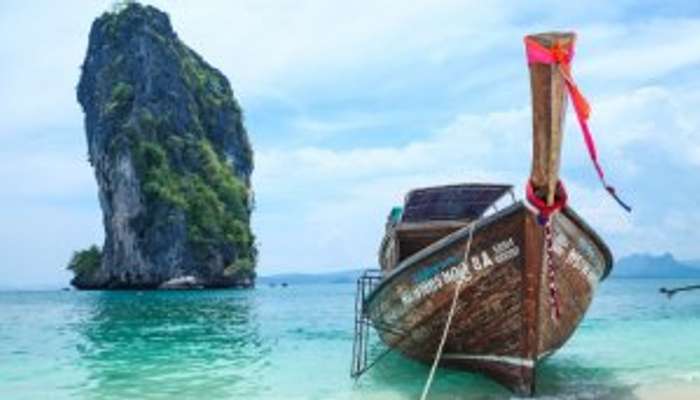 This island is located at a close distance to Chicken Island. Mor Island is known for its unparalleled picturesqueness. The azure waters will simply mesmerise you and make you want to never leave this place. This is one of the most relaxing places to visit in Krabi, Thailand. You can come here to enjoy some time in peace after spending time in the bustling areas of Krabi.
What's special: Sandbar that can be seen occasionally surfacing out of the water
Things to do: swimming, snorkeling, and boat riding
24. Mu Koh Hong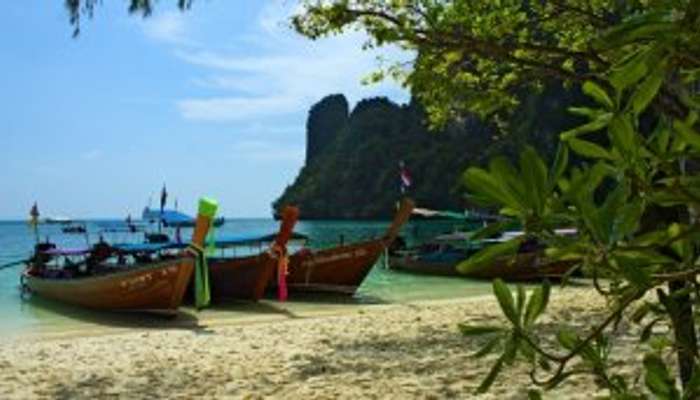 Mu Koh Hong comprises a group of limestone islands, including Sa Ka Lao La Ding, Lao Riam Pakka, and Lao Li Pe. This place is ideal for travelers who are looking for some adventurous experience during their trip, as they can get indulged in water sports. If you want to spend some time in peace, then you can even try out fishing here.
What's special: beaches with white sand and awe-inspiring coral reefs
Things to do: sea canoeing, kayaking, scuba diving, and fishing
25. Monkey Beach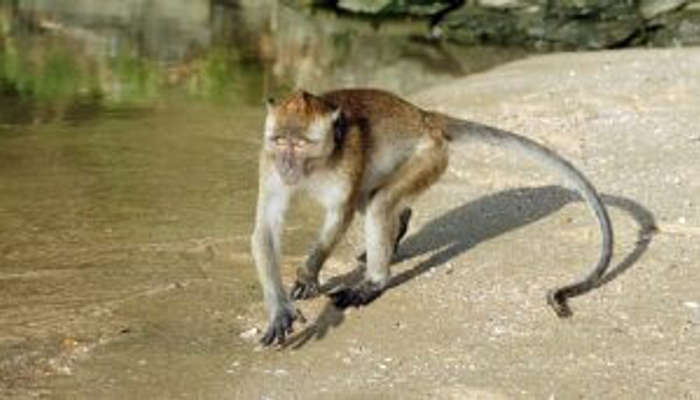 If you love animals, especially monkeys, then this is the place for you! This is a beach with great vibes and is surrounded by monkeys. Even though a visit to this place is quite safe, however, it is suggested that you keep some distance from the monkeys. This place is also considered ideal for snorkeling.
What's special: the playful monkeys that can be seen in huge numbers here
Things to do: snorkeling and kayaking
26. Dragon Crest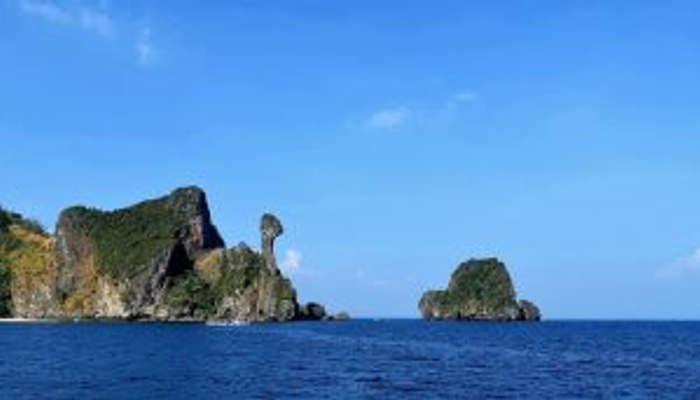 This place is truly meant for those who are looking for different ways to have their adrenaline pumping due to thrill and excitement. To reach this point, you'll have to trek amidst the forests. The 3.7 kilometers long trail will mesmerise you with lush greenery as well as a waterfall.
What's special: you'll get to see the greenery of Krabi in all its vastness from 2 points
Things to do: hiking
27. Robinson Crusoe Island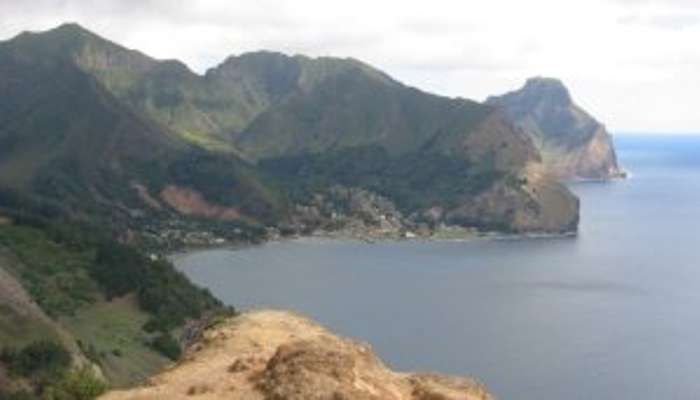 This is considered to be one of the hidden places in Krabi. This is an archipelago that has around 47 mini islands that are all unique. This is one of the best places to relax yourself after a long day and spend some quality time at beaches here with white sand.
What's special: the marine life that you'll witness while snorkeling will simply surprise you
Things to do: snorkeling
How To Get To Krabi
There are different ways through which you can reach Krabi. The transport system here is quite advanced. Scroll down to know more about it.
By Car:
Route 1: Through this route the distance from Bangkok to Krabi is 946 km. Take Highway No. 4 and drive along Phetchaburi, Prachuap Khiri Khan, Chumphon, Ranong, and Phang-nga to Krabi.
Route 2: Take a detour from Highway No. 4 to Highway No. 41 at Chumpon. Continue driving along the highway via Ao Leuk to Krabi. This route is 814 km long from Bangkok.
By Bus:
Deluxe buses depart from Bangkok's Southern Bus Terminal to Krabi, every day. Click here to know more about their schedule.
By Rail:
There is no direct train route from Bangkok to Krabi. You may however take a train from Bangkok to Surat Thani Railway Station and then take a cab from there to Krabi.
By Air:
Thai Airways, Thai Airasia, Nok Air, and Bangkok Airways operate numerous flights to Krabi, on a daily basis.
Further Read: 11 Kickass Water Sports In Thailand For The Water Babies
Apprehensive over where to go first? Well, have it from us – wherever you set your foot first in Krabi, it will be worth it. So don't hang up anymore and plan your personalized Thailand holiday with TravelTriangle and set out on your exploration of best places to visit in Krabi.
Frequently Asked Questions About Places To Visit In Krabi
Q. What are the best places to visit in Krabi for a romantic honeymoon?
A. The most romantic and adventurous in Krabi for a perfect honeymoon is the Phi-Phi islands where the couples can go scuba diving. Apart from this the Emerald pool and Klong Thom hot springs, tiger cave temple, and Krabi downtown are some of the must visit places.
Q. What are the best places to visit in Krabi by bike?
A. Huay Toh waterfalls, Ao Nang beach are some of the places one can visit in Krabi by bike.
Q. Which are the must-visit places in Krabi in 3 days?
A. Koh Poda, Koh Gai Phranang beach, Tup Island, Poda island, Tiger cave, Shell fossil cemetery, Noppharat beach are some of the must-visit places in Krabi if someone is traveling for only 3 days.
---
Looking To Book An International Holiday?
Book memorable holidays on TravelTriangle with 650+ verified travel agents for 65+ domestic and international destinations.
---
People Also Read:
Places To Visit In Maldives Places To Visit In Bankok Places To Visit In Phuket
Comments
comments