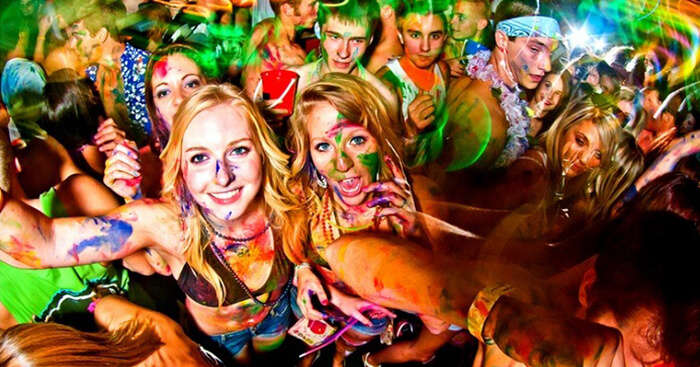 Think Thailand, think full moon party! The beach madness might be a monthly ritual at Ko Pha Ngan, but the way it is celebrated it feels like you get to do just once a year. For starters, here is all you need to do about the famous Full Moon party in Thailand. But before we begin, have your dancing shoes on, and your bags packed because chances are, you might not be able to resist and stay put for a very long time.
Full Moon party is not just a party, it is a festival with blasting music, paints, dance, drinks, fire shows, and colors. If that's the picture in your head, trust us you just have a bleak idea of what fun you're gonna have there!
About Full Moon Party
The Thailand full moon party concept started with a beautiful full moon near the concave beaches attracting tourists to party. But now, large is a small word — this party is HUGE. What started as a small impromptu party is now a full fledged festival, that too world famous. The celebration starts three nights before the actual event. First two days are utter insanity, on day one attend the coral bungalows parties to warm up your muscles; and then go for the jungle party on day two.
Highlights of Full Moon Party in Thailand: Party till the sunrise, live DJs, best of music, fire skipping ropes and alcohol buckets, just to name a few
Suggested Read: 11 Reasons Why Bangkok Will Ruin Indians For Life
---
Thailand Holiday Packages On TravelTriangle
---
Location Of Full Moon Party In Thailand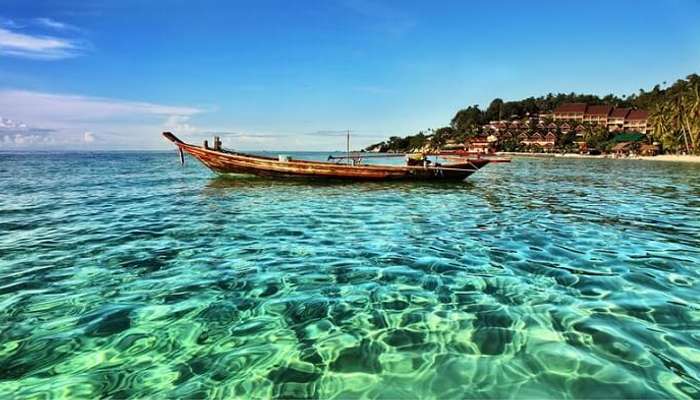 Haad Rin Beach in Koh Phangan is the place where this crime shapes itself and it is one of the best places to visit in Thailand for honeymoon. With plenty of ready-for-party-people nightclubs, small huts and bungalows, the beaches look absolutely stunning at the time of the party. The Full Moon Party Thailand's location just adds more charm to the whole festival.
Cactus Bar, Sunrise Beach Club, Drop In Bar, Zoom Bar and The Rock are among the coolest places to hang out in and make the most of your time. Just walk into the locale, you'll hear the speakers blowing up, people with glow-in-the-dark face paint, and fire workers stealing the show.
Full Moon Party Dates 2020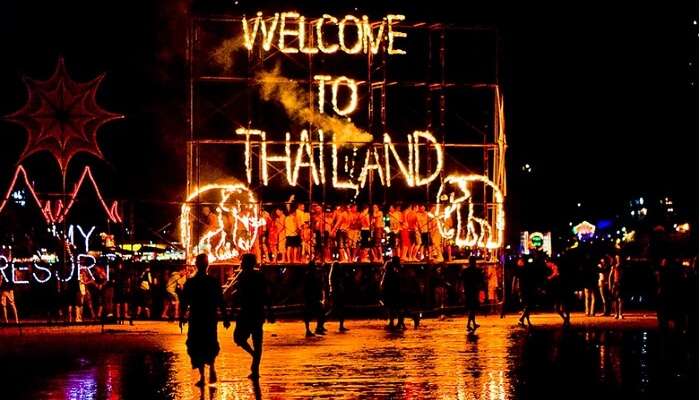 Full Moon Party Thailand 2020 dates are 9 February, 8 March, 7 April, 7 May, 5 June, 7 July and 4 August. Also you can attend the festival on Christmas and New Year. If you're unable to make it to Thailand during the given dates, you always have Half Moon Party, Quarter Moon Party and Black Moon Party (also known as Escape Parties) to back on. Oh, did we not talk about this yet? It's up next.
Suggested Read: 7 Things Not To Do In Thailand: The Basics Of Traveling In The Land Of Smiles
About Escape Parties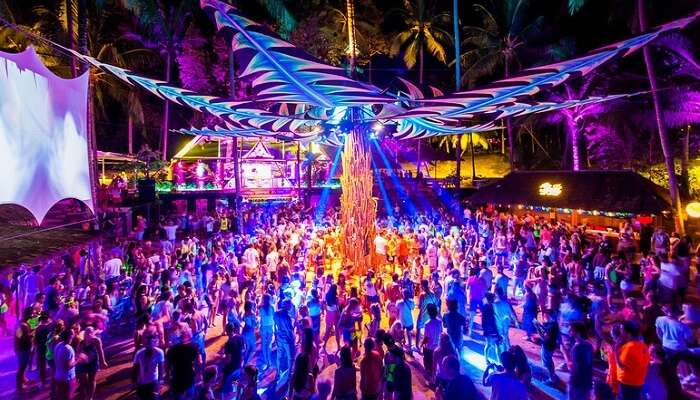 Half Moon is the most popular among Escape parties and takes place between full moon and new moon. Attending Escape parties is one of the most enticing things to do in Koh Phangan. This twice-in-a-month affair is popular for phenomenal electronic music, and hosting DJs from around the world, who come together for an unforgettable bash.
Dates for Half Moon Party in Thailand: 1st February and 2 February 2020
Venue: Koh Phangan
Suggested Read: Enjoy Trekking In Thailand At Its Best With This All-In-One Guide!
Where To Stay During Full Moon Party
Okay, so now that you are in (almost), the next question is which are the best places to stay.
1. Koh Phangan Island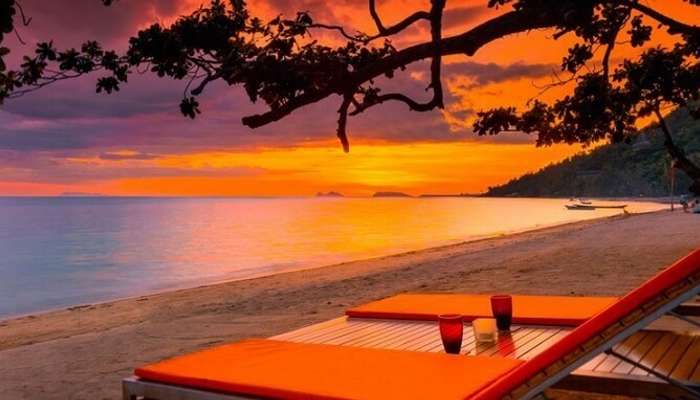 If you plan to attend the Full Moon Party in Koh Phangan, then you'd want to stay right where the buzz is. For that, you need to look out for the options in Haad Rin Beach. In order to get cheap accommodation or accommodation in the first place make sure that you've booked well in advance since this is location faces high demand during this time.
There are various accommodations available – there are resorts and hotels around but backpackers mostly choose the beach bungalow; then there are die-hard party freaks you just refuse to budge from the beach even at late night.
Our recommendations:
The Cost Resort, the perfect pick for luxury seekers, is situated in Haad Rin and is just 800 meters away from the Full Moon Party in Koh Phangan. Staying for three nights will be within INR 12,000.
If looking for cheap accommodation, then choose from My Way Bungalows, Shambala Bungalow Village, and Sandee Bungalow.
Estimated tariff per night: Ranges from INR 960 – 7600
Suggested Read: Wet & Wild: 6 Exotic Places To Visit In Thailand For Your Honeymoon
---
Planning your holiday in Thailand but confused about what to do? These Thailand travel stories help you find your best trip ever!
---
Itinerary For Best Full Moon Party In Thailand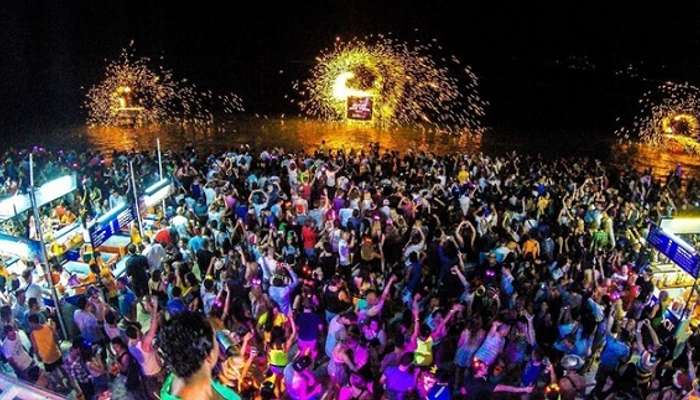 Image Source
Now when you are here for the Full Moon festival in Thailand, start with the sightseeing to set the mood for the party. Check out the coral Bungalows for pool party two nights before and relax well. When you think all is set for the celebration, head to the Jungle party. It is literally an EDM festival in the jungles with drinks, DJ mix music and a pool for you to jump in. You must attend the Koh Samui Full Moon Party in 2020 on your vacation.
Don't miss the fire dancers and drunken people gaming away the night. When you think the party is over, then begins the real day. The Full Moon party in Thailand with dragon tattoos, colorful hats, street stalls, drinks and a bombard of music will break your convention.
Reasons To Attend The Full Moon Party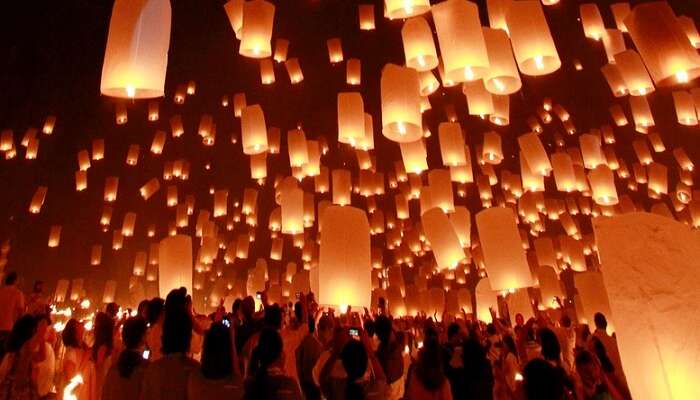 Image Source
For its sheer madness, beauty, and popularity. Around 30,000 people attend this festival every month. Before the event begins hundreds of lamps are lit at the dusk. The beach is lined up with small tables and as the moonlight touches the white sand, the party begins. All genres of music such as techno, commercial, punk, and blues just explode on the beach. Jugglers and fire eaters entertain the crowd as the night passes by. And there are drinks and snacks too, to chill out in between.
Okay, you still need a reason?
Suggested Read: New Year Party In Thailand: What's Your Pick In 2020?
People's Diary – Full Moon Party Reviews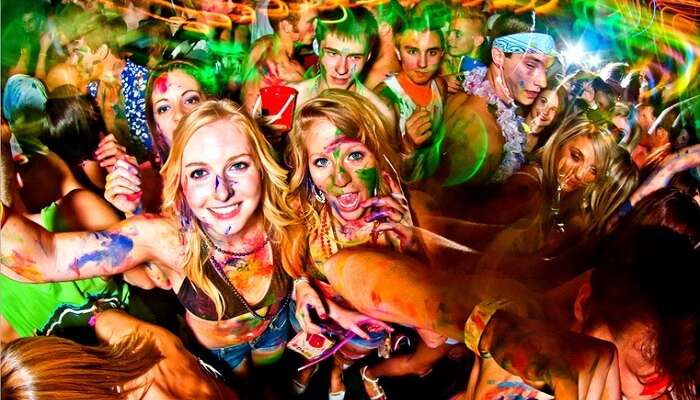 If you are like making friends and partying hard, this is the place for you. However, here are some of the 'do's and don'ts that you must know before attending the Full Moon parties in Thailand. The Jungle party and the bucket beers are the do's that you can't escape. Skip the burning rope if possible. Do read all the party rules and abide them to enjoy the fun.
Tips For Full Moon Party In Thailand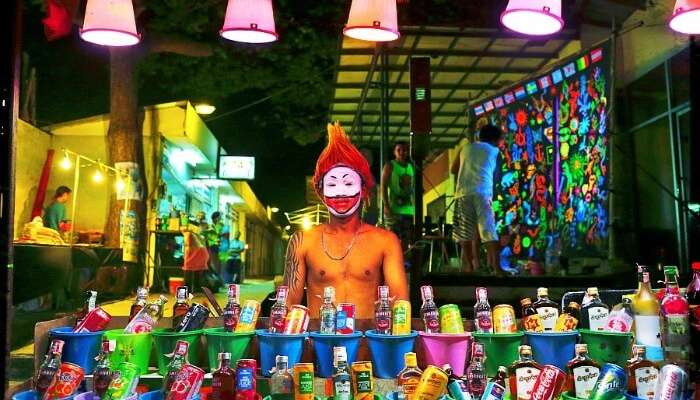 Here are some tips for Full Moon Party 2020 that you must go through before you leave for your vacation!
Wear shoes to save yourself from broken glass bottles on the beach.
Carry enough money, but keep them in different pockets.
Don't forget sunscreen, hats, or stole as it gets really hot during the afternoon.
Don't carry original documents, carry xerox as you might lose them after a few drinks.
Don't go for fire jump ropes, no matter how fun this sounds. A lot of people end up hurting themselves after trying their hands on this extreme activity.
Keep yourself hydrated, regardless of how much you plan to drink alcohol. Sufficient water consumption will also help you with the hangover the next day.
Don't do drugs as this is an illegal offence. Many undercover police officers get in the party selling drugs and arrest offenders.
Book your accommodation well in advance, this will help you grab the best property at the best rate.
Opt for cabs to get back to your hotel.
Stay away from the ocean as you might risk drowning and most people urinate in the water.
Further Read: These Best Places To Visit On A 6 Day Family Trip To Thailand Will Astound You!
Don't postpone, Full Moon Party in Thailand is calling you for an escape. Share with friends and entice them too and then plan your trip to Thailand with TravelTriangle right away! We are sure you do not want to miss out on this extravaganza this year.
Frequently Asked Questions About Full Moon Party In Thailand
Q. Where is the Full Moon Party in Thailand 2020?
A. The actual event of the Full Moon Party in Thailand 2020 is organized in a small town known as Haad Rin. The village is located in the southernmost tip of Koh Phangan.
Q. Where is the best Full Moon Party in Thailand?
A. The actual beach party is located on Haad Rin beach situated on Koh Pha Ngan Island. Travelers can reach the place from Bangkok by taking a short flight to Koh Samui and later take a short ferry ride to Koh Pha Ngan island. For a budget-friendly trip, one can go for overnight boats and buses available through travel agents in Bangkok.
Q. What to wear at a full moon party in Thailand?
A. People generally wear casual and short clothes on a full moon party. Girls generally wear bikini bottoms of mini skirts and bright colored tops. The relevance of showing one's skin is that in a full moon party there are many artists around who paint traveler's body the way they want to get painted.
Q. What time does the full moon party end?
A. The party starts quite early in the evening but the best time to visit the party is between 9 to 10 pm and goes on till early morning. Neon lights are a tradition of the party and one can see bodies painted in neon lights glowing in the dark and spectacular fireworks at night.
Q. Is there an Entrance Fee for the full moon party?
A. Yes, travelers are required to pay an entrance fee of approximately 100 bahts to enter the party.
Q. How many people go to the Full Moon Party?
A. The full moon party is arranged along the crescent-shaped beach in Thailand and since then the party has gained huge popularity. Today approximately 10,000 to 30, 000 people attend the party from all across the world.
Comments
comments