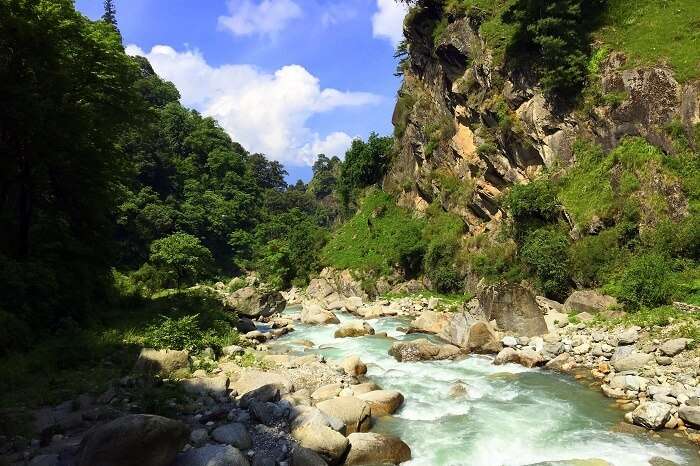 While Himachal Pradesh is home to a vast collection of scintillating hill stations, some, over the past few years, have emerged as favorites for travellers with a wanderlust for the hills. As some hill stations become more popular, they also become more crowded. In fact, some well known hill stations have turned into the hilly replicas of metropolitan cities we routinely try to escape. Trekking paths are lined with tourists and littered with garbage. If you're looking to avoid such an experience and really explore the awesome feeling of scaling a mountain in solitude, we've got the perfect destination for you- the Tirthan Valley Trek.

In this guide, you will find everything you need to know about this little explored before paying it a visit. But before that, if the promise of solitude hasn't convinced you to visit Tirthan Valley, here are a few other reasons that might:
Why Visit Tirthan Valley

To begin with, despite being an offbeat destination, Tirthan Valley is a well-populated areas within Himachal Pradesh. Getting to Tirthan Valley, and subsequently, getting around within the valley will never be a challenge. In other words, Tirthan Valley boasts everything you could need as a tourist visiting the area, sans the hoards of crowds that flock to the mountains every year.
Next, trekking in Tirthan Valley is big. The valley acts as a base for a number of treks including (but not limited to) Serolsar Lake trek, Jalori Pass Trek, and the numerous hikes and treks within the Great Himalayan National Park (GHNP).
That's right, one of the most special things about Tirthan Valley is that it is the gateway of the Great Himalayan National Park, which in itself, is a whole other destination you can explore.
Additional Info: Tirthan Valley, as you may have guessed, gets its name thanks to the Tirthan River that flows through the valley. Experienced mountaineers can trek to the source of the river known as the Hanskund Peak or "Tirath", which is at a height of 13,780 ft. The trek is roughly a 7-day affair and takes the adventurers through the GHNP.
Must Read: 17 Stunning Lakes In Himachal Pradesh That Are Absolute Natural Wonders
Best Time To Visit

Like most places rich with natural beauty, Tirthan Valley offers a delightful experience to visitors throughout the year. Different seasons simply bring different charms and unlock different activities within the valley.
For instance, the April to June is the best time to go for trekking in Tirthan Valley. The days are moderately warm and the nights are pleasantly cool, with low chances of rainfall.
With that said, if you are a seasoned trekker, and love a good challenge as much as you love snow, Tirthan Valley should definitely be on your winter-trek bucket list.
Spring and Autumn colours are also extremely prevalent in the relevant months. Although, it is worth noting that these months attract light showers which can potentially mess with your plans of undertaking adventure activities such as trekking.
Additional Info: Just like the rest of the hilly Himachal Pradesh, traveling to Tirthan Valley is a bit unsafe during the monsoon months. The valley attracts heavy rainfall which is sometimes so intense that it becomes the cause for a landslide.
Best Hiking And Trekking In Tirthan Valley
Depending on the amount of days you can afford to stay in Tirthan Valley, there are a number of treks and hikes you can undertake. From day-long hikes to quaint mountain villages to challenging treks that stretch over days, Tirthan Valley has something for every kind of adventure enthusiasts.
Some of the most notable treks originating from Tirthan Valley are:
1. Jalori Pass-Serolsar Lake Hike

Serolsar Lake is a beautiful mountain lake surrounded by some very interesting folklore. The lake is close to the temple of Buddhi Nagin Mata. The lake is surrounded by towering trees but the folklore says that whenever a leave lands on the surface of the lake, it is picked up by one of the two birds that protect the lake.
The hike to Serolsar lake is an easy one and can be completed in under three hours. The starting point of the hike is Jalori Pass, which is about a 90 minute drive from Gushaini village in Tirthan Valley. The trail has a couple of campsites which are happy to provide a warm stay in the hills to the visitors.
Suggested Read: Himachal Pradesh In May: 16 Places To Escape The Busy Life In Summer 2022
2. GHNP Park Gate Hike

Tirthan Valley is also known as the gateway to the Great Himalayan National Park, and the hike to the gate itself is a scintillating one. The day-hike starts from Gushaini Village and takes hikers along the Tirthan river. The hike passes the traditional mountain village of Ropa, which also makes for a nice place to take a breather before continuing the hike.
The hike to GHNP is one of the few Tirthan Valley trek in Himachal that is fit for literally all fitness levels. The hike ascent is just 480 meters from Gushaini village. The surroundings of the gate offer fantastic panoramic views of the surrounding mountains and make for a picture-perfect camping site. There is also a Forest Rest House nearby.
Suggested Read: 11 Travel Tips For Himachal Pradesh That Will Come In Handy For Your Trip In 2022
3. Jalori Pass-Raghupur Fort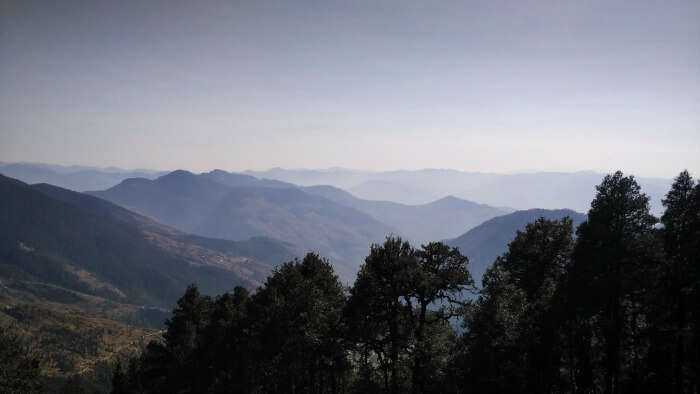 When you visit Jalori Pass (which is an absolute must), you will have two options. The first option, as already discussed is to visit the Serolsar Lake. The other option, which lies in the opposite direction, is to visit the ruins of the Raghupur Fort.
The hike distance is less than that of the hike to Serolsar Lake, but the ascent is much steeper. For experienced hikes, the time taken to complete the hike ranges between 2-3 hours. The views, however, are simply breathtaking. The ruins offer surreal views of the whole Tirthan Valley, which are well worth the effort that goes into conquering the challenging hike.
Suggested Read: 15 Places To Visit In Himachal Pradesh In December 2022
4. Tirath Trek

For those that are interested in a challenge, Tirath trek offers a superb one within Tirthan Valley. As the name suggests, the trek takes one to the source of the Tirath River that flows through Tirthan Valley. The trek is long and difficult one and takes about 8-9 days to complete. The good news is, the almost 30-kilometer long trail is dotted with beautiful campsites that make the whole affair a bit easier.
Tirath summit is located at a height of 12,319 feet and offers the real taste of the adventure offered by the Great Himalayan National Park.
Suggested Read: Top 12 Waterfalls In Himachal Pradesh That Treat Your Eyes To The Best Sights Ever!
Where To Stay

As more locals are realising the tourism potential of their valley, more hotels, hostels, and homestays are popping up every day. With that said, the victorian-style cottages in Jibhi are one of the most preferred accommodations for tourists.
For those looking for cheaper options, the town of Banjar, which is also the biggest town in the valley, is a great place filled with several budget accommodation options.
Another great accommodation option is to stay at camps by the Tirthan river. Most such campsites are located within Gushaini. The best part about these campsites is that they include two meals in the room tariff. That means, for a few hundred extra, you get a breakfast and dinner included with your stay. Being right next to the river doesn't hurt either.
If you want to stay next to the river and don't mind splurging a bit extra for a better and more authentic Tirthan Valley experience, riverside homestays are a superb option. Although a bit expensive, these are, in most cases, well worth the extra charges.
While trekking, overnight stay will obviously be in camps. If you have your own camps, you can easily find a place to pitch them. However, for those who don't own a tent yet, there are a number of local adventure companies that will make arrangements for you.
Additional Info: Some hikes within Tirthan Valley also have Government Forest guest houses that offer a cost effective alternative to living in tents. With that said, these guest houses have very limited accommodation space and its very easy to find one completely booked.
Suggested Read: Kerala Vs Himachal For Honeymoon: Which Is The Ideal Retreat For Newlywed Couples?
What To Pack

As with any destination, what you pack with largely depend on the season you choose to visit Tirthan Valley. However, since the valley is at a height of 1600 meters, those coming from plains will need some sort of weather protection.
During summer, the day-time temperature looms between 20 and 30 degree-celsius and can drop below 10 degree-celsius at night. Regular summer clothes, along with a light layer of warm clothing works well in this season.
Winter-time is extremely cold and night temperatures regularly drop below zero. Even during the day, the temperature rarely surpasses the 10 degree celsius mark. Hence, if you're travelling to Tirthan Valley during the winter seasons, make sure you pack some warm clothing that features some serious insulation.
Apart from that, it also makes sense to carry a pair of dependable hiking/trekking shoes as hiking/trekking is the most frequented activity in the valley. It is also a good idea to pack energy bars, flashlights, extra batteries, and umbrellas.
Additional Info: It is a good idea to carry some cash when you start from Delhi itself. While there are a few ATMs in Aut and on the way to Tirthan Valley, these aren't very dependable.
How To Reach
As mentioned earlier, Tirthan Valley is a well-established and well-connected area. The valley is accessible by road and is about 31 kilometres off the main Delhi-Manali highway.
Reaching Tirthan Valley By Air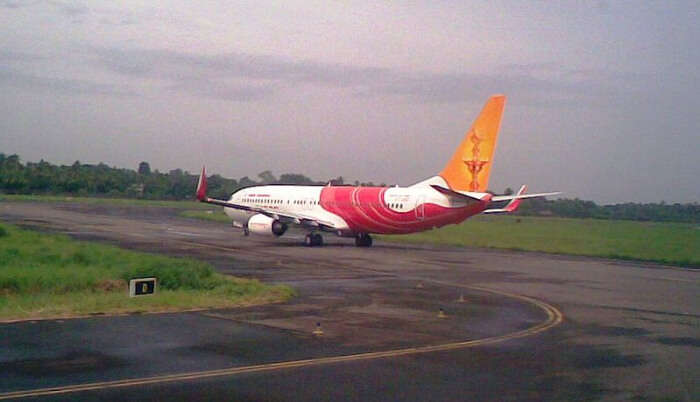 The nearest airport to Tirthan Valley is the Bhuntar airport. The distance between Bhuntar airport and Tirthan Valley is about 50 kilometers and can be easily covered in local buses and cabs. If you're visiting Tirthan on a flight, it pays to pay attention to the weather forecast as the accessibility to the airport can be easily interrupted by the volatile weather of Kullu.
Suggested Read: 17 Monuments In Himachal Pradesh For Your 2022 Vacation In The State!
Reaching Tirthan Valley By Train

The closest major railway station to Tirthan Valley is the Chandigarh railway station. You can find frequent buses and easily available cabs from Chandigarh to Tirthan Valley. There is another railway station, Jogindar Nagar railway station, which is about 120 kilometers from the valley, but there are very few trains that stop at this station.
Suggested Read: 7 Best Airbnbs In Himachal Pradesh For One Of The Coziest Staycations Ever
Reaching Tirthan Valley By Road

Travelling by road is perhaps the best way to reach Tirthan Valley. If you're driving (or riding), reach the town of Mandi and keep driving towards Manali. After about 38 kilometers, right before the Aut tunnel, there is a road that diverts towards the small town of Larji. Turn right to take this road. After a pleasant drive of 30 kilometers, passing Larji and Banjar Valley, you will find yourself in Gurshaini, Tirthan Valley.
The most famous bus routes to the valley originate from Delhi and Chandigarh. In both the cases, travellers need to board the bus to Manali and deboard at Aut bus stop. From here, you can use the local bus service to reach Tirthan Valley. Cabs are also available at Aut, for travellers looking for a bit more comfort during their journey.
Additional Info: Taxis from Aut and Mandi will set you back by between 700 and 1000 rupees. On the other hand, local bus tickets from Aut to Tirthan Valley are priced under 100 bucks.
Further Read: 10 Best Homestays In Himachal Pradesh That'll Make You Fall In Love At First Sight!
The adventure in Tirthan Valley isn't limited to just hiking and trekking. The valley also offers other adventure activities such as white water rafting and rappelling. Moreover, if you've never tried fishing, trout fishing is a widely revered activity in the valley. In other words, no matter what kind of adventurer you are, if you looking for an adrenaline rush, or simply a place to get away from the crowds, Tirthan Valley is the perfect hill station for your needs. Plan a trip to Tirthan Valley with TravelTriangle and explore the impeccable beauty of this destination.
Disclaimer: TravelTriangle claims no credit for images featured on our blog site unless otherwise noted. All visual content is copyrighted to its respectful owners. We try to link back to original sources whenever possible. If you own the rights to any of the images, and do not wish them to appear on TravelTriangle, please contact us and they will be promptly removed. We believe in providing proper attribution to the original author, artist or photographer.
Please Note: Any information published by TravelTriangle in any form of content is not intended to be a substitute for any kind of medical advice, and one must not take any action before consulting a professional medical expert of their own choice.
Frequently Asked Questions
Is Tirthan Valley safe?
Tirthan Valley is home to friendly locals that happily welcome tourists as tourism has recently become a major source of income in the valley. With that said, tourists are advised against creating a ruckus as the locals have little to no tolerance for those that disrupt the peace within the valley. On the off chance you are expecting a relaxed atmosphere like Kasol, towards recreational drugs, you will be surprised to see the level of intolerance among the locals. In other words, Tirthan Valley is perfectly safe for those that are simply looking to explore.
Does it snow in Tirthan Valley?
While not regular, Tirthan Valley does receive some snowfall during the months of January and February. With that said, if you are looking for a snow covered paradise, you can embark on a short journey to the nearing town of Shoja, or to Jalori Pass, as both places get a ton of snowfall every year.
Are there ATMs in Tirthan Valley?
While the answer to this question is yes, the reality is that ATMs in small towns in Himachal Pradesh are not dependable at all. If you don't want to end up in a situation where you don't have cash thanks to a non-functional ATM, it is advisable to withdraw cash at Mandi or at one of the towns that precede Mandi.
Is driving to Tirthan Valley Safe?
Yes, driving to Tirthan Valley is absolutely safe. You will be driving on the main Delhi-Manali highway till you reach Aut. From Aut, the drive to Tirthan Valley is extremely pleasant with perfectly paved roads and breathtaking views. Moreover, the drive is not unusually long and takes about an hour to reach Tirthan Valley from Aut.
How far is Tirthan Valley from other Himachal Pradesh towns?
The closest major town to Tirthan Valley is Mandi, which lies at a distance of 50 kilometers. Manali is another major Himachal Pradesh town in proximity to Tirthan Valley at 91 kilometers.
---
---