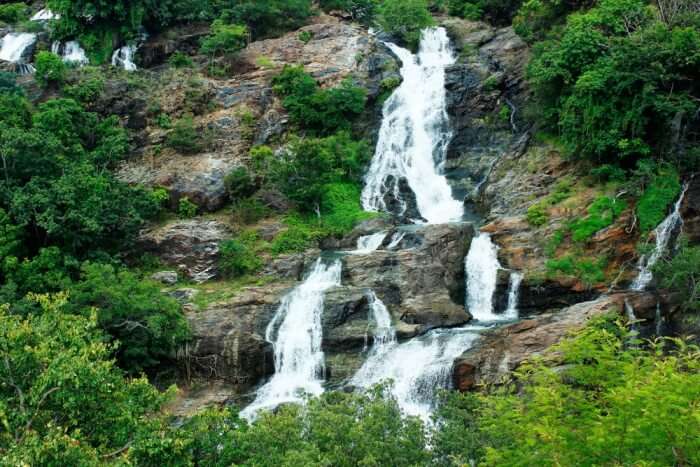 You know what's one of the most beautiful things to do around Mysore? It's sitting by the beautiful waterfalls near Mysore and have a good time with family and friends. While serene beaches and picturesque hill stations are the in thing during holidays, spending a day getting drenched under a beautiful waterfall is going to be a marvelous experience. And the best part – these refreshing spots are absolutely secluded and pristine! Read on to know more if you are planning a short break from Mysore city.
Top 18 Enchanting Waterfalls Near Mysore
These waterfalls near Mysore, Karnataka, are merely a stone's throw away! Make sure you add them all to your itinerary:
1. Chunchanakatte Falls – A Relaxing Treat To The Eyes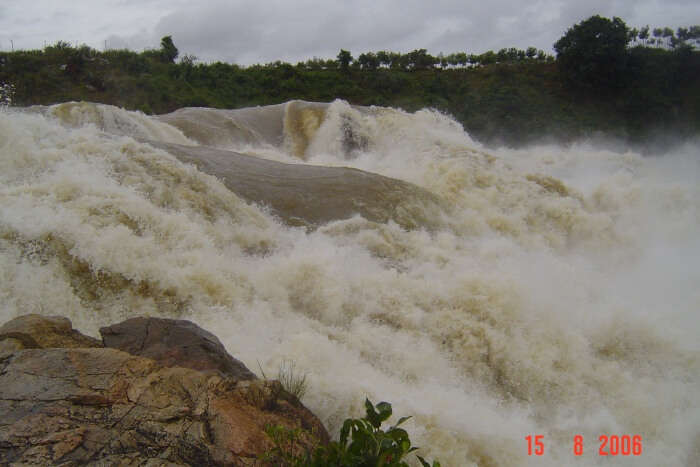 Chunchanakatte Falls, formed by River Cauvery is one of the most beautiful waterfalls near Mysore, Karnataka. Ideal for a day tour, this is a gorgeous waterfall surrounded by lush green forests, and an age-old temple dedicated to Lord Kodanda Rama is situated just beside the waterfalls.
Timings: Open 24 hours
Entry Fee: INR 30
Distance from Mysore: 55 km
How to reach Chunchanakatte Falls: One can drive from Mysore along
Mysore-Hassan highway to reach the place. It takes about 1 hour 20 minutes. The last 1 km is a stretch of motorable muddy road. Public transport is a challenge here, so it is advisable to take your own vehicle.
Tip: Avoid swimming in Chunchanakatte falls, it can be slippery during monsoon.
15 Best Hotels In Mysore That Offer A Royalty-Like Stay For Every Type Of Traveler
2. Shivanasamudra Falls – A Place For Breathtaking Vistas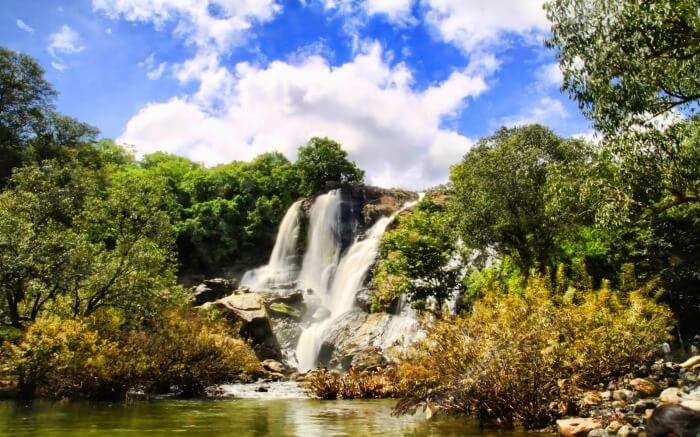 Shivanasamudra Falls are one of the most spectacular twin waterfalls near Mysore. Here Cauvery River meanders its way through the Deccan Plateau and plunges downstream to form beautiful twin waterfalls namely Gaganachukki and Bharachukki. The place is perfect for a day trip from Mysore for ultimate relaxation. One can dip their feet, bathe in the water or enjoy a thrilling coracle ride to the mouth to witness the magnificent beauty.
Timings:  8:00 am – 4:00 pm
Entry Fee: None
Distance from Mysore : 68 km
How to reach Shivanasamudra Falls: Drive down the
Bangalore Mysore Highway via the Kanakapura main road for an hour and 30 minutes to reach this place.
Tip: One should carry food and water as there are no food stalls or restaurants nearby.
3. Balmuri Falls – A Popular Picnic & Watersports Spot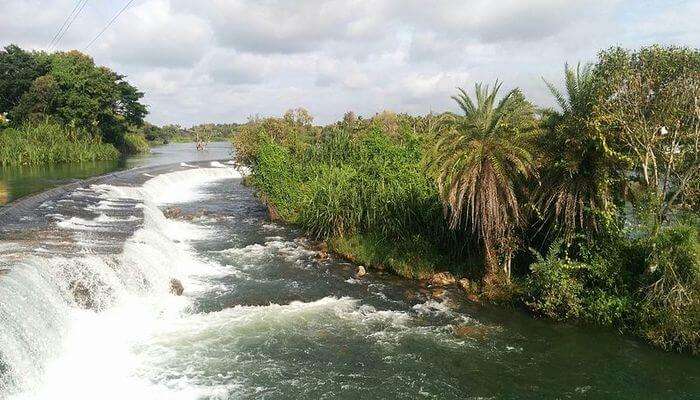 Image Credit: Ashwin Kumar for wikimedia commons
The small water cascade on the Cauvery River in Srirangapatna is a popular picnic and watersports spot. People come here on the weekends to enjoy the scenic beauty of the falls and indulge in exhilarating water sports. The cascade is a result of a man-made water dam built on the river. Surrounded by green palm trees and the water gleaming in the sun, the place makes a beautiful scenery.
Timings: 9:00 am to 5:00 pm
Entry Fee: None
Distance from Mysore: 16 km
How to reach: Take a bus from Mysore to Srirangapatna and then a rickshaw to reach the spot.
Tip: Carry drinking water and snacks.
35 Road Trips From Bangalore You Must Plan With Your Friends
4. Chunchi Falls – Where Lord Rama Spent A Few Days Of His Exile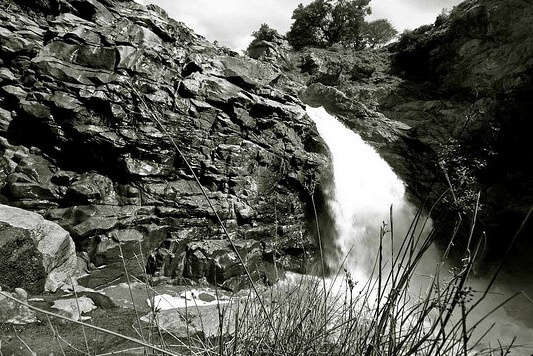 Cascading down from 100 feet through multiple steps on the River Arkavathi, Chunchi is one of the most popular falls in Mysore and often visited for weekend trips. It is believed that Lord Rama along with Sita and Lakshmana lived here during their exile with a tribal couple named Chuncha and Chunchi, and hence the name. The site is en route to Mekedatu and Sangama and perfect for hang out, swimming, and relaxing in water amidst naturally formed rock outcrops.
Timings: 8:00 am to 5:00 pm
Entry Fee: None
Distance from Mysore: 101 km
How to reach Chunchi waterfalls: One can reach this place from Mysore in about 2 hours 20 minutes, via Kanakapura-Malavalli-Mysore Road. The road is full of greenery and a little trek is needed from the nearest road point to reach the falls.
Tip: The rocks in and around the falls are very slippery, so be careful. Wear footwear with a good grip. Also, the place has limited public transport facilities, so it's better to have your own car or a hired cab.
40 Things To Do In Mysore Perfect For Experiencing The City
5. Iruppu Falls – The Marvelous Beauty In Wilderness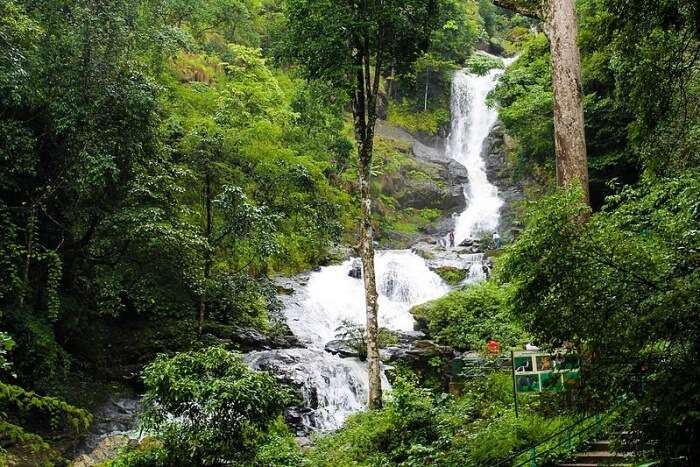 Originating from Brahmagiri Range, the river Lakshmana Theertha drops down from 170 ft and forms Iruppu Falls. This is one of the most popular waterfalls around Mysore and shows off its enthralling beauty in post-monsoon and winter months. The falls form a refreshing plunge pool and it is believed that a dip there helps to purify all sins. Changing rooms are available in case you decide to go swimming or bath.
Timings: 6:00 am to 6:00 pm
Entry Fee: INR 30 per person
Distance from Mysore: 110 km
How to reach Iruppu Falls: We recommend you hire a taxi from Mysore. It is a 2 and a half hour long scenic drive and the last 500 m is a steep trek through thick forests.
Tip: One may get confused with the directions, so you should take the help of the locals. The trek is through slippery steps so wear the right kind of shoes. Slippers are a big no. Plastic is banned in this area and though there is a small restaurant, it is advised to carry food and sufficient water. 
`
6. Abbey Falls – A Waterfall That Seems Right Out Of A Fantasy Book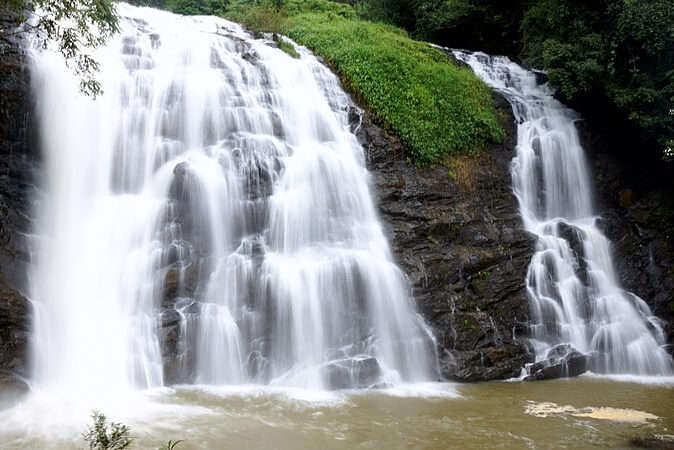 Nestled amid lush green coffee estates – Abbey Falls is a place worth exploring in the weekend. The gorgeous looking waterfall is formed by many small streams that gush down to meet River Cauvery. In the league of most visited waterfalls near Mysore, Abbey Falls is a popular name.
Timings: 9:00 am to 5:00 pm
Entry Fee: INR 15 per person
Distance from Mysore: 122 km
How to reach Abbey Falls: Abbey Falls is 7 km from Madekeri town. From Mysore, one can take a bus to reach the town and then hire a jeep or a cab to reach the falls. From the place where the jeep/cab drops you, you'll be able to hear the gushing sound but you'll have to walk 5 minutes to reach the fall.
Tip: Swimming is not recommended here. Stand on the hanging bridge to capture the best views and visit the century old Kali Mata temple on the other side of the bridge. 
7. Chelavara Falls – Heaven For Nature Lovers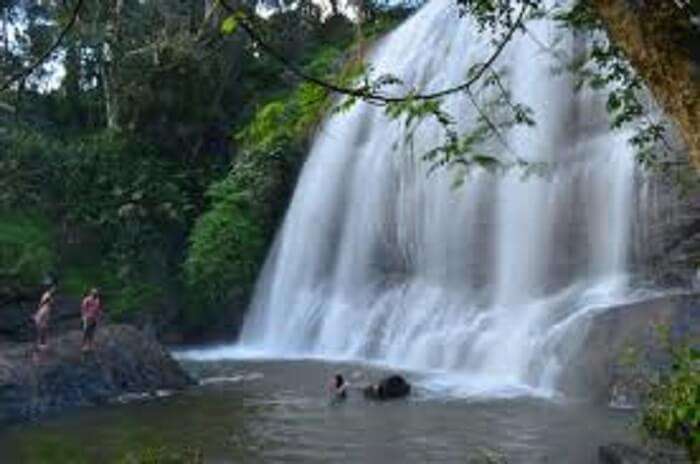 Chelavara, locally called Emepaare, which means tortoise in Kodava language as the rock on which the water plunges down looks like a tortoise. This is a majestic looking waterfall, known for its heavenly beauty and volume, particularly after the rains. The natural water pool of Chelavara is one of the most popular water places near Mysore, but nobody is allowed to plunge into it anymore due to regular accidents and casualties. Visitors can witness the beauty of the pool and its surroundings from a distance.
Timings: 7:00 am to 6:00 pm
Entry Fee: None
Distance from Mysore: 126 km
How to reach Chelavara Falls: A 3-hour long scenic drive via Mysore-Mangalore highway will take you to the place. One needs to park the vehicle on the road (parking charges INR 50/car) and then go down the steps.
Tip: Monsoon is the best time to visit the falls.
35 Best Places To Visit In Mysore For An Amazing Trip
8. Mallali Falls – For A Day Of Relaxation And Rejuvenation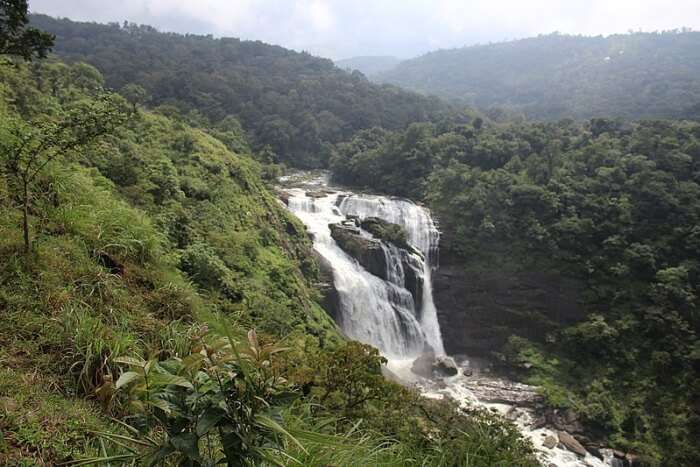 When River Kumaradhara cascades down from Pushpagiri ranges in steps, it forms Mallalli—the spectacular Mysore waterfalls with refreshing beauty. Visited by locals as well as tourists from Mysore, Coorg, and Bangalore, it remains crowded during weekends. Couples should plan a romantic and serene trip to the place during weekdays.
Timings: 9:00 am to 5:00 pm
Entry Fee: None
Distance from Mysore: 134 km
How to reach Mallalli Falls: Reach Somwarpet from Mysore and then hire a jeep to reach the place or enjoy a thrilling trek through undulated forested tracks. You need to climb down close to 500 steps to reach the viewing area.
Tip: Carry a water bottle, wear comfortable clothes and shoes with good grip.
9. Hogenakkal Falls – A Smoky Waterfall!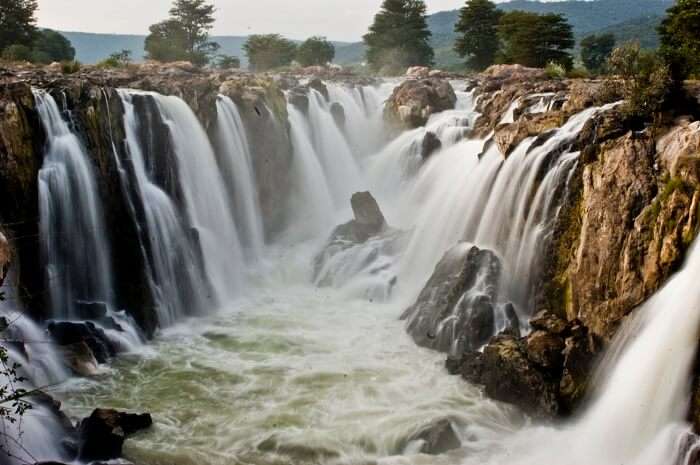 This is among the best waterfalls near by Mysore as well as other prominent cities like Bangalore & Chennai. It is formed by the winding river Kaveri that enters into the state of Tamil Nadu after going around Karnataka, descending down some lofty terrain to form this serene waterfall. The waterfall has various unique features. The Carbonatite rocks found here are among the oldest in the world, giving a smokey effect to this waterfall. One needs to take a boat ride or coracle ride to reach this waterfall, which is a highly fun thing in itself for travelers.

Timings: 6:00 am to 6:00 pm
Entry Fee: INR 100 for boating
Distance from Mysore: 180 km
How to reach Hogenakkal Falls: Take a train from Mysore to Dharmapuri Railway Station, which is about 47 km from Hogenakkal. You can also take a bus from Mysore to get to Hogenakkal.
Tips: Make sure you take a coracle boat ride to the other side of the river for a blissful experience.
10 Best Homestays In Mysore For A Relaxing Sojourn
10. Soochipara Waterfalls – Swimming, Hiking, And Trekking!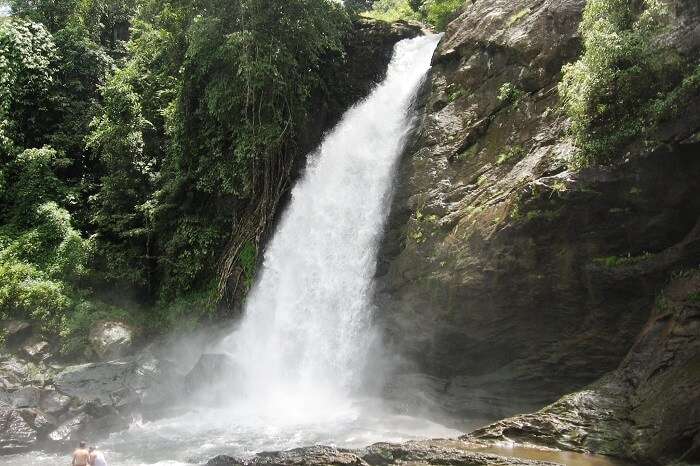 Also called the Sentinel Rock Waterfalls, Soochipara Waterfalls are a major attraction situated in the Vellarimala mountain range of Wayanad, Kerala. This 3-tiered waterfall, dropping from a massive height of over 200 meters, is a great spot for swimming and bathing owing to the large pool it forms at the bottom. The needle-shaped rock gives a very unique dimension to the fall that attracts many photographers and nature lovers here. The dense jungle around also gives adventure seekers a great chance to go hiking and trekking. This is among the most charming small waterfalls near Mysore and is merely a 20-minute drive from the town of Meppadi.
Timings: 9:00 am to 4:30 pm
Entry fee: INR 80 per person | INR 50 for camera
Distance from Mysore: 143.4 km
How to Reach: It takes about 5 hours to get to the falls from Mysore. You can hire a taxi to waterfalls. The local transport bus only goes up to a common point.
Tip: Make sure you are not carrying any plastic because guards at the entry point will check.
11. Siruvani Waterfalls – A Secluded Beauty For Lovers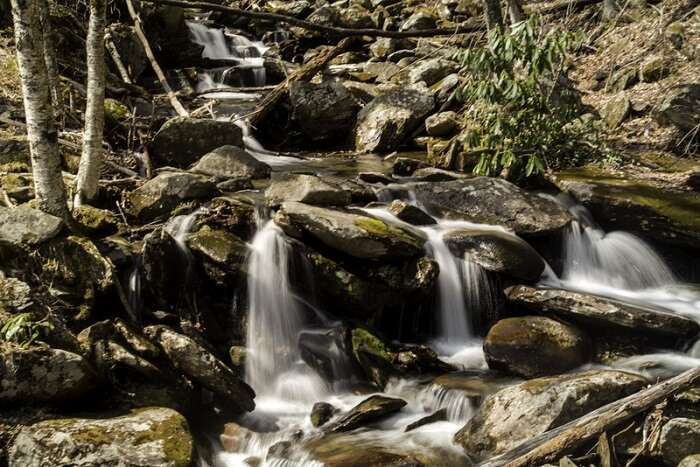 Tucked snugly in the verdant Siruvani Hills of Tamil Nadu, these scenic falls are formed by the Siruvani River located inside a dense forest and can be reached via a refreshing 4 km trek from Madavarayapuram. It's best to visit these waterfalls in the monsoon season when it's flowing in full force. It's a favorite spot of all couples since it's among the most secluded waterfalls near Mysore. Karnataka.
Timings: 10:00 am – 5:00 pm
Entry Fee: INR 50
Distance from Mysore: 228 km
How to reach Siruvani Waterfalls: The waterfall is a mere 5 km drive away from Siruvani Dam, which in turn is connected by frequent buses from Mysore and Coimbatore.
10 Most Romantic Restaurants In Mysore That Will Make Your Dream Date Extra Special!
12. Kaigal Falls – A Delight For Birdwatchers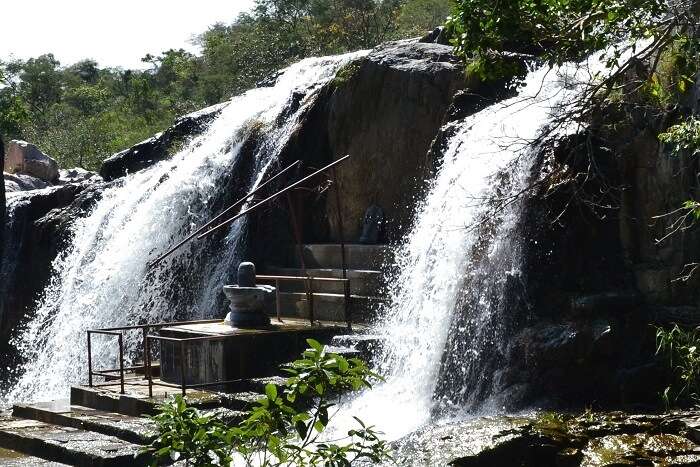 With refreshingly cold water cascading down from a huge rock over 40 feet high, the Dumukurallu Waterfalls or Kaigal Falls is a stunning wonder of nature! It's purely natural and perennial, which is not the case with many other popular waterfalls near Mysore, Karnataka. Though its force and beauty are increased manifold during the monsoons, it is a charming sight year-round. These falls have a big pond at the base that is a delight for nature lovers and bird watchers owing to the endless number of bird species one can spot here.
Timings: 9:00 am to 5:00 pm
Entry Fee: None
Distance from Mysore: 280 km
How to reach Kaigal Falls: You can take a bus or drive to the Kaigal waterfalls bus stop, from where the waterfall is just a 10 km walk away.
Tip: Do not litter around the falls. Carry a garbage bag to dispose off litter and waste.
13. Pykara Falls – A Paradise In The Woods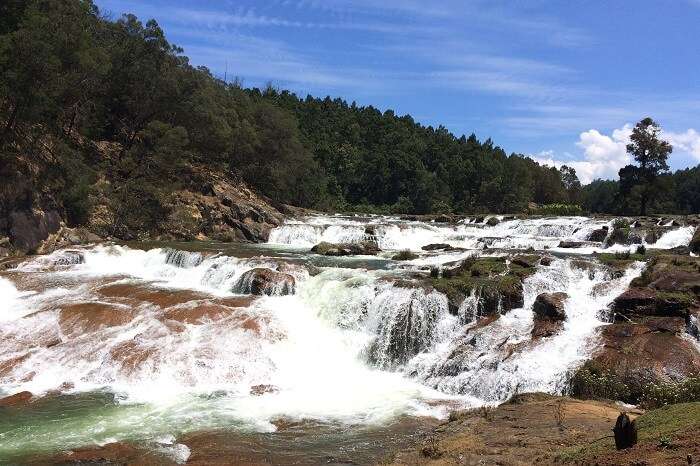 One of the best places to visit in Ooty, the majestic Pykara Lake is a marvelous waterfall offering a perfect photography spot. It's not just among the most popular waterfalls in Tamil Nadu, but also in the entire Southern region of India. Formed by the Pykara River downstream of Pykara Dam, this waterfall drops down into two sections from two different heights of 55 m and 61 m. It cascades down via multiple layers on the rocky bed adding unique beauty to the forking stream. Surrounded by the lush landscapes of thick jungle, this waterfall is a treat for sore eyes!
Timings: 8:30 am to 5:30 pm
Entry Fee: INR 5 per person
Distance from Mysore: 134 km
How To Reach: The falls are located on Ooty-Mysore Road. You can either take a bus or hire a taxi from Mysore to Ooty. It takes about 3 hours to get there.
Tip: You will have to climb up to get the best views of the falls.
10 Hotels Near Mysore That'll Ensure A Great Stay Around The City
14. Jogi Gundi Falls – Picturesque Beauty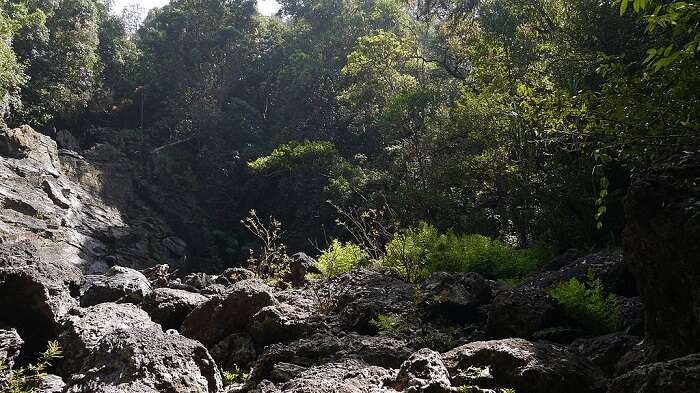 Image Credit: Dinesh Valke for wikimedia commons
Jogi Gundi Falls in Agumbe is one of the most beautiful waterfalls near Mysore that are known for their picturesque beauty. The water falling into a fish pond surrounded with lush greenery is a paradise for nature lovers and water babies. The volume of the water falling may not be large but the serene atmosphere definitely makes up for it. You will have to trek up a bit into the forest to reach down to the falls.
Timings: 9:00 am to 5:00 pm
Entry Fee: NA
Distance from Mysore: 274 km
How to reach: Barkur is the nearest railway station to Agumbe where the falls are located. Mangalore Airport is only 36 km.
Tip: September-October is the best time to visit these falls.
15. Meenmutty Falls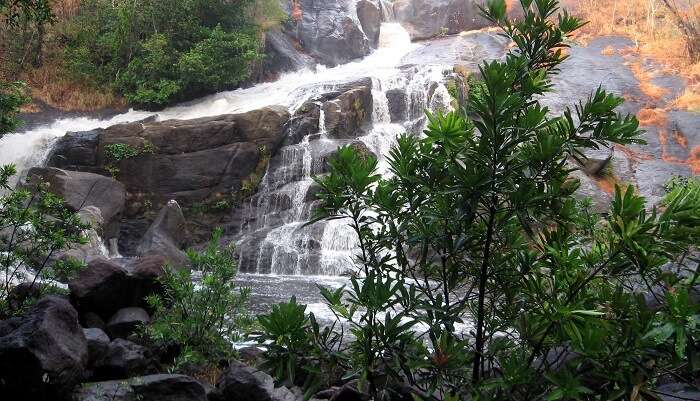 Image Credit: Vssekm for wikimedia commons
Meenmutty Falls in Wayanad needs no introduction. The mesmerizing fall is already famous among travelers for its enthralling beauty. One has to walk a bit in the jungle to reach the gigantic falls. The whole scenery is enchanting and breathtaking. One can easily spend a couple of hours in the solace of Mother Nature. There are two waterfalls by the same name and both are worth your time.
Timings: 9 am to 5:30 pm
Entry Fee: None
Distance from Mysore: 135 km
How to reach: The only way to reach the falls is a small hike from Neyyar Dam. You can take a transport till the highway by Neyyar Dam.
Tip: Avoid going there during the rainy season as the water flow gets dangerous.
13 Churches In Mysore You Should Definitely Visit During Your Karnataka Tour
16. Arippara Waterfalls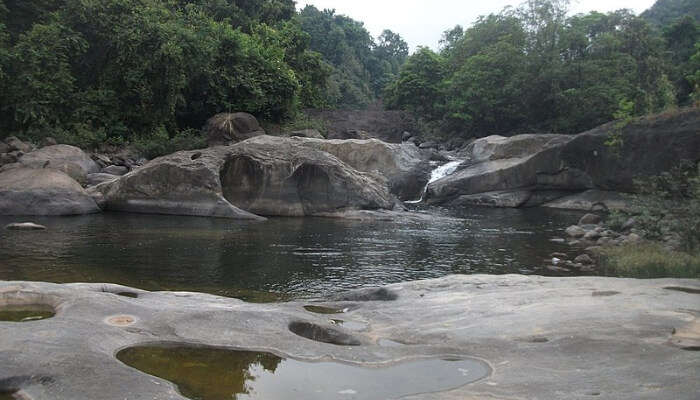 Image Credit: Ashok.cr for wikimedia commons
Arippara is an amazing getaway location near Thiruvambady Town in the Kozhikode district of Kerala. The waterfall is a tributary of Iruvanjippuzha and offers enchanting views of nature. People come here to enjoy picnics on the weekends.
Timings: 9:00 am to 5:00 pm
Entry Fee: Free
Distance from Mysore: 168 km
How to reach: You will find direct buses to Thiruvambady from Mysore.
Tip: Be careful of slippery rock in the water.
17. Catherine Falls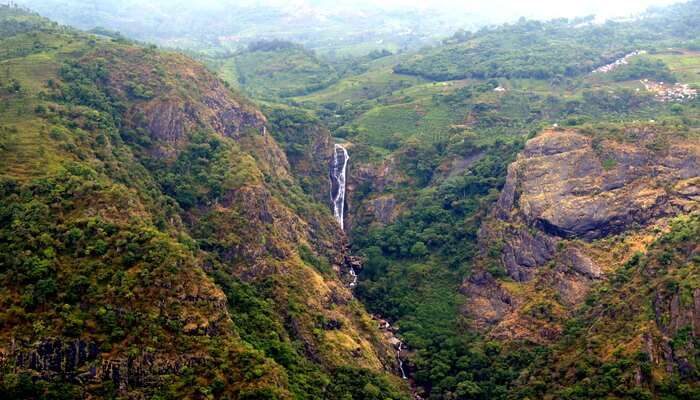 Image Credit: Raghavan G for wikimedia commons
Catherine Falls is a hidden gem in Coonoor that makes an excellent place for sightseeing and admiring the views of Mother Nature. Tourists make a point to come to these falls and enjoy a small picnic with their loved ones to create cherishing memories. It is a perfect place to rejuvenate and relax amidst lush greenery and by a waterbody. All these things tend to have a soothing effect on mind and soul.
Timings: 9:00 am to 6:00 pm
Entry Fee: Free
Distance from Mysore: 162 km
How to reach: Ooty is the nearest railway station to the falls. Vehicles are not allowed near the falls. So, you will have to trek all the way to the waterfall.
Tip: Avoid visiting in the summer season as the water dries up due to excessive heat.
13 Picnic Spots Near Mysore Will Help You Discover The Rich Flora & Fauna Of Karnataka
18. Muthyala Maduvu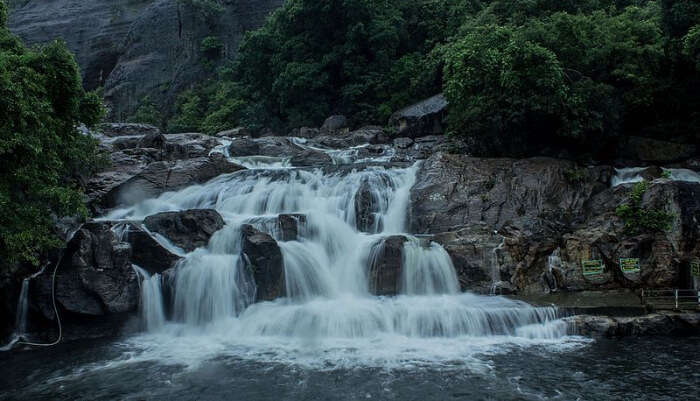 Image Credit: Saravanareddy for wikimedia commons
A hidden gem near Anekal, Karnataka, Muthyala Maduvu is an amazing escape in the wilderness. Those who want to get rid of the mundane city life should definitely plan a getaway from Mysore to this beautiful place. It is an amazing spot to find a connection with nature. The waterfall spurts out at a height of 90 m. One can easily spend hours gazing at the waterfall and surrounding views.
Timings: 9:00 am to 5:00 pm
Entry Fee: INR 15 + parking extra
Distance from Mysore: 141 km
How to reach: one has to walk from the parking point to the waterfall.
Tip: August-November is the best time to visit the falls.
Though these waterfalls near Mysore can be explored around the year; the best and most awesome view is promised during monsoon when the waterfalls gush down in full vigor. Want to plan your Mysore trip? Let us help you create an incredible experience that'll make your vacation memorable! And if you know of any more waterfalls near Mysore that your fellow travel buddies can explore, send them over in the comments below.
For our editorial codes of conduct and copyright disclaimer please click here. 
Frequently Asked Questions About Best Honeymoon Places In Ooty
Which are the best waterfalls near Mysore?
There are numerous waterfalls that you can find near Mysore. Some of the best ones you can visit include Chunchanakatte Falls, Shivanasamudra Falls, Balmuri Falls, Chunchi Falls, Abbey Falls, Chelavara Falls, Mallali Falls, Hogenakkal Falls, Soochipara Waterfalls, Siruvani Waterfalls, Kaigal Falls, Pykara Falls, and more.
Is it safe to visit Tamil Nadu in upcoming months?
The tourism industry is slowly reopening, and you can visit most of the above-mentioned places and more if travelling in a small group while following all the guidelines released. However, it is recommended to check up on the latest travel advisory, Covid-19 measures, and the number of cases before you leave for the trip.
What is the best time to visit Shivanasamudra Falls?
If you want to witness the best of Shivanasamudra Falls, plan a vacay between the months of September to January. Although the weather is pleasurable throughout the year, the waterfalls are in their full glory during this time.
How can I reach Balmuri Falls?
Balmuri Falls is located at a distance of 14 km from Mysore city. The distance between Balmuri Falls and Mysore can be covered in 30 minutes by car. Travelers can follow the KRS Dam Road from Mysore to the north and make a right turn after reaching the Belagola village, from where the falls are only 2 km away.
Can we take a bath in Abbey Falls?
No, taking a bath in the Abbey Falls is strictly prohibited owing to many accidents seen in the past.
---
Looking To Book A Holiday Package?
---
People Also Read:
Waterfalls Near Mumbai Waterfalls Near Bangalore Waterfalls Near Hyderabad