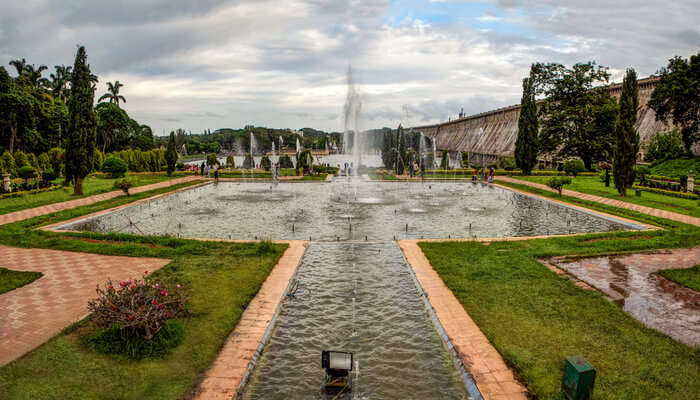 The city of Mysore is situated on the foothills of the Chamundi Hills in Karnataka and is very famous and recognized for its beautiful palaces and structures. It is a major tourist destination in Karnataka and attracts the most significant amount of tourists throughout the year. Its dominant art form and culture comprises Dasara, Mysore Painting, a sweet dish Mysore Pak and more. Mysore has some of the most beautiful sightseeing attractions and there are of course, many things you can explore on your visit to the beautiful city and the places around it. You can plan a day picnic and roam in and about the city and experience many new places that will leave you truly enthralled. With so many ravishing picnic spots near Mysore, it is difficult to choose just one which is why we are here to give you a sneak-peak into these amazing places where you can spend hours with loved ones chilling and having fun!
13 Picnic Spots Near Mysore
These seven picnic spots around Mysore are unmatchable in terms of beauty, allure, and space they provide for comfort and adventure. Check them out below!
GRS Fantasy Park
Ranganathittu Bird Sanctuary
Balmuri Falls
Daria Daulat Bagh
Brindavan Gardens
Chunchanakatte Waterfalls
Bandipur National Park
Shivanasamudra
Kokkare Bellur Bird Sanctuary
Shravanabelagola
Nagarhole National Park And Tiger Reserve
Br hills
Namdroling Monastery
1. GRS Fantasy Park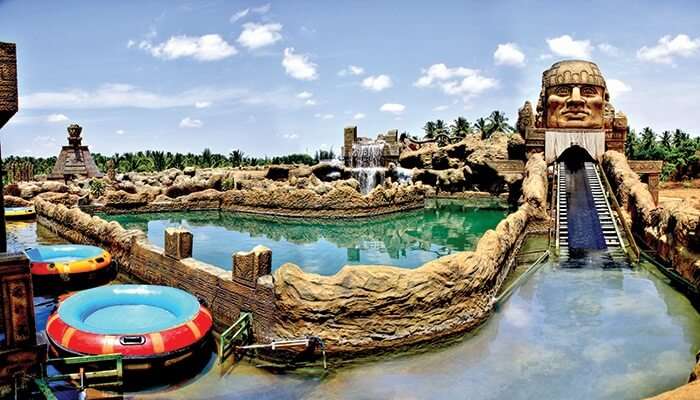 GRS Fantasy Park is one of the most visited picnic spots near Mysore and is the most beautiful theme park in Mysore. The park has more than 50 land and water rides for both adults and kids as well and it has several playgrounds, an antique carousel and a restaurant inside it. The park is situated on the outskirts of the city and is a world full of aqua fun. Its most fantastic activities are the wave pool, rain dance and the aqua tornado. Thus, as one is planning for a picnic near Mysore, they can always prefer going to the GRS Fantasy Park.
Location: GRS Fantasy Park, off KRS Road, Metagalli, Mysuru- 570016
Distance From Mysore: 8.3 km
Must Read: 35 Best Places To Visit In Mysore In 2022
2. Ranganathittu Bird Sanctuary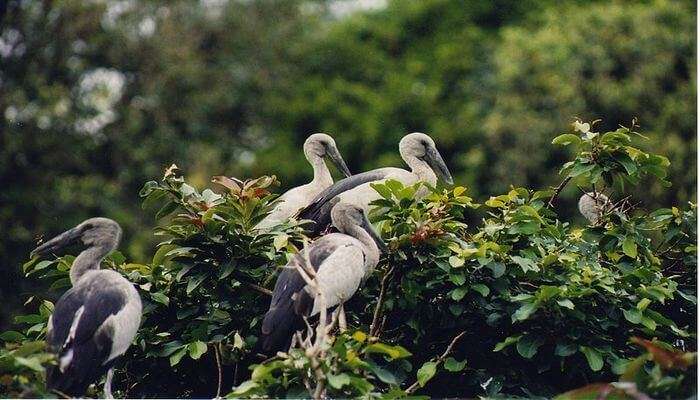 Image Source
The Ranganathittu Bird Sanctuary is located in Mandy's District of Karnataka and is spread over the area of 40 acres. The Sanctuary inhabits more than 170, birds species, mostly being, painted stork, Asian openbill stork, Woolly-necked stork, black-headed Ibis, lesser whistling duck, Indian Shag, stork- billed Kingfisher, egret, cormorant, Oriental arter and more. You can always plan a picnic to the Sanctuary and enjoy the essence of the natural environment and the Ranger-guided boat tours of Isles. Also, you should visit this sanctuary between June to November to experience the best view of the migratory birds.
Location: Ranganathittu Road, District Mandy's, Srirangapatna, Karnataka- 571438
Distance From Mysore: 18.6 km
Suggested Read: 40 Things To Do In Mysore Perfect For Experiencing The City In 2022!
3. Balmuri Falls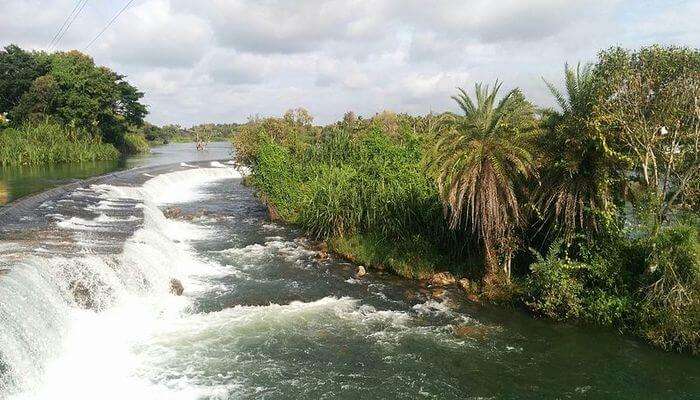 Image Source
Another popular picnic spot near Mysore is the Balmuri Falls which is a human-made Cascade on the river Kaveri. It is a 6 feet tall waterfall that has been created by the check dam on the river. The Fall is surrounded by the coconut palms, beautiful green scenery, and fantastic boat rides. One can prefer going to the Balmuri Falls for a picnic from March to August.
Location: Balmuri, Yadathittu, Karnataka- 571606
Distance From Mysore: 16.5 km
Suggested Read: 15 Best Hotels In Mysore That Offer A Royalty-Like Stay For Every Type Of Traveler
4. Daria Daulat Bagh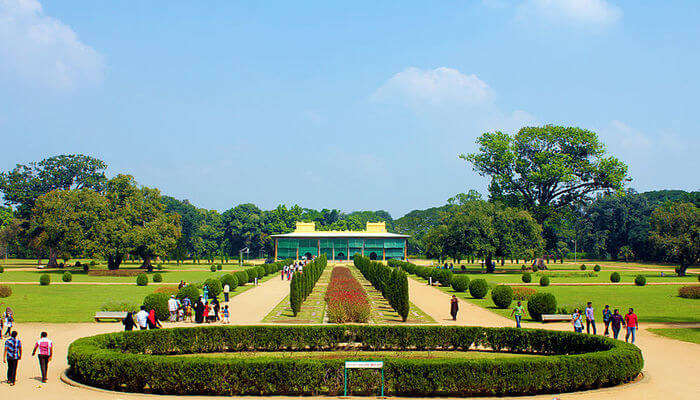 Image Source
The Daria Daulat Bagh is also known as the Garden of the Sea of Wealth. The Bagh is in the city of Srirangapatna in southern India and is made of teakwood and there's an eye-catching summer palace built in between the Garden, which draws people's attention. Also, one gets the view of antique artifacts displayed. The Daria Daulat Bagh was built by Tipu Sultan and is one of the major tourist attractions and a picnic spot.
Location: Daria Daulat Bagh, Srirangapatna, Karnataka 571438
Distance From Mysore: 19 km
Suggested Read: 18 Gorgeous Waterfalls Near Mysore For Your Mini Break
5. Brindavan Gardens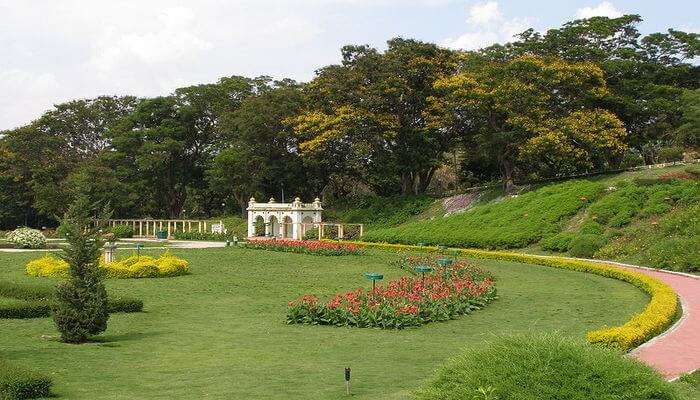 Image Source
The Brindavan Gardens is spread over an area of almost 60 acres and is located in the Mandya District and it lies near the Krishnarajasagara Dam along the Kaveri river. For its beauty and elegance, the Brindavan Gardens has been recognized as the most famous tourist attraction site near Mysore and is visited by nearly 2 million people every year. The Garden has an inbuilt lake and boating facility along with a musical fountain that you can enjoy on a picnic there!
Location: Krishna Raja Sagara Dam, Srirangapatna, Mandya District, Karnataka
Distance From Mysore: 20.8 km
Suggested Read: 20 Places To Visit Near Mysore For A Great Vacation In Karnataka
6. Chunchanakatte Waterfalls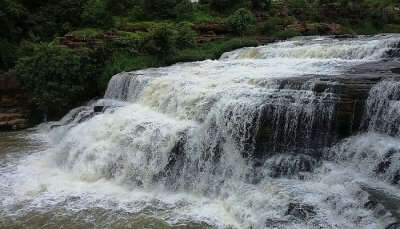 Now, Chunchanakatte Waterfalls is another very famous picnic spot near Mysore for you to visit. The waterfall is on the river Kaveri and is near the Chunchanakatte village. The waterfall in itself has several other smaller falls and can be visited in the monsoons for the best of experiences. Enjoy a picnic by the refreshing fall and indulge in fun games and activities!
Location: Chunchanakatte, Haliyur, Karnataka- 571604
Distance: 50 km
7. Bandipur National Park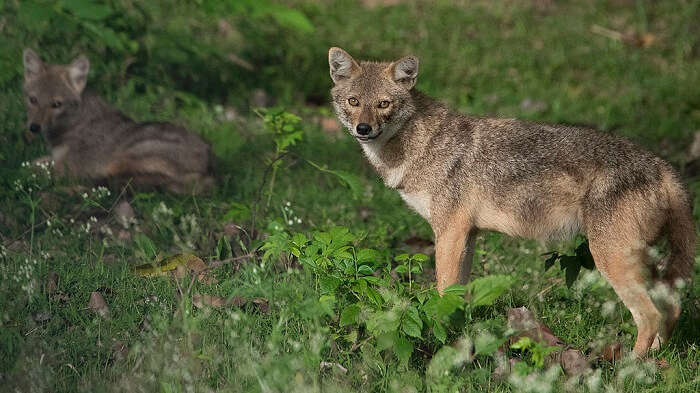 Image Credit: Vaidyanathan for Wikimedia Commons
Located in Karnataka, Bandipur National Park is an excellent picnic spot near Mysore that you can visit with your family. Bandipur National Park was built in 1974 and is home to various species of flora and fauna. This national park can be easily reached in 1 hour 30 minutes from Mysore. Get ready to spot animals like tigers, Indian elephants, sloth bears, gaurs, Indian rock pythons, muggers, four-horned antelopes, and jackals on your visit to this fascinating spot.
Location: NH 67, Hangala Village, Gundlupet Taluk, Bandipur, Karnataka
Distance From Mysore: 74 Km
8. Shivanasamudra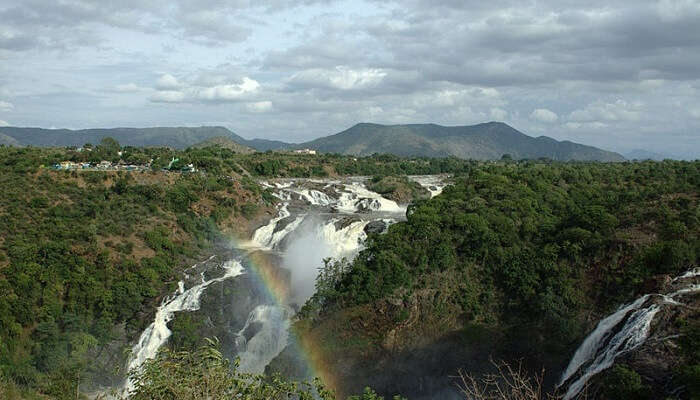 Image Credit: Primejyothi for Wikimedia Commons
Shivanasamudra is a quaint village located near Mysore. Situated in Shivanasamudra village in Chamarajanagar District, Shivanasamudra Falls is a ravishing spot for that much-awaited break from your busy city lives. Shivanasamudra is a perennial waterfall and the best time to visit it in the monsoon season. In the month of August, this serene waterfall will surely take your breath away. You can visit the temples located in the village and interact with the locals.
Location: Chamarajanagar District, Karnataka
Distance From Mysore: 76 Km
Suggested Read: 5 Best Cottages In Mysore In 2022 For An Amazing Countryside Experience
9. Kokkare Bellur Bird Sanctuary
Image Credit: Koshy Koshy for Wikimedia Commons
Kokkare Bellur Bird Sanctuary is another one of the most popular picnic spots near Mysore that you should visit with your family. If you are longing to spend time with your kids and take them out an exciting outing then Kookare Bellur Bird Sanctuary is an excellent choice. Not only you will spend time with your kids here but you can also increase their knowledge about different species of birds. You can spot birds like pelicans, painted stork, little cormorant, black ibis, and grey heron.
Location: Rudrakshipur – Halaguru Rd, Kokrebellur, Karnataka
Distance From Mysore: 77 km
Suggested Read: 16 Super Amazing Weekend Getaways From Mysore For Your 2022 Trip!
10. Shravanabelagola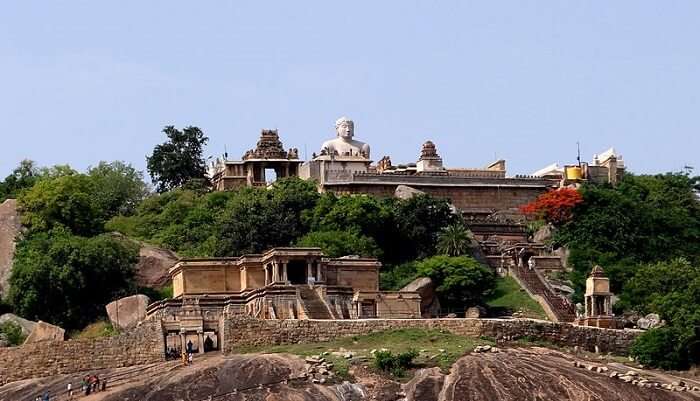 Image Credit: Ananth H V for Wikimedia Commons
Famed for the pilgrimage site Gommateshwara Bahubali statue, Shravanabeloga is one of the best picnic spots near Mysore for all those who are looking forward to visiting a religious place. Shravanabeloga is the most visited town in Karnataka and a lot of tourists visit it every year. The most interesting part of this town is the Bahubali Statue which was built during 983 A.D and is a monolithic statue. This statue is a symbol of Peace, Nonviolence, and sacrifice.
Location: Hassan district, Karnataka
Distance From Mysore: 85 Km
Suggested Read: 13 Churches In Mysore You Should Definitely Visit During Your Karnataka Tour
11. Nagarhole National Park And Tiger Reserve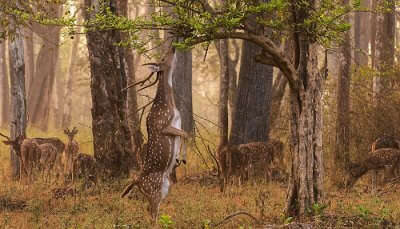 The Nagarhole National Park and Tiger Reserve is a national park in the district of Kodagu and Mysore. The Tiger Reserve is adjoined with the Bandipur Tiger Reserve and is a part of the Nilgiri Biosphere Reserve. The Reserve is covered with rich, dense forest, streams, waterfalls and hills. The most seen fauna of the reserve are the tigers, gaur, elephants, Indian leopards, deers, and herons. The dominant vegetation of the reserve comprises of the deciduous forest with teak and rosewood trees. For its beautiful natural scenery, the reserve serves as one of the best picnic spots near Mysore for the people to enjoy with family and friends.
Location: Madikeri Road, Hunsur, Mysore, Karnataka- 571201
Distance From Mysore: 89.8 km
Suggested Read: These 10 Adventure Sports In Mysore Will Definitely Perk Up The Level Of Your 2022 Vacation!
12. Br hills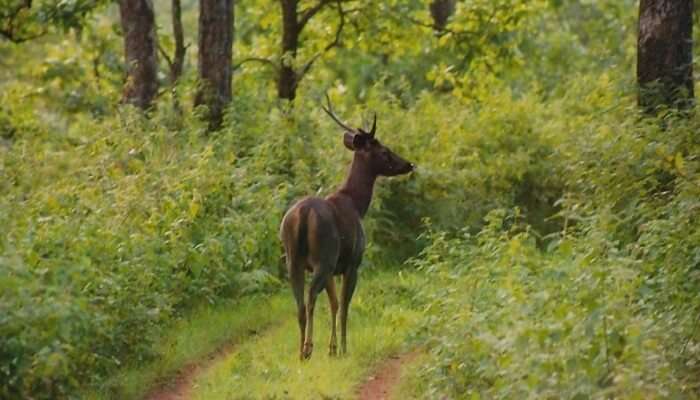 Image Credit: Dineshkannambadi for Wikimedia Commons
From trekking to camping, Biligirirangan Hills will offer you all kinds of adventurous activities and if a thrilling picnic is on your mind then you must add this spot to your list of picnic places near Mysore. Whether you are a nature lover or adventure freak, Br hills will keep you engaged. You can visit the BRT Wildlife Sanctuary and Biligiri Rangaswamy Temple located in Br hills. You can also indulge in rover rafting and go for a jungle safari which will be the highlight of your day for sure.
Location: Rudrakshipur – Halaguru Rd, Kokrebellur, Karnataka
Distance From Mysore: 92 km
Suggested Read: 10 Hotels Near Mysore That'll Ensure A Great Stay Around The City
13. Namdroling Monastery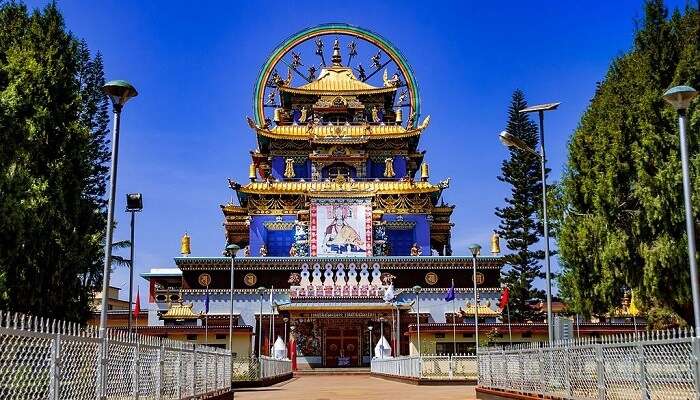 Image Credit: Bikashrd for Wikimedia Commons
Namdroling Monastery is located at a distance of 2 hours from Mysore and is perfect for an outing with your family or friends. If you are passionate about spiritualism and want to meditate and know about the Tibetan culture. If you are up for relaxing your soul and body then this one of the best spots. You can interact with the monks and on your way to the monastery, you can grab some snacks and enjoy it in your car. You can also eat with the monks at the monastery.
Location: Arlikumari, Bylakuppe, Karnataka
Distance From Mysore: 102 km
Further Read: An Off The Charts Honeymoon To Bangalore, Mysore, And Coorg
These picnic spots near Mysore are everything we are looking for in an ideal space of leisure and rejuvenation- beauty, allure, and a comforting atmosphere where you can have fun with those close to your heart. Hire a bus or a cab from Mysore to these places and spend the journey singing songs and humming to the music of nature and as you reach your picnic sites, don't hesitate from having loads of fun! So, plan your trip to Mysore and experience magic!
For our editorial codes of conduct and copyright disclaimer, please click here.
Disclaimer For Distances: The distances mentioned in the blog are from the center of Delhi and according to Google Maps. There may be some disparity since distance on maps have been observed showing variation in the distance by +/- 20km.
Frequently Asked Questions About Picnic Spots Near Mysore
Are there any waterfalls near Mysore for one-day picnic?
Yes, some of the ravishing waterfalls near Mysore are:
1. Chunchanakatte Falls
2. Chunchi Falls
3. Iruppu Falls
4. Abbey Falls
5. Chelavara Falls
6. Mallali Falls
What are the best places around Mysore?
Some of the best places one can visit near Mysore are:
1. Bangalore
2. Ooty
3. Wayanad
4. Nandi Hills
5. Bandipur National Park
6. Coonoor
Are there any beaches for a picnic near Mysore?
Yes, some of the beaches that are ideal for picnics near Mysore are:
1. Kappad Beach
2. Payyanur Beach
3. Kannur Beach
4. Vadakara Beach
5. Ullal Beach
What is the best time to visit places around Mysore?
The best time to visit Mysore and the places nearby is between October through February as the weather is pleasant and breezy.
Are there any hill stations near Mysore for a picnic?
Yes, some of the best hill stations near Mysore ideal for picnics are:
1. Madikeri
2. Bellikel
3. Ooty
4. Kotagiri
5. Yercaud
6. Nandi Hills
People Also Read:
Picnic Spots Near Rajkot Picnic Spots Near Varanasi Picnic Spots Near Pune
Comments
comments