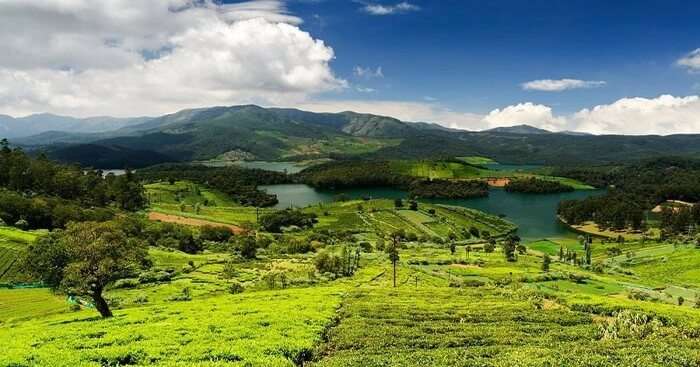 Ooty — one of the most popular hill stations in South India offers views that can hypnotize anyone. I mean if there are mountains, lakes, and tea plantations, it's no surprise that the best places to visit in Ooty will amaze you with their beauty.This lovely destination in Tamil Nadu is home to Nilgiri mountains that stand tall with never-ending verdant meadows and the emerald color lake that soothes the senses. It has everything that makes a hill station popular; from vibrant gardens to the oldest church, there's a lot to visit and admire during Ooty sightseeing.
25 Places To Visit In Ooty
Botanical Garden
Rose Garden
Ooty Lake
Pykara Lake
Doddabetta Peak
Shooting Point
St. Stephen's Church
Tea Museum
Wax World Museum
Thunder World
Avalanche Lake
Deer Park
Kalhatty Waterfalls
Kamaraj Sagar Dam
Mudumalai National Park
Emerald Lake
Needle View Hillpoint
Catherine Falls
Stone House
Ooty Golf Course
Mini Car Museum
Tribal Research Centre
Ooty Boat House
Cairn Hills
Tea Park
If you are planning a vacation in South India soon, here are most beautiful nature points and heritage spots for Ooty sightseeing. These top places to visit in Ooty will ensure you a memorable travel experience!
1. Botanical Garden – For The Amazing Flower Display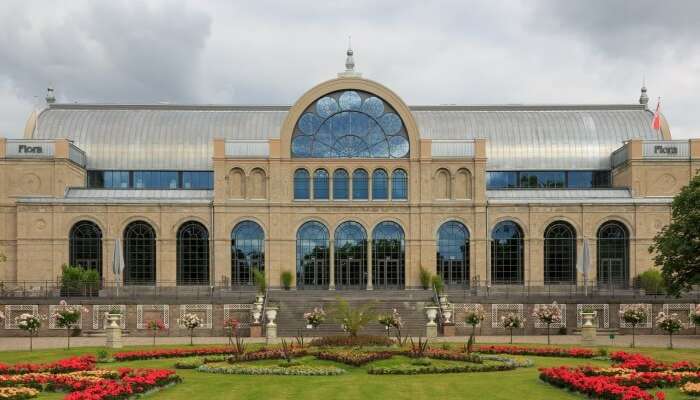 Built in 1847, sprawling across 55 acres—Botanical Garden is a beautifully landscaped garden counted among the best places to visit in Ooty. The garden area is split into various sections, namely Lower Garden, New Garden, Italian Garden, Conservatory, Fountain Terrace, and Nurseries. Varieties of both indigenous and exotic plants, shrubs, ferns, herbal, orchids, and bonsai species are showcased here.
Key attractions: Cork Tree (only one species in India), Paper Bark tree and Monkey Puzzle tree (even the monkeys cannot climb it).
Opening hours: 7:00 am to 6:30 pm
Entrance fee: INR 30/person for adults and INR 15/person for children
Must Read: Top 10 Summer Festivals In India You Shouldn't Miss In 2020
---
South Weekend Holiday Packages On TravelTriangle
A trip to South India has a lot to offer – from the tranquillity of forests to charm of sizzling beaches and from lost kingdoms to chills of a hill station. Visit Kerala, Coorg, Ooty, Mysore, or Kodaikanal. Book holiday packages inclusive of airport transfers, cab, resort, sightseeing, and meals.
---
2. Rose Garden – A Spectrum Of Various Colours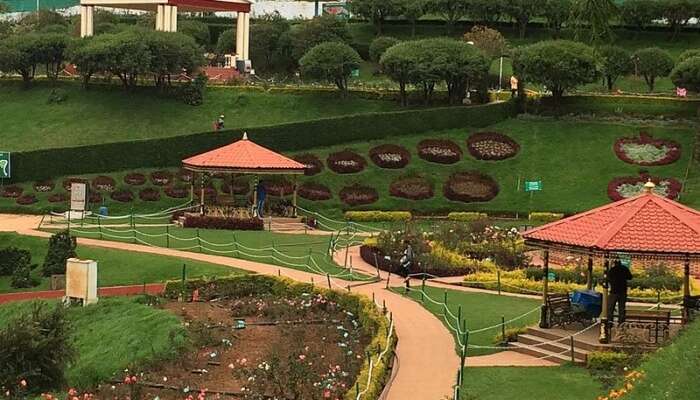 With more than 3600 varieties of rose, the Rose Garden is one of the most gorgeous places you must cover during sightseeing in Ooty. Awarded as the 'Garden of Excellence' by the World Federation of Rose Societies (WFRS), this is one of the largest rose gardens in India, spread across 10 acres of land. Explore this place to cherish the exotic species and to buy plants and saplings for your own garden.
Key attractions: Tea roses, cactus roses, miniature roses, ramblers, black, and green roses
Opening hours: 8:30 am to 6:30 pm
Entrance fee: INR 20/person
Suggested Read: 10 Surreal Places To Visit Near Ooty
3. Ooty Lake – The Sparkling Beauty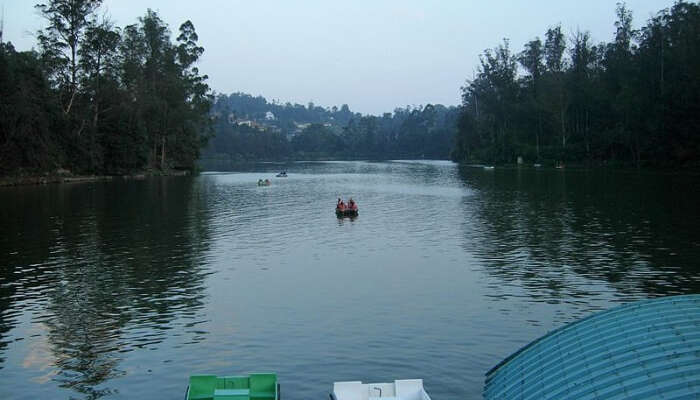 Among the most popular and serene places to visit in Ooty in 2 days is Ooty Lake. With the backdrop of picturesque Nilgiris—the lake rests in the middle of the green valleys. During Ooty summer festival in May, many thrilling boat races are organized here. The lake also works as an amusement park.
Key attractions: Pedal, motor, row boating and mini toy train
Opening hours: 10:00 am to 6: 30 pm
Entrance fee: INR 10/person for Indians and INR 560/person for foreigners
Boating charges: INR 180 for 2 seater row boat for 30 minutes
Suggested Read: 10 Hill Stations Near Bangalore For The Summer Of 2017
4. Pykara Lake – A picturesque attraction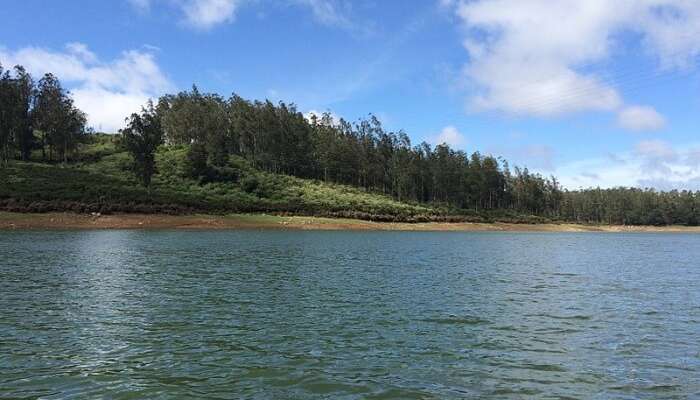 Pykara is a sparkling lake nestled amid lush green Nilgiri valleys. There is also a roaring waterfall that goes by the same name. If you live near Ooty, then a day-long trip can be done by car, local buses or private cabs. People can trek up to the waterfall, enjoy boating, and witness the picturesque valleys.
Key attractions: Boat house for various types of boating
Opening hours: 8:30 am to 5:00 pm
Boating charges: INR 750 for up to 8 people
Suggested Read: 10 Ooty Travel Tips To Help You Experience The Town More Like A Local & Less Like A Tourist!
5. Doddabetta Peak – A Wonderful Trekking Spot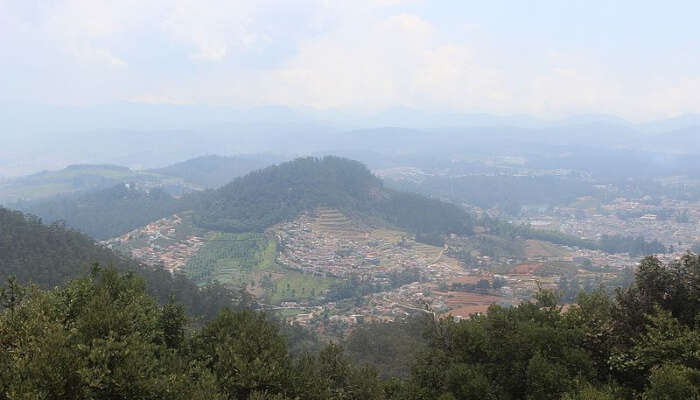 Offering you the most breathtaking views of the highest peak of Nilgiri—Doddabetta Peak is a refreshing and mesmeric visual treat for all. Along with the peak, one can relish the luxuriant surroundings, thick forests, and picture-postcard view of Ooty. If you are a trekker, you are going to love this place.
Key attractions: The Telescope House for a stunning view
Opening hours: 7:00 am to 6:00 pm
Entrance fee: INR 10/person
Suggested Read: The Ultimate List of Adventure Holidays In India For Summer 2020
6. Shooting Point – A Popular Location For Bollywood Shoots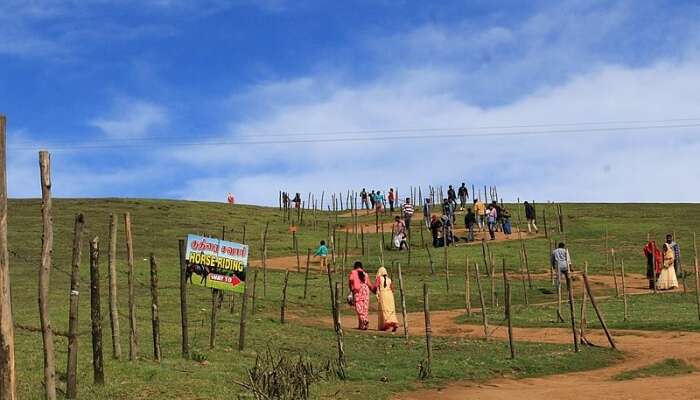 Movie buffs will easily identify this lush-green meadow surrounded by thick forests and mesmeric Nilgiris, as it has been seen in many of the Bollywood blockbusters. Locally known as 'Shooting Medu', this place is perfect for relaxation, picnic, and stunning views. When traveling with your family, this place should top the list. This is one of the places to visit in Ooty in 1 day. Don't forget to bring your cameras!
Key attractions: Horse riding and trekking to tribal villages nearby
Opening hours: 8:00 am to 6:00 pm
Entry fee: Free
Suggested Read: The Ultimate Weekend Getaway Destinations From Bangalore
7. St Stephen's Church – Nilgiri's Oldest Church
Located in Upper Bazar Road—St Stephen's Church is one of the popular places to visit in Ooty in 2 days and displays amazing architectural charm. This is one of the oldest churches of the region that features painted window glasses, wooden elephants procured from palace of Tipu Sultan, and plaques of colonial era. Those who have a thing for history should definitely come to this church to satiate their curiosity. Make sure you include this church in the list of places to visit in Ooty to make your trip worthwhile.
Key attractions: Stunning painting of Last Supper
Opening hours: 10:00 am to 1:00 pm and 3:00 pm to 5:00 pm
Entry: Free
Suggested Read: Ooty Summer Festival 2020: An Artistic Celebration Of The Southern Hills
8. Tea Museum – Nestled In A Picturesque Location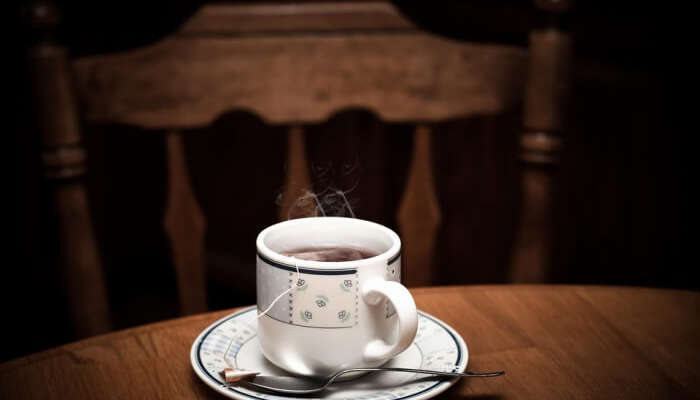 Spread across 1 acre, the Tea Museum is one of the not-to-miss Ooty tourist places. It is surrounded by aromatic tea estates and lush Nilgiri mountains. You must visit this museum if you are a tea lover. You can see the tea making process and taste some incredible varieties while looking at the mesmerizing beauty surrounding the museum. This is one of the places to visit in Ooty in 3 days
Key attractions: Souvenir shop to pick exotic varieties of tea and knick knacks
Opening hours: 10: 00 am to 6:00 pm
Entrance fee: INR 10/person for both factory and museum
Suggested Read: 10 Cottages In Ooty For Couples That Offer Unmatchable Privacy & Comfort Under Budget (2020)
9. Wax World Museum – A must visit for kids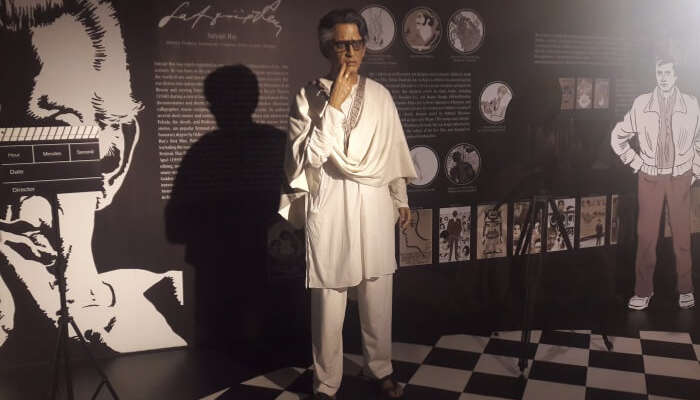 Wax World Museum in Ooty is one of the best places to visit in Ooty with kids. A 130 year old Colonial Mansion located near Ooty Lake houses this fascinating museum that showcases lifelike wax statues of historical and political personalities. The museum also displays typical rural household and replicates the local lifestyle and all these made of nothing but wax.
Key attractions: Wax statues of Mother Terrassa, APJ Abdul Kalam, and Mahatma Gandhi
Opening hours: INR 40/person
Entrance fee: 9:00 am to 8:00 pm
Suggested Read: 9 Hidden, But Beautiful Islands In India For A Memorable Escape to Bliss
10. Thunder World – A place for fun and thrill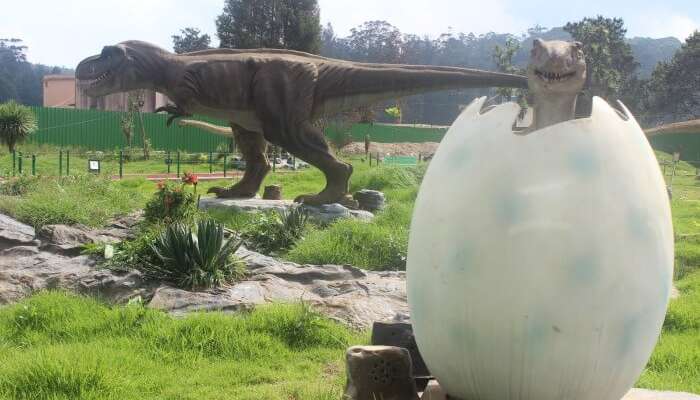 When you are holidaying with your family, especially kids, you should definitely keep Thunder World on your list. Also known as Dinosaur Park and Bigfoot, this is an amusement hub that features more than 20 models of dinosaurs, coupled with sounds and special effects. Along with this, the place has an artificial rain forest and haunted house that fascinate children and adults alike.
Key attractions: 5D theatre and Third Eye Camera Museum
Opening hours: 9:00 am to 7:00 pm on Mon-Fri and 9:00 am to 6:00 pm on Sat-Sun
Entrance fee: INR 210/person for adults and INR 130/person for kids.
11. Avalanche Lake – Get Closer To Nature
Even though the name suggests otherwise but this lake was instead originated as a result of a landslide. Here, you will brought in close proximity with various vibrant flowers and lush greenery. The flowers like rhododendrons and magnolias can be easily found around the Avalanche Lake. You can stop by this lake to indulge yourself in a peaceful fishing session or can even spend the whole day here by pitching a tent.
Key attractions: If you visit this place in the Monsoon, then you'll find the surroundings to be greener and more vibrant due to blooming flowers
Opening hours: 8:00 AM to 6:00 PM
Entrance fee: Free
12. Deer Park – Behold The Beautiful Creatures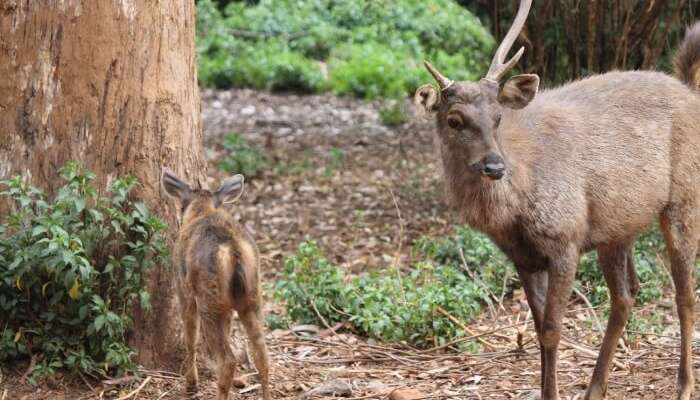 This park is located at a distance of around 1 kilometer from Ooty Lake and is considered to be quite accessible. Apart from just the deer, you can witness many other animals, including Sambhar and Chital along with various birds. This park has been carefully maintained and is one of the most-visited Ooty tourist places. If you're visiting Ooty for a couple of days, then this is the best place to visit. So, when thinking of the ideal places to visit in Ooty in 2 days, then don't forget to include this one.
Key attractions: Flora and fauna
Opening hours: Summer: 5:00 AM-8:00 PM; Winter: 5:30 AM-7:00 PM
Entrance fee: Free
13. Kalhatty Waterfalls – The Most Picturesque Backdrop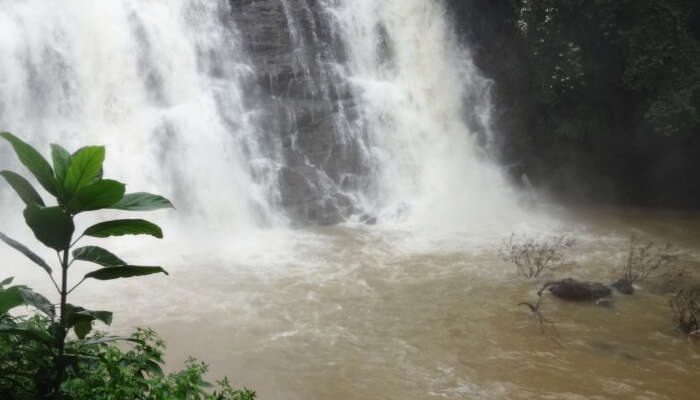 These falls are situated at a distance of approximately 15 kilometers from Ooty. All the adventure junkies out there can plan a visit to these falls as they can reach there after 2-mile trek from village Kalhatti. Mythologically, it is believed that saint Agastya used to live in this region. While going to witness these falls, it is advised that you stay careful, for there are many wild species in this region.
Key attractions: Lush greenery and species of animals like black panther
Opening hours: 8:00 AM – 6:00 PM
Entrance fee: Free
14. Kamaraj Sagar Dam – For The Perfect Picnic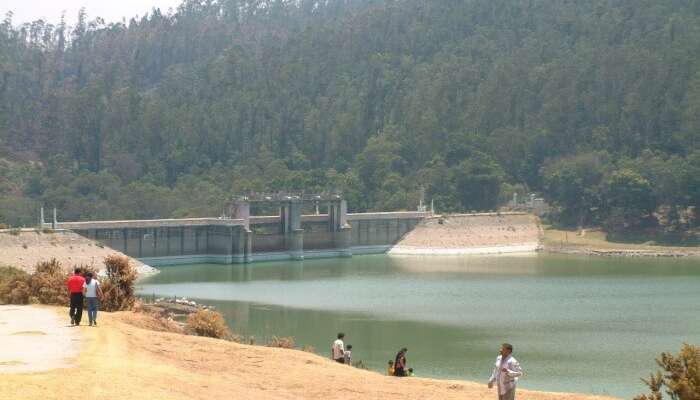 This dam is also known by the name Sandynallah Reservoir and is quite a famous one of all Ooty tourist places. The peaceful surroundings of this place make it the best picnic spot in Ooty. Here, you can take your whole family along to spend quality time with each other while also getting indulged in bird watching or fishing. You can find various species of fish here. This place is ideal for nature lovers who want to unwind themselves after a long day.
Key attractions: Different species of birds and fish
Opening hours: 9 AM – 6 PM
Entrance fee: Free
Suggested Read: Ooty In December: Weather, What To Pack, And Family-Friendly Activities
15. Mudumalai National Park – A Beautiful Tiger Reserve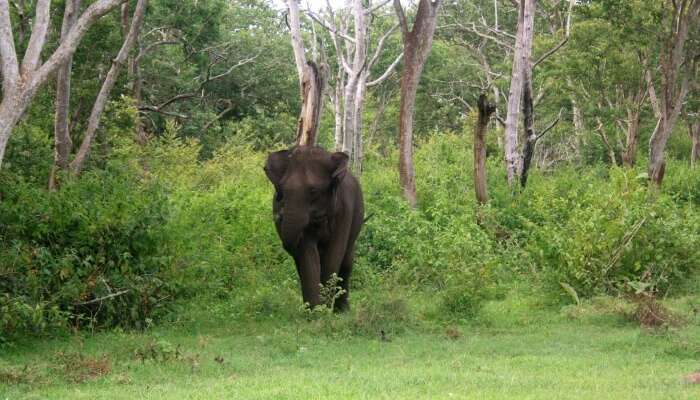 This national park is one of the forest ranges that were first considered to be national parks. Mudumalai National Park is situated in the district of Nilgiri and lies in Tamil Nadu-Karnataka border. Also, it comes on the way between Ooty and Mysore. It has recently been declared as a tiger reserve owing to the presence of around 50 tigers. The best season to visit Ooty is during the beginning of summer or towards the end of monsoon.
Key attractions: Moyar River where you can find a lot of animals to drink water
Opening hours: 7:00 am – 9:00 am and 3:00 pm – 6:00 pm
Entrance fee: INR 14 per person, INR 25 for still camera, INR 150 for video camera, and INR for jeep safari
Suggested Read: 10 Blissful Ooty Honeymoon Resorts That Ignite Romance
16. Emerald Lake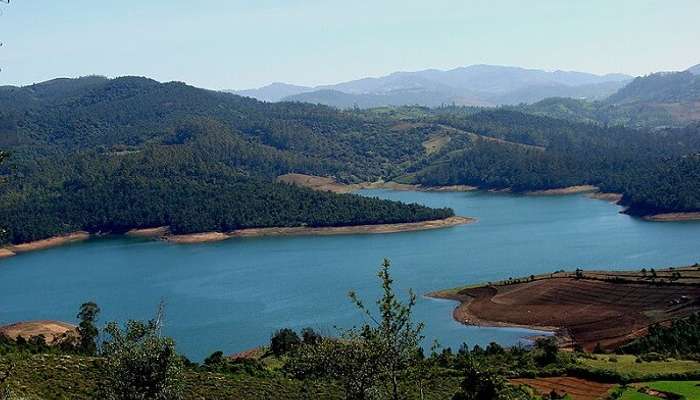 Image Source
Escape the crowd and head to this offbeat paradise located in the middle of the green hills and tea gardens of Ooty district. This place is a mere 17 km away from the main city of Ooty and has the bluest waters you'll ever have set eyes on. You can choose to sit on the banks or go canoeing in this pristine and totally untouched lake with the Nilgiri slopes and the dense forest in the backdrop that will make you feel like you're gliding in heaven! You can also choose to stay at the nearby Red Hill Nature Resort and go trekking at this place.
Location: Emerald Village, Ooty, Tamil Nadu
Timings: 9 AM – 6 PM
Entry fee: Nil
17. Needle View Hillpoint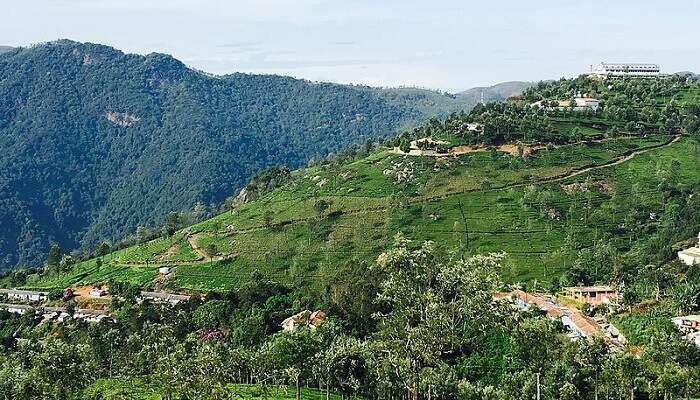 Image Source
This place is also called the Oosi Malai and is one of the most preferred places to visit in Ooty if you want to go on a picnic with your loved ones or simply wish to spend some quality time in the lap of nature. Get away from the chaos and clutter of city-life, and take a trip to Needle View Hill Point. True to its name, this hill is shaped like a needle and is a charming place to view, except for providing an awesome weather. All you have to do is climb up the rocks to get a panoramic view of the splendid scenery surrounding this place. Don't miss the stunning views of the sunset from this place.
Location: Gudalur, Ooty, Tamil Nadu
Timings: 8 AM – 6 PM
18. Catherine Falls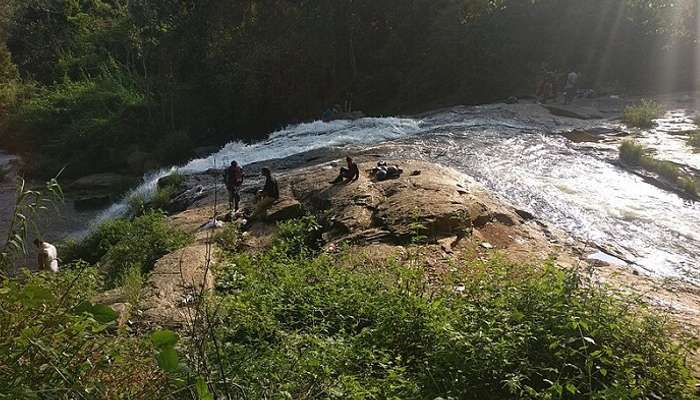 Image Source
This is amongst the most famous places in Ooty and also its most beautiful. Catherine Falls is rather a double-cascading waterfall tucked in Kotagiri over the Mettupalayam highway that branches off at Aravenu. It is the second biggest waterfall in the Nilgiris as well as one of Ooty's most beautiful spots. It's essentially the River Kallar that cascades down and forms this glorious spectacle of nature called the Catherine Falls. In fact, it is one of the most unique falls since it is surrounded by lovely tea plantations instead of the typical forests and hills.
Location: Kotagiri, The Nilgiris District
Timings: 9 AM – 6:30 PM
Entry fee: Nil
Suggested Read: 10 Best Villas In Ooty For A Pleasant Stay In The Hills
19. Stone House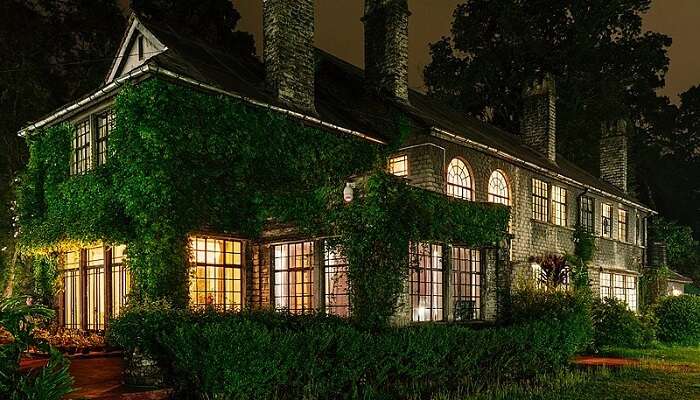 Image Source
It is amongst the oldest buildings of the British Empire in Ooty that is characterized by ancient architecture and splendor. This place stores a number of artifacts and items representing the Tamilian and Britishheritage that you can have a look at when you're here. You'll also find many weapons used by Nilgiri residents in ancient times over here. It's an amazing place to explore for historians, archaeologists, and art lovers who take great interest in learning about animals, coins, postal stamps, utensils, and agriculture techniques used by the people of old.
Location: Stone House Area, Stone House, Ooty, Tamil Nadu
Timings: 9 AM – 5 PM (Closed on Mondays)
Entry fee: INR 5 for adults
20. Ooty Golf Course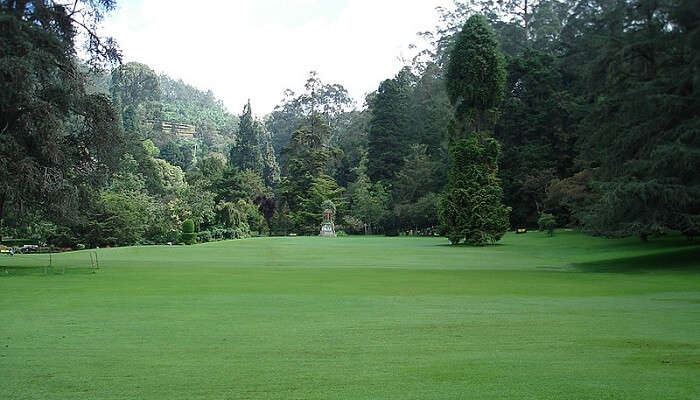 Image Source
The splendid Ooty Golf Course is amongst the most famous Ooty tourist places that let you showcase your golfing skills in utterly lush surroundings. Other than golfing, it's also a popular place to indulge in a hearty meal or even stay for the night. It's a great place for those who think golfing is only for the elite, as it allows you to try this sport in a very low budget while also offering commendable hospitality other than stunning views.
Location: Finger Post, Ooty, Tamil Nadu
Timings: Vary every month
Charges: INR 1,000 per person
Suggested Read: Embark On Your Journey Of A Lifetime At These 15 Best Hotels In Ooty For Honeymoon!
21. Mini Car Museum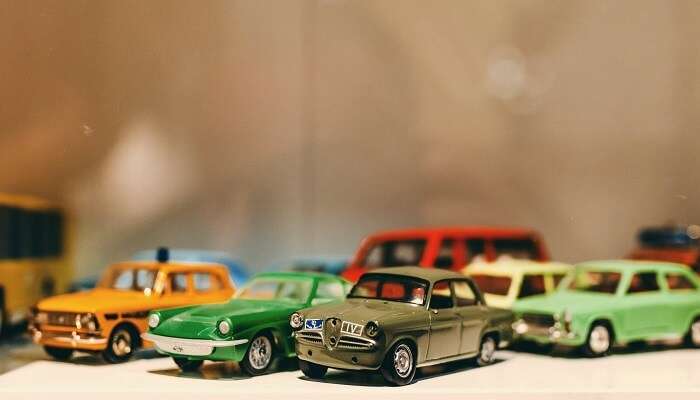 Image Source
Don't you just love miniatures? Well then, this is the place for you! Take a break from the regular natural tourist Ooty attractions and visit this awesome mini car museum that features over 1,000 miniatures of famous cars like Ferrari, BMW, Mercedes Benz, Lamborghini, Porsche, Jaguar, and Volkswagen. Though tiny in the area it occupies, this museum is conveniently located and is a sheer delight for all car lovers and kids, which is why it's one of the best places to explore in Ooty for families. When you're here, you can also buy a miniature car here and take it home as a keepsake!
Location: Kodappamund, Ooty, Tamil Nadu
Timings: 9:30 AM – 7:30 PM
Entry fee: Nil
Suggested Read: Kodaikanal vs Ooty For Honeymoon: What's Your Pick?
22. Tribal Research Centre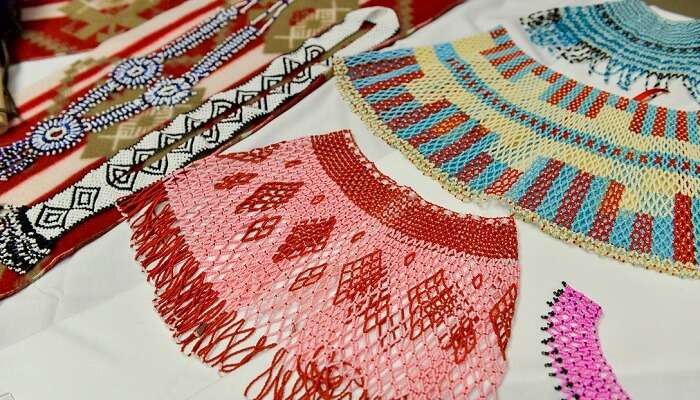 Image Source
Move beyond the tea gardens and lush hills. Explore Tamil Nadu's tribal culture next that will make you fall in love with the art, artifacts, architecture, and culture of this tiny hill station. The Tribal Research Centre in Ooty is one such place that houses intriguing and rare plants and trees other than other indegenous items to tell you about the civilizations of old. You'll be guided around the place and will get to know a great deal about the history, mechanism, cultures, and traditions of the tribes of the place surrounding Ooty.
Location: Nanjanad Road, Muttorai Palada, Ooty, Tamil Nadu
Timings: 10 AM – 5 PM (Closed on Fridays)
Entry fee: Nil
23. Ooty Boat House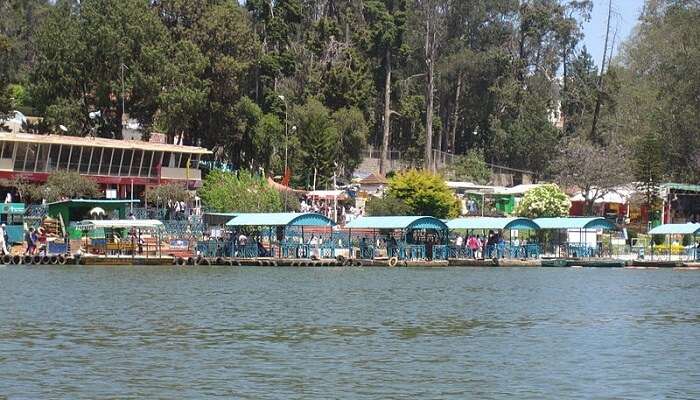 Image Source
Though it's at the same place as the famous Ooty Lake, the boat house makes up for an exciting tourist attraction in itself. The Ooty Boathouse is amongst the finest Ooty attractions for those who are seeking a silent, peaceful afternoon or wish to spice up their day with some adventure and thrill. The boathouse is the perfect outing for families with kids since it offers so much excitement and fun. It's also a great place for those who wish to get clicked before the scenic Ooty Lake with their loved ones!
Location: Ooty Lake, Ooty, Tamil Nadu
Timings: 9 AM – 6 PM
Entry fee: INR 15 per person
Suggested Read: Ooty Honeymoon Guide For Couples Who Still Believe In Old School Romance!
24. Cairn Hills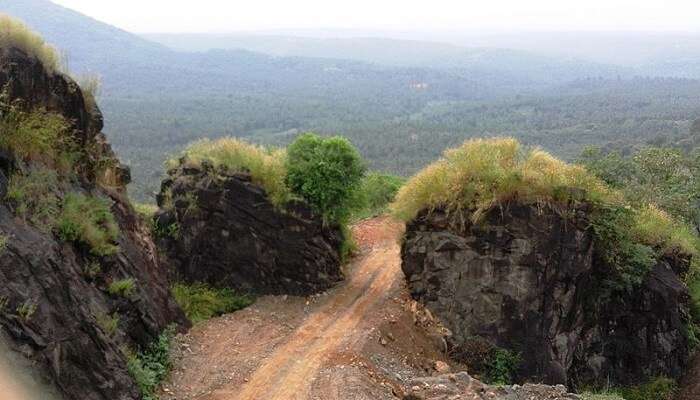 Image Source
If you are an adventure seeker, then you must add Cairn Hills to your list of places to see in Ooty. This is a remarkable attraction that is especially famous for the trek trail here that is popular amongst trekkers, nature lovers, and adventure enthusiasts. This place is home to a number of species of birds, both resident and migratory, which makes it a paradise for birdwatchers, bird photographers, and ornithologists. There's also a watchtower here that lets people gaze at panoramic views of the surrounding hills and valleys.
Location: Avalanche Road
Timings: Open 24X7
Entry fee: INR 20 (for adults) | INR 10 (for children)
25. Tea Park
If you wish to tread into a dreamy looking tea estate instead of just looking at them from far off, then this is the best place for you to visit. It's essentially a tea garden that has especially been acquired by the government of Ooty to let visitors immerse themselves in the rare feeling of being in a tea farm, plucking and sniffing the aroma of pretty tea leaves without causing any unintended damage to the natural environment. There's also a tea shop located right inside the park where you can taste the different varieties of the famous Ooty tea like masala tea, vanilla tea, and much more.
Location: Ooty, Tamil Nadu
Further Read:21 Road Trips From Bangalore You Must Plan With Your Friends
Have we missed something? If so, let us know to help travelers plan their trips better. We hope these fascinating places make you book your ticket for the Ooty vacation soon. Make sure you consider most of these places to visit in Ooty to make your trip memorable. Whether you're visiting with your family and friends or your beloved, each place will ensure you undergo a once-in-a-lifetime experience.
Frequently Asked Questions About Places To Visit In Ooty
Q. What are the places I can visit in Ooty in 2 days?
A. You can visit a variety of famous places in Ooty in 2 days, including the Ooty Lake, Doddabetta Peak, Emerald Lake, Tea Museum, and much more.
Q. Which are the best resorts in Ooty for a stay?
A. Sterling Ooty Fern Hill, Sterling Ooty Elk Hill, Club Mahindra Derby Green, and Fortune Retreats are some of the best resorts in Ooty. For a more rejuvenating and blissful experience of staying amidst the natural beauty of Ooty, you should consider staying at these homestays in Ooty.
Q. How many waterfalls are there in Ooty?
A. There are around 6 waterfalls in Ooty that you must visit on your trip.
Q. Which is the best place in Ooty?
A. The best places to visit in Ooty are Ooty Lake, Emerald Lake, Ooty Botanical Gardens, Deer Park, Doddabetta Peak, Kalhatty Waterfalls, and Kamraj Sagar Dam. There are a myriad of fun and exciting things to do in Ooty like taking the toy train and visiting the Botanical Garden, among other things.
Q. Is Coorg better than Ooty?
A. Both are equally charming in terms of the natural beauty they possess and the experiences they offer. So, one cannot really compare. While Ooty is known for its enchanting tea plantations, Coorg is rather famous for its picturesque coffee and pepper plantations. While Ooty is more popular amidst honeymooners and couples, Coorg is frequented by adventure seekers.
Q. What can we do in Ooty at night?
A. You can choose to dine at any of the charming cafes in Ooty and gaze at the lit views of this hill town, you can go stargazing, or you can even visit the Stone House which has a mysterious aura that is best explored at night!
Q. What can I buy in Ooty?
A. Chocolates, tea, coffee, and spices are some of the most common but popular things to buy in Ooty. Other things include woolens, Nilgiri Honey, Cinchona products, and handicrafts like wooden articles.
Q. How can I spend 3 days in Ooty?
A. You can kickstart your Ooty holiday with a local breakfast and a trip to Pykara Lake, Boat House, and Pykara Waterfalls. After a quick lunch, head to Doddabetta Peak and get a bird's eye view of the hill station. Polish off your dinner and spend the rest of the 2 days exploring Ooty Botanical Gardens, Sim's Park, Coonoor Tea Estate, Lamb's Rock, and Dolphin's Nose
Q. Is Ooty worth visiting?
A. Yes, Ooty is worth visiting because it is brimming with picturesque gardens, beautiful sunsets, and a moderate climate. You can enjoy long walks outdoors without breaking into a sweat.
Q. What is the best time to visit Ooty?
A. The best time to visit Ooty is between October to June since the temperature hovers somewhere around 25 degree celsius, offering travelers a brief respite from the North Indian heat.
Q. How much does it cost for a trip to Ooty?
A. You can take a trip to Ooty within INR 5,000 to INR 6,000 from Delhi and other Indian metropolitan cities. You will have the time of your life here and will not be disappointed by the bevy of fun activities.
Q. Can unmarried couples stay in Ooty?
A. Yes, unmarried couples can stay in Ooty.
Q. How safe is Ooty?
A. Ooty is safe for travelers. If you're a solo female traveler, make sure you exercise caution and stay alert at all times. Carry a pepper spray or a Swiss Knife with you.
Q. Is Ooty safe for families?
A. Yes, Ooty is safe for families. It is one of the best kid-friendly destinations in India.
Looking To Book A Holiday Package?
Book memorable holidays on TravelTriangle with 650+ verified travel agents for 65+ domestic and international destinations.
People Also Read:
Places To Visit In Goa Tourist Places In Munnar Places To Visit In Thekkady
Comments
comments