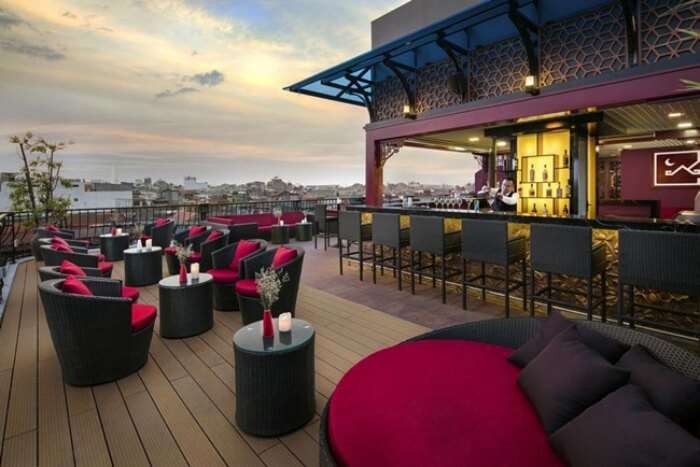 Overview
Hanoi-Vietnam is swiftly becoming one of the most visited tourist destinations in the world. Finding 4 Star Hotels in Hanoi is not a strenuous task as this city boasts variety of accommodation options to cater to the influx of tourists. These hotels are decked out with all lavish facilities and thus they magnetize the tourists all across the world. There is no dearth of 4 star ultra chic accommodations where guests are pampered with the finest of hospitality. Hanoi is one of the hottest tourist attractions across the world. It is famed for its cultural beauty, majestic views, perfect weather and evident French Colonial heritage. With thousands of year of history, this city has a lot to offer as a tourist attraction.The long stretch of the city and rich Vietnamese culture offer guarantee of a rewarding travel experience. This alluring beauty of this city leaves the visitor stunned. Hanoi is a combination of old and new which gives a truly rich experience to the travelers.
A vacation to the picturesque capital of Vietnam, Hanoi unfolds a sizzling medley of holiday ideas and activities galore to all its visitors. 4 Star Hotels in Hanoi are well known for offering immaculate services and incredible hospitality. Hotels in Hanoi entertain both leisure and business travelers and thus travelers here can enjoy unforgettable stay amidst luxury.
Special Experiences
4 Star Hotels in Hanoi offer services of international standards in order to offer blissful and delightful experience to the travelers. Sunway Hotel Hanoi is one such property that features subdued rooms with soundproof windows in order to give utmost privacy to the guests. Some of the hotels have added balconies and seating areas which offer panoramic lake views to the visitors. Guests can enjoy pulsating nightlife without leaving the comfort zone in Hanoi Hotel as this hotel features nightclub within hotel premises. Hanoi Imperial Hotel offer welcome drink to the guests to make them feel special. Visa support is also offered in this hotel. Guests can unwind themselves in the refreshing outdoor and rooftop pool in several hotels such as The Ann Hanoi Hotel, Skylark Hotel, Silk Queen Grand Hotel and a lot more. Hanoi Marvelous Hotel & Spa is one such property where cooking class is organized for the guests. Travelers can book any of these accommodations and make their trip memorable with these splendid hotels.
Facilities
4 Star Hotels in Hanoi are bedecked with all essential amenities and luxurious facilities so as to make travelers' trip an amazing experience. Some of the notable facilities offered by these hotels are polished rooms and suits with beautiful décor, marble bathrooms, tea and coffee making equipment, complimentary internet connection, laundry service, daily housekeeping service, kitchenettes, flat-screen TV, safes, mini-bars, room service, airport shuttle, parking, gym, swimming pool, spa and sauna and a lot more. Travelers can continue their fitness regime in the fully equipped gyms in several 4 star hotels such as The Ann Hanoi Hotel, Hanoi Pearl Hotel, Hanoi Hotel etc. Some hotels feature Jacuzzi which is an add-on to all other lavish facilities provided by these hotels.
Dining
4 Star Hotels in Hanoi consistently provide their guests with one-of-a-kind dining experience so as to satisfy the craving of their taste buds. Almost all hotels in Hanoi feature in-house restaurant where guests can savor delectable delicacies in the beautiful setting. From local to international, these hotels have it all. Moreover, a free breakfast buffet is served in all 4 star accommodations so that guests can kick-start their day with sumptuous food. In addition to the phenomenal dining, these hotels also feature bar on-site. Sunway Hotel Hanoi is one such Hotel in Hanoi which has a lobby bar with regular live music. These bars are well-stocked and thus allow the travelers to spend some relaxed and enjoyable time.
FAQs
Q1. List some best known 4 Star Hotel in Hanoi with spa facility.
A. A list of 4 star hotels with spa facility includes Sunway Hotel Hanoi, Skylark Hotel, The Palmy Hotel & Spa, Hanoi Hotel etc.
Q2. Is there any 4 Star Hotel in Hanoi that offers via support to the travelers?
A. Yes, Hanoi Elite Hotel and Hanoi Imperial Hotel are some of the hotels in Hanoi that offer visa support.
Q3. Do hotels in Hanoi offer wheelchair accessible entrance?
A. Yes, almost all Hanoi 4 star hotels offer wheelchair accessible entrance to facilitate guests.
Q4. Is parking facility available at 4 Star Hotel in Hanoi?
A. Yes, complimentary parking facility is available in almost all 4 star hotels in Hanoi-Vietnam.
Q5. Can travelers enjoy internet connection at 4 star accommodations in Hanoi?
A. Yes, the travelers can enjoy strong internet connection at 4 Star Hotel in Hanoi. This is a complimentary service and thus travelers can enjoy the same at free of cost.
4 Star Hotel in Hanoi not only offers its guests a comfortable stay, but also a luxurious one. Various facilities including a spa, laundry, dry cleaning, 24-hour front desk, beauty services, luggage storage etc are bound to make the guests completely smitten. Owing to its fame and popularity, Hanoi city hosts variety of accommodations to cater to the travelers from all walks of life. Some of the finest Hotels in Hanoi are Hanoi Elite Hotel, Lan Vien Hotel, The Palmy Hotel & Spa, Skylark Hotel, The Ann Hanoi Hotel, Silk Queen Grand Hotel, Hilton Grand Inn Hanoi, Hanoi Imperial Hotel, Hanoi Hotel and a lot more. These hotels are committed to setting the standard for quality and service and thus leave the guests with the desire to stay with them time and time again. One must head towards any of these hotels and enjoy a comfortable stay like never before.