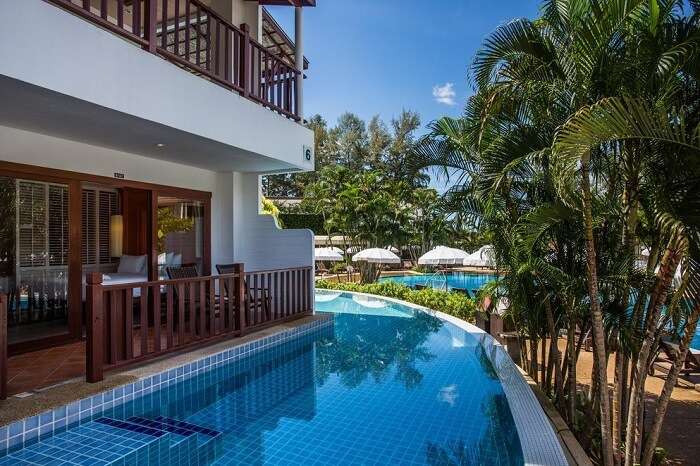 Overview
Get to avail the perfect holiday experience by booking excellent hotels. Thailand is an Indochinese peninsula that is the most visited destinations in the world. It is the world's 50th largest country in area. The beautiful peninsula is surrounded by Myanmar, Laos, and Cambodia. It is also covered with the serene waters of the Andaman Sea and various locations that every tourist must visit. In Thailand, one can find numerous people who come from different regions and cultural backgrounds. It is believed that the Tai people migrated from China and settled in this peninsula. The country was also home to Mon kingdom and Khmer empire. So, travelers will find several Indians here too. Some Portuguese also has great powers in this peninsula, so the country has a mix of Portuguese elements as well. Step into this outstanding land and get to an adventurous tour across the city. Visit pale beaches, up mark boutiques, and lovely cafes. Spend time this holiday with friends, family, or with one's partner by booking Bang Tao beach hotels.
Special Experiences
There are numerous special experiences that are offered by the Bang Tao beach hotels. The hotels host tours to various locations across the countries. Hence, guests get to visit beaches, coral reefs, and try out watersports. The hotels also have spa and massage centers where Thai massage is popular. There are also facial treatments and other retreats offered to families and couples privately. The hotels also have vast swimming pools which are heated. At these pools, travelers can have a lovely match of water volleyball. The hotels also allow customers to enjoy dining alongside pools. The Outrigger Laguna Beach Resort is popular amongst tourists for its large pool and beach it opens to.
Facilities
Several facilities are provided by Bang Tao beach hotels. The hotels come in various rooms styles so that one can choose the most suitable option for oneself and companions. The rooms are provided with an electronic gadget, personal accessories, and bathroom accessories. They are also provided with beverage making facilities and a minibar. As customers book deluxe, superior, business, or suite, the rooms are also provided with living room and kitchen. Business rooms come with photocopying machines and stationary. Other facilities that can be accessed by customers any time include the gym, aerobics, help desk, telephone, and internet. For example, the Cassia is known for its comfortable rooms and scenic views.
Dining
The Bang Tao beach hotels make sure the customers are completely satisfied when it comes to food. They have a special team of cooks that is led by a well-experienced head chef. Every cook in the kitchen is master of various cuisines. Hence, customers can order anything from any food style and get a taste of clean, healthy, and delightful meals. The chefs also accept special requests for cakes and pastries on special occasions such as birthdays and anniversaries. When it comes to dining alongside pools, there is a separate team that is famed to serve mouthwatering sizzlers and barbeque food. The Arinara Bangtao Beach Hotel amazing pool and sea views with food and cocktails.
FAQs
Q1. What are some good locations to visit at Phuket?
A. There are several good locations to visit at Phuket. Some of the locations include Karon Beach, Bang Tao Beach, Big Buddha, Wat Chalong, Hat Kata Noi, Kamala Beach, Karon View Point, Sirinat National Park, Promthep Cape, Ko Racha Yai, Thalang Road, Khao Rang, Ko He, Surin Beach, Mai Khao Beach, Kathu Waterfall, and much more.
Q2. What are the transport facilities available at Phuket?
A. There is a bus, car, rail, and ferry as a means of transport available in Phuket.
Q3. How to book a hotel in Thailand?
A. Book a hotel in Thailand online. Also, find the best prices there and know when to travel and where to go once there.
Q4. Why is it better to book hotels online?
A. Booking hotels online will save money as they are filled with special discounts and offers.
Q5. Do the hotels offer customized itineraries?
A. Yes, the hotels do offer customized intermarries.
Get away at this lovely vacation by not just visiting and capturing moments at fabulous locations but also by residing at Bang Tao beach hotels. At these hotels, guests can avail wonderful experiences which include outings and watersports. The hotels also provide customers with spa and relaxation centers where one can rejuvenate the mind, soul, and body. There is also special Thai massage awaiting for couples as well. The hotel rooms are well-furnished and maintained by the housekeeping staff. The rooms have essential hygiene, bathroom, and personal care accessories. The staff is extremely chivalrous and are available to any kind of issue or discomfort. Apart from the hospital staff, the hotels also have wonderful chefs as well. They are a team of kitchen experts who will definitely make one crave more for food. Order any dish that includes Thai, Chinese, Indian, European, American, Australian, or any other cuisine, and it will be served on time with great presentation. So make the journey extremely splendid by accommodating at the Bang Tao beach hotels.