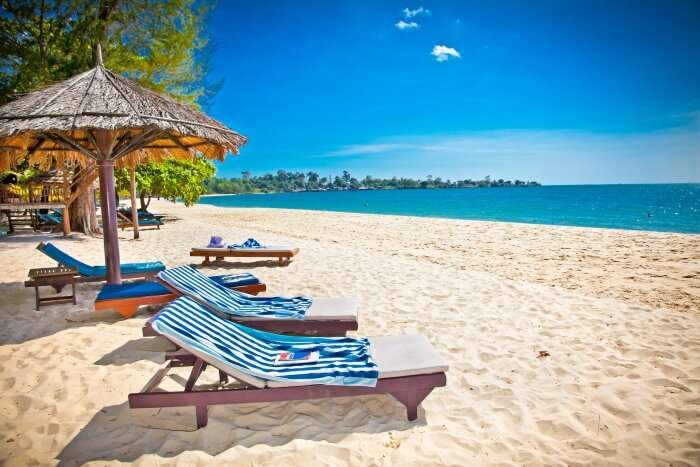 Previously known as Krong Chaktomuk, Phnom Penh is the capital and the most populous city in Cambodia. When it comes to visiting a southeast country, beaches near Phnom Penh are one thing that everyone is looking for.
But with Thailand being a neighboring country, beaches in Cambodia near Phnom Penh, in general, are quite neglected. But slowly, the country's wonderful islands and glittering sands are becoming popular to world's beach cravers. Here are 6 beaches only hours away from Phnom Penh, Cambodia.
Top 6 Best Beaches In Phnom Penh
While there are no any beaches near Phnom Penh in general, there are many beaches in Cambodia within reach of the capital in a matter of few hours drive. You can hop into a bus or take a taxi to Kep town or even better, the Sihanoukville – home to plenty of beaches and close to the island of Koh Rong.
Kep Beach
Beaches in Otres
Serendipity Beach
Koh Toch Beach
Lazy Beach
Ream beach at Ream National Park
1. Kep Beach

When you talk about the best beaches near Phnom Penh, Kep beach is the one that comes into everybody's mind as it is the closest one from the capital of Cambodia. Kep, also known as the crab town, is a little town with just 3 hours ride from Phnom Penh. What makes the Kep beach great is less number of people on the beach. No, Kep beach is not a crowded beach but you will definitely find a good number of locals on weekends and public holidays. The calmness of the Kep beach makes it perfect for a swim. You will find plenty of vendors selling everything from food and drinks and also some local rings that you might just like, which is just one of the things that make this one of the best beaches near Phnom Penh. Don't think much, it's your vacation after all. Just go pick some seafood from the crab market and chill in the beach.
Must Read: Shopping In Phnom Penh: 10 Top Places To Buy The Best Of Everything That The City Flaunts
---
Cambodia Vietnam Honeymoon Packages on TravelTriangle
Visit Cambodia- Vietnam for your honeymoon and enjoy gorgeous beaches, sparkling bays, colonial structures, stunning landscapes, and colorful culture. Experience luxury at at low cost.
---
2. Beaches In Otres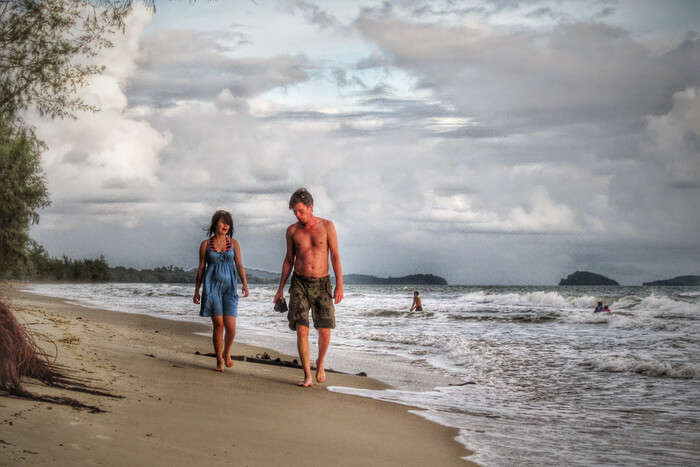 If you ask about beaches to travelers who have traveled to Cambodia, one name that they are not going to miss is Otres. With just 3.5 hours drive from the capital Phnom Penh, Sihanoukville is the second closest beach from Phnom Penh. You can take a 15 min local tuk-tuk ride and get out of the hustle and bustle of the city. Some say Otres beach is a hidden gem for beach lovers as it offers a long tail of restaurants, guesthouses, resorts and beach bars. You will find plenty of tourists on the beach and the vibe is more chill than other beaches. Otres also offers water activities like snorkeling, sea kayaking, and multiple boat trips. However, since it is such a long beach, it is divided into 4 beaches now.
Suggested Read: Phnom Penh Nightlife Guide: 10 Best Clubs For The Party Starters!
3. Serendipity Beach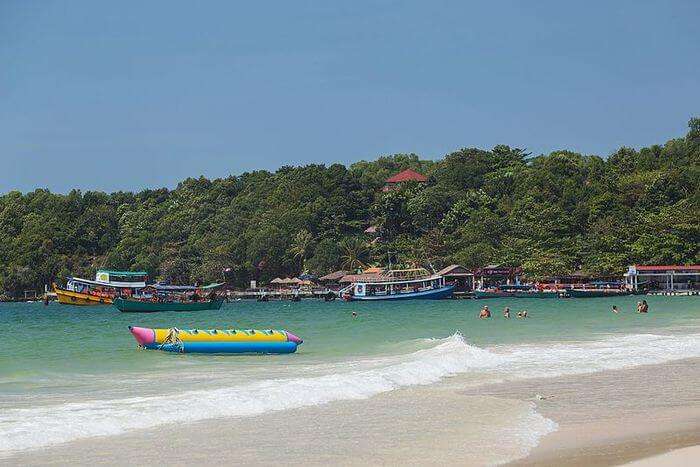 Yet another among the beaches near Phnom Penh, Cambodia is the Serendipity beach. It is a beach with a small stretch with plenty of lively bars and action after hours. The cottages on the beach have a great view. The beach is generally crowded mostly by the tourists and a few fishermen but the crowd here is really international and amazing. The Serendipity beach of Cambodia offers great seafood, amazing cocktails, and cheap hotels, the reason this beach is on the list of the top beaches around Phnom Penh. You can just chill in the beach benches, hang around the beach or get one of those foot massages that the vendors offer in the shores. However, if you are looking for some water activity, the Serendipity beach does not have much to offer to you.
Suggested Read: 7 Places To Visit In Phnom Penh That Will Replay History Throughout Your Vacation!
4. Koh Toch Beach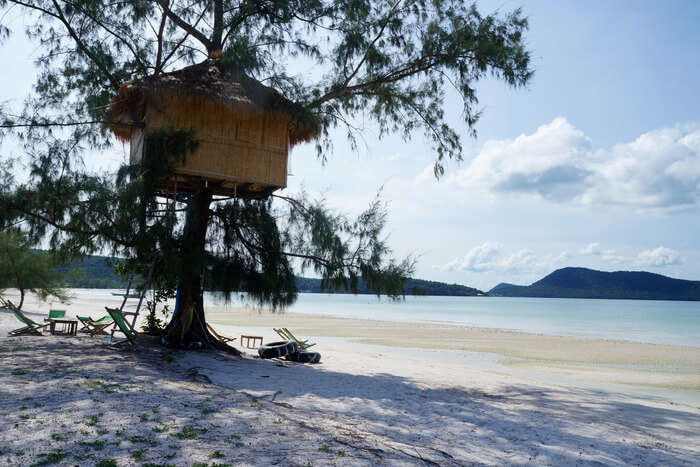 Next in the line is the popular Koh Toch beach. Once you are in Sihanoukville (4.5 hours from Phnom Penh), you are just 45 minutes away from an astonishing island of Cambodia, the Koh Rong Island. The Koh Rong island boasts 28 beaches, but with no roads on the island, reaching them can be tricky. Don't worry with Koh Toch though, your boat ride will drop you at the main stretch Koh Toch beach which also happens to be the liveliest part of the island. This stretch is extremely famous for parties and the vibe here is extremely chilled, making it one of the best Cambodia beaches and islands. The parties here are usually until the early hours and the place is filled with bars and eateries. If you are looking for a place to stay, you can also find guest houses and even bungalows. So, get ready to wake up in paradise, with a marvelous view from your window at one of the best beaches near Phnom Penh.
Suggested Read: 18 Best Things To Do In Phnom Penh On Your Vacay To Cambodia
5. Lazy Beach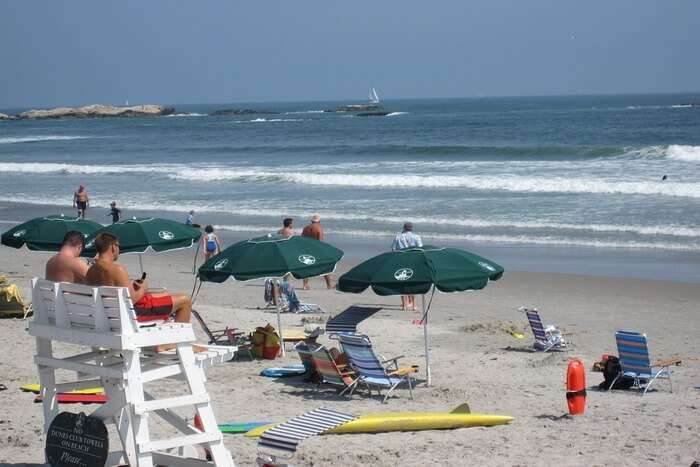 If you are feeling fancy and want to experience the best of Cambodia, you just cannot miss out the Lazy Beach. It is yet another beach on the island of Koh Rong Samloem and is a true escape if you are overrun by the number of tourists on the island. You can either take a 40-minute walk through the jungle or take a speedboat from Sihanoukville. Since it is a private beach, as it is a part of some beach resorts near Phnom Penh, it is extremely clean, almost spotless, which is why it's one of the most popular Cambodia beaches and islands. Lazy Beach is the home to Lazy Beach resort, and it is recommended to book pre-arrival. The main highlight of the beach is snorkeling as the water is crystal clear. If not, you can just sit back in your fancy hammock and enjoy the true island life. One thing that is highly recommended is to take a mosquito spray with yourself, you are in the wild now!
Suggested Read: Cambodia Travel Tips: For A Carefree Holiday Plan In This Charming Land With Your Loved Ones
6. Ream Beach At Ream National Park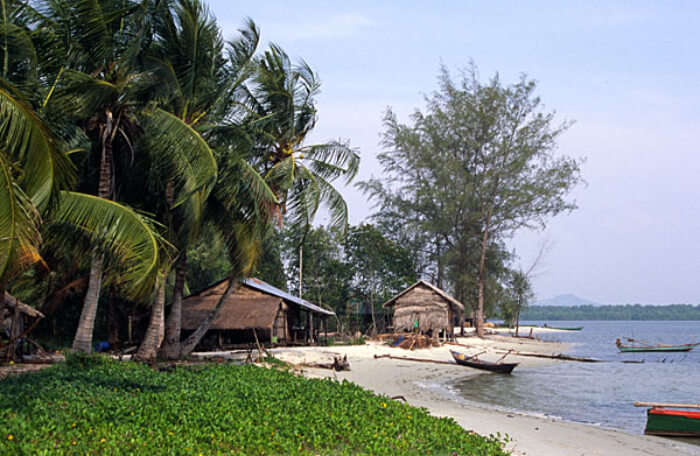 Around 5 hours 15 mins drive away from Phnom Penh or 15 minutes away from Sihanoukville lies Ream National Park. You can also take a 45 mins tuk-tuk drive from Sihanoukville if you are trying to blend in with the locals. Creatively crafted treehouses, beach bungalows with the view of blue water and white sands is what you will be getting at Monkey Maya at Ream beach. Guests at Monkey Maya can involve themselves in a bunch of water activities. Enjoy your day swimming in the pure ocean or get yourself your tan sunbathing on the sand. If not, how about exploring that tropical jungle and rare wildlife of Ream National Park which is right behind the beach. The Ream Beach in Ream national park is only one of the few beaches that are surrounded by mountains and even waterfalls, taking you even closer to nature.
Further Read: Royal Palace In Phnom Penh Guide: The Palace Of The Pearl Of Asia!
Not many countries in this world are blessed with a diverse geography. From low terrain plains to high mountains to coastlines, Cambodia has it all. The best beaches near Phnom Penh mentioned above is a must visit for any backpackers or even if you are on a family vacation to Cambodia. From surfing to swimming to snorkeling or kayaking, these beaches near Phnom Penh have it all. Just make sure you set enough time so that you can discover them. Happy Vacationing!
---
Looking To Book An International Honeymoon?
Book memorable honeymoon on TravelTriangle with 650+ verified travel agents for 65+ domestic and international destinations.
---