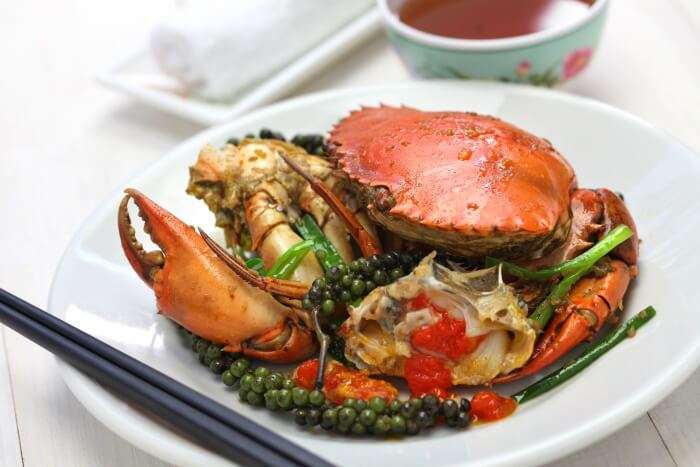 It is said that one cannot think well, love well, and sleep well if one has not dined well. So true, nothing can bring people together; bind them together as food does. And, it shall be noted that if we are talking about food, it certainly has to be good food. And, again, if we are talking about good food, it has to be the restaurants in Phnom Penh. Phnom Penh restaurants are known for serving cuisine from all over the world! From all over the world people are attracted to the traditions as well as food and culture of Cambodians. Here are the 9 best restaurants that the beautiful city has to offer.
9 Best Phnom Penh Restaurants
Phnom Penh, the city lies in Cambodia which is renowned as South-East Asia's most prominent countries, primarily in the tourism sector. Nevertheless, it is very certain that tourism and food go hand in hand.
1. Digby's Bar and Grill (Restaurant, Asian)

It serves as a fusion of both a restaurant as well as a grocery shop ranking top at Phnom Penh Restaurants reviews. It is a modern restaurant as well as a grocery shop. It facilitates the city by providing high-quality products like cheeses, meats, and bread. It also provides imported packaged products and goods. The restaurant here serves the food that is an amalgamation of Asian as well as Western cuisine. The restaurant primarily offers breakfast and lunch menus as well as a la carte dishes. Dining here is a must for those who love Cambodian food.
Location: 197 Street 63, Phnom Penh Cambodia
Timings: Sun-Sat: 7 am to 10 pm
Must Read: Shopping In Phnom Penh: 10 Top Places To Buy The Best Of Everything That The City Flaunts
2. Eleven One Kitchen (Deli, Restaurant, Grocery Store, Asian, Fusion, American, Steakhouse, Tapas)

Eleven One Kitchen is famous for serving super delicious and authentic Khmer cuisine. The atmosphere here is comfortable and cozy. Also, the restaurant possesses a spacious outdoor area that has a huge porch adorned with aromatic tropical foliage solving dual purpose of providing roof and shade. It is one of the frequently visited Phnom Penh restaurants in the city. Asian cuisine is served here that appeals to all visitors regardless of which country they belong to.
Location: 123 Street 460, Phnom Penh Cambodia
Timings: Fri-Sun: 7 AM to 11 PM
3 Angkor India Resturant (Indian Cuisine)

Angkor India Restaurant is among one of the best Phnom Penh Indian restaurants in the city. It specializes in north Indian and Nepali cuisine satisfying the taste buds and the hunger of Indians with wholesome servings. Their menu is also extensive. It is basically a laid-back eatery that is situated in a tropical garden. More of local treats are cooked and served here along with set lunch and breakfast available at nice deals. People love to dine here for the sumptuous fare as well as the restaurant's natural setting.
Location: 8A Saint 278, Khan Chamkar Mon Phnom Penh, Cambodia
Timings: Mon-Sun: 8:00 am to 11:30 pm
Suggested Read: Phnom Penh Nightlife Guide: 10 Best Clubs For The Party Starters!
4 Anise Hotel and Restaurant (Boutique Hotel Restaurant, Asian, European)

Serving Southeast Asian Specialties is the USP of this family-run restaurant placed in the Anise Hotel, Cambodia. The hotel is one of the best restaurants in Phnom Penh serving delicious Cambodian cuisine. Breakfast, lunch and dinner, all the meals with an extensive menu are served here. If you are staying at Anise Hotel, and are inclined towards Cambodian cuisine, do taste the specialties. Also, don't miss out on their delicious beverages that are a hit among the local as well as foreign visitors.
Location: 2c Street 278, Phnom Penh, Cambodia
Timings: Sun-Sat: 6:00 am to 10:00 pm
5. Samaky Restaurant and Lounge (Restaurant, Asian, European, American)

In the tourist dining arena, Samaky Restaurant and Lounge holds a strong position. The restaurant specializes in Cambodian food; nevertheless, the menu also includes western dishes. Guests can opt for anything they wish to have among the Cambodian and western cuisines. The main dishes that are cooked and served are rice and noodles dishes, seafood options, as well as its signature Cambodian dishes. In fact, this restaurant is very popular for its seafood specialties that will surely blow your mind!
Location: 9eo Street 51, corner of Street 278, Phnom Penh, Cambodia
Timings: Sun-Sat: 7 am to 11 pm
Suggested Read: Royal Palace In Phnom Penh Guide: The Palace Of The Pearl Of Asia!
6. Mexicano Restaurant (Mexican)

This place is for the people who have both love as well as a craving for Mexican food. If you search for Mexican Restaurants Phnom Penh, maximum results will lead to this amazing restaurant. The crisp menu of the restaurant offers authentic Mexican delicacies that certainly include tacos and burritos. Margarita and plum burritos are a must try. Dining in this restaurant provides great relief for those who wish to try something different than the Asian cuisine otherwise served all across Cambodia.
Location: 29 Street 288, Phnom Penh, Cambodia
Timings: 12:00 pm – 2:30 pm
6:00 pm – 11:00 pm
7. Romdeng (Cambodian)

If you want to experiment with the true taste of Cambodia, Romdeng is the place. The place believes in celebrating the good things in life, which means family, food, and tradition. It offers truly traditional as well as Cambodian creative cuisine. If you want to taste the true local magic of the Cambodian food, Romdeng in Phnom Penh is the place. It is one of the NGO restaurants Phnom Phen that is located at a very beautiful place with a swimming pool and lush green gardens, that feels nothing short of dining at one of the riverside restaurants in Phnom Penh. Apart from the food, visitors are also always in awe of the natural surroundings and facilities at this restaurant that add to its charm.
Location: 74 Street 174, Phnom Penh, Cambodia
Timings: 11 am to 11 pm Everyday
Suggested Read: 7 Places To Visit In Phnom Penh That Will Replay History Throughout Your Vacation!
8. Farm to Table (Cafe, Restaurant, European, Asian)

This is the place to enjoy the complete farm feeling. The location of the restaurant has it all for that typical farm-like feel – leafy courtyard, hens and kittens, tractor, potted plants, and whatnot. In a busy life, this restaurant serves as a mini farm for the guests and travelers. The restaurant aims at promoting organic food and farming within the country. The menu boasts an array of healthy meals that you can choose from. Don't miss out on the opportunity to dining in this unusual setting and tasting farm fresh food.
Location: 16 Street 360, Phnom Penh, Cambodia
Timings: Sun-Sat: 8:00 am to 10:00 pm
Suggested Read: 18 Best Things To Do In Phnom Penh On Your Vacay To Cambodia In 2022
9. Bistro Langka (Bistro, French, Fusion)

If you really want to discover the real taste of food in Cambodia, just don't wander here and there; explore the lanes and alleys. One such restaurant is Bistro Langka, located within a complex network of lanes and streets. The eatery holds its specialization in serving French cuisine which is pocket-friendly. The best part is that the restaurant changes its menu on regular basis and aims to offer and serve fresh food with local ingredients revealing the true flavors of France. The restaurant is also known for its quick service and the friendly attitute of its highly trained staff.
Location: Off Street 51, Phnom Penh, Cambodia
Timings: Sun-Sat: 6:15 pm to 10:00 pm
Further Read: Cambodia Travel Tips: For A Carefree Holiday Plan In This Charming Land With Your Loved Ones
So, the bustling country of Cambodia, and within this country, the city of Phnom Penh has a lot to offer when it comes to restaurants. The Phnom Penh restaurants offer every type of cuisine for every type of traveler. Other great options include the Malis Restaurant in Phnom Penh, the Backyard Cafe, and much more, So, come here and treat to your taste buds while on a trip to Cambodia.
---
Looking To Book An International Honeymoon?
Book memorable honeymoon on TravelTriangle with 650+ verified travel agents for 65+ domestic and international destinations.
---