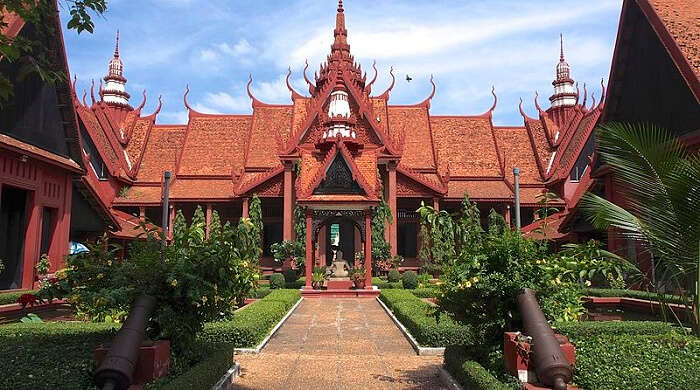 Phnom Penh is the most populous city in Cambodia. It is called the "pearl of Asia" and was the capital of French colonized Cambodia. This city is is supposed to the most beautiful french built city in Asia. Travelers can already imagine what all surprises await in this city which is praised for its beauty.
7 Best Places To Visit In Phnom Penh
As established Phnom Penh is a beautiful city. Most of the places to visit in Phnom Penh generally has a reason and history behind its existence , which makes it more interesting to tour in and around Phnom penh.
Royal Palace and Silver Pagoda
Cambodia National Museum
Choeung Ek
Tuol Sleng Museum
Wat Phnom
Wat Ounalom
Independence Monument
1. Royal Palace and Silver Pagoda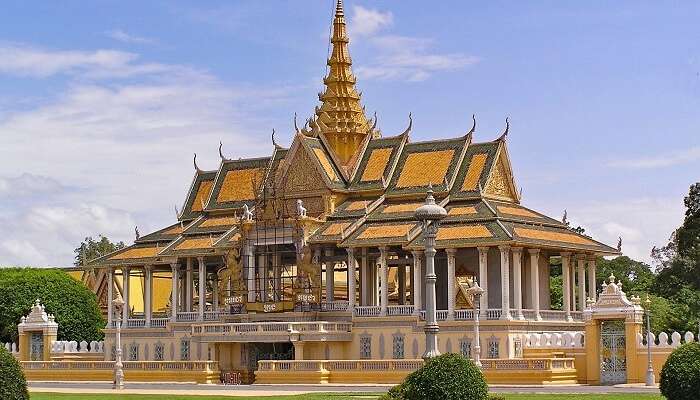 One of the best places to visit in Phnom Penh is the Royal Palace and the Silver pagoda. The Royal Palace seats the royal family and was established in 1860s. The throne room in the palace is open for public visit and is beautiful made. It represents Khmer style of architecture. The Silver Pagoda is also very beautiful, it is surely one of Phnom Penh point of interest. It houses a huge Buddha statue and has mural depictions all over the roof describing Reamkar which is based on Indian Ramayan.
Location: Sothearos Boulevard, Phnom Penh
Timings: 8am – 5pm
Entry Fee: INR 730/- per person
Must Read: 10 Essential Things To Do In Phnom Penh On Your Cambodian Trip
2. Cambodia National Museum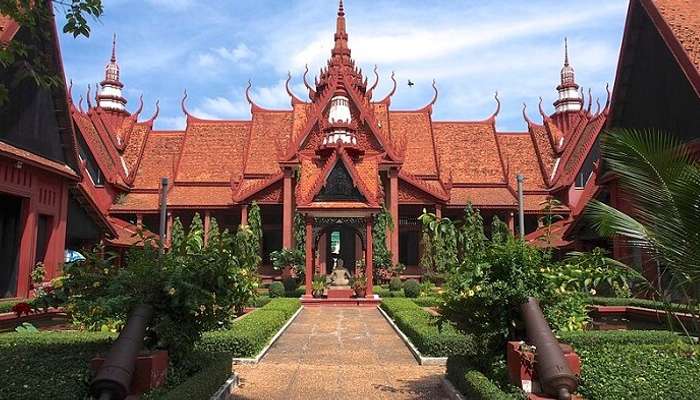 It is a traditional looking building that house art that was created in Cambodian history. It will let the visitors understand the growth and evolution of people in Cambodia. It also has many special artifacs like the head of Vishnu that was found near Angkor Wat. The museum started in 1920 and is a must visit place in Phnom Penh.
Location: Street 13, Phnom Penh
Timings: 8am – 5pm
Entry Fee: INR 730/- per person
3. Choeung Ek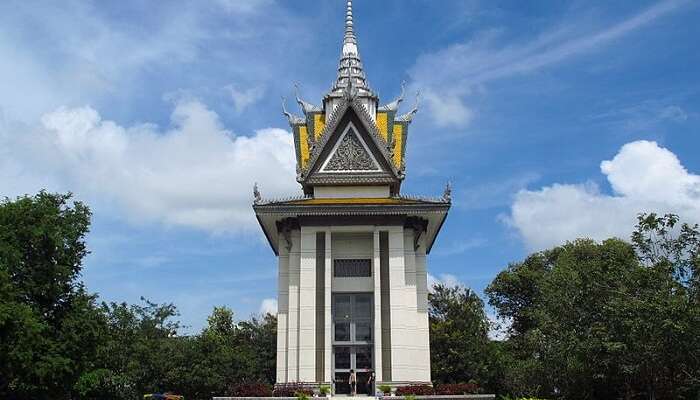 Choeung Ek is a killing ground that now stands as a reminder of the horrific acts that happened during the the regime of the Khmer Rouge. Thousands of people died during this era and this ground alone was holding around 8000 people. It is one of the Phnom Penh places of interest that visitors can visit to understand modern Cambodian history.
Location: Killing Fields in Phnom Penh
Timings: 7:30am – 5:30pm
Entry Fee: INR 437/- per person
Suggested Read: 10 Most Romantic Places In Cambodia That Will Spoil You Both For Life!
4. Tuol Sleng Museum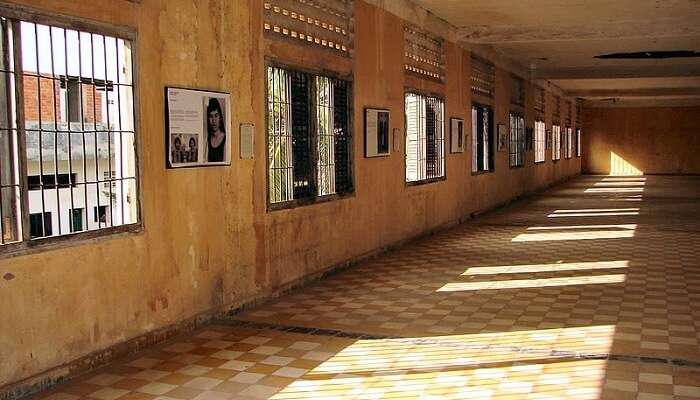 Tuol Sleng Museum is one of the places to visit in Phnom Penh which was once a infamously known as the worst Khmer Rouge prison S-21. 17,000 people have been put in these torture cells, who were suspected to be against the regime. There were extensive records and photographs that were taken during 1974 to 1979 (that is the running time of the jail in the Khmer Rouge regime) which survived till today making the suffering of all these people known to the world.
Location: St 113, Phnom Penh
Timings: 8:00am – 5:00pm
Entry Fee: INR 220/- per person
Suggested Read: Snorkeling In Cambodia: 10 Best Places To Thrill Your Soul
5. Wat Phnom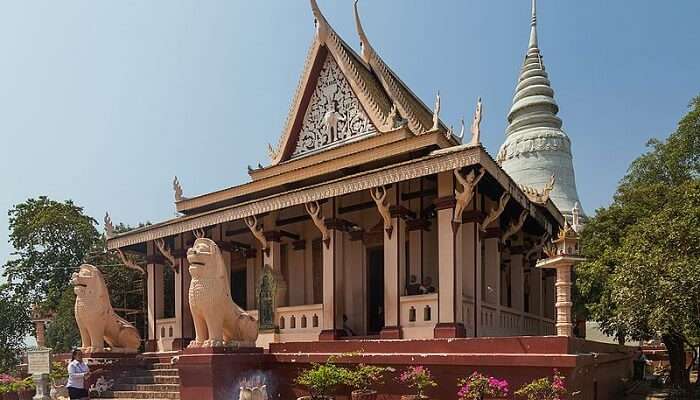 Phnom Penh is generally speaking built on flat ground. Wat Phnom is the only location that has little bit of a height. The location of Wat Phnom is supposed the one where the first temple was built in around 14th century. Although many temples have been built there after that, still local people feel its auspicious and visitors will find locals presenting offerings there. It is surely a tourist area in Phnom Penh.
Location: Norodom Boulevard, Phnom Penh
Timings: 7:00am – 6:30pm
Entry Fee: INR 73/- per person
Suggested Read: 10 Most Popular Festivals In Cambodia: An Insight Into Its Rich Culture
6. Wat Ounalom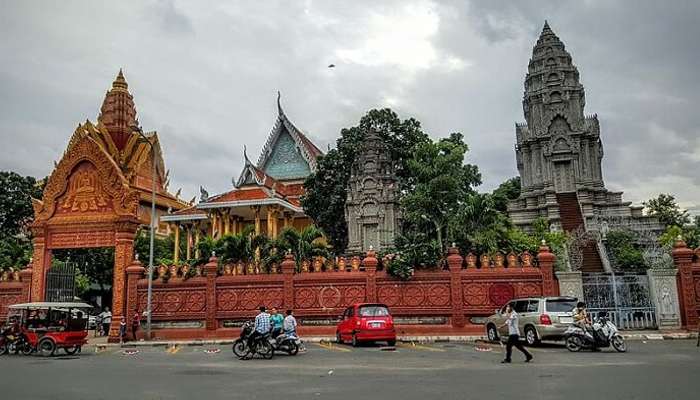 Wat Ounalom is one of the most important Buddha temple in all of Cambodia. It was founded in 1443 and contains one of the eye brows of Buddha. The temple is damaged due to the Rogue regime but has been resurrected and is thriving again. It is one of the popular places to visit in Phnom Penh.
Location: Sihanouk Boulevard, Phnom Penh
Timings: 24 hours
Entry Fee: Free
Suggested Read: Shopping In Cambodia: The Inner Shopaholic In You Will Not Be Able To Resist These 10 Places
7. Independence Monument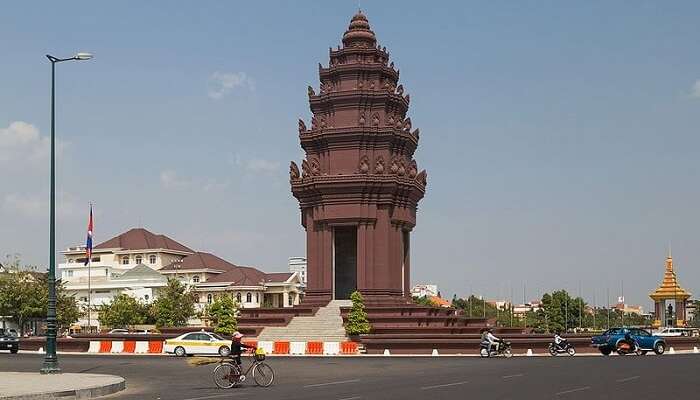 Independence Monument is a Angkorian style to commemorate independence of the country from French rule in 1953. The monument represents Angkorian temples with nagas( snake structure) on the top. It also embodies the sacrifice made by Cambodian war soldiers and Cambodia- vietnam- friendship after Vietnamese were defeated by Khmer Rouge.
Location: Sothearos Boulevard, Phnom Penh
Timings: 6:00am – 6:00pm
Entry Fee: Free
Further Read: 5 Best Trails For Hiking In Cambodia To Experience & Enjoy It To the Fullest
Are you excited to see all these places in Phnom Penh that will take you through a time wrap? No worries we have got tailor-made Cambodia packages that can be completely customized to let you have the holiday you want and not compromised for.
---
Looking To Book An International Honeymoon?
Book memorable honeymoon on TravelTriangle with 650+ verified travel agents for 65+ domestic and international destinations.
---