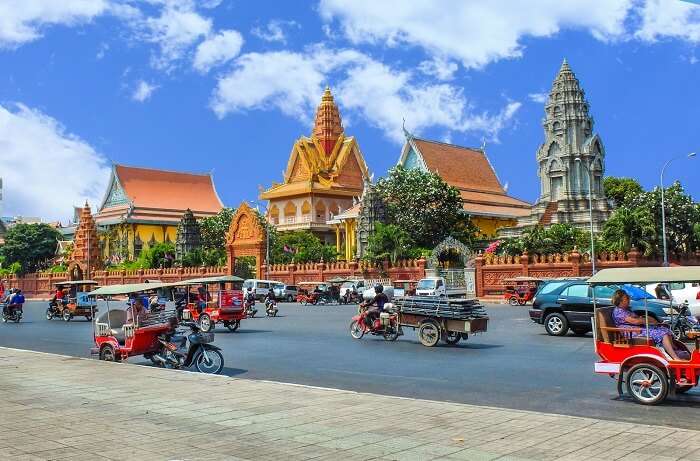 Phnom Penh is a beautiful Southeast Asian city and the capital of Cambodia. Once the capital of the French colony of Cambodia and Manchuria, Phnom Penh has an interesting pre and post-colonial history, giving rise to a plethora of things to do in Phnom Penh. Its great boulevards are still lined with old colonial French villas and buildings but the country's Buddhist heritage endures in the many gorgeous monasteries and pagodas located here. As a busy capital and major economic and cultural center, Phnom Penh gets a lot of visitors. So, become one of them and witness a culture trip to experience Combodia like never before.
11 Best Things To Do In Phnom Penh
Let's discover what all you can do on your trip to this marvelous city in Cambodia for a fun and frolic vacation:
1. Tuol Sleng Genocide Museum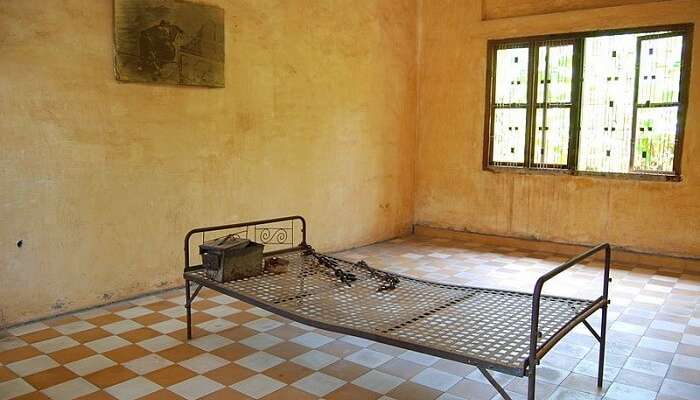 The Killing Fields of Cambodia is a horrifying part of the history of the country. The museum used to be a highschool-turned-torture-center where almost 17,000 Cambodians were killed. The place has been preserved in the state it was found when the city was liberated in January 1979. Almost 6,000 haunting photographs from labor and extermination camps run during the Pol Pot regimes are displayed here. While not the most cheerful of places, the Tuol Sleng Genocide Museum is an essential part of the history of the place and that makes visiting it one of the most essential things to do in Phnom Penh, Cambodia.
Location: Street 113, Tuol Sleng, Phnom Penh
Timings: 7 AM – 5.30 PM
Entry fee: INR 400 (guided tour)
Must Read: These Siem Reap Floating Villages In Cambodia Will Cast You Away Into A Surreal World
---
Cambodia Vietnam Honeymoon Packages on TravelTriangle
Visit Cambodia- Vietnam for your honeymoon and enjoy gorgeous beaches, sparkling bays, colonial structures, stunning landscapes, and colorful culture. Experience luxury at low cost.
---
2. Royal Palace And Silver Pagoda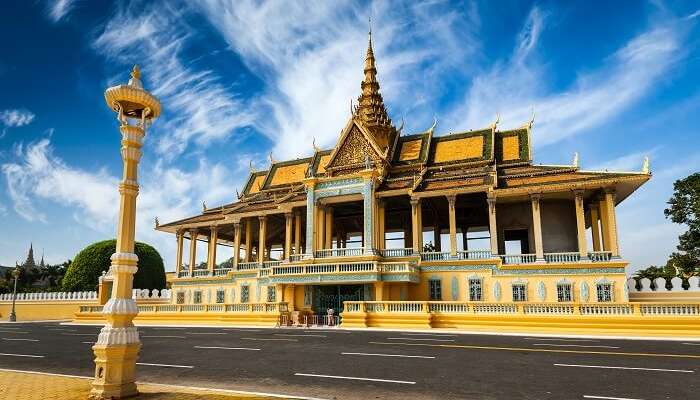 Cambodia is a monarchy, and the Royal Palace is a stunning architectural masterpiece of the 19th century. The palace is still sometimes used by the King, which is when the royal blue staff is flown. On days that he is not there, you can get an intimate look inside the opulent palace on guided tours that are run here. The Throne Hall and the Moonlight Pavillion are two places that you can not miss. Entry to the gardens and the Silver Pagoda that stands right outside is free.
Location: Riverside, Sisowath Quay, Phnom Penh
Timings: 8 AM – 5 PM
Palace entry fee: INR 450
3. Phsar Thmey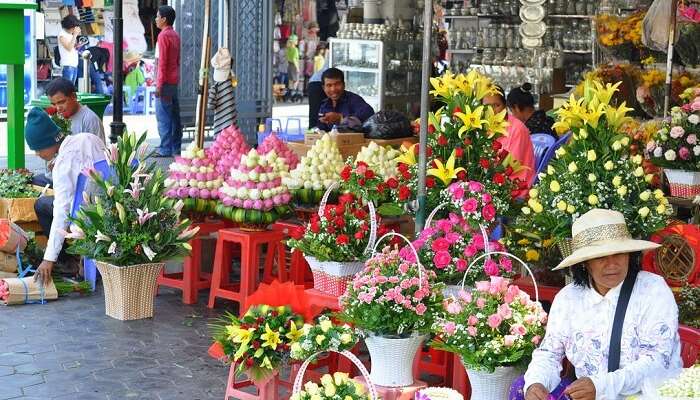 The central market in Phnom Penh has a uniquely different history from most inner city markets in South Asia, making it one of the most popular activities to do in Phnom Penh! Designed by French architects Jean Desbois and Wladimir Koundorouff, it was the biggest indoor market anywhere in Asia when it was built. The market now houses everything Cambodian, including clothing, jewelry, local vegetables and fruits, handicrafts, and so on. An authentic look at Khmer culture, you can check your haggling skills here and buy the best souvenirs during your trip. Also, Phsar Thmey is a great place to take awesome photographs of Cambodia.
Location: Street 130, Phnom Penh
Timings: 7 AM – 6 PM
Suggested Read: 10 Lavish Hotels In Cambodia That'll Turn Your Stay Into An Unforgettable Experience
4. Killing Fields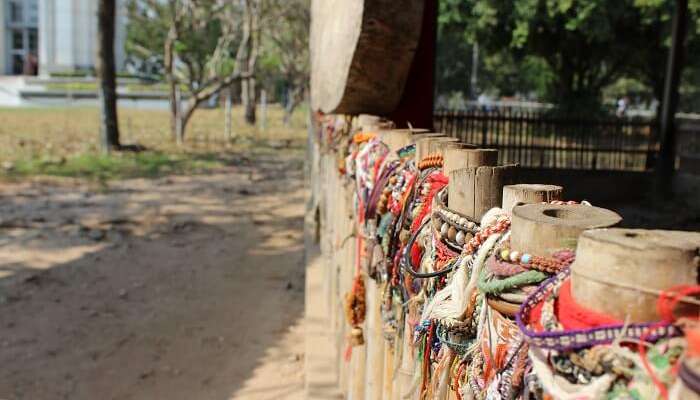 If you are looking for some unusual things to do in Phnom Penh, this is where you must head to. S-21 prison was the most brutal of Khmer Rouge extermination camps. It is the site of the mass killing burial of over 15,000 people. After its discovery, a Buddhist monument called the Choeung Ek was built as a mark of respect for their souls. You can get half-day tours of the Killing Fields where you are provided with informative audio guides as well as tours of the prison facility that housed the victims. This is a must on your Phnom Penh itinerary.
Location: 17 kilometres outside Phnom Penh city
Timings: 7 AM – 5:30 PM
Entry fee: INR 400/- for 12 years and above
5. Ta Prohm Temple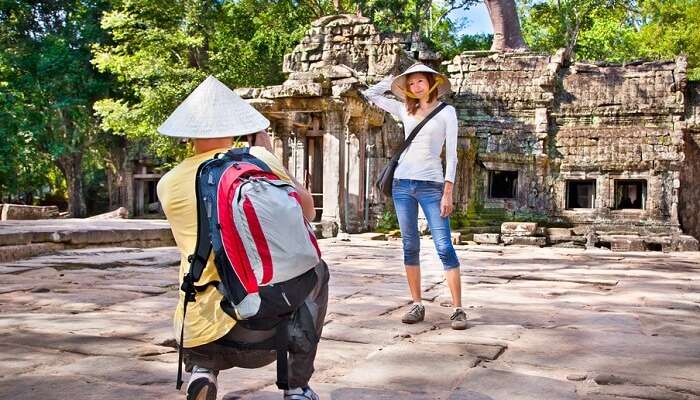 This 12th century temple is a glorious snapshot into the Cambodian culture before the arrival of the French. An impressive stone monument in Hindu mythology that dominated the country at the time, the temple complex bears similarities to the more famous Angkor Wat. The Ta Prohm is a popular tourist attraction for people who are staying in Phnom Penh City.
Location: 32 kilometres from Phnom Penh
Entry fee: INR 200/-
Suggested Read: 15 Stunning Monuments of Cambodia That Should Be On Your Bucket List
6. The Cambodian Living Arts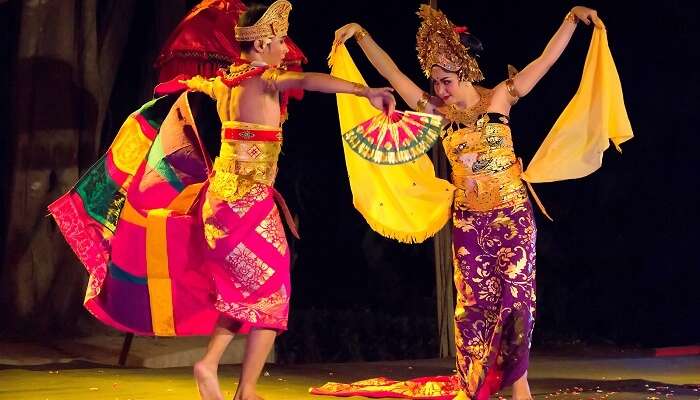 Watch traditional dance performances at The Cambodian Living Arts. A not-for-profit that seeks to popularise the Cambodian living arts of Apsara and Khmer dance, the Cambodian Living Arts hosts cultural events at the Cambodian National Museum. Events are usually scheduled inside the museum premises. The show features live musicians as well as traditional costumes of the people of Cambodia. Since serving a philanthropic cause while traveling is usually not on the mind of most tourists, it may seem like one of the most non-touristy and yet best things to do in Phnom Penh!
Location: National Museum of Cambodia
Timings: 7 PM on Mondays, Wednesdays and weekends
Ticket cost: INR 1000/-
7. National Museum Of Cambodia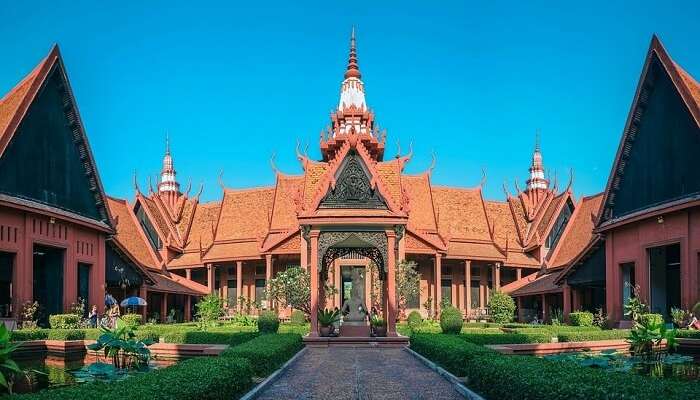 Take a tour of the National Museum of Cambodia. The National Museum of Cambodia is the largest collection of archaeological artifacts recovered from the country. Touring it, is amongst the free things to do in Phnom Penh for travelers! Even though it was built during the French colonial days, the red sandstone building is a great example of the traditional Khmer architectural style. There are more than 14,000 exhibits here, and a guided tour of the museum will offer a glimpse into the heart of Cambodia.
Location: Preah Ang Eng Street (13), Phnom Penh
Timings: 8 AM to 5 PM
Entry fee: Entry and guided tours are free
Suggested Read: Cambodia Honeymoon Guide: An Intimate Journey Through The Royal Kingdom
8. The Vibe Cafe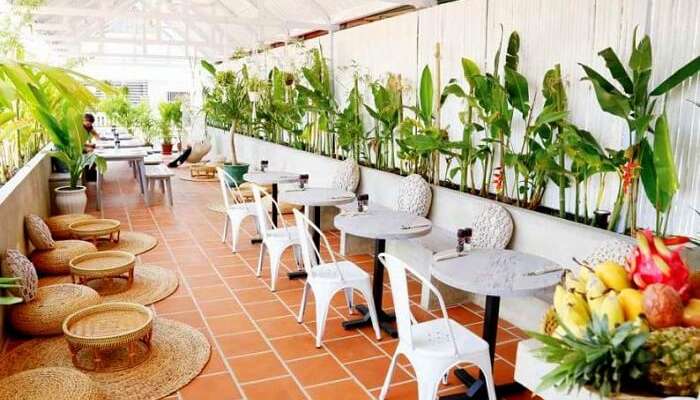 Enjoy a dinner at The Vibe Cafe. This is the only totally vegan restaurant in the Cambodian capital. There are plenty of homemade recipes that are a rage here. At dirt cheap prices, this is your destination for the great and the healthy. No wonder, it makes it to our list of top 10 things to do in Phnom Penh! The restaurant is located in a trendy locale with chic interiors and terrace seating as well, so it is a great place to have dinner if you are staying in Phnom Penh city.
Location: Russian Market
Timings: 7:30 AM – 9 PM
Suggested Read: 14 Honeymoon Destinations In Asia In December To Celebrate Your Love Story
9. Long After Dark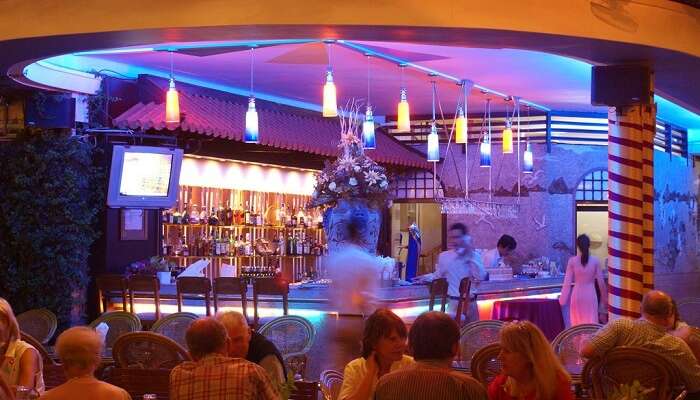 Witnessing the nightlife of Cambodia at Long After Dark is one of the most fun things to do in Phnom Penh. Featured on Lonely Planet, this great bar in the Russian Market has some interesting drinks to offer and a trendy patron base. You can find single malt whiskies that are so hard to find these days here, and also different Cambodian craft beers that can get you spinning. Happy hours apply after 5 PM on Fridays. If you're looking for things to do in Phnom Penh at night, exploring the nightlife will blow your mind like none other.
Location: Russian Market
Timings: 12 PM to 2 AM
Suggested Read: Honeymoon In Siem Reap: Here's How To Discover Love In The Temple Kingdom
10. Visit the Independence Monument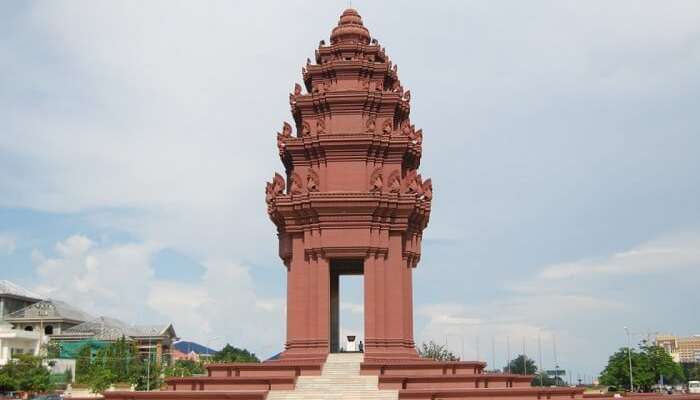 Image Source
If you are wondering what to do in Phnom Penh before catching that late evening flight, a trip to Independence Monument should top your list of things to do in Phnom Penh near the airport. Built to mark Cambodian independence from the French rule, the monument is a surreal sight, right in the heart of Phnom Penh city. The panels and nagas of the seven-tiered memorial are an immortalization of Khmer architecture.
Location: Angkat Boeng Keng Kang Ti Muoy
11. Phnom Udong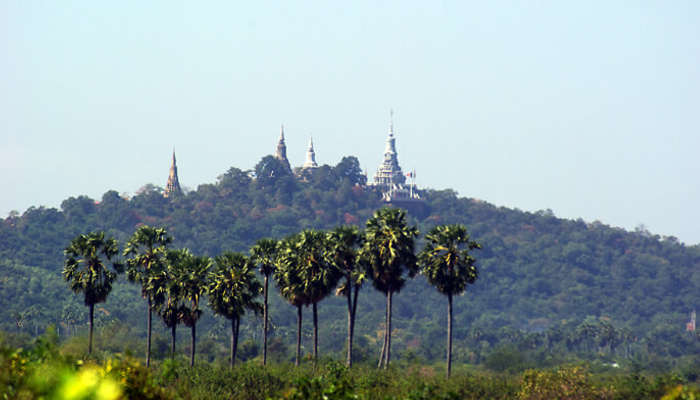 Visiting is one of the best things to do near Phnom Penh. Phnom means mountains in the Khmer dialect. Before establishing Phnom Penh as the capital of Cambodia, Udong was the capital for a long time. The palace still remains as an attraction along with Mount Udong. There are humps left of this mountain, and each has a stupa built on it. Phnom Vihear Leu (small sanctuary), Phnom Preah Reach Throop (Hill of the Royal Fortune), stupas of Damrei Ang Doung, Sam Poan and Mak Proum are a must visit. The peak also has several Buddha temples, statues, relics and carvings decorated on it.
Location: Oudong
Further Read: 15 Exciting Things To Do In Cambodia For A Truly Refreshing Retreat
The list can go on and on, considering there is much more to explore in this delightful Cambodian city. For the best experiences of these things to do near Phnom Penh and in the capital, plan your trip to Cambodia and head to the city of Phnom Penh to enjoy exploring the architectural remains of the Khmer Empire and French colonialists and strolling on the gorgeous riverfronts.
Frequently Asked Questions About Things To Do In Phnom Penh
Q. What are some of the cool things to do in Phnom Penh?
A. Visiting the Royal Palace and Silver Pagoda, shopping at Phsar Thmey and trying their local delicacies are some of the cool things to do in Phnom Penh.
Q. What are the best things to do in Phnom Penh in 2 days?
A. You can choose to go for a guided tour to ancient temples, Mount Chisor and Takeo silk village and also check out the live traditional dance performances at the Cambodian Living Arts.
---
Looking To Book An International Honeymoon?
Book memorable honeymoon on TravelTriangle with 650+ verified travel agents for 65+ domestic and international destinations.
---
People also read:
Royal palace in Phnom Penh Places to visit in Phnom Penh Phnom Penh safari
Comments
comments