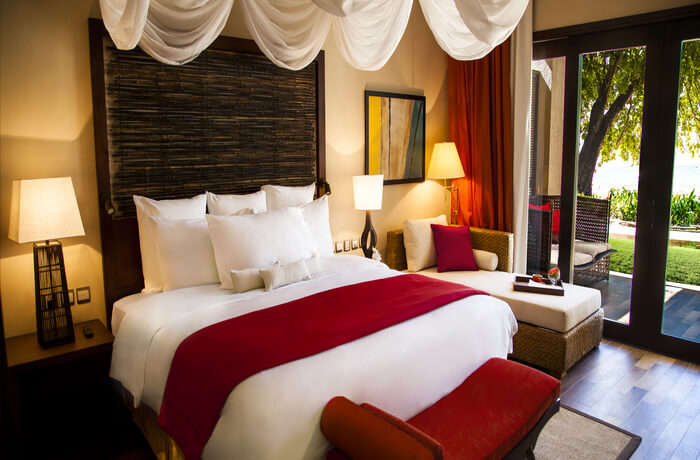 Overview
Beau Vallon, a relaxed beach resort on Mahe Island, has it all – Beau Vallon Beach hotel, sun, golden sands and azure water. With scintillating beaches and a tranquil ocean, fun activities to indulge in like snorkeling and picturesque greenery all around, there is never a dull moment, where travelers are left in a twist wondering about the things to do here. While mornings are a treat to the senses with the scenic vistas, evenings with their awe-inspiring sunset views over the water leave visitors mesmerized. An active and buzzing nightlife only adds to the multi-faceted nature of Beau Vallon. One way of enjoying the popularity of what this beach destination has to offer is by checking into a suitable Beau Vallon Beach hotels. While there are many beach hotels that suit every kind of traveler, there are hotels that are closest to Beau Vallon Beach in Mahe Island too. Guests at the ideal Beau Vallon Beach hotel in Seychelles enjoy a wide range of facilities and hospitable service for budget-friendly prices. This further enhances their experience and makes the visit to Beau Vallon more worthwhile.
Special Experiences
The best Beau Vallon Beach hotel goes out of its way to make certain guests have a pleasurable experience that is going to last a lifetime. 5-star and 4-star hotels offer access to a full spa service and free Wi-Fi as is true in the case of Savoy Resort & Spa. The Coral Strand Smart Choice Hotel comes with an outdoor pool and restaurants that serve amazing delicacies. The casino at Berjaya Beau Vallon Bay Resort & Casino adds its own charm to the overall ambiance of the place. Besides this, the budget beach hotels have exceptional cleanliness standards and spacious rooms too. Special services such as an included breakfast at Clef des Lles, a spectacular ocean view from Ocean View Guest House and well-appointed bathrooms at L'Habitation Hotel make the hotel stay all the more incredible. Some of these hotels are even close to the airport so that commuting to and from is not a problem.
Facilities
The best Beau Vallon beach hotel in Seychelles brings guests a wide range of amenities and facilities that make certain the stay is memorable and worthwhile. From the serene, laid-back atmosphere and friendly staff to the pool and free parking facility, the tailor-made services that make it easy and convenient for guests are all available. The staff is well-experienced, trained and skilled to attend to the needs and requirements of every guest. The beachfront which is a feature among most hotels, makes travelers get an up-close and personal view of the dazzling waters. If guests need a limo/town car service, smoke-free home with barbecue grills and a garden, the Delpech Residence serves these requirements seamlessly. A budget-friendly Beau Vallon beach hotel such as Romance Bungalows offer a well-resourced kitchenette that ensures self-catering is easy and effortless.
Dining
The availability of an array of dining choices when it comes to a Beau Vallon beach hotel in Seychelles ensures guests have a thorough gastronomical experience. Certain budget hotels include breakfast as part of their package. The Ocean View Guest House comes with a buffet for its guests in exchange for a small fee. Most hotels offer travelers the opportunity to eat food within the room itself. If budget is not a problem, guests can check in at the H Resort Beau Vallon Beach that where they can enjoy a meal at one of the resort's seven restaurants. While some 4.5-star hotels offer free breakfast, most of the restaurants at these beach hotels offer spectacular views of the horizon and scintillating beach. Guests can enjoy the best of both worlds that is a scenic ambiance as well as mouthwatering and delectable food.
FAQs
Q1. Why is Beau Vallon such a popular place in Seychelles?
A. The ocean is always at an arm's distance, travelers can indulge in snorkeling activities, the local markets and fairs as well as the buzzing nightlife all contribute to Beau Vallon's appeal and are major reasons why it is a popular place in Seychelles.
Q2. Are pets allowed in beach hotels at Beau Vallon?
A. Pets are allowed in a majority of the beach hotels as most of these areas are pet-friendly in nature. However, it is better to confirm with the hotel first before allowing pets tag along.
Q3. Which beach hotels in Beau Vallon are the closest to the airport?
A. L'Habitation Hotel, Eden Bleu Hotel, Avani Seychelles Barbarons Resort & Spa and Anum Cara are some of the beach hotels in and around Beau Vallon that are closest to the airport.
Q4. What cuisines are served in hotels at Beau Vallon?
A. A wide selection of international dishes, pizza, authentic Indian tandoori cuisine are popular favorites in beach hotels at Beau Vallon.
Q5. Which are some of the best resorts in Beau Vallon?
A. Some of the best beach resorts in Beau Vallon are Hilton Seychelles Northolme Resort & Spa, Constance Ephelia, Eden Island Luxury Accommodation and La Maison 68.
No matter what Beau Vallon beach hotel in Seychelles travelers eventually go in for, they all promise an unforgettable and comfortable time. While some of the budget beach hotels in and around Beau Vallon encompass the Augerine Guest House and Chez Batista Villas, there are a variety of luxury beach hotels guests can opt from too. These hotels offer travelers a varied choice of amenities and facilities. The positive reviews received from guests are proof of this fact. It is the ideal way to let loose and unwind after an involving day out. The hotels are sure to give travelers a good night sleep. Waking up rejuvenated and refreshed to tackle another day is guaranteed. While travelers take in the stunning panoramas and indulge in various activities, a stay at these beach hotels is sure to make the trip to Beau Vallon an even more extraordinary experience.